It's time for my Nutrafol review – because it's one of the most popular hair supplements.
However, it only has one major downside – price.
At $80 per bottle, it's really hard to afford monthly. 
So at these money, could Nutrafol be a scam? Or does it actually work?:
pretty good ingredients

minimal rate of side effects

many user reviews behind it
Well, let's check out its before/after results and find out the real facts behind.
Note: This review is based on my experience + research about Nutrafol.
So Let's Get To The Review
---
Full Name: Core from Nutrafol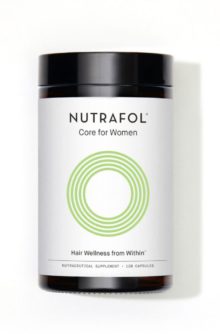 Versions: There are 3 – each designed for a certain category:
men

women

women plus (after menopause)
Best Actual Price: $79/bottle for each version
Cheapest Place To Buy: Probably Amazon
Designed For: Mostly hair growth (both men and women) – but it also claims to improve hair in general:
promotes hair health

improves texture, shine and density

speeds up hair growth
My Rating: 8 out of 10 – It's a great supplement in terms of effect.
Worth Buying?: Probably not – but just because it's too expensive.
It has a great formula and works really well, but it simply costs way too much.
Considering you can get the same results results from a $25 supplement, I couldn't recommend Nutrafol.
What I Liked About It
---
Excellent formula

Lots of herbal ingredients and vitamins + minerals

The mentioned doses are pretty high

Very effective in reality

Speeds up hair growth for real (I tried it myself)

Available on several retailers
What I Didn't Like About It
---
You have to take 4 pills per day

One bottle only lasts for 1 month

No doses for each ingredient (only for the blend)

Many complaints – especially about the price

Really overpriced at $80 per bottle

No discount if you buy more bottles together
What Is Nutrafol? – A Quick Overview
---
Basically – it's a supplement designed to grow hair faster, using a special formula.
Now – there are a few features that make it different from other products:
Claims to offer a personalized treatment plan.

Has different versions for men and women.

Has a successful study behind

[1]

.
Despite its "personalized treatment" claims (which are true), Nutrafol has 3 main versions:
Men 

Women

Women Plus (for women after menopause)
Now – the Men and the Women Plus versions have exactly the same ingredients.
On the other hand, the Woman version has the same formula – but its doses are a bit lower.
Other than that, there's no difference between them.
Note: If you're a woman dealing with hair loss, the Women Plus version might work better (no matter what age you have). It has some higher doses, so the effect should be a bit better.
So now that you know that main things about Nutrafol, it's time to analyze it closer.
---
#1 – Ingredients

(9.90 out of 10)
---
At first sight, Nutrafol's ingredients look perfect:
Wide variety of ingredients

Really high doses

Both vitamins and herbal ingredients
So this formula looks really potent, to be honest. But there's one thing I didn't like about it:
no doses for each ingredient

only the blends have clear doses
It's not a major thing – but they should have mentioned each dose, if you ask me.
Now – the ingredients are divided in 3 blends. So let's take a closer look at each:
1. Nutrafol Blend (530 mg)
---
This is actually a combination of several herbs and amino acids:

Lysine – it's useful for hair loss (when combined with other nutrients).

Methionine – increases hair strength

[2]

.

Cysteine – some studies say it can reverse hair loss (but not alone).

Horsetail Extract – it's one of the best herbs for hair growth.

Resveratrol Extract – it's a great antioxidant.

Bioperine – it's mean to increase the absorption of curcumin (you will see it below).

Capsimax Extract – that's actually Cayenne pepper and it stimulates hair growth

[3]

.
Some of these ingredients are really powerful – while others are pretty weak.
But overall, this blend looks pretty good – especially because it has a high dose.
2. Synergen Complex (1720 mg)
---
That's another kind of herbal blend, because it contains mostly natural ingredients:

Marine Collagen – strengthens hair roots.

Ashwagandha Extract – seems to reduce hair loss, as a secondary effect

[4]

.
Saw Palmetto Extract – it's one of the top herbs for hair loss

[5]

.

BCM-95 Curcumin – its anti-inflammatory effect isn't relevant for hair, but it's also an antioxidant.

Palm Tocotrienol Complex – can increase hair growth

[6]

.
This complex has a really high dose overall.
Plus, many of these compounds have studies behind – which is a real proof that they're effective.
3. Vitamins & Minerals
---
Unlike the other blends, each of these compounds have their doses mentioned clearly:
Vitamin A (1563 mcg)

Vitamin C (80 mg)

Biotin (3000 mcg)

Vitamin D (62.5 mcg)

Iodine (225 mcg)

Zinc (20 mg)

Selenium (200 mg)

Now – most of these vitamins and minerals have the same benefits for hair.
They're designed to improve hair health and nourish the follicles – thus speeding up hair growth [7].
But except zinc, none of them has a major benefit for hair growth. They have rather additional benefits.
---
Conclusion
---
Nutrafol's ingredients are really good, to be honest.
There are both classic substances and herbal ingredients. Besides, the final doses are really high (compared to other supplements).
So a product with this kind of formula must be effective – if you ask me.
---
#2 – How To Take It

(7 out of 10)
---
That's the first downside of Nutrafol – it's not very comfortable or easy to take.
What exactly do I mean by this? Here's the thing.
1. Pills Facts
---
Now – the pills themselves don't look too bad:
average size

look identical to turmeric pills (if you tried any)

covered in gelatin
Basically – they're the kind of pills you can swallow easily.
Also, they're pretty light – so they're not close to the horse pills of other products. But the real problem is how you have to take them.
2. The Schedule
---
According to the label – Nutrafol requires 4 pills per day.

To be honest, that's extremely uncomfortable:
high risk to forget about (at least) one pill everyday

hard to use if you work all day long
Besides, taking a large number of pills everyday isn't very healthy for your liver – even if the pills are natural.
Even 3 pills per day seems a lot to me.
So normally – I wouldn't use a supplement that requires 4 pills per day. It's simply difficult and unhealthy on the long term.
---
#3 – My Results

(9 out of 10)
---
As I said, I had high expectations from Nutrafol. And fortunately – it didn't disappoint me.
To be honest – it was one of the best hair supplements I used (BUT ONLY IN TERMS OF EFFECT).
From other points of view, it was far from the top 5.
1. My Background
---
My hair had been in a really bad shape in the last years (due to a chronic hair loss):
very thin ends

little to no volume (though it tends to be wavy)

both ends and roots are fragile
Obviously – my hair loss didn't stop completely, but it was much better than it used to be.
So I was curious to see if Nutrafol could stop it completely, and also regrow and thicken my hair.
2. How It Worked
---
I used 2 entire bottles and I was really satisfied with the results.
Note: I used Nutrafol Women Plus, which is the version for women with menopause hair loss. I was far from that, but this version had some higher doses than the regular one for women – so that's why I chose it.
My hair loss decreased a lot after about 6 weeks.

I noticed I had more volume.

Also, my hair seemed thicker and denser.

It grew about 5 inches in 2 months (that's a lot).
Basically – Nutrafol really worked.
I could see a difference between the time I was taking it and the time I was not – so that was the point.
It didn't really solve the problem of my thin hair ends, but that would have been pretty hard.
The point is – it decreased my hair loss and improved my growth speed.
---
Conclusion
---
In terms of effect, Nutrafol is surely not a scam – it works pretty well actually.
It's not my #1 recommended product because you can get a similar product for less than half of its price.
But regarding how it works, I was really satisfied.
---
#4 – Other Opinions

(8 out of 10)
---
I tried to look for other opinions on Nutrafol – so that I can create an unbiased review.
Note: I only considered authentic reviews made by real customers (not the ones that speak about Nutrafol in general).
1. What People Say
---
To my huge surprise, not all reviews I found on Nutrafol were positive.
I mean – there were enough satisfied customers as well. But I found many people complaining as well.
Some say Nutrafol really increased their hair growth.

Others say it made their hair thicker.

There are some that have been using it for years.

On the other hand, others say it was useless.

Some say it even made their hair fall out or look worse.

Others complain about digestive problems (as side effects).

Many say it should be way cheaper – considering what it contains.

Now – it's normal that people's opinions are quite mixed up. 
Based on my experience, I can only agree with some of these reviews. But that doesn't mean I consider the others fake.
However – I do agree that Nutrafol has a serious problem.
2. Biggest Complaint
---
That's actually the problem I'm talking about – price.
Most people complain that Nutrafol costs way too much:
you can find its ingredients much cheaper (under $40 all together)

it's not the only supplement that regrows hair
Now – I totally agree with this complaint.
In fact, that's one of the top reasons why I don't recommend Nutrafol.
---
#5 – Price

(2 out of 10)
---
As I said – that's the #1 reason why I would never recommend Nutrafol.
It's simply too expensive overall – way too expensive to afford it every month (in my case).
1. The Exact Price
---
Basically – Nutrafol is pricey no matter where you buy it from:
the lowest price is $79 per bottle

that's only 1 month supply

price is the same for all 3 versions (men, women, women plus)

Besides, there are no larger bottles (which usually have a slightly better price).
So in my opinion – Nutrafol is extremely expensive. I could not continue to use it for more than 3 months – and that's because of the price.
2. Competitors' Price
---
Now – it's true that Nutrafol has some great ingredients. Plus, it works really well – I guarantee for that.
However – there's a supplement that is my #1 recommendation and it has similar features.
It's called Folexin – so let's compare it with Nutrafol.
Folexin contains about 30 ingredients (vs 25 Nutrafol).

Their effect was pretty much the same in my case.

But Folexin seemed to grow my hair a bit faster in 2 months.

Folexin only requires 2 pills per day (vs 4 in Nutrafol).

Folexin costs $24 at most and $18 at the least (vs $79 Nutrafol).
So you can draw the conclusions yourself.
But I personally would recommend Folexin – because it does the same thing, but costs about 1/3 of Nutrafol.
That's why I think it's a much better choice (especially on the long term).
---
#6 – Where To Find It

(9 out of 10)
---
Here's some good news – you can find Nutrafol in several retailers:
the official website

Amazon

Ebay

Walmart and several others
Now – prices are pretty similar in all those retailers. However, there are small differences:
Each version costs $79 on the official website.

To buy it, you have to subscribe to auto-shipping.

On Amazon, each version costs $88 ($9 more).

On Ebay, prices depend from the seller.
So to be honest, the official website has the lowest prices out of all retailers.
However – it requires you to subscribe to their offer (in order to buy the product).
Even though the company is serious and allows you to unsubscribe, I think it's safer to buy the product manually – at least for the beginning.
Therefore – I do no recommend Nutrafol, because it's too pricey overall.
But if you still want to buy it either way, my advice is to choose Amazon.
---
#7 – FAQs
---
Up next, let me answer the most common questions about Nutrafol.
Note: I might repeat something I mentioned before, but it's easier to spot here.
1. How many pills per day?
---
According to the label – you need to take 4 (for the best effect).
To be honest, that's a lot – plus, it's very uncomfortable taking a pill every 3-4 hours (in case you prefer to space them out).
2. How long lasts one bottle?
---
Only one month – even though you might expect more.
There are 120 pills per bottle and you need to take 4 every day. This means a bottle is just a 30 days supply.
3. Can I take it with other drugs?
---
As far as I know – yes.
Nutrafol is mostly made of natural ingredients (also, the website mentions it's "drug-free").
So there shouldn't be any interaction with other drugs you might take.
4. Are there any side effects?
---
Normally, there shouldn't be any – since it's a natural supplement.
However – some of the review I read mentioned they had cramps or stomach pain after starting to use Nutrafol.
If this happens, simply stop the pills. If your problems also go away in a few days – it was probably because of them. 
But if they don't, probably Nutrafol didn't cause them.
5. How fast should I notice an effect?
---
There's no clear number – but I would say around a month.
However, some people need more and others need less. Also – you won't see the best results after one month, but after 2-3 months.
But if you only want to see if Nutrafol is effective for you, 1 month is a reasonable period.
---
#8 – Final Conclusions
---
Here's how I would sum up Nutrafol in 3 conclusions.
1. Excellent Formula
---
As I said – Nutrafol has some of the best ingredients on the market:
many substances with studies behind

most have real benefits for hair health

pretty high doses

works for both men and women
It's not the only product with such a great formula – but it deserves to be praised here.
2. Real Results
---
I can only speak from experience here – because I can't tell how Nutrafol worked for others.
Well, in my case it was effective:
made my hair grow faster (around 5 inches in 2 months)

strengthened my fragile hair

added more volume
Now – in terms of hair growth, it wasn't the #1 supplement I tried, but it was among the best.
So overall, I was pretty satisfied.
3. So Pricey
---
Even though it worked really well – Nutrafol was still way too expensive:
there are cheaper products with a similar formula

its ingredients alone don't cost so much

some cheaper supplements work just the same (or even better)
So because of the really high cost – I couldn't possibly recommend Nutrafol.
It's a great supplement, but I couldn't afford buying it for more than 2 months.
Besides – why pay $80 when you can get the same benefits from a $24 product?
---
My Verdict – Is Nutrafol A Scam?
---
Short answer: Definitely not – it's a really good hair supplement:
speeds and improves hair growth

adds volume and density

increases hair health in general
However – I wouldn't recommend Nutrafol, for several reasons:
Extremely expensive at $80 per month.

You need to take 4 pills per day.

Enough unsatisfied customers.

You can get a similar products for 1/3 of its price.
Now – Nutrafol is a great supplement in terms of effect, I can guarantee for that.
But no matter how well it works, it's still extremely overpriced.
What do I recommend instead?: A supplement called Folexin is my #1 recommendation for hair growth.
Decreases hair loss and regrows new hairs.

Speeds up hair growth considerably.

Thickens the hair.

Works for both men and women.

Costs even $18 per bottle.
Basically – Folexin does the same things as Nutrafol, but costs up to $18 (instead of $80).
That's the main reason why it's my top choice among hair supplements.
So compared to Nutrafol – I would afford buying it for more than 2 months. That's what makes the difference, if you ask me.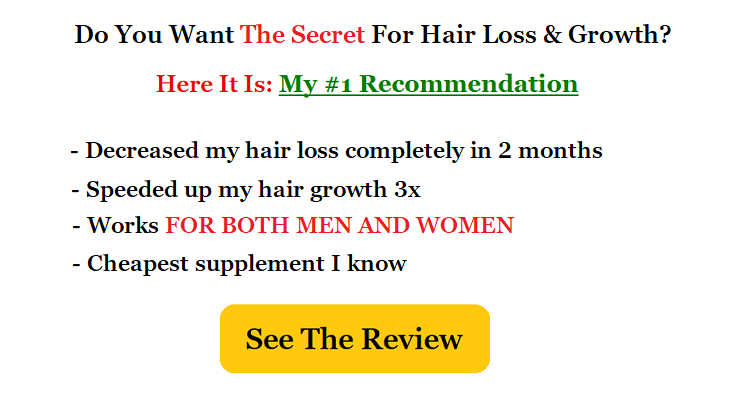 1 – https://www.ncbi.nlm.nih.gov/-pubmed/29742189
2 – https://www.ncbi.nlm.nih.gov/-pmc/articles/PMC5917003/
3 – https://www.ncbi.nlm.nih.gov/-pubmed/17569567
4 – https://www.ncbi.nlm.nih.gov/-pmc/articles/PMC4543599/
5 – https://www.ncbi.nlm.nih.gov/-pmc/articles/PMC4847595/
6 – https://www.ncbi.nlm.nih.gov/-pmc/articles/PMC3819075/