It's time for my Viviscal Hair Growth review – because it's one of the most popular hair supplements I know.
However – you can't find it for less than $49 per bottle.
So at this price, could Viviscal be a scam?
I tested out this supplement myself – so here's every hidden truth you need to know about it.
Note: This review is based on my experience + opinion on Viviscal.
So Let's Get To The Review
---
Full Name: Advanced Hair Health Supplement from Viviscal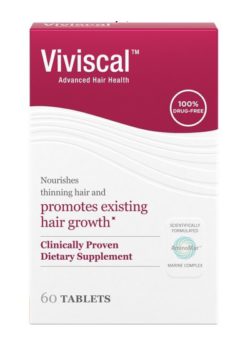 Versions: There are 2 types of supplements – for women and for men.
Other than the pills, they also have 3 different products (all for hair density).
However, they're not as strong as the supplements:
Shampoo

Conditioner

Elixir
Best Actual Price: $49.99 per bottle 
Cheapest Place To Buy: The official website (they have discounts for larger packs).
Designed For: According to the label, for thicker and fuller hair.
It also promotes hair growth and nourishes thinning hair (that's what it claims at least).
My Rating: 8 out of 10 – It's effective, but kind of expensive.
Worth Buying?: Only if you afford it. 
It's a very useful supplement – for everything that involves hair loss and thinning. 
But I personally had the same results with a $25 supplement – so that's what I recommend instead.
What I Liked About It
---
Based on an original ingredient (that only exists in this product): AminoMar

Several studies behind (for AminoMar)

Pills are easier to swallow

Only 2 per day

Decreased my hair loss almost completely

Started working in less than 2 months (in my case)

Many positive reviews
What I Didn't Like About It
---
Except AminoMar, the others ingredients are quite basic

Contains very few herbs, vitamins and minerals (compared to most products)

Very expensive (about $50 per bottle)

Not effective for growing new hairs
What Is Viviscal? A Quick Overview
---
Shortly – it's a mix of vitamins, minerals and herbs for hair health.
According to the label, it can help in 2 major ways:
Promotes existing hair growth.

Nourishes thinning hair.
Basically – it's only useful for existing hair, it doesn't regrow new hairs.
So if you're already going bald/have any bald spots, Viviscal isn't going to help.
Now – this product has several versions:
Supplements – 1 version for women and 1 for men.

Densifying Shampoo.

Desifying Conditioner.

Hair Growth Elixir.

However – the supplements are the ones that do most of the job. 
All the other 3 (shampoo, conditioner, elixir) are additional helpers – so using them isn't a must.
So what makes Viviscal so special? AminoMar – the original ingredient that only exists in these pills:
promotes hair growth

has several studies behind
I personally don't know too many ingredients with studies behind. That's why I'm convinced AminoMar is a great ingredient.
In fact – it's the main responsible for Viviscal's effect.
But now that you know the main things about this product, it's time to analyze it into more detail.
---
#1 – Ingredients

(8.50 out of 10)
---
Honestly, at first sight – Viviscal's formula doesn't seem so amazing:
not too many ingredients

dosages seem pretty low
However – it contains 1 ingredient that doesn't exist in any other hair product.
In fact – that's the real miracle maker. Viviscal's formula is also based on it. 
Now – you can divide the ingredients in 3 classes:
Vitamins + Minerals

Herbal Extracts

Original Ingredients
So let's take a quick look at each of these groups.
1. Vitamins + Minerals
---
Compared to other products, Viviscal doesn't contain every essential nutrient.
There are only 3 vitamins and 3 minerals:

Vitamin C – it's an antioxidant and protect hair against free radicals.

Niacin – that's actually vitamin B3 and it seems to increase hair fullness. [1]

Biotin – it's the best vitamin for hair.

Calcium – promotes thicker hair. 

Iron – it's essential for hair growth (a deficiency causes shedding). [2]

Zinc – it speeds up hair growth considerably.
So at this chapter, Viviscal's ingredients could be better.
Many supplements contain at least 10 essential vitamins and minerals, while Viviscal only has 6. 
2. Herbal Extracts
---
These ingredients don't look amazing either. 
Viviscal only contains 2 herbal extracts. Out of these, only 1 is really potent (Horsetail). 
Horsetail Extract – the best herb for decreasing shedding and growing new hairs.

Millet Seed Extract – seems to fight hair loss in some cases. [3]
So to be honest – the herbs used in Viviscal are really good, but they're too little. 
If there were at least 5 herbal extracts, I personally think the effect would have been much better. 
3. Original Ingredients
---
That's probably the best part about Viviscal.
It contains a unique ingredient – that doesn't exist in any other hair supplement: AminoMar. 
The good news is that AminoMar has several studies behind:
So based on this, this ingredient is a real miracle maker for hair. In my opinion – it's the main responsible for Viviscal's effect.
---
Conclusion
---
Viviscal's ingredients don't look that impressive overall:
only 3 vitamins and 3 minerals

not all the essential nutrients

just 2 herbal extracts
However – the special ingredient AminoMar compensates for the weaker formula. 
Considering it has official researches behind, it's surely the ingredient that makes Viviscal work so well.
---
#2 – How To Take It

(9 out of 10)
---
I would actually say that Viviscal is a bit easier to take than many hair supplements. 
I'm saying that because of the pills. 
1. Pills Facts
---
I haven't tried the male version of Viviscal, so I will only refer to the one for women.
But as far as I know – the pills look the same.
Have a round shape.

Pills are tablets (not capsules or gelatin pills). 

Average dimensions (but they look smaller than most gelatin pills).

You can swallow them quite easily.

Taste is pretty bad (bitter).
Now – they're not the best pills I've ever seen (in terms of size). 
But as I said – compared to many hair supplements, they're smaller and easy enough to swallow.
If they also had a gelatin cover, they would have been perfect (you couldn't feel the taste).
2. The Schedule
---
Here's how you have to take Viviscal: 
2 tablets per day

I recommend spacing them out throughout the day

you should take them after food

drink plenty of water after you swallow them

don't take more than 2 pills daily

So basically – the schedule is quite simple. 
Now – taking 2 pills per day may not sound that comfortable (compared to 1).
But considering there are many products that require 3 pills daily, you can't really complain about Viviscal.
---
#3 – My Results

(9 out of 10)
---
After using Viviscal for almost 4 months, I can honestly tell it's not a scam.
Now – it wasn't the best hair product I tired, but it surely in the top.
But let me explain better.
1. My Background
---
Viviscal was one of the first supplements I used for my hair loss.
A few years back, my hair was shedding like crazy:
there were multiple causes (including stress, hormonal imbalances, etc.)

my hair got 3 times thinner in about 2 years

the roots were looking well

but the ends were very dry, fragile and thin
Obviously – I had tried everything I could find.
However, topical products stopped working after 1-2 months. And many supplements didn't decrease my shedding at all.
Viviscal had lots of positive reviews – so I was curious if it could help.
It was quite expensive, but I had no other solution at that point.
2. How It Worked
---
I used Viviscal as the label recommended – 2 pills per day.
Surprisingly, I could see an improvement after about 1 month:
My hair wasn't falling out so heavily.

It also seemed a bit thicker (but mostly the roots).

After 3 months, my hair loss had decreased a lot.

This time, my hair roots seemed a lot thicker.

However, the ends were still quite thin and fragile.

I didn't have more volume overall (probably due to the thin ends).

Basically – Viviscal reduced my hair loss a lot, so it was surely effective.
However, it didn't seem to make my hair grow a lot faster.
It got about 5 inches longer in 3 months, which isn't so miraculous. My natural hair would grow almost 3 inches alone in this period.
Now – maybe it grew so little because it was in a bad shape. I can't really tell.
But when it comes to hair growth, it wasn't really worth $50.
---
Conclusion
---
Viviscal was pretty much effective in my case:
decreased my hair loss almost completely (in about 3-4 months)

thickened my hair roots

made it less fragile
However – it didn't make it grow a lot a lotfaster. 
So as a $50 supplement, I'm not really sure I would buy it again. I found a better alternative in the meantime.
---
#4 – Other Opinions

(9 out of 10)
---
I tried to find some other customers' reviews – so that I would judge Viviscal fairly. 
Fortunately, I managed to find enough opinions. But as I expected, not all were praising the product.
Note: I only included authentic reviews, not the ones based on general info.
1. What People Say
---
Opinions were quite divided here.
Even though I found lots of positive reviews, there were enough unsatisfied customers:
Some people say it made miracles for their hair.

Others swear by it, saying it really increases hair growth.

A few others mention it's also good if your hair is falling out.

On the other hand, some complain about the bad taste, price, weak effect, etc.

So basically – about 80% people were satisfied with Viviscal (more or less). To be honest, that's a really high percent.
So judging after that, it's surely not a scam. 
There are indeed about 20% that weren't satisfied, but that's mostly because of price.
2. Biggest Complaints
---
The main reason why some people were not satisfied was Viviscal's price.
To be honest – it is indeed expensive at $50 per bottle (at this point).
So I personally couldn't afford buying it monthly for a long time. Especially when there are cheaper products that work the same.
However – that wasn't all:
Some also complained that Viviscal contains shellfish and doesn't mention it.

Others say it's simply not working after 3 months.

I also found some complaints about the bad taste.

But overall – price was the biggest complaint.
And I personally agree here. Except the original ingredient, the rest of the formula is pretty basic. So it's surely not worth $42.
---
#5 – Price

(6 out of 10)
---
To be honest, I wouldn't buy Viviscal on a monthly basis.
And that's only because of its price – it's really expensive.
1. The Exact Price
---
There are some small differences between different sellers.
But these are the lowest prices I could find:
$49.99 for the women version

$50 for the men version
Basically – both versions cost the same. 

To be honest, these prices seem way too high to me – considering it's just 1 month supply.
Now, I understand that the price is higher due to the original ingredient (AminoMar).
But except it – the formula is pretty basic. I personally wouldn't pay $15 for it. 
So that's the reason why I consider Viviscal way too overpriced.
2. Competitors' Price
---
One of the top reasons why I don't recommend Viviscal is because there are similar products for less money.
Let's take a look at Folexin – my #1 recommended supplement for hair:
costs about $25 per bottle (vs $50 Viviscal)

you can get it for even $18 per bottle 

you receive a discount if you buy a larger pack
I will not enter any particulars about Folexin's ingredients and effects. 
But in terms of price – it's a much better choice than Viviscal. 
In fact, that's why it's my top recommendation – it's the cheapest product that worked really well for me. 
So instead of spending $50 per month on products like Viviscal, I prefer to use a cheaper alternative.
That's why I won't get back to Viviscal any soon.
---
#6 – Where To Find It

(9 out of 10)
---
First of all – Viviscal is available in several retailers, but it's mostly sold on its official reviews:
lots of authentic reviews

the first option in Google searches
 The price on the official website is about the same as Amazon's price:
Both versions cost $50.

You can get it for $49.99 on Amazon.
However – the official website has a major advantage:
It offers a significant discount if you buy more bottle together (up to $40 per bottle).
Besides – if you join their Elite program (some kind of membership), you get even higher discounts for everything you buy.
So Viviscal's website has a better offer compared to Amazon.
---
#7 – FAQs
---
Coming up, I will try to answer the most common questions about Viviscal.
Note: I might repeat something I already mentioned, but it's easier to spot here.
1. How many pills per day?
---
Only 2 – the label strongly recommends not to take more.
However, it doesn't mention whether you have to take them together or space them out.
So you can do whatever is easier for you.
2. How long lasts one bottle?
---
Only 1 month – it's a 30 days supply.
There are no larger sizes, but you can buy more bottles together.
3. Can I take it with other drugs?
---
The label recommends consulting your doctor first, if you're already on a treatment with certain drugs.
Now – there's no major risk of interactions, but I also advise you to see a doctor first.
It's better to stay safe.
4. Are there any side effects?
---
I personally didn't experience any – nor did I find any review complaining of side effects.
Also, the label doesn't mention anything on this.
But you should experience (at most) some stomach problems (judging after the ingredients).
5. How fast should I notice an effect?
---
According to the label – after at least 3 months.
However, it also mentions that best results appear after 4-6 months.
Now – I personally could see a small improvement in about 1 month, so it is possible.
But try to give Viviscal at least 3 months to start working (if you want to be fair).
---
#8 – Final Conclusions
---
Here's my overall opinion about Viviscal in 3 ideas.
1. AminoMar Does All The Job
---
Basically – Viviscal's original ingredient is the main responsible for the overall effect:
the other ingredients are quite basic

dosages aren't very high
On the other hand, AminoMar has both a high dose and several studies behind.
So in my opinion – Viviscal works because of this ingredient.
2. Effective
---
If you thought that Viviscal might be a scam – well, it's surely not.
I can speak from experience here:
decreased my hair loss almost completely

made my roots thicker

improved my hair aspect
The only chapter where I'm not 100% satisfied is hair growth. My hair didn't grow a lot more than it used to.
However, it might be just in my case. Many other reviews say Viviscal really increased their hair growth.
3. A Bit Pricey
---
I've said it before – Viviscal is quite expensive overall. 
At $50 per bottle, I couldn't really afford buying it monthly (not for a long time, at least).
Now – if you buy a larger pack, the price is much better (about $40). But otherwise, it's still expensive.
So I personally would not buy Viviscal again – mostly because of its high cost.
---
#9 – My Video Review
---
---
My Verdict – Is Viviscal A Scam?
---
Short answer: Definitely not – it's a 100% legit product.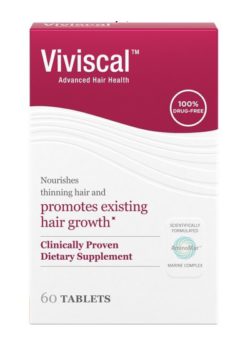 However, it's not my #1 recommendation – despite being effective:
Too expensive to buy monthly.

Takes 4-6 months to see the best effect.

Didn't made my hair grow much faster.
But basically – the main reason why I don't like it is because of the high cost.
Other than that, it's a really good product.
If you afford buying Viviscal, go for it. It will surely help – but keep this in mind:
you will have to take at least 3 bottles

it's going to take a few months until you start seeing effects
Compared to Viviscal – I prefer to used a cheaper supplement ($25) that works about the same.
So if you're also on a tight budget, that's the product I recommend instead.
1 – https://www.ncbi.nlm.nih.gov/-pubmed/17168873
2 – https://www.ncbi.nlm.nih.gov/-pmc/articles/PMC3678013/
3 – https://amino-acid.org/l-cysteine-and-sorghum-seed-extract-can-reverse-hair-loss/
4 – https://www.ncbi.nlm.nih.gov/-pmc/articles/PMC3509882/