It's time for my HairOmega Supplement review – a hair supplement that has been quite popular lately.
That's not surprising, since it looks really promising:
quality formula

decent price

many satisfied users
So does this supplement really work?
Or do its positive reviews try to hide the fact that it's a scam?
I tried to dig deep into this product and find out the truth behind.
Note: This review is based on my opinion + research on HairOmega.
So Let's Get To The Review
---
Full Name: HairOmega from DrFormula's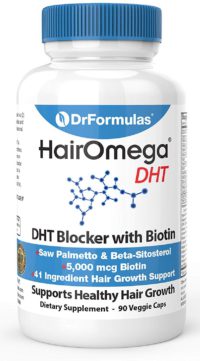 Versions: There are 2 different ones:
DHT Blocker

Hair, Skin & Nails Formula
The first one is specifically designed for hair (both loss and growth).
The second one is more of a general formula for healthy hair growth.
Best Actual Price: Around $24-$30
Cheapest Place To Buy: Amazon for sure
Designed For: Overall – both are meant to grow hair out:
DHT Blocker version decreases hair loss caused by hormonal imbalances

it also promotes growth and thickness

Hair, Skin & Nails version works best for growth and strength
I personally recommend the DHT Blocker (it's better in terms of hair).  
My Rating: 8 out of 10
Worth Buying?: Yes and no.
It's a good product for the money – but there's a better choice for less.
So I recommend a supplement with a stronger formula that costs a few dollars less.
What I Liked About It
---
Varied ingredients in good dosages

Quality formula overall

Many satisfied users

Available in several retailers/sellers

Price is quite decent
What I Didn't Like About It
---
You need to take 4 pills per day (only in one version)

Pills are pretty thick

Several complaints claiming many positive reviews are actually fake
---
What Is HairOmega? A Quick Overview
---
In a few words – it's a brand focused on healthy hair growth.
On this purpose, it offers 2 different products:
DHT Blocker – designed for hair loss caused by hormonal issues

Hair, Skin & Nails Formula – designed for general health
HairOmega also produces 3 other products (but they're not as strong as popular as these 2 supplements).
Both of its top 2 supplements are suitable for growing hair faster.
However – they don't do the exact same thing.
Now – how does HairOmega claim to be better than other brands?
Highest quality ingredients

Made in the USA

Doctor formulated

Research-based formulas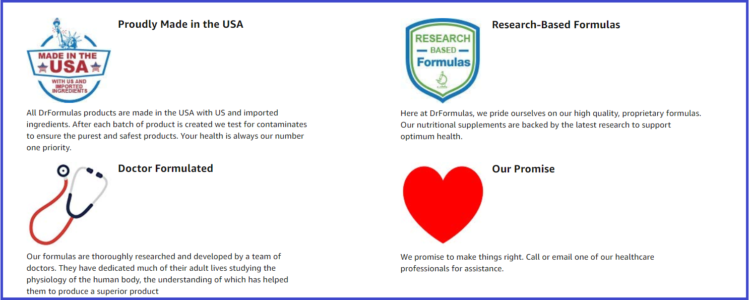 To be honest – in terms of composition, its 2 products are definitely some high quality ones.
However, they're not my top recommendation.
There's a better option with a stronger formula for a lower price.
But other than that – HairOmega's product are far from bad.
---
#1 – Ingredients

(9 out of 10)
---
HairOmega has a pretty good formula overall:
compounds known for their hair benefits

high dosages in most substances

several vitamins/minerals
As I mentioned before – this product has 2 main versions.
In terms of ingredients, they're quite similar but there are small differences:
contain about 75% mutual ingredients 

a proprietary blend that makes the difference between them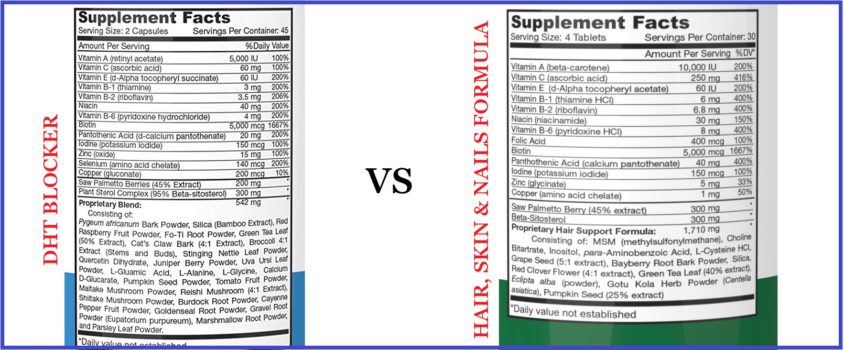 So let's analyze each separately.
1. Mutual Ingredients (For Both Versions)
---
This list mostly includes vitamins/minerals – but there are also 2 herbal compounds.
Out of these – the most important ingredients are:
Niacin – stimulates hair roots and follicles.[1]

Folic Acid – also promotes hair growth and strength.

Biotin – can prevent hair fall out, but the dosage here is too high (if you ask me).

Zinc – a deficiency leads to serious hair loss. [2]
Saw Palmetto – it's the best herb against hair loss caused by DHT excess.
Beta-sitosterol – can also block DHT high levels. [3]
Overall, these ingredients look pretty good.
My only mention is that biotin contains 5000 mcg (which is a very high dosage).
This substance can cause serious side effects in high quantities – that's why I recommend taking at most 1000 mcg per day.
2. Proprietary Blend (DHT Blocker)
---
As you can tell – this is a mix of several natural ingredients:
most are herbal extracts

there are a few amino acids as well
Despite not having any dosages for each ingredient – this blends looks great:
Green tea blocks DHT receptors on the outside.

Nettle decreases the hair loss and strengthens hair.

Cayenne pepper stimulates blood flow and circulation.
Most of the other ingredients have real benefits for hair.
But I won't mention all of them, since I want to keep this review short enough to be easily read.
So overall – this blend contains the right things for a DHT blocker.
3. Proprietary Hair Support Formula (Hair, Skin & Nails)
---

This is the mix from the second version of HairOmega:
higher dosage than DHT Blocker's blend

lower quality overall
Basically – this blend contains mostly ingredients that boost hair health.
Few of them are actually involved in stimulating hair growth.
But for a hair health supplement, this blend is really good.
---
Conclusion
---
HairOmega has a promising formula overall:
high number of different ingredients

contains a specialized herbal blend

good dosages in most compounds
Now – in terms of ingredients, I recommend the DHT Blocker version most.
It's specifically designed for hair, so its formula is stronger at this chapter.
The other version is meant to improve hair, skin and nail health.
For this reason – it's more of a general supplement (in terms of compounds).
---
#2 – How To Use It

(6 out of 10)
---
Here I will give you a few details on HairOmega's pills and their schedule.
To be honest – I'm quite disappointed of them at this chapter.
1. The Pills
---
First of all – HairOmega's 2 versions don't have the same kind of pills:
DHT Blocker uses capsules

Hair, Skin & Nails uses tablets
Now – veggie capsules are the kind of pills used by most hair supplements.
That's because they have a gelatin cover (which makes them easier to swallow).
So far so good.
However – the Hair, Skin & Nails' pills are totally different:
as I said, they are actually tablets

they have a thicker consistency and slightly larger dimensions

also, they're harder to swallow

I personally don't recommend supplement that contain tablets – because swallowing them can be a real chore.
That's why I was a bit disappointed by HairOmega at this chapter.
2. The Schedule
---
Unfortunately, things aren't anything better here either:
DHT Blocker requires 2 pills per day

Hair, Skin & Nails Formula requires 4 pills per day
Now – regarding the DHT Blocker, things look quite good.
2 pills a day is quite normal for a hair supplement.
On the other hand – the other version requires 4 pills (which is way too much).
Honestly – there are high chances that you forget about one of the 4 pills.
That's why I never recommend products with such a high number of pills daily.
---
#3 – Results

(8 out of 10)
---
To be honest, I haven't tried any version of HairOmega myself.
For this reason – I won't be able to speak from experience.
However, I tried to look into previous users' opinions/reviews.
In this way – you could hear the opinion of people who actually tried the products.
Note: I only considered authentic reviews, not promotional ones.
1. What People Say
---
Both versions of HairOmega have around 4 stars on Amazon.
Considering both have around 1000 reviews – that's a really good number.
It means the products actually work and they're not scams at all.
So here's what most people believe about them:
Some say it really helped their hair grow faster.

Others claim it decreased their shedding a lot.

A few others say their hair looks thicker.

There are also negative reviews as well.

Most importantly, several people claim certain positive reviews are actually fake.

Obviously, there are also users who didn't have any success with these pills.

But basically – both products have over 50% positive reviews, which tells a lot.
In case you were wondering whether they're scams or not – they're certainly not.
Still – as I said, there's also a negative side.
2. Biggest Complaints
---
Most negative reviews complain about:
Many fake positive reviews

No effect after a long time

High price

Now – since I never used the product myself, I can't talk about its effect.
But it will surely not work for 100% of users, so these complaints are totally legit.
As for the complaints about fake positive reviews – they might be true:
Basically – HairOmega might not work for so many people.
However, some of them might leave a positive review in exchange of the free/discounted bottle.
This strategy is really common in many products – so it's totally possible.
But still – I can't tell if that's the case with HairOmega or not.
---
Conclusion
---
Both versions of this product have mixed reviews:
most are positive

there are also enough complaints
Anyway – overall, I personally believe the products have a high quality.
However, this doesn't mean they're the best choice among hair supplements.
I personally recommend a cheaper alternative that worked better than anything else for me.
---
#4 – Price

(7 out of 10)
---
Considering both products' formula – HairOmega isn't expensive at all.
However, it's not a cheap supplement either.
1. The Exact Price
---
HairOmega is mostly sold on Amazon – so that's where you can find the lowest prices:
DHT blocker costs $29.99 normally.

Hair, Skin & Nails costs $23.69 (standard price).

Since they're sold on Amazon, they often have small discounts.

You can find both for about $3-$4 cheaper at times.

Now – these prices are far from high.
For a product of this value, they're actually decent.
But out of these 2 versions, I strongly recommend going for the DHT Blocker (in terms of hair effect).
And obviously – this is the pricier one among the 2.
That's because it has a stronger formula, so it makes sense.
Still – compared to other supplements with a better formula, HairOmega's DHT Blocker is a lot pricier.
That's a reason why it's not among my top recommendations.
And let me tell you more on this up next.
2. Competitors' Price
---
I will only compare HairOmega's products with my #1 recommended supplement.
I'm talking about a product called Folexin:

HO costs around $30 per bottle (standard price for the DHT Blocker).

F normally costs about $25 per bottle.

Both have discounts often times. 

HO's product comes at around $27 (I haven't seen it any cheaper).

F costs as little as $18 per bottle.
In terms of formula – I consider Folexin as being about 30% superior.
Since it's also a few dollars cheaper, I think it's a much better choice.
Don't get me wrong – I'm not trying to criticize HairOmega in terms of price.
I'm only saying it's not the best option you have (regarding its quality/price).
---
Conclusion
---
HairOmega's both products have a decent price:
DHT Blocker is more expensive

both are affordable for most people
However – if you really want to make the most of your money, I don't recommend this brand.
My alternative is a few dollars cheaper and it has a better formula.
So from this point of view, I wouldn't recommend HairOmega.
Not as a top choice, at least.
---
#5 – Where To Find It

(10 out of 10)
---
HairOmega's both products are quite easy to find:
available on most retailers

also sold in online local drugstores/pharmacies
From what I noticed – prices are about the same in all sellers.
However, Amazon remains my top recommendation:
discounts appear quite often

money back guarantee

you can get a refund very easily
In terms of price, you can probably find both products for less money on Ebay.
However – I don't recommend that retailer because its sellers are quite independent.
For this reason, you might not receive what you actually ordered.
Plus – shipping fees are usually huge on Ebay, so I would rather stick to Amazon.
---
#6 – Final Conclusions
---
Here's how I would sum up my opinion on HairOmega (in 3 ideas).
1. Good Formula
---
In terms of ingredients – this supplement looks great:
both versions have quality formulas

most ingredients have good dosages

varied compounds
As I said – these 2 formulas aren't my personal favorite.
But they're surely superior to 50% of the actual hair supplements (especially the DHT Blocker version).
2. Really Works
---
HairOmega has a lot of positive reviews.
It also has enough complaints – but they're far less than the praises.
For this reason, I personally have a good opinion on this brand (in terms of results).
It surely doesn't work for everyone – but it works for more than half.
3. Not The Best Choice 
---
In terms of quality/price – I don't think HairOmega is the best product you can buy.
That even though it's a supplement I actually like.
It's only that there are cheaper products that have a better quality.
So if you want to make the best investment – I recommend another supplement.
---
My Verdict – Is HairOmega Worth It?
---
Short answer: Yes and no.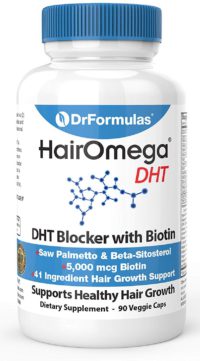 It's a good product in terms of ingredients/price:
quality formula

varied ingredients

pretty much affordable
But there is a better product for the money – so that's what I recommend instead. 
I'm talking about a supplement called Folexin:
Stronger formula overall

Price is a few dollars cheaper

Works for both men and women

Enough positive reviews and praises
Now – HairOmega is definitely a reputable brand with 2 quality supplement among its products.
But in terms of hair growth/loss, it's not my top recommendation.
If you want the best formula for the lowest price – I strongly recommend Folexin instead.
It's the product I'm using on a constant basis and my top choice among all supplements I used.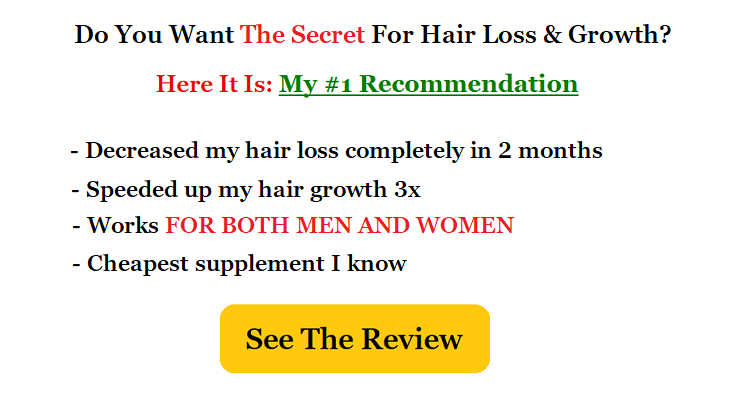 1 – https://www.ncbi.nlm.nih.gov/-pubmed/17168873
2 – https://www.ncbi.nlm.nih.gov/-pmc/articles/PMC6124235/