It's time for my Nourage review – a hair supplement that seems very promising:
lots of positive reviews

an award received in 2015
But as you might expect, it's extremely expensive (at $60 per month).
So is Nourage worth all these money? Does it work better than other hair supplements?
Let's find out all the details behind this product.
Note: This review is based on my opinion + research on Nourage.
So Let's Get To The Review
---
Full Name: Hair Growth Vitamins from Nourage
Versions: Only 1 (30 days supply). 
But you can buy more bottles at once (with a very small discount).
Best Actual Price: Around $60 per bottle.
Cheapest Place To Buy: Probably Amazon (or the official website – but only with subscription).
Designed For: According to the label – here's what it can do:
thicken hair

reduce shedding

regrow hair for men and women

extra shine
So it's mostly a hair health supplement – but it also works for hair loss and growth.
However, from what I read – it doesn't regrow hair on bald scalps. Just keep this in mind.
My Rating: 8 out of 10
Worth Buying?: If you afford paying $60 per month, definitely.
It's a great product – but I wouldn't recommend it because:
it's extremely expensive

you need 3 pills per day
But in terms of effect, it's really good. However – if you can't afford the high price, I recommend you a $25 supplement that worked the same for me.
What I Liked About It
---
Contains a unique ingredient (special form of keratin)

Pills are pretty small

Really effective for thickening hair

Many positive reviews about it

Has some clinical evidence behind (1 ingredient, not the whole supplement)
What I Didn't Like About It
---
No herbal extracts

You need 3 pills per day

Extremely expensive

Not affordable to buy monthly (on the long term)

You can only find it in 2 retailers
---
What Is Nourage? A Quick Overview
---
Shortly – it's a supplement designed to thicken and regrow existing hair.
So far so good – but that's what 95% of the hair supplements claim. Do you agree?
So what makes Nourage more special?
Formula based on a unique type of keratin.

Received a 2015 beauty products award.

Also helpful for smoothing skin.

The keratin it uses has some clinical evidence behind.
Basically – Nourage isn't just a hair supplement. 
As it contains keratin, it's also effective for small wrinkles, skin moisture or hair shine.
And obviously – for strengthening and growing hair faster.
Sounds too good to be true? It definitely it.
All those benefits come with a huge price:
$60 per monthly supply

that's a small fortune to pay ever month
So now that you know the main things about Nourage, let's analyze it more closely.
---
#1 – Ingredients

(9 out of 10)
---
Firstly, I'm not a huge fan of Nourage's formula – for 2 reasons:
contains mostly vitamins/minerals

no herbal extracts
Vitamins are surely good for hair. But when it comes to growth – they're not as strong as herbal extracts.
So that's something I don't like about Nourage.
However – it's not all about vitamins. It's actually based on a unique ingredient (that probably does most of the job).
Now – I would divide Nourage's ingredients in 2 classes:
Vitamins + Minerals

Trademark Ingredients
So let's take a closer look at each.
1. Vitamins + Minerals
---
Nourage only contains 7 ingredients here – which isn't that much (compared to other products):

Vitamin C – it's an antioxidant and helps collagen production.

[1]

Niacinamide – can speed up hair growth.

Vitamin B6 – strengthens hair and increases growth.

Biotin – responsible for decreasing shedding and boosting growth.

[2]

Panthotenic Acid – maintains hair health and color.

Copper – a deficiency can cause hair loss.

[3]

Zinc – just like cooper, it's responsible for shedding and hair loss.
Now – as I said, these aren't all of the vitamins/minerals effective for hair growth.
So Nourage doesn't contain every useful vitamins – as other products do (see HairBurst).
But in my opinion, the ones it contains are enough.
2. Trademark Ingredients
---
Actually – out of these 2 ingredients, only one is a brand one.
The other is rather a mix, but it's not a trademark of any company:
Cynatine HNS Keratin – that's the trademark ingredient I was talking about.

Antioxidant Blend – can restore hair health and protect against external factors.
Now – regarding Cynatine HNS Keratin:
increases your body's keratin levels

responsible for hair strength

promotes hair growth and regeneration

has some clinical evidence behind

[4]
Basically, this ingredient is a superior form of keratin (in terms of absorption).
I won't insist of keratin and its benefits – as you're probably familiar with them.
---
Conclusion
---
Nourage's formula is pretty good actually. 
I'm not impressed by the high quantity of vitamins +minerals (that's what most supplements contain).
However – the Cynatine HNS Keratin make it unique.
So judging after the formula, Nourage should work really well.
---
#2 – How To Take It

(8 out of 10)
---
I will try to give you some details about Nourage's pills and when it's best to take them.
1. Pills Facts
---
According to the label – Nourage's pills are tablets. 
That makes the pretty different from most hair supplements – which have gelatin pills.
So here's what you should know about Nourage:
tablets have small dimensions

they're thicker and have a round shape

however, they're quite easy to swallow
The only downside might be taste. 
Since there's no gelatin cover, the pills might have a bitter taste – especially at first.
But sure, that's not a major thing – as you can get used to that.
2. The Schedule
---
That's a possible downside of Nourage:
You need 3 pills per day.

It's better to space them out throughout the day.

This schedule can be hard to follow.

Obviously – the best scenario would be to take only 1 pill per day.
But most hair supplements require 2.
However – 3 pills daily is already a bit hard, especially if you're a busy person and work all day.
For this reason – you can take all 3 pills together, instead of forgetting about 1 or 2 throughout the day.
It's not very pleasant to swallow 3 pills one after the other – but that's it.
---
#3 – Results

(9 out of 10)
---
Believe it or not – Nourage seems to have mostly positive reviews.
Compared to other hair supplements, it has considerably less complaints. At least in terms of effect.
Note: I didn't try to supplement myself, so I can't speak from experience. But this section is based on all authentic reviews I could find on Nourage (mostly from Amazon).
1. What People Say
---
As I said – most reviews I read were positive.
There are enough complaints, obviously – but not more than praises:
Some people claim it really thickens hair in 2-3 months.

Others say it's great for growth.

A few even call it a miracle product. 

Some complain about the side effects (high blood pressure, stomach pain, etc.).

Other say it simply didn't work.

But overall – about 70% of the reviews were positive, which means Nourage is effective for most people.
Plus – there were some positive reviews from men.
It's true that none mentioned baldness, but most of the men using Nourage had thinning hair – which actually improved.
So it's clearly not a useless supplement at all.
2. Biggest Complaints
---
There were some people complaining Nourage didn't work at all – but quite a few (about 15%).
Instead – here are the usual complaints I found:
It's extremely expensive for the quantity.

Many reviewers said they couldn't afford it monthly.

Now – I pretty much agree here.
Nourage is a great product – but it's really pricey.
I couldn't afford it for more than 3 months either. 
In terms of effect, it's extremely helpful – but in my opinion, there are products that work the same for $35 less. 
---
Conclusion
---
Nourage is really effective in terms of :
thickening

regrowing hair
I couldn't find many reviews about hair loss, though. But judging after its formula, I'm sure it also helps shedding.
However – enough customers complaint it's really expensive to buy monthly (almost $60).
I personally agree, as I couldn't afford it on the long term either.
So if you're in the same situation, I recommend you a product that works about the same – but costs $25 (at most).
---
#4 – Price

(3 out of 10)
---
Unfortunately, that's the worst part of Nourage.
Despite being a great supplement – it's also extremely expensive.
1. The Exact Price
---
Here's the thing:
The lowest price for Nourage is on Amazon.

You can get it for $59.95 per month. 

However – they often have $5 sales/discounts there.

Shipping is usually free.
Now – Nourage is also available on the official website. But the price offer is quite tricky:
the normal price is $59.59 (just like on Amazon)

this doesn't include the shipping

you have the option to go for auto-shipping

in this way, Nourage costs $53.59 and shipping is free

According to the official website, you can stop the subscription whenever you want.
But many websites claim this – and they don't allow you to cancel in reality.
I can't tell how Nourage is, but I would stay on the safe side and start with 1 bottle (without auto-shipping).
Because even so – Nourage is super pricey.
2. Competitors' Price
---
I will only compare Nourage with my #1 recommended hair supplement (Folexin).
Here's what makes them different:
Both have a really good formula.

Folexin costs about $25 per month, Nourage costs $60.

Both offer some discounts if you buy several bottles together.

You can get Folexin for $18 per bottle.

You can get Nourage for $57 per bottle.
Now – it's true that I haven't tried Nourage myself. But all those positive reviews are a proof that it's effective.
On the other hand, I used Folexin personally – and it's still the product I'm using:
lowest price out of the supplements that helped me

starts working in 1-2 months

more than 1 benefit (hair growth, thickening and volume, etc.)
---
Conclusion
---
Nourage is a great supplement – but it's extremely overpriced and expensive.
Now – if you afford buying it for at least 3 months, my advice is to go for it.
But if you don't – I recommend you to go for a cheaper supplement ($25 at most) that does about the same thing, in my opinion.
Folexin is the product I use and I'm personally very satisfied with it.
---
#5 – Where To Find It

(8 out of 10)
---
Nourage isn't available in as many retailers as other products.
I could only find it in 2 sellers:
Amazon (my #1 recommendation)

Official website
Now – it's also available on 2 sellers from Ebay, but the prices are over $100 on both.
Getting back to Amazon – it's the best choice if:
you're buying Nourage for the first time

you only want to test it out 
On the other hand, the official website is a better choice when:
you want to buy a larger supply (2-3 months)

you're willing to go for auto-shipping
Now – I would normally not recommend Nourage because of its high price.
But if you still want to buy it, think exactly why you need it and choose the retailer accordingly.
---
#6 – FAQs
---
Here I will try to answer the most common questions about Nourage.
Note: I might repeat something I already mentioned, but it's easier to spot here.
1. How many pills per day?
---
Three. Nourage requires more pills than most supplement, which isn't really good.
However – you can take them together, if that's more comfortable.
2. How long lasts 1 bottle?
---
Only 1 month – it's a 30 days supply.
3. Can I take it with other drugs?
---
In my opinion, you can – because the formula looks pretty safe.
Keratin can't really interact with drugs, and that's what Nourage is based on.
However – if you're taking a long term treatment, my advice is to ask your doctor.
He will probably allow this supplement – but it's better to stay safe.
4. Are there any side effects?
---
Based on the reviews I read, they're quite rare.
Some people complained about:
high blood pressure

stomach pain

cramps
But as I said, there were about 5% reviews complaining of side effects – which is pretty good.
So I wouldn't worry too much.
5. How fast should I notice an effect?
---
Typically, you would need about 1-2 months.
But from what I read – most people could see a change in 3-4 weeks, which is really fast.
Anyway, you should give Nourage at least 1 month (or even 6 weeks).
---
#7 – Final Conclusions
---
Here's how I would sum up my opinion on Nourage (in 3 ideas):
1. Keratin-Based
---
Though it contains about 70% vitamins + minerals, Nourage is based on 1 ingredient:
That's the secret behind its effect – if you ask me.
Sure enough – the other ingredients also help.
But I personally think it's this keratin making most of the job.
Otherwise, Nourage wouldn't be different from all those hundreds hair vitamins from the market.
2. Really Effective
---
I haven't tried Nourage personally.
But even so – there are lots of reviews from real customers:
about 70% are satisfied

they say it's really helpful for thin hair

also seems to speed up growth
Out of the negative reviews – price seems to be the biggest issue.
And I totally agree.
3. Hard To Afford
---
As I said – lots of people are unsatisfied about Nourage's price:
costs about $60 per month

you can't find it for less than $53 (with auto-shipping)
Most of us couldn't afford buying it constantly – do you agree?
I'm the first one to admit it's too expensive for me. So that's a major reason why it's not among my top recommended products.
---
My Verdict – Is Nourage Worth Buying?
---
Short answer: Yes, but only if you afford it. It's a great product overall:
contains a unique form of keratin

many positive reviews

helps both thickening and hair growth

works for both men and women
However – it's not one of the supplements I would recommend:
Way too expensive for me ($60 per month).

Doesn't work for everyone.

You need 3 pills per day.

You can get similar products for less money.
So I would personally stick to my #1 supplement – Folexin.
It has a really good effect for hair growth, thickening and volume – and it also works for men.
But the main reason why I recommend it is price – it costs at most $25 per month, which is really cheap.
So if you can't afford Nourage and need a cheaper product that still works – I totally recommend Folexin.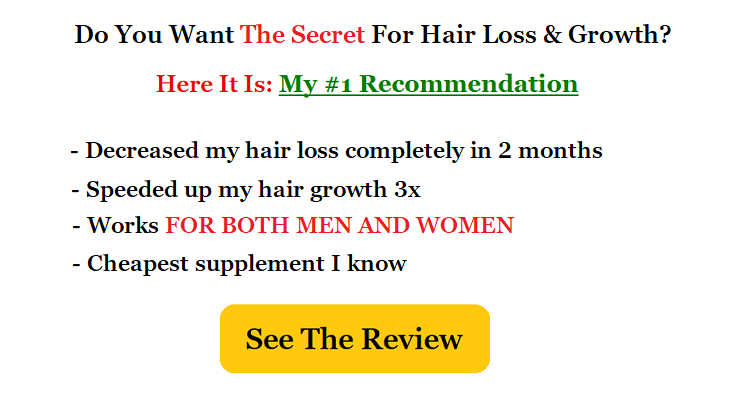 1 – https://www.ncbi.nlm.nih.gov/-pmc/articles/PMC6204628/
2 – https://ods.od.nih.gov/-factsheets/Biotin-HealthProfessional/
3 – https://www.ncbi.nlm.nih.gov/-pmc/articles/PMC3870206/