It's time for my Valotin Shampoo review – a product that you should definitely try.
That's because it's the best shampoo for hair loss/growth/thinning you can get:
excellent composition and ingredients

really affordable price

great effect against thinning and shedding
I have a personal experience with this shampoo and it has been helping me tremendously.
That's why I'm so confident about its effect.
But let me tell you why it's so much better than any other shampoo I came across.
Note: This review is based on my experience + research on Valotin's shampoo.
So Let's Get To The Review
---
Full Name: Strengthening Shampoo by Valotin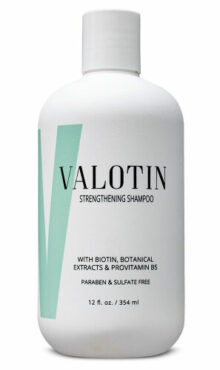 Sizes: Only one format (12 fl. oz or 354 ml)
Best Actual Price: Around $30/bottle
However, you can also get it for about $24/bottle (more on this below).
Cheapest Place To Buy: Its official website
Designed For: Boosting hair growth and reducing the shedding/thinning.
It's formulated as a strengthening shampoo – but it actually does a lot more:
promotes hair thickness

improves growth speed

strengthens the roots and prevents shedding
My Rating: 9.50 out of 10 – The best shampoo I know
Worth Buying?: Definitely – I couldn't find any better shampoo so far:
original formula with some excellent ingredients

worked amazingly in my case

really affordable for its value (and quantity)
So if there's a hair shampoo I recommend, it's surely this one.
How To Get It Cheaper
---
You can actually get Valotin's shampoo for $24 per bottle, instead of $30. Here's the strategy I use:
Use the 5% off code from below 

Go for a 3 bottles supply

In this way, you get about 20% off
If you make the calculations, this means $24 per bottle – which is one of the lowest prices I found for a shampoo of this quality (and quantity).
That's how you can save a lot of money with this shampoo.
What I Liked About It
---
Unique composition with some clinically-tested ingredients

Excellent effect against thinning/shedding

Boosts hair growth speed considerably

Very high quantity/bottle

A bottle lasts a lot longer than most shampoos

Extremely low price

Great quality/price ratio
What I Didn't Like About It
---
Only available in about 25 countries

Very few authentic reviews outside its official website

Not available to buy on retailers
---
Why It's My #1 Recommended Shampoo
---
As I told you, Valotin's product is the best shampoo for hair loss/growth I know.
I tried over 20 different brands – and this one remains my top pick.
But I basically have 3 main reasons why I recommend it.

#1 – Amazing Effect
---
I'm a big fan of this shampoo because I have seen how it really works.
And in my case – it was extremely effective:
strengthened my roots and reduced the shedding

increased my growth speed

improved my hair's shine and softness
So I think it's the best shampoo you can get for your hair issues.
#2 – Lasts A Really Long Time
---
Since it comes in a huge quantity, this shampoo is extremely economical.
It's true that this depends on how often you wash your hair.
But a bottle lasts a lot more (compared to other shampoos).
#3 – Lowest Price
---
Judging after its value, this shampoo is extremely cheap.
You can get it for even $24 for a 12 oz bottle.
I surely don't know too many high-quality products that cost so little.
So you would be making a really good deal going for it.
---
#1 – Ingredients

(9 out of 10)
---
Valotin's shampoo has an excellent composition overall.
In fact – it's the kind of formula that would help your hair from the inside out.
That's exactly why it's so effective, if you ask me:
infused with several hair-boosting herbal extracts

based on biotin

rich in antioxidants and internal moisturizers

original formulation
Besides, some of its compounds have clinical evidence behind (in terms of hair benefits).
So their potency is clearly very high.
That's why I'm so confident in this shampoo's formulation.
Now – there are over 2o active ingredients in this product, which I divided in 2 main groups.
So let's take a closer look at each.
1. Botanical Extracts
---
Certain herbs have an amazing effect when it comes to hair growth.
Plus – they are also my top recommendation against thinning/shedding.
And Valotin's shampoo actually contains the best herbs available (in terms of hair benefits):
Chamomile Flower Extract – supports hair roots and boosts growth.

Cucumis Sativus Extract – hydrates and reduces thinning hair.

Green Tea Leaf Extract – blocks DHT and fights hair loss.

Aloe Barbadensis Leaf Extract – promotes growth and fights breakage.

Rosemary Extract – stimulates scalp circulation and increases growth.
So these extracts will surely boosts your hair growth speed – but also prevent any shedding.
2. Vitamins
---
This shampoo contains 2 essential vitamins (which you can't find in most similar products):
Biotin – promotes growth and reduces thinning/shedding.

ProVitamin B5 – stimulates hair follicles and increases growth speed.
They also have a major impact on this product's overall effect.
It's true that biotin has a great effect when taken by mouth.
However, it's also quite dangerous in high doses.
So this external formulation is a lot more suitable.
That especially if you associate it with an internal product (but in a moderate dose).
---
Conclusion
---
Valotin's shampoo has a really potent formulation overall:
contains some classic herbal extracts

it's based on some essential vitamins
As I said – its active ingredients are well over 20 (which tells a lot about its versatility).
But I only tried to emphasize the most important compounds inside it.
So in terms of composition, it's one of the best choices you can make.
That's why it's a shampoo I strongly recommend.
---
#2 – Smell & Texture

(10 out of 10)
---
This shampoo has a pretty typical consistency.
So there's nothing to complain about it, at this chapter.
1. Smell
---
First of all – Valotin's shampoo isn't completely fragrance-free.
However, its smell is so light that I somehow consider it as such:
very light (fresh) scent

it also has a light menthol smell

leaves a very pleasant scent on your hair
In other words, it's not that kind of shampoo that would stay in your hair for days.
This may be a downside for some, but I honestly consider it an advantage.
That's because it's suitable for people who are sensitive to strong scents (like I am).
So its super light fragrance is just perfect, if you ask me.
2. Texture
---
As I said, Valotin's shampoo has a pretty typical consistency:
light white color

lathers pretty well

you need a pretty low quantity of products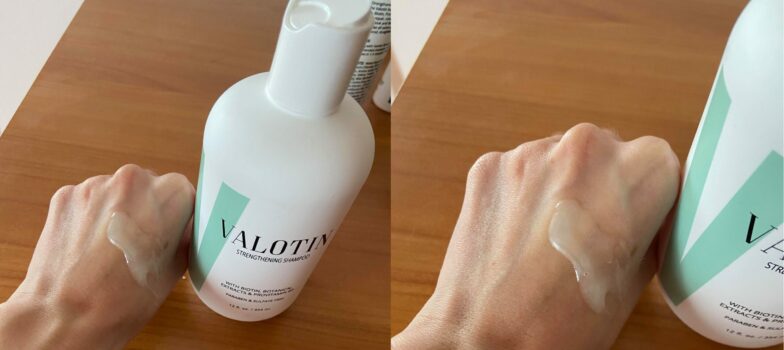 What I liked most about it is that a small amount would do (for the entire scalp).
Now, a bottle of this shampoo has a pretty larger quantity (12 oz).
But since you only need a small amount per wash, one bottle is going to last a lot.
So it has a major advantage here.
---
#3 – How To Use It

(10 out of 10)
---
Like its consistency, Valotin's shampoo also has a typical application mode.
According to its instructions:
Apply the product on your wet hair.

Lather and massage it into your scalp.

Rinse your hair and condition afterwards.
Now – there's no info about how often you should use it.
But my advice is to use it in every wash.
So if you tend to wash your hair daily, add it to your daily routine.
I personally prefer to wash my hair every 2-3 days, which is the optimal interval, in my view.
But the point is that you don't necessarily have to use this shampoo daily, if you want to get the best results.
Some shampoos require a daily use in order to work best – but that's not the case here.
So use it whenever you wash your hair, without changing the frequency just for the sake of this product.
---
#4 – My Experience

(9 out of 10)
---
I'm sure most of you are curious to see how this shampoo actually works.
So I will give you some info about what it did in my case.
1. My Background
---
I have been going through a long battle with hair loss and thinning:
The main cause was a mix of hormonal imbalances, nutritional deficiencies and stress.

I also has Hashimoto's disease (which causes thinning).

My hair had a slower growth speed.

However, the ends would thin out very badly.

I was also suffering from a long-term general hair loss.
Now, one of the products that made a major difference in my hair journey was Folexin.
It's a herbal-based supplements that I consider the main responsible for my hair's recovery.
However, its effect was so strong because I associated it with a 7 steps treatment plan.
As you can guess, Valotin's shampoo was one of those 7 steps.
And I could see its major impact on my hair.

2. How It Worked
---
Basically, I had been searching for a high-quality shampoo for a long while.
And after using Valotin's product for some months, I didn't want to go back to anything else.
Now, my hair was already getting healthy (due to the supplement).
But things got much better a few weeks after I started using this shampoo:
My hair started growing even faster.

I also noticed I was losing less hairs each day.

My hair seemed a lot stronger and it wouldn't break so easily.

Plus, it was much softer and smoother.
I even stopped using the shampoo after a while, just to see if it was actually working or not.
And guess what? My hair was beginning to fall out more, once again.
So I'm pretty sure it played a major role in getting my hair back in shape.
---
Conclusion
---
I personally had an excellent experience with Valotin's shampoo.
That's why I consider it the best shampoo for hair loss/growth you can get.
It had an excellent effect in my case – and it was really affordable.
What could you wish for more?
So I will surely stick to it a long time on.
---
#5 – Price

(10 out of 10)
---
This is one of the main reasons why I'm such a big fan of Valotin's shampoo.
Despite its excellent quality – it's also extremely affordable.
In fact, it's super cheap for the quantity it comes in.
1. The Exact Price
---
As I said – this product is only available on Valotin's official website:
Regular price is $30.95/bottle.

One bottle contains 12 fl. oz (354 ml).

Shipping is free for all orders in the US.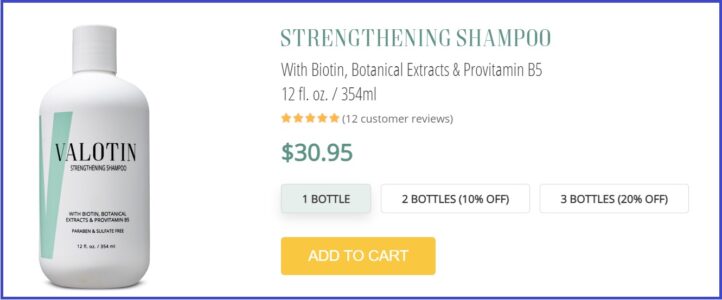 Now – the best thing about this product is that it comes with some huge discounts.
So if you buy 3 bottles at once, you can get it for about $24.
A price of $30/bottle is really good, to be honest.
But a price of $24/bottle (for 12 oz) is actually unbeatable.
So you end up saving a lot of money with this product, trust me.
That's one of the reasons why I decided to stick with it (and not try something else instead).
It has an excellent effect, but its price is even more excellent.
So I personally don't know if you can find such a better deal anywhere else.
2. Worth Or Not?
---
It's definitely worth it.
I strongly advise you to give this shampoo a try.
It's not just that it worked really well for me – it's also that it's super cheap.
So instead of spending a lot of money on pricey brand shampoos, you can get all the benefits for a much lower cost.
I personally cannot wish for anything more.
---
Conclusion
---
Valontin's product has the best quality/price ratio among all shampoos I looked into.
Not to mention that it had such an amazing effect in my case.
So it's a product I totally recommend.
If you want the best shampoo for hair loss/growth, that's what you should go for.
---
#6 – Final Conclusions
---
Here's how I would sum up my opinion on Valotin's shampoo in 3 ideas.
1. Excellent Formula
---
In terms of composition, this shampoo looks excellent:
original formula

based on several botanical extracts

also infused with vitamins 
In other words – it contains many ingredients that have been clinically tested for their hair benefits.
So this kind of formulation cannot go wrong.
I have actually seen that in my case.
2. Lasts A Lot
---
One of the main advantages of this shampoo is its huge quantity:
one bottle contains 12 oz (354 ml)

that's a lot more than most shampoos

this quantity can last a really long time
So compared to its competitors – this products clearly lasts much longer.
That's a big help when it comes to saving some extra money.
3. Best Quality/Price
---
As I said – this shampoo has an excellent composition and effect.
Besides, it's extremely affordable for its real value.
That's why I consider it to have the highest quality/price ratio from the market.
This is the #1 reason why I strongly recommend it.
---
My Verdict – Worth It Or Not?
---
Short answer: It's 100% worth it.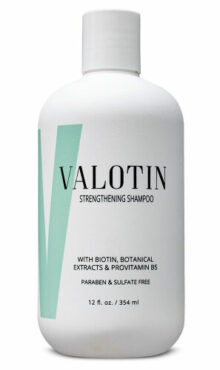 It's actually the very best hair growth/loss/thinning shampoo you can get:
Works amazing in terms of reducing shedding/thinning.

Boosts hair growth really well.

Great formula with some excellent ingredients.

Original composition that can't be found in any other product.

Extremely high quantity/bottle.

One bottle lasts a really long time.

Really affordable price for the value.
So I strongly recommend Valotin's product.
I personally could not find too many similar shampoos.
Not to mention that the ones I did find were a lot pricier (for a smaller quantity).
So Valotin's shampoo is surely the best thing you can get for your hair.
Since it's so affordable, you literally have no excuse for not giving it a try.