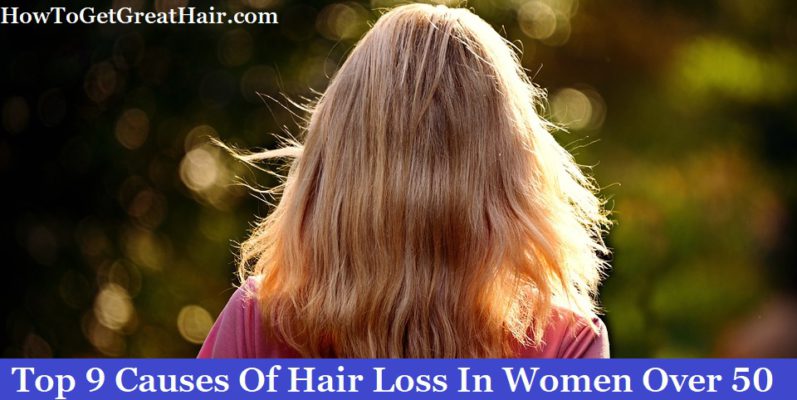 Is your hair falling out – and nothing seems to help? This can be really painful.
So what can you do about it?
Find the cause behind.

Try to treat it.
But finding out what's wrong with your hair is the hardest part.
For this reason – here are the top 9 causes of hair loss in women over 50.
So if you happen to be above this age, your real problem has 80% chances to be on this list.
---
#1 – Hormonal Changes
---
Have you recently been through menopause?
You might not know it – but that's actually the #1 cause of hair loss in women over 40-50 all over the world.
1. Why?
---
Once you reach menopause, your hormone levels decrease suddenly.
That's why you start experiencing lots of weird symptoms:
Hot flashes

Joint pain

Sudden headaches
However – this drop in hormones also affects your hair. [1]
In fact – about 50% of women experience shedding after going through menopause.
Some only lose a few hairs, while others deal with a severe hair loss. Basically – it's all about luck.
2. Solutions
---
Besides hair loss, menopause has other dangerous effects on the long term:
osteoporosis

weaker muscles

drop in skin elasticity
For this reason – it's important to visit your doctor as soon as you reach this stage.
Though it's a natural process, menopause can lead to secondary problems.
That's why a prescribed treatment could keep you safe from these issues. Plus – it could also save your hair.
---
#2 – Hair Dye
---

It might seem funny – but dying your hair can actually have a severe impact on its health.
In some cases, it can also cause shedding.
1. Why?
---
This is more of an allergic reaction than a real cause of hair loss.
Hair dye is usually full of chemicals (more or less dangerous).

Certain people are allergic to some of them. 

The symptoms only come up after using the hair dye.
So what happens if you dye your hair and you're allergic to the product you used?
Well – you're probably going to experience some local symptoms:
itchy scalp

red patches

dandruff

dermatitis
However – in some cases, this allergy is more severe, causing general shedding or bald spots. [2]
2. Solutions
---
First of all – always test the hair dye before using it.
Apply a small dot on your hand.

Wait for 10-20 minutes.

Check out the area around.
If it doesn't get red and itchy, you're not allergic to the hair dye. This means you can use it for your hair.
But if you want to stay risk-free, try using a natural hair dye.
Coffee is great for darkening hair, while lemon juice and honey can help lightening it.
---
#3 – Scalp Problems
---
If your scalp is unhealthy, your hair will suffer immediately. 
Believe it or not – scalp disorders are a serious cause of shedding.
1. Why?
---
First of all – there are several scalp problems that can affect the hair:
folliculitis

scalp ringworm

alopecia areata

[3]
Out of these – only the last 2 cause hair loss directly (bald spots).
On the other hand – minor scalp problems affect the hair in a different manner:
Weaken follicles.

Make your scalp itchy and sore.

Scratching can break follicles.
In this way – your hair starts falling out massively.
That's why scalp problems are way more serious than they seem.
2. Solutions
---
In cases like these, consulting a dermatologist is a must.
You might have a minor dermatitis – but you might also have a serious scalp infection.
So if you want to take care of your hair – visit your doctor for any scalp symptom that seems unusual.
---
#4 – Major Weight Loss 
---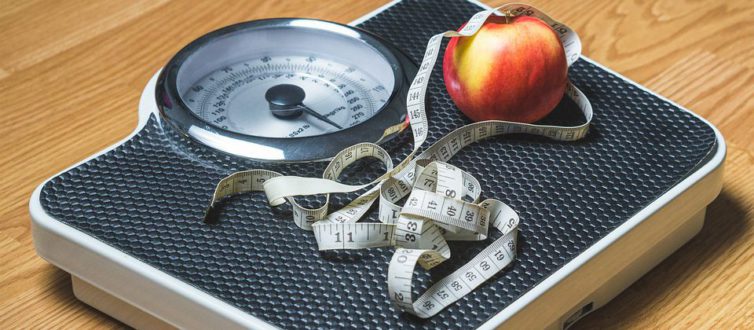 Have you recently been through a weight loss diet?
If you saw positive results in terms of weight – it might be all negative when it comes to hair.
1. Why?
---
Shortly – it's all about nutrients and proteins.
Certain diets promote giving up meat, sugars or fats. Now – that's surely not a bad thing.
But in most cases, not eating enough proteins can seriously affect your hair:
Hair is mostly made of proteins.

During a diet, your body may get a protein deficiency.

In this way, your hair's structure and strength will suffer.
But it's not all about proteins.
Dieting can also cause a vitamin or mineral deficiency – which is even more serious.
For this reason, losing weight very fast is quite dangerous for your hair.
2. Solutions
---
Fortunately – there are some thing you can do about it:
Choose a diet that doesn't request you to give up meat or natural foods.

Make sure you also exercise.

Drink plenty of water and never starve yourself.

Don't ignore the symptoms your body gives you.
My recommendation would be to visit a nutritionist before following any diet.
In this way – you will have your personal weight loss plan (adapted to your body's needs).
This kind of diet will surely not affect your hair – or your general health.
---
#5 – Genetics
---

Do you remember your mother having hair loss issues?
Or did your grandmother experience any shedding?
If yes – your family history may be responsible for your hair loss.
1. Why?
---
Truth is – there isn't a clear explanation why hair loss runs in the families. 
But here's the thing:
Women can also experience genetic hair loss (not just men).

[4]

Usually, female genes are involved.

Your father's hair history doesn't matter much.
In other words – it's not important if your father or uncle were both bald.
Genetic hair loss is linked to your mother's side.
So if any women from your mother's side suffered from hair loss over 50 – there's also a small risk for you too.
2. Solutions
---
This is probably the worst cause of hair loss. 
Why? There isn't much to do to prevent/stop it.
Hair growth shampoos can help. 

Supplements are very effective.
However – none of them could keep your hair healthy, if falling out is in its nature.
But my personal advice is to try a vitamin cure and start using a hair supplement.
These can prolong your hair's life and health for (at least) several years.
---
#6 – Wrong Supplements
---

Have you started taking any supplement recently?
Or instead – is there any supplement that you're taking for more than 6 months?
If the answer is yes, this could be damaging your hair.
1. Why?
---
Normally – supplements are meant to treat deficiencies.
But in some cases, they can have the opposite effect – cause an excess.
So here's the question. What substances can cause hair loss if their level is too high?
Zinc

Selenium

[5]

Vitamin A

Vitamin E
Sure enough, there are some others – but these are the most common. 
Surprisingly – all of them can boost hair health normally.
But if their level is too high, the effect is totally opposite.
2. Solutions
---
What you have to do is simple:
Never take a supplement randomly.

Have a blood test before and consult your doctor.

Only take a vitamin/mineral supplement at his recommendation.

Don't take it for more than 6 months (only if required).
Basically – don't take zinc just because you heard it's helpful.
It does help the hair, but maybe your level is already high.
If you also take a supplement, that would surely be too much (even for your hair).
---
#7 – Smoking
---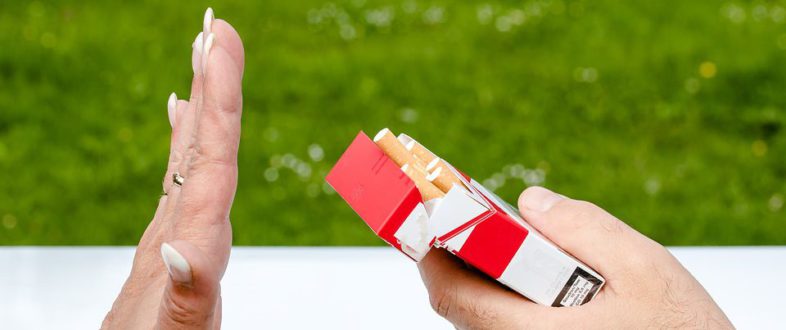 Surprisingly – smoking is one of the top causes of hair loss in healthy women.
So even if you recently quit, there's still a risk that it affects your hair.
But that only if you were a big smoker throughout your life.
1. Why?
---
Smoking itself is harmful for your body – that's not something new.
But how exactly does it affect your hair?
Weakens hair follicles.

Increases breakage.

Decreases hair nourishment. 

Promotes oxidative stress and aging.
Basically – smoking itself doesn't cause hair loss. But it harms hair in general. [6]
And everyone knows that damaged hair is more likely to fall out.
Plus – as you're over 50, your hair isn't as healthy as it used to be in your youth.
2. Solutions
---
It's pretty simple – give up smoking and go for a natural lifestyle.
If you're an alcohol lover, I would also recommend giving it up (at least partially). 
However – if you smoked for 30 years of your life, giving it up now won't help that much.
your hair is already in a bad shape

the toxins affected its structure
But if you want to save as much hair as you have left, it's important to stop smoking.
---
#8 – Stressful Event
---
Traumas are a serious cause of sudden cause of hair loss.
And if you're over 50 – your hair is more likely to be affected (compared to a young women):
roots are weaker 

follicles recover harder
1. Why?
---
Now – it's pretty obvious what a trauma means.
But how exactly could it affect the hair – assuming you're not pulling it out?:
Makes your follicles stop growing.

They get directly into resting phase.

This phase lasts 3 months.

After this time, they fall out.
So basically – if your hair was affected by a trauma, it will fall out massively, out of the sudden.
However, it won't happen immediately after hearing the bad news.
Instead – it will happen around 3 months afterwards, which is a clear sign.
Obviously, your hair loss may be milder or more severe – depending on:
your body's ability to face the stress

your hair's strength
Some people aren't even affected at all – so it's somehow a matter of luck.
2. Solutions
---
Unfortunately – this kind of reaction is impossible to prevent.
But there are some good news too:
hair usually grows back on its own

there are no bald patches left
Shortly – all you need is patience and a good hair supplement, which will speed up the process.
---
#9 – Medical Conditions
---

It's pretty obvious – major health problems can also cause shedding, as a secondary effect.
1. Why?
---
It all has to do with the nutrients your body receives.
As you have a medical problem – vitamins/minerals deficiencies are quite common. So this will also affect your hair (on the long term).
But that's not all.
Some conditions cause hair loss themselves:
auto-immune arthritis

lupus

thyroid problems
Obviously, the list is much longer. So if you're suffering from a chronic disease, this could be the responsible.
2. Solutions
---
In this case, there are few things you can do:
Keep your condition under control.

Take all of your prescribed drugs.
Hair loss is just a secondary reaction – but not following your treatment will make your condition worsen.
And that's way more dangerous than hair loss.
---
So What's Causing Your Hair Loss?
---
First of all – menopause is the #1 responsible at your age.
However, it's not always the cause. Some other factors can make your hair fall out:
stress/trauma 

scalp allergies or disorders

bad eating habits

wrong supplements

family history 

your health problems
Basically – the hardest part is to find out the real responsible.
Once you do this, getting the proper treatment is quite easy.
For this reason – try to investigate all your symptoms, previous actions and even your family history.
My #1 Recommendation: There is a product I recommend for hair loss (especially when it's caused by a clear cause).
It's called Folexin and it's my favorite hair supplement:
Works for both hair loss/growth.

Effective for men and women.

Really good formula overall.

Cheapest product of this kind that I know.
Now – this supplement isn't a miracle maker, so it won't cure your hair loss in 2 weeks.
But it's surely effective for decreasing it – and it's pretty fast too (1-2 months in my case).
And considering it's way cheaper than most supplements, it's my #1 recommendation right now.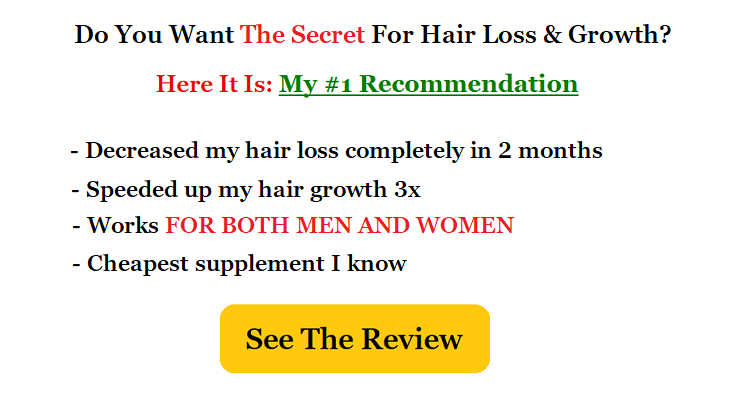 1 – https://www.ncbi.nlm.nih.gov/-pmc/articles/PMC4828511/
2 – https://www.hindawi.com/-journals/isrn/2011/947284/
3 – https://www.health.harvard.edu/-a_to_z/alopecia-areata-a-to-z
4 – https://www.health.harvard.edu/-staying-healthy/treating-female-pattern-hair-loss
5 – https://www.ncbi.nlm.nih.gov/-pmc/articles/PMC3681114/