Is your hair falling out without any explanation? You tried to investigate and you still can't find the cause?
Well – have you thought about allergies?
It might sound funny, but allergies can cause hair loss themselves:
make your scalp really itchy

weaken the hair follicles 
So if your think this might be your case, here are 7 different allergies that cause hair loss. You might have one of them.
What You Will Find In This Article
---
I would divide the following lines in 4 chapters:
So first of all – let's see how exactly can an allergy harm your hair.
---
#1 – How Can Allergies Affect Hair?
---
First of all – an allergy is your body's immune response. 
So it's not a certain food/product being allergic – it's how your body sees it.
Now – let's take a random case using a common allergy:
Case 1 – You're allergic to strawberries and your skin gets itchy whenever you consume those. How could this affect your hair?
Normally – it shouldn't.

Most allergy cause skin rashes, not scalp rashes (unless they're really severe).

If you scalp isn't affected – your hair will be fine.
Case 2 – Now, let's say you eat some strawberries and you get a severe allergic reactions (your scalp also gets itchy).
Could this harm your hair? It's possible:
The allergic reaction stimulates inflammatory molecules.

They cause chronic inflammation throughout the body.

Besides, an allergy causes excessive scratching.

In this way, you will weaken your hair roots.

[1]

Also, your hair follicles can also suffer from malnutrition. 
But as I said – these cases are pretty rare. 
On the other hand – if you're allergic to a hair dye or scalp product, your hair might be seriously affected.
Conclusion: Food allergies rarely affect the hair, because they usually appear on the skin (not on the scalp).
However – allergies to scalp/hair products can cause serious damage (depending on how severe they are).
---
#2 – 7 Usual Allergies That Affect Hair
---
As I said – it's pretty rare, but some allergies can make your hair fall out. Or at least weaken it. 
So if you can't find a cause for your hair loss, this might be the explanation.
That's why I recommend you to check this list closely and see whether you recognize any symptom or not.
Note: There are several allergies that can cause hair loss, but they're very rare. The ones below are by far the most common ones (over 75% of cases).
---
1. Hair Dye
---

That's probably the most common allergy that affects the hair.
So if that's your case – you're probably not allergic to the substance itself, but to one of its chemicals.
1. How It Affects Hair
---
Most of the symptoms are local – so they're usually not very severe:
contact dermatitis

small red patches
In case your allergy is more severe, you can also experience eye swelling or itching.
So hair loss is extremely rare (and only if your allergy is really severe). [2]
How can you recognize hair dye allergy? It's simple – hair dye allergy always appears short after you had your hair dyed.
So if you dyed your hair last week and you started getting these symptoms yesterday – it's surely not because of the hair dye.
2. Solutions
---
That really depends on how severe is your allergy.
Wash the affected are with cold water immediately.

Rinse several times.

Use a gentle towel to remove any left dye.

If you also experience symptoms in your face, seek medical attention immediately.
In most cases, the allergy is minor – meaning that it only makes your scalp itchy.
So there are few chances that it affects your hair (unless it's severe).
The only recommendation I have is to use a natural hair dye next time – coffee is a great way to get a darker color naturally.
---
2. Molds
---

This allergy is another serious cause of hair loss – plus, it's really common.
So when does it come up? In most cases, if you live in a place with mold problems.
1. How It Affects Hair
---
Compared to hair dye, mold allergy has bigger consequences:
Produces a general allergy and inflammation.

Decreases hair nourishment. 

Weakens hair all over the scalp (in time).
Basically – mold allergy causes chronic inflammation, so your hair follicles start receiving less nutrients over time.
So if you're allergic to molds, your hair could suffer really badly.
How can you recognize mold allergy? Usually – you also get itchy skin, sore eyes or cough.
Regarding your hair, the whole scalp will be affected. So you won't get any bald spots – but a general hair loss.
2. Solutions
---
The major thing is to find out if there's a mold problem in your house.
If it is – getting rid of it should solve your allergy. 
Other than that, there's nothing else to do – except for waiting. If that was the only problem, your hair will recover shortly.
---
3. Hair Products
---
This could involve any products you use for your hair – from conditioners to volume sprays.
However, hairspray and mousse are the most common culprits.
1. How It Affects Hair
---
Most of the times – this allergy only produces itching.
So the cases when it caused hair loss are extremely rare.
However, being allergic to certain hair products can weaken your hair:
dehydrates the ends

makes your hair more fragile

it starts to break off easily
When it comes to hairsprays – it's their smell that might cause an allergic reaction.
But in this case, your hair shouldn't be affected too much.
2. Solutions
---
It's quite simple – stop using that product.
However – there's something to keep this in mind: you may be allergic to certain brands but tolerate others well enough.
So if you have an allergy to a hair mousse, just try another brand. You will probably not have any issue using it.
---
4. Dairy
---
Milk and other dairy can cause hair loss to people allergic to lactose.
Though it's not a common situation, it might happen.
1. How It Affects Hair
---
First of all – you must be allergic to lactose. Otherwise, this won't affect you.
So in case you are – consuming lactose-rich foods (like dairy) will cause chronic inflammation:
your hair follicles won't receive enough nutrients

the ends will start getting more fragile
Obviously – this won't happen overnight. 
In fact – hair loss isn't a common symptom of lactose intolerance/allergy. But it can be a consequence. 
2. Solutions
---
If you think you might be allergic to lactose but you're not sure – see a doctor and have a test.
In case you're not allergic, this isn't causing your hair loss. So you need to dig deeper.
But if you have a lactose allergy – simply giving up dairy and similar foods should solve the problem.
Your doctor could tell you more on this.
---
 5. Shampoos
---

Just like hair dye, certain shampoos can irritate your scalp really badly.
In fact – sometimes they can even cause you an allergic reaction (usually because of some of the compounds).
1. How It Affects Hair
---
As I said – this allergy is similar to the one with hair dye. 
However, it's a lot more rare. I personally never developed an allergy to a shampoo (but I had an allergy to hair dye).
So the symptoms are pretty similar:
scalp itching 

swelling

red patches
Hair loss appears quite rarely. And most of the times (in severe cases) – you get 1-2 bald patches. So it's not a general hair loss.
But as I said, this kind of severe allergy appears extremely rarely.
So in most cases – your hair won't be affected at all.
2. Solutions
---
If your allergy isn't too severe, you don't have to do anything.
The symptoms will go away on their own. The only condition is to stop using that shampoo again.
Try another brand with similar ingredients and see if you have the same problems. But normally – you shouldn't.
---
6. Certain Medications
---
I'm not talking about the side effects of drugs here.
So it doesn't involve chemotherapy and other drugs that cause hair loss. [3]
Instead – it's about being allergic to some drugs (which may harm your hair).
1. How It Affects Hair
---
This kind of allergy is more dangerous – because you're taking the drugs by mouth.
Once you swallowed them, you can't bring them back out immediately (as you can delete hair dye, for instance).
For this reason – a drug allergy can cause fast inflammation throughout your body:
Itching and red spots

Fever

Cough
Now – taking a pill that you're allergic to won't make your hair fall out.
But due to chronic inflammation, it can get much weaker overtime. 
2. Solutions
---
If you have any small sign of itching or fever after taking a drug – consult your doctor.
Now – if it's not a necessary drug, you can give it up anytime.
But if you're following a long term treatment, tell your doctor about the symptoms and he should prescribe something else instead.
That should solve the problem.
---
7. Gluten-Rich Foods
---

Gluten allergy is a really common problem nowadays – and it comes in dozens of symptoms.
Though it's not too usual, it can also affect the hair.
1. How It Affects Hair
---
Firstly – you must be allergic/intolerant to gluten to experience this kind of problems.
So let's assume you are. In this case – consuming gluten-rich foods will cause you symptoms like:
Chronic inflammation

Digestive problems

General pain
Now – as there's a massive inflammation throughout your body, your hair roots will also be affected.
How exactly? Well, they won't receive the normal amount of nutrients. So overtime, they will end up breaking off and falling.
That's why many people with gluten intolerance experience hair loss (sometimes even in patches).
2. Solutions
---
Most importantly – you need to see if you have a gluten intolerance/allergy or not.
In case you do, giving up every food containing gluten is essential.
It might be hard at first – but in these days, there are lots of recipes and alternative products. So it should get much easier with every year.
---
#3 – 7 Solutions You Might Use
---
So once you found your allergy – it's time to find out how to solve it.
Now – the solution you choose depends a lot on what allergy you have (if any).
However, here are some general tips you might follow. 
Note: You can go back to the section of your allergy above, in order to see the best solution for each.
Only use hair products that are chemically tested.

Test your shampoo/product on your hand before using it.

If your scalp gets itchy, try hard not to scratch.

Check your home for mold growth and moisture.

If you have a gluten/lactose allergy, respect your diet.

Try to use hair products that have a natural source.

Consult a doctor if your face gets swollen after using a hair product.
Obviously – these small tips won't help considerably, because it depends a lot on the allergy you have.
But in most cases, your allergy won't affect your hair too much.
At most – it could weaken it. But when it comes to producing hair loss, these cases are very rare. So you should feel safe.
---
My Verdict – Can Allergies Can Hair Loss?
---
Short answer: They can – but very rarely. Usually, they can only affect the hair a bit:
weaken the hair roots

make it more fragile

decrease hair nourishment 
So if your hair is falling out so badly and you think it might be an allergy behind – most likely, it's not. 
Try to dig even deeper into the problem. Sometimes, it may be a scalp disorder (not a real allergy).
Other times, it may be something specific to your age. 
Now – if your hair loss doesn't seem to have any real cause, here's what you should do:
Write down every symptom you have.

Think about when it all started.

Try to remember if any product/remedy ever helped (even temporary).

See if you have anyone in your family with a similar problem.
Up next, let me know the answer to these 4 points and I will try to give you a better idea about what might be causing your hair loss.
If it's a chronic one – it's most likely not because of an allergy.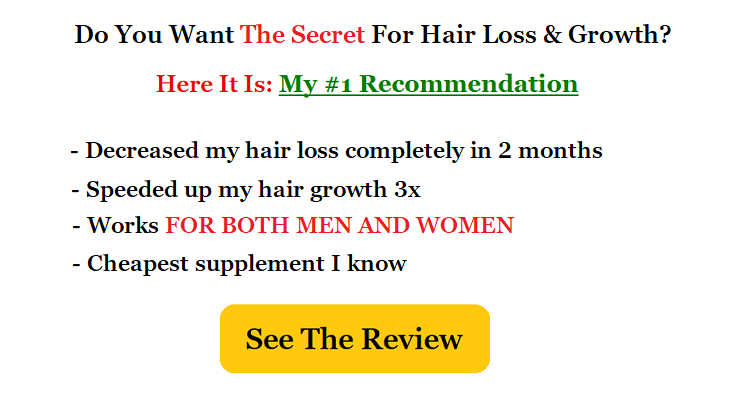 References: 
1 – https://www.ncbi.nlm.nih.gov/-pmc/articles/PMC4639964/
2 – https://www.ncbi.nlm.nih.gov/-pmc/articles/PMC3262542/
3 – https://www.webmd.com/skin-problems-and-treatments/hair-loss/drug-induced-hair-loss-2#1