It's time to review Kerotin Hair Growth Formula – because it looks like a great hair supplement:
really good ingredients

positive reviews
Now – there are several products with a similar formula. So is Kerotin any better (considering that it's quite pricey)?
Here's all you need to know about it – including how it worked for me.
Note: This review is based on my personal experience with Kerotin.
So Let's Get To The Review
---
Full Name: Hair Growth Vitamins from Kerotin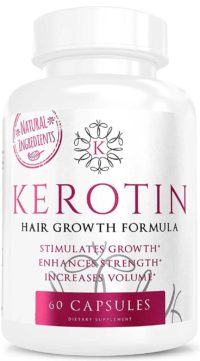 Form: Only pills
Best Actual Price: Around $50 per bottle (really expensive)
Cheapest Place To Buy: Probably Amazon, because they have discounts many times.
However – the lowest price I've ever seen is $30 (which is still a lot).
Designed For: Hair health in general, according to the label:
extra strength

promotes long hair
It doesn't mention anything about decreasing hair loss (which is the #1 problem for most people).
My Rating: 8 out of 10 – It's really good, but it's expensive.
Worth Buying?: Not really – because you can get the exact same formula for $25 less.
So Kerotin is really effective overall – but it's also really overpriced.
That's why I wouldn't pay $50 on it (when I can pay $25 for the same product under a different name).
What I Liked About It
---
Excellent formula and ingredients

Most substances have high doses

Only 2 pills per day

Works pretty well for strengthening hair and adding volume

Many positive reviews

Available in several retailers (but prices differ)
What I Didn't Like About It
---
Extremely expensive ($50 per bottle)

The label doesn't mention anything about hair loss (so is it effective for that too?)

No reviews from men
---
Kerotin – A Quick Overview
---
This supplement is meant to strengthen and grow hair faster (according to the label).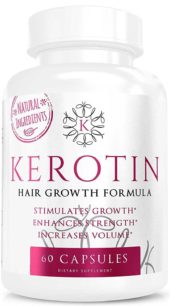 At first sight – it looks really promising, due to its amazing ingredients.
Now – in terms of how it works, it's also really good:
improves hair health

stimulates the follicles

increases growth speed
So is it the perfect hair supplement then? NOT REALLY. 
All these great effects have a huge price – $50 per month. In my opinion, that is way too much.
Why exactly? Because it's not the only supplement with this amazing formula – but it's the only one that costs so much.
So now that you have this in mind, it's time to analyze Kerotin closer.
---
#1 – Ingredients

(9.90 out of 10)
---
Here's the interesting fact – Kerotin has the exact same ingredients as Folexin, my #1 recommended supplement.
However:
Kerotin costs $50

while Folexin is just $25
So you can tell the difference. But now I'm reviewing Kerotin, so I will focus on it.
Regarding the ingredients – I have only praises.
In my opinion, this is the best combination on the market. But let's take a closer look at the 2 types of ingredients from Kerotin.
1. Proprietary Blend (409 mg)
---
This is a combination of several substances (mostly herbal extracts):
Now – these 12 ingredients all have similar benefits:
speed up hair growth

help thicken hair (especially the roots)

strengthen the ends
Overall, this combination looks fantastic – both for hair growth and for extra strength.
So in my opinion – this mix is the most important ingredient from Kerotin. 
2. Vitamins & Minerals
---
In total, there are 16 different vitamins, minerals and nutrients inside this supplement. 
Now – I will not take each separately, because it would be too boring to read. But here's a general overview:
some of them have hair growth benefits

others strengthen existing hair

and others help with shine and smoothness 
But basically – these ingredients also look impressive, because they are so numerous and they all have a certain benefit for hair.
---
Conclusion
---
As I said – Kerotin uses the best hair formula on the market:
increases hair growth considerably

strengthens hair roots

also helps thinning hair
However – the only downside is that it's not the only product with this formula. 
And the other product is $25 cheaper – which is why it's my #1 recommendation.
---
#2 – How To Take It

(9 out of 10)
---
Things look pretty good about Kerotin at this chapter.
1. The Pills 
---
Good news here – they're really easy to take:
covered in cellulose

average dimensions
Because they're made of cellulose, you can swallow them easily. Plus that they're no horse pills – as in other products.
I only had one problem with them:
some were stuck together (2-3 pills)

when I tried to take the apart, the cover would break off

so the powder inside would fall out
However, I might have been just unlucky to get a bad bottle. I'm not claiming every Kerotin bottle is like that.
2. The Schedule
---
You only need to take 2 pills per day.
However – the label doesn't mention: 
Whether you have to take them together or space them out

The time of the day when you should take them

It does recommend taking them in the morning – but there's no additional info.
So if you ask me – you can take them either together or separately, at any time. The results should be the same.
---
#3 – My Results

(9 out of 10)
---
Overall, I was really satisfied with Kerotin – it surely didn't disappoint me.
1. My Background
---
Due to a massive hair loss that I had, my hair was in a very bad shape:
thick at the roots but super thin at the ends 

would break off easily

growing really slow
So could Kerotin really help? Believe it or not – it definitely did.
Note: I only used on bottle, despite being happy with the results.
Kerotin was really expensive – so after 1 bottle, I got back to my usual supplement (the exact same ingredients but $25 cheaper).
2. How It Worked
---
I can't say this supplement impressed me, since I knew from the start that it has a great formula.
But it didn't disappoint me.
After using it for 1 month – here's what I can say:
Really strengthens hair (even the ends).

My hair seemed to have more volume.

I also noticed I had less frizzy hairs overall.
Now – any supplement needs at least a few weeks to work, so I'm not claiming I saw all Kerotin can do.
But as I said, I didn't buy another bottle because of the price ($50 normally).
---
Conclusion
---
Kerotin really works – I can speak from experience.
However, I wouldn't recommend it to anyone – because it's way too expensive. You can get the same formula for $25 less.
---
#4 – Other Opinions

(8.50 out of 10)
---
Surprisingly – I didn't find ONLY positive reviews on Kerotin (as I somehow expected). 
There were enough negative opinions – but mostly from women.
In fact:
I found very few reviews from men in general

there were only women's opinions
1. What People Say
---
As I said, opinions were quite mixed up.
On Amazon, it only has 3.6 out of 5 starts – which isn't amazing. I personally would have rated it higher, if I had to write a review there.
So here's what most reviewers say:
For some, these pills regrow hair much faster.

Others say their hair got much thicker after just 1-2 bottles.

On the other hand, some complain it's not that useful.

Others say it's extremely expensive (which I agree).
2. One Common Complaint
---
So basically, most people complained about 1 thing:
Kerotin's price

they say it's too expensive overall
I didn't notice that until I took a closer look at the reviews.
But interesting enough – there aren't so many complaints about its effect, as there are about its high price.
So let's move on to that chapter.
---
#5 – Price

(5 out of 10)
---
This is by far the biggest downside of Kerotin.
Despite all the praises I have for its ingredients – it is way too expensive to buy on a monthly basis.
1. The Exact Price
---
Kerotin costs nothing less than $50 per month.
Now – that's the price from 2 retailers:
the official website

Amazon
The other websites selling it have much higher prices – except Ebay, but it depends from seller to seller. Plus that it's not so safe.
Now – the only good news is that both Amazon and the official website offers discounts quite often.
But even so, I never found Kerotin for less than $30 – which is still expensive (compared to others).
2. Competitors' Price
---
That's the main reason why I don't recommend Kerotin:
there's a product with the exact same formula

it also has the same quantity/bottle

but it costs $25 less
Basically – it really makes Kerotin super overpriced.
Who would pay $50 when you can get the same product for almost $25? I surely wouldn't. 
---
Conclusion
---
For what it does, Kerotin is extremely expensive.
You can get the same formula (under a different name) for half of that price – $25 per month (or even less if you follow my tips).
---
#6 – FAQs
---
I will try to answer the most common questions about Kerotin.
Note: I might repeat things I've mentioned before, but they are easier to spot here.
1. How many pills do you have to take daily?
---
According to the label – 2 per day.
They don't mention whether you should take them together or not – so anyway is fine.
2. How long lasts 1 bottle?
---
Considering you're taking 2 pills per day and there are 60 in total – one bottle it's designed for 1 month.
There was also a 90 pills version in the past, but it seems to have disappeared from the market.
3. Can I take it with other drugs?
---
Normally, yes. Kerotin is a supplement and it contains mostly natural ingredients.
So there shouldn't be any chance of interaction with other drugs.
4. Does it have any side effects?
---
It shouldn't. As I said – it's a natural supplement. However, I can't tell 100%, because everyone is different. 
So if you experience any weird symptoms, simply giving up the pills should solve the issue.
You can also contact a doctor if there's something more serious.
But out of the reviews I read – I couldn't find any complaining about side effects.
---
#7 – Final Conclusions
---
Here's how I would sum up Kerotin in 3 ideas.
1. Excellent Formula
---
 As I said, this is the best combination among hair supplements:
almost 30 ingredients in total

both herbal extracts and minerals/vitamins

all of them have at least 1 benefit for hair
Once again, Kerotin isn't the only product using this exact formula.
That's why it's not the only supplement whose ingredients I praise so much.
2. Effective For Real
---
Though I only used 1 bottle, I could see a change:
my hair ends seemed much stronger

I had more volume overall

it was also good for smoothing hair
I can't really tell about decreasing hair loss or speeding up hair growth considerably – because 1 month is a too short period.
But judging after the reviews I read, it really does its job – even at those chapters.
3. Overpriced
---
That's why I don't recommend Kerotin:
its normal price is $50 per bottle

if you're lucky to get a discount, you can buy it for $30

but even so, it's very expensive
Besides – there's another product with the same formula that costs $25 per bottle. That's half of what Kerotin costs!
So if you really want something that works for hair growth – that's what I would choose. No wonder it's my #1 recommendation.
---
My Verdict – Is Kerotin Worth Buying?
---
Short answer: Definitely not – it's simply too expensive.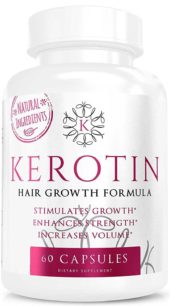 In terms of features, it's surely a great product. It has great ingredients and works for real.
But for $50 per month – it's surely not worth buying:
There's another product with the exact same formula.

It costs only $25/bottle.

If you buy a larger pack at once, you can get if for $18/bottle. 
Basically – it's the supplement that made real wonders of my hair.
Considering it has the same formula, I'm sure Kerotin works just as well. 
But why pay $50 when you can get it for half? 
So that's the reason why I advise you to save your money and instead – get the supplement I constantly use.
It's surely your own choice, but that's what I would do.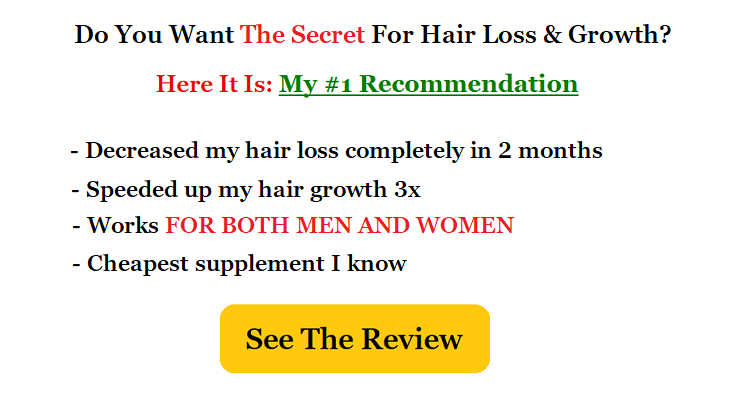 1 – https://www.ncbi.nlm.nih.gov/-pmc/articles/PMC3509882/