It's time to review Shapiro MD Hair Growth – which is a topical system meant to stop hair loss.
But does this thing really work?
Considering all those negative reviews I found, it has high chances to be a scam.
So let's find out the hidden truth behind.
Note: This review is based on my experience + research on Shapiro MD.
So Let's Get To The Review
---
Full Name: Hair Growth DHT Blockers from Shapiro MD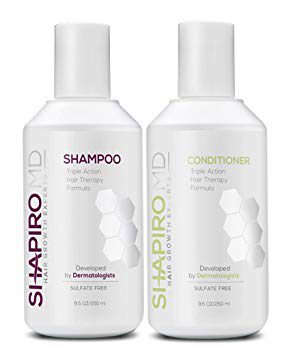 Versions: There are 3 products available:
However – they are sold as a system (shampoo + conditioner) on the official website.
Foam isn't included, unless you buy it separately (from Amazon).
Best Actual Price: $69.95 per system
Cheapest Place To Buy: The official website (Amazon has higher prices).
Designed For: Hair loss caused by DHT excess.
If you use it for hair loss caused by other factors, it won't help too much.
My Rating: 6 out of 10
Worth Buying?: Definitely not – it's just extremely overpriced:
costs $70 per system (monthly supply)

only works for DHT hair loss

not effective for everyone
Instead of spending so much money on Shapiro MD, I would choose a $25 supplement that works for all causes of hair loss.
What I Liked About It
---
Nice smell and consistency (in all 3 products)

Really effective for hair loss caused by DHT excess

A bottle may last more than 1 month

No side effects (not even local ones)

Available in several retailers
What I Didn't Like About It
---
Not effective for hair loss caused by other issues than DHT excess

Doesn't speed up hair growth

No exact quantities for the ingredients

All 3 products should be used daily for best results

Lots of negative reviews

Extremely overpriced

Doesn't work in 30 days – as it claims (in most cases)
---
What Is Shapiro MD?
---
Shapiro MD is actually a brand of hair products – all focused on DHT hair loss:
DHT is the hormone behind hair loss (especially in men)

Shapiro MD fights the excess using natural ingredients

In this way, it promotes thicker and fuller hair
Basically – it's a solution ONLY for hair loss caused by DHT excess.
Now, Shapiro MD offers 3 different products:
Shampoo

Conditioner

Foam
All 3 are based on the same formula and claim to decrease DHT hair loss.
However – these products aren't as perfect as they seem (from price to previous customers' opinions).
So is Shapiro MD a scam? It's time to analyze each of its aspects.
---
#1 – Ingredients

(8 out of 10)
---
Just like every topical product, Shapiro MD has a few problems here:
No quantities mentioned.

All ingredients are put together (whether active or inactive).

No clear formula.
That's why it's hard to tell the real active substances.
Anyway – according to Shapiro MD's website, all 3 products are based on 3 ingredients:
1. Saw Palmetto
---
It has some real benefits when it comes to hair:

Basically – this herb doesn't improve growth or boost hair health.
It can only help DHT hair loss. [2] That's why it won't be so effective in shedding caused by other issues.
2. EGCC
---
That's actually Epigallocatechin-3-Gallate on its full name. Here's how it helps:
also involved in DHT blocking

strong antioxidant

[3]

protects hair follicles from damage
Now – just like Saw Palmetto, it's also effective only for DHT hair loss.
But unlike it, EGCC can also improve hair growth rates (according to studies).
3. Caffeine
---
Though it has many other benefits – it seems to be helpful for hair as well:
fights DHT excess

[4]

antioxidant proprieties and fights free radicals

stimulates hair follicles

However – caffeine isn't as strong as the other 2 ingredients (in terms of hair benefits).
---
Conclusion
---
Shapiro MD doesn't have a bad formula.
But considering it's a topical product – I wouldn't expect miracles from it:
Works mostly at the surface.

Doesn't treat the actual cause behind.
So even though its 3 ingredients can fight DHT excess, they won't block all the receptors (only the top ones).
That's why I wouldn't recommend topical products in general.
---
#2 – Smell & Texture

(9 out of 10)
---
There's some place for improvement, but Shapiro MD isn't so bad at this chapter.
1. Smell
---
I would say it's pleasantly surprising:
no medicinal scent

fragrance isn't too intense

fresh and natural smell 
Basically – all 3 products smell the same, so these facts are available for all of them.
But unlike most medicinal shampoos/conditioner, Shapiro MD doesn't have a weird smell. That's something I personally liked.
2. Texture
---
Things could be a bit better here, in my view:
shampoo doesn't foam very well

you need a larger quantity than usual
Now – it's true that Shapiro MD are actually medicinal products.
This means they're not full of chemicals and additives (like cosmetic ones).
But even so, I didn't really like the shampoo's texture.
The conditioner and foam have a nice consistency, though.
---
#3 – How To Use It

(9 out of 10)
---
Luckily, the instructions are pretty clear for all 3 products:
Use the shampoo whenever you wash your hair.

Apply it to your scalp and massage for 2-5 minutes.

Rinse and apply the conditioner.

Let it sit for 3-5 minutes and rinse.

Apply 2 pumps of foam and massage.

This time you don't have to rinse (the foam).

Now – there is one thing I personally didn't like.
According to its official Amazon page, all 3 products should be used daily.
This means that you would have to wash and condition your hair daily – which can be uncomfortable.
---
#4 – My Results

(7 out of 10)
---
Shapiro MD didn't work amazingly for me.
But that might have been because of the cause of my hair loss.
1. My Background
---
The reason I tried this product was because my hair was falling out terribly:
ends were very fragile

roots were pretty thick

my hair had thinned out more than 50% (in 2-3 years)
Basically – it was normal on top and very thin and fragile in the bottom half.
However, I had a combination of causes behind: hormonal imbalances, stress, damage, bad care, etc.
Shapiro MD claims to help only DHT hair loss – which I did have, but it wasn't the only cause in my case.
That's why I was curious if it could help.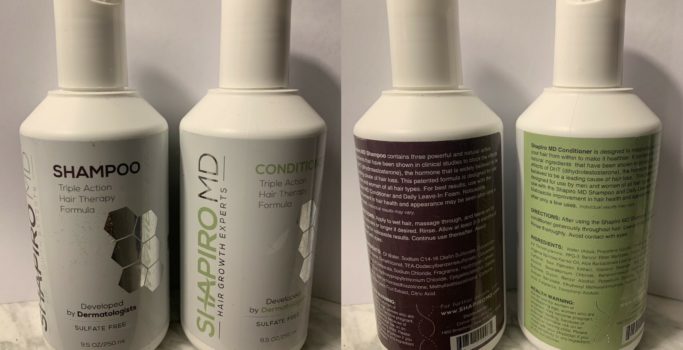 2. How It Worked
---
Firstly – I only used the shampoo + conditioner (no foam, I doubt it would have helped more).
So to be honest, the results were so-so:
My hair loss decreased with about 40-50%.

Ends started feeling less fragile after some weeks.

I didn't have more volume than usual.

My hair was still falling out (but less than before).
So basically – here's what I think:
Shapiro MD really helped my DHT hair loss

But it didn't stop the shedding caused by stress, damage, etc.
It didn't work in 30 days, as it claims. But in my case, the shampoo and conditioner lasted more (about 6 weeks).
So after about 4-5 weeks, I could already see an improvement – which is pretty fast.
But it wasn't exactly the one I wanted. This makes me not be a fan Shapiro MD.
---
Conclusion
---
From what I've seen – Shapiro MD helps DHT hair loss. But that's pretty much it:
doesn't help other causes of shedding

doesn't speed hair growth
So unless you're 100% sure you have DHT caused hair loss – I don't recommend this thing.
But even if you do have DHT hair loss, my advice is to go for a supplement and treat the internal cause.
Topical products won't help completely or permanently (but internal ones will).
---
#5 – Other Opinions

(6 out of 10)
---
In order to created an unbiased review – I tried to check out different reviews.
The good news? I found plenty of real opinions.
The bad news? There were lots of complaints and negative reviews.
Note: I only included authentic opinions, not general ones.
1. What People Say
---
Here are some of the most common things I found on Shapiro MD:
Some people say it works, but surely not in 30 days.

Others say it's one of the best products they tried.

A few claim it's the shampoo that does all the work (not the conditioner/foam).

Others say it's way too expensive.

Some claim it didn't help them at all.

A few others even call it a rip-off.

Now – it's quite normal that opinions are mixed up. Otherwise, the reviews might be fake.
But I noticed there was quite a high per cent of negative reviews. Compared to other products, at least.
And here's this:
2. Biggest Complaints
---
I found lots of negative reviews regarding these issues:
Products are extremely expensive.

Staff is very unfriendly.

Company doesn't want to offer money back (despite promising so).

Obviously, products don't work for some.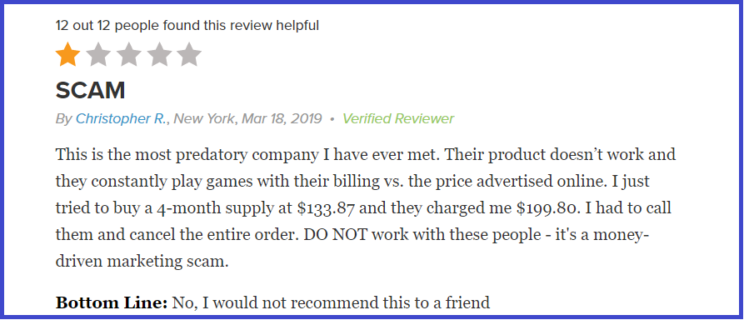 Now – I didn't buy Shapiro MD from its official website. So I can't tell about the staff/refund issues.
But in terms of price, I definitely agree it's very expensive.
Besides – there were many complaints from people who didn't get any effect.
So it's pretty clear that Shapiro MD isn't effective for everyone. Especially for those who don't have DHT excess.
---
Conclusion
---
Even though I found many authentic review – a high per cent were negative.
So even though I don't consider Shapiro MD a scam, it's surely not effective for a lot of people.
That's why I personally don't recommend it.
---
#6 – Price

(2 out of 10)
---
Honestly, this is by far the biggest downside of Shapiro MD.
1. The Exact Price
---
As I said – there are 3 different products available: shampoo, conditioner and foam.
But their price actually depends on the seller:
Official website only sells them as systems (shampoo + conditioner).

One system costs around $70.

Price decreases if you buy more systems together (about $50).

Amazon sells them both together and separately.

The price for a system is about $75 (so more expensive).

Separate prices are also high: $45 shampoo, $50 conditioner.

Foam can only be bought from Amazon.

It's the only one with a decent price ($15 for 1.5 oz).

To be honest, these prices are way too high.
Considering the formula it has, Shapiro MD should cost under $30.
There are lots of saw palmetto and caffeine products on the market – and none costs $50 per bottle. So Shapiro MD is extremely overpriced.
2. Competitors' Price
---
I will compare Shapiro MD with my top recommendation for hair loss – a supplement called Folexin:
F has a formula with almost 30 different ingredients.

S only contains 3 active substances.

F comes as pills, S as topical products.

F costs $25 per bottle, S cost $70 per system (2 products).

Both have a discount if you buy more bottles together.

In this way, you can get F for $18 and S for $50 (per bottle).
So I personally think that the difference is huge.
Folexin is a supplement, which means it treats the hair loss cause from the inside.
Plus – it's not effective only for DHT hair loss, but for most causes (contains different ingredients for different problems).
On the other hand, Shapiro MD only works on the surface and still costs a ton of money.
So I think you can judge for yourself.
---
Conclusion
---
Shapiro MD is one of the priciest topical products I know.
Considering there are lots of products with similar formulas which cost under $30 – I couldn't possibly recommend it.
If you want a cheap option that really stops your hair loss, my advice is to choose a supplement.
That's what can treat your problem for real (not just for a while).
---
#7 – Where To Find It

(9 out of 10)
---
Fortunately, Shapiro MD is available to buy from several sellers:
Amazon

Ebay 

Walmart
But as I said, prices are a bit different between them and the official website.
So here's what I advise you:
If you want to buy a product separately (e.g. shampoo), choose a retailer (probably Amazon).

If you want to buy shampoo + conditioner, choose their website.

Also, for the best price choose their website once again.
Retailers have some higher prices even for shampoo + conditioner. So the official website is a better choice.
---
#8 – FAQs
---
Coming up, I will try to answer the most common questions about Shapiro MD.
Note: I might repeat something I already mentioned, but it's easier to spot here.
1. How often you should use it?
---
According to their recommendations – once a day (each product).
However, that would mean you have to wash your hair daily – which I don't recommend.
So you can use the foam daily and the shampoo + conditioner whenever you wash your hair.
2. How long lasts 1 bottle?
---
Around 1 month – depending how often you use it.
In my case, it lasted a bit more. But I didn't use it daily.
3. Can I use it while taking pills?
---
Definitely – there's no chance of interactions.
You can either use it with other hair supplements or any other drugs you're currently taking.
4. Are there any side effects?
---
I think these products are pretty safe.
I personally didn't experience any side effect while using them (not even a scalp allergy). And also – I couldn't find too many reviews complaining of side effects.
So I think they're quite safe.
5. How fast should I notice an effect?
---
The label says 30 days – but in reality, it takes a lot more.
But the point is that it depends on your actual hair:
for a bald scalp, it might take more than 6 months

for a healthy hair, it can even take 1 month
But you should use it for at least 30 days until you expect to see a change.
---
#9 – Final Conclusions
---
Here's how I would sum up my opinion on Shapiro MD (in 3 ideas). 
1. Only For DHT Hair Loss
---
That's a major thing to keep in mind.
Shapiro MD isn't going to help if your hair loss is caused by anything else:
stress

hormonal imbalances (other than DHT)

pregnancy

a scalp disorder
These are just some examples, but there are many others.
So unless you're sure you have a DHT hair loss, don't use it.
2. Really Overpriced
---
Considering what it contains, Shapiro MD costs way too much:
$70 per system (shampoo + conditioner)

products separately are even pricier
So I would surely not recommend this kind of products.
There are lots of Saw Palmetto and caffeine shampoos – but none costs over $30. That should tell you a lot.
3. Needs Time
---
If you really thought that Shapiro MD will cure your hair loss in 30 days – forget about it.
DHT excess usually causes massive hair loss (including balding).
In this case – any product will need at least 3-4 months to start regrowing hair.
If your hair is still intact, you're lucky – it might work in even 1 month.
But in most cases, it's going to need some serious months.
---
My Verdict – Is Shapiro MD Worth Buying?
---
Short answer: Definitely not. It's not a scam, but it's far from perfect.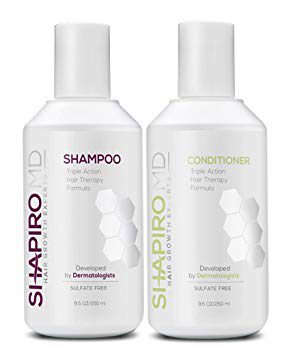 It actually has a few major flaws:
Only works for DHT caused hair loss.

Extremely expensive at $70 per package.

Doesn't work very fast for everyone.
But most importantly – it's a topical product.
This means it will only work on the outside, treating the external symptoms. If you stop using it, your hair will fall out again massively.
So what should you use instead?
A supplement – they have a lot more advantages:
works from the inside (by treating the real cause)

effective for hair loss caused by several issues – not just DHT 

most work for both men and women

much faster effect

lower price
My top recommendation is a $25 supplement that worked really well for me.
There are lots of supplements that work amazingly – but this is by far the cheapest.
So if you want a real hair loss remedy, switching to a supplement is my #1 advice.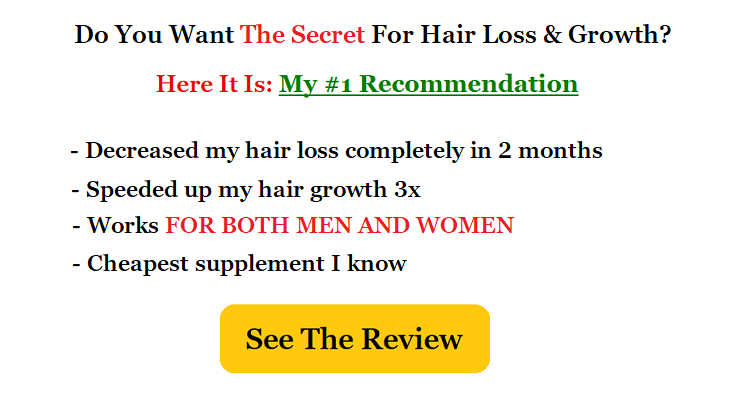 1 – https://www.ncbi.nlm.nih.gov/-pubmed/11337315
2 – https://www.ncbi.nlm.nih.gov/-pmc/articles/PMC2840915/
3 – https://www.ncbi.nlm.nih.gov/-pmc/articles/PMC2569505/