It's time for my BioSil Hair Growth review – because it's a very affordable supplement.
Thing is:
BioSil isn't designed only for hair

It also claims to help nails and skin
But I was mostly interested in its hair benefits – so does it really help with that? Or it's too cheap to be true?
Let's find out the truth behind.
Note: This review is based on my personal experience with BioSil.
So Let's Get To The Review
---
Full Name: BioSil Capsules by Natural Factors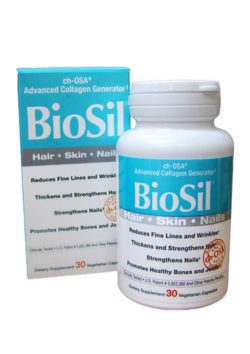 Sizes: 30, 60 or 120 counts – I will focus on the 30 one in this review.
Best Actual Price: Around $20 (for the 30-days supply)
Cheapest Place To Buy: Probably Amazon. You can also find it on Ebay even cheaper (but it's less safe).
Designed For: It's made for hair, nails and skin support. According to the label – here's how it helps the hair:
thickens and adds volume

strengthens hair
It's also good for fine lines and wrinkles (great benefit).
My Rating: 8 out of 10
Worth Buying?: Yes, but only as a skin supplement.
As a hair growth product, I surely don't recommend it:
doesn't really regrow hair

it does nothing for decreasing hair loss

it's only good for adding extra strength
So even though it's a great health supplement – BioSil isn't really the best choice for hair.
For about the same price – you can get an excellent formula that works way better for hair.
What I Liked About It
---
Great ingredients for skin (with many studies behind)

Reduces fine wrinkles in 1-2 months

Also strengthens hair and nails 

Pills are easy to swallow

Really affordable

You can find it in 3 different sizes

Available in many retailers (even worldwide)
What I Didn't Like About It
---
Pretty weak formula for hair

No herbal extract or ingredient designed to fight hair loss

Didn't do much for my hair overall

Doesn't work for hair loss/growth (especially in men)
---
BioSil – A Quick Overview
---
Natural Factor's product is designed to do 3 main things:
Reduce wrinkles and fine lines.

Thickens and strengthens hair.

Strengthens nails.
Also – it seems to support joint and bone health (but I can't really speak from experience here).
Basically – the formula increases your body's production of 3 proteins:
So that's how it actually works – by stimulating the production of these molecules.

Now, BioSil does a great job in terms of skin. 
Actually – at $20 per bottle, it seems way too good to be true. 
However, its hair benefits are limited. That's why I don't consider it a great hair supplement at all.
But now that you know what BioSil can do – it's time to analyze it more closely.
---
#1 – Ingredients

(6 out of 10)
---
Honestly – BioSil's formula looks pretty weak for a hair supplement.
So in my opinion, it's more of an anti-wrinkle formula than a hair one.

Now – let's take a closer look at the ingredients. There are only 2:
1. Silicon (ch-OSA) – 5 mg
---
This substance is known as "Choline-Stabilized Orthosilicic Acid" [1].
The good news is that it has lots of studies behind – which means it's a quality ingredient.

So here's how it can help:
smooths and hydrates skin 

decreases hair frizziness

prevents hair and nails from breaking down

[2]
Basically – there's lots of information on this ingredient, so I'm sure it's a beneficial substance.
2. Choline (as ch-OSA) – 100 mg
---
This substance is similar to vitamin B and it's involved in the production of 2 major proteins:
For this reason – it's essential if you want a firm skin.
Regarding hair, choline seems to strengthen the roots and prevent breakage. However – it doesn't have a major role for hair.
---
Conclusion
---
In terms of skin benefits – BioSil's ingredients seem really effective.
But in terms of hair growth – this formula seems pretty weak to me.
It can mostly strengthen the hair – which is important, but it won't really speed up hair growth considerably.
So I consider BioSil more of a general beauty supplement (not a hair one).
---
#2 – How To Take It

(9 out of 10)
---
BioSil is quite a comfortable product – from this point of view.
1. The Pills
---
They look like classic hair pills:
transparent with a gelatin cover

white powder inside

average dimensions

really easy to swallow (due to their gelatin cover)
So if you want to avoid horse pills – BioSil is fine from this point of view.
I had absolutely no problem swallowing these pills.
But if you really can't swallow them – just dissolve the powder in some water and drink it. The result should be the same.
2. The Schedule
---
Here you need to pay some attention:
According to the label, serving size = 1 capsule.

However, directions mention you should take 2 capsules.

So basically – the daily dose is 2 servings, not 1 serving (as in most supplements). 
In my opinion, they just made things more complicated.
But anyway – here's the point: You need to take 2 pills per day, not 1.
If you thought BioSil has an advantage at this chapter – that's not really so. It requires 2 pills per day, just like most products.
---
#3 – My Results

(7 out of 10)
---
To be honest, BioSil worked as I somehow expected – not amazingly.
1. My Background
---
I had been dealing with a terrible hair loss several years of my life.
So my hair was in a bad shape overall:
ends were really thin (compared to the roots)

it would break off really easily

it was still falling out more than it should
So what could BioSil do about that? Could it regrow my hair faster – or at least strengthen it even a bit?
2. How It Worked
---
I only used these pills for 2 month – but it was enough to get an idea.
My hair felt indeed stronger.

It would not break off so easily.

However, it was still very thin and the ends.

Also, my hair loss didn't really decrease.
So basically – BioSil really helped in terms of strengthening. But that was it – my hair didn't grow any 1/2 inch more than usual. 
I think 2 months were enough to see what it can do, honestly.
However – in terms of skin and nails, I was more satisfied:
the few wrinkles I had were much finer

my nails were also stronger
---
Conclusion
---
BioSil surely works – but not in terms of growing hair or decreasing hair loss.
It helps fragile hair and prevents breakage – but that was it. 
So it's a great supplement for general hair health – but if you want to grow your hair/stop your hair loss, I think it's pretty useless.
---
#4 – Other Opinions

(7.50 out of 10)
---
The good news is that I found lots of authentic reviews on BioSil.
The bad news is that not all of them were positive (especially the ones related to hair).
Actually: 
most reviews I found were from women

the few reviews made by men were about hair loss

but they mostly negative
So that's pretty much what I suspected – BioSil doesn't work too well for hair loss, especially for male pattern one.
1. Positive Reviews
---
So here are the most common good things I read:
BioSil works amazingly for wrinkles.

It also makes nails grow faster.

Some people really praise it for making their hair stronger and smoother.

Others say it helps even with hair loss.
2. Negative Reviews
---
Obviously – there are dozens of unsatisfied customers. So here are the top complaints I found on BioSil:
Doesn't work for male hair loss (several people said that).

Also some women complain about its weak effect on hair.

Someone claimed it caused her an acne breakout.
Now – I personally consider BioSil a very safe and potent supplement (BUT not for hair loss/growth).
So I reached the same conclusion after reading these reviews as before.
BioSil works great for wrinkles, nails and hair strength – but it doesn't really speed up hair growth. At least not in most people.
---
#5 – Price

(9.50 out of 10)
---
Honestly, BioSil shines at this chapter:
cheaper than most hair supplements

really affordable for the quantity
So when it comes to price – I couldn't possible criticize this supplement.
Note: I review BioSil as a hair supplement – so that's what I will be referring it.
I will only compare it with other HAIR supplements (not general beauty ones).
1. The Exact Price
---
Let's take each of the 3 sizes:
The 30 days supply costs around $20 per bottle

The 60 days supply is about $29

Lastly, the 120 days version costs a bit over $50

Basically – all 3 forms are extremely affordable (for the quantity). 
In my opinion, the 2 months version is the best buy for the money.
It lasts long enough to see if it's effective – but you're also not spending too much (in case it doesn't). 
2. Competitors' Price
---
As I said – BioSil is cheaper than most hair supplements.
So let's compare it with Folexin – which is my top recommendation for hair loss & growth:
Folexin costs around $25 per month (vs $20 BioSil).

If you buy a larger pack, you can get Folexin for around $18 (vs $20 BioSil).

Folexin works much better for hair loss & growth.

It also has around 30 ingredients (vs 2 in BioSil).
Anyway – there are many other things to say, but I mostly wanted to stick to the prices.
So if you're looking for a skin & hair supplement, BioSil is better.
But as a hair supplement – Folexin is a much better choice for the money.
---
#6 – Where To Find It

(10 out of 10)
---
Good new here – BioSil is really easy to find, even if you live outside the US.
1. The Sellers
---
There are many websites selling BioSil, including:

Out of these, Amazon is probably the best choice – because of the price.
They have many discounts and offers there, including free shipping (especially if you buy something else).
So that's where I would recommend you to buy BioSil.
Now – BioSil also has an official website, but it doesn't seem to be selling the products.
Instead, it sends you to a local retailer or online website (which is quite weird).
2. The Prices
---
Out of the 4 retailers I mentioned, Amazon and iHerb have similar prices.
However – the lowest prices ever are on Ebay. But here's why I don't really recommend it:
not as safe as the other retailers

you might have to pay shipping (over $10 usually)

most sellers have opened bottles
At $20 per bottle, I don't think it's worth the stress. 
So if you decide to get BioSil – Amazon is my #1 recommended retailer.
---
#7 – FAQs
---
Here are the most common questions you might have about BioSil.
Note: In case I already mentioned a certain thing, I apologize. It's simply easier to spot here.
1. How many pills per day?
---
That's a tricky part:
the label says 1 serving is 1 pill

but it recommends taking 2 pills per day
So basically – you need to take 2 servings, which means 2 pills every day. 
It's a really complicated explanation, for sure.
2. How long lasts 1 bottle?
---
It depends on what size you buy. 
But you have 3 options: 30 days, 60 days or 120 days. Most retailers have all 3 sizes, so you can pick any.
3. Can I take it with other drugs?
---
Yes you can. BioSil contains mostly collagen – which doesn't really interact with anything.
Now – if you follow a long-term treatment for a serious condition, you can ask your doctor first (just in case).
But normally – there shouldn't be any problem.
4. Are there any side effects?
---
Not really, it's quite a safe supplement.
I also didn't find many complaints on this topic among the reviews I read. Other products had a lot more.
5. How fast should I notice an effect?
---
BioSil seems to work faster than other supplements I tried. So here's the thing:
for nails, it can start working within weeks

for wrinkles, you need a few months

and for hair, it also needs about 1 month (in my case at least)
Surely – the results are different from person to person. 
But based on my experience with it and on the reviews I read, these are the average periods.
---
#8 – Final Conclusions
---
Here's what I personally think about BioSil.
#1 – Great For Skin & Wrinkles 
---
I would actually recommend it for that:
smooths and hydrates skin really well

decreases fine wrinkles within 1-2 months

adds extra shine
Now – I didn't have lots of wrinkles and dry skin. But BioSil really made my skin look much better than before.
So at $20 per bottle – it's a great product for that.
#2 – Weak Formula For Hair
---
Even though it's great for skin, it's not too helpful for hair:
Not amazing ingredients.

Mostly contains collagen-like substances.
Now – these are surely beneficial ingredients, even for hair. 
But they don't do anything major, unless strengthening. 
So in terms of hair benefits, I don't have a great opinion on BioSil.
#3 – Not Effective For Hair Growth
---
As I said, BioSil's biggest benefit for hair is adding extra strength. 
But that's pretty much it:
it doesn't regrow hair faster

does nothing for decreasing hair loss
Yes, your hair will grow faster once it's stronger. But if your hair loss has a real cause behind, BioSil isn't going to help.
It has no herbal extract/ingredient that fights hair loss. 
Besides – in my case it was really ineffective at this chapter.
---
#9 – My Video Review
---
---
My Verdict – Is BioSil Worth Buying?
---
Short answer: As a skin & general health supplement – definitely.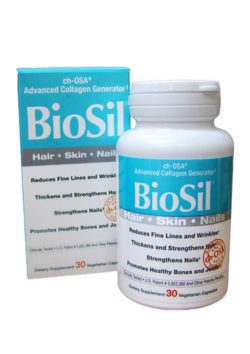 It's really good at reducing fine wrinkles, I've seen that myself.
However – I would not recommend it as a hair supplement:
only strengthens the hair

doesn't increase hair growth

also, it doesn't really help hair loss considerably
Now – it does have a great price (just $20 per bottle).
But if you're looking for a hair supplement – I would recommend you Folexin (for about $5 more):
Decreased my hair loss in about 1 month.

Stimulated my follicles and speeded up my hair growth.

Added a lot of volume.
Thing is – this supplement works for both men and women. 
So if you're trying to stop your hair (whether you're a man or woman), I think this supplement is the best choice.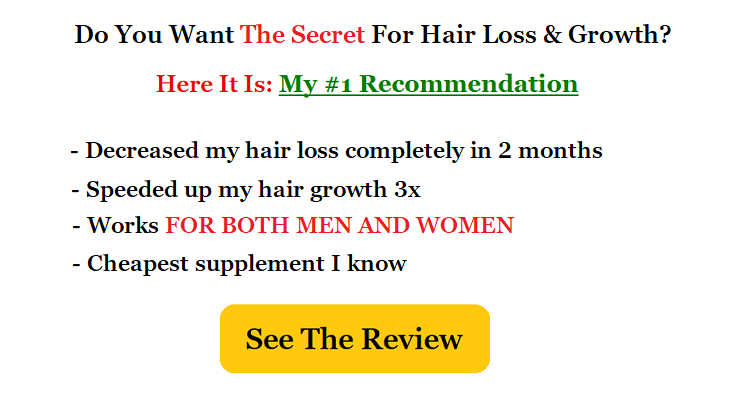 1 – https://www.ncbi.nlm.nih.gov/-pubmed/16205932