It's time to review LaFolie Hair Growth Serum – a product designed for female hair loss.
However – things don't look too good about it:
lots of negative reviews 

many unsatisfied customers
So does LaFolie work any single bit? I tried to dig deep into this product – so here's the hidden truth behind.
Note: This review is based on my research + opinion on LaFolie.
So Let's Get To The Review
---
Full Name: Hair Growth Serum by LaFolie
Versions: Only 1 (2 oz per bottle)
Best Actual Price: Around $90 per month
The first bottle is about $7, but you're automatically billed another one after only 2 weeks (more on this dirty strategy later on). 
Cheapest Place To Buy: Its official website.
If you're lucky, you can also find it on Ebay (but not constantly).
Designed For: Female hair loss. It claims to:
start growing your hair in weeks

promotes thicker hair

helps repair split ends
However, it's far from a miracle maker (as it claims).
My Rating: 2 out of 10 – It's a scam, don't fall for it!
Worth Buying?: Definitely not, stay away from it:
really overpriced formula

dirty strategies

fake refund promises
You will end up being charged $90 per month without your consent – so try to avoid this product.
Instead of paying $90 per bottle, I recommend you a really good supplement that costs $25 (at most).
What I Liked About It
---
Based on a reliable ingredient (Minoxidil)

Product itself is effective

Nice consistency and smell

Easy to apply
What I Didn't Like About It
---
Contains only Minoxidil and no other ingredient

Extremely expensive for a Minoxidil solution

Over 90% negative reviews

You're forced to sign up for auto-shipping before you order

Also, you're billed a $90 monthly supply 17 days after (automatically)

Company won't issue a refund (despite claiming to)

Fake promises

Many people calling it a scam

Website closed and disappeared recently
---
What Is LaFolie Hair Serum?
---
In 2 words – overpriced Minoxidil.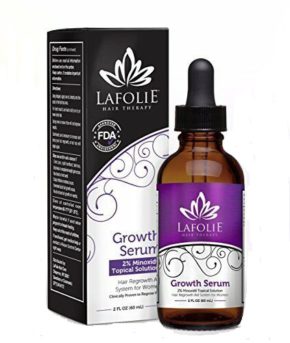 LaFolie is a pretty unknown brand that focuses on female hair loss pattern. 
It offers only 2 products:
Biotin Supplement

Hair Growth Serum
Regarding the serum – it claims to be "the most effective treatment for hair growth" on the market.
In reality, it only contains 1 active ingredient: Minoxidil 2%.
But that's far from its biggest problem.
Instead – it's the huge number of complaints and negative reviews regarding:
auto-billing customers without their consent ($90 every month)

no accepted returns (even unopened bottles)

no refunding (despite claiming to refund customers)
Besides, its price strategy is more than weird:
$8 for the first month supply

$90 for the next ones (that are auto-shipped)
So considering these facts, LaFolie's serum has high chances to be a scam.
But now it's time to get into more details about it.
---
#1 – Ingredients

(6 out of 10)
---
LaFolie's formula has a few serious problems:
No ingredients mentioned (on the official website).

No dosages/quantities.

Little info on the exact formula.
It only mentions one things: it's based on the only FDA-approved ingredient for hair loss.
That is Minoxidil – but if you check out the label, it's the only active ingredient.
So basically, LaFolie's serum is just minoxidil 2% and inactive ingredients.
1. Minoxidil
---
Just as LaFolie's website claims – this is the only ingredient approved by FDA for hair loss:
regrows new hairs (even on bald scalps)

can stop the shedding

promotes hair thickening on the long term
Minoxidil is used as a 5% solution for male baldness and 2% solution for female hair loss. [1]
However – it's far from a miracle remedy.
Besides the serious irritation and side effects it causes – you have to use it for the rest of your life.
If you give it up, the hair grown by Minoxidil will simply thin and fall out.
2. Inactive Ingredients
---
These substances don't have any real effect. 
They're mainly added to improve the texture and consistency of the serum:
additives

coloring agents

scents
So there's no point focusing on them, as they have no benefit for hair.
---
Conclusion
---
LaFolie's formula is pretty poor – in my opinion:
only Minoxidil

no dosages or quantities
So if you really want to try Minoxidil, you can get it from your local drugstore a lot cheaper.
Because using this serum will help as much as using Minoxidil alone.
---
#2 – Smell & Texture

(8 out of 10)
---
Now – I haven't used this product myself, so I won't be speaking from experience.
But here's what I could find out about it (in terms of consistency):
Light scent that doesn't feel too intense.

Smell is rather fresh and natural.

Texture is pretty light.

Doesn't leave the hair greasy.

However, you have to wash it more often than usual (every 2 days).
So in terms of texture, the serum looks decently. 
There are no major complaints, from what I read.
---
#3 – How To Use It

(8 out of 10)
---
Even though its official website doesn't mention any instructions, I managed to find a couple of things.
So here's how you should use this serum:
Apply a few drops on your scalp (twice a day).

Massage the area where you applied it.

Try to spread it all over your scalp.

Let it sit for about 15-30 minutes.

You can either rinse or leave it in your hair.
As the serum isn't too greasy, it shouldn't make your hair look oilier.
However – while using this product, washing your hair is necessary about every 2 days. Otherwise it might look greasy.
But other than that, the serum is quite easy to use.
---
#4 – Results

(1 out of 10)
---
Firstly, I haven't tried the serum myself – so I can't tell how it worked for me.
However, I checked out other people's opinion.
Note: I only considered authentic reviews, not general ones.
1. What People Say
---
I checked out trustworthy websites – like Amazon, HighYa and Better Business Bureau.
Surprisingly, I found over 90% negative reviews:
Some people say they paid but never received the order.

Many claim they were charged automatically (without their consent).

Other say they were denied a refund.

Lots of customers complain about the rude staff.

Overall, more than 50% call this company a scam.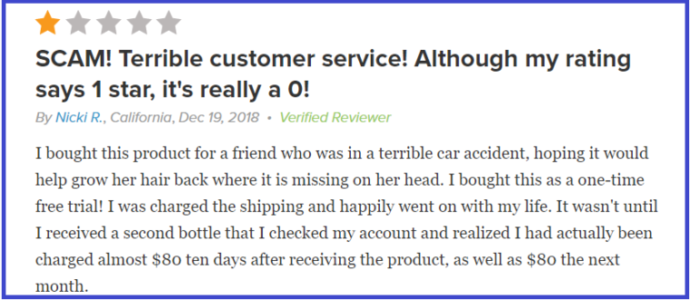 In fact, I couldn't find 3 positive reviews in all those websites together.
So it's quite obvious that LaFolie isn't an excellent choice.
2. Biggest Complaints
---
As I said, a lot of people were disappointed by most aspects in LaFolie's serum – especially:
price

billing system

refunds

fake promises
Basically – lots of customers were charged the money for another order, without actually being asked if they want it.
When they tried to get a refund and send the UNOPENED BOTTLES back, LaFolie didn't agree.
That's why so many people are calling it a scam.
And considering the promise to refund any unsatisfied customer – it really seems to be a scam.
---
Conclusion
---
LaFolie's serum isn't a bad product itself (since it contains Minoxidil).
But the company is using some unfair strategies:
very few satisfied customers

over 90% negative reviews

people cannot get a refund even though the company claims so
So overall – I certainly would not recommend LaFolie.
Besides all these complaints it has, it's just an overpriced topical product.
If you want a real hair loss solution, my advice is to choose an internal product instead (supplement). 
---
#5 – Price

(1 out of 10)
---
That's another problematic aspect of LaFolie's serum.
Besides having some shameful strategies – it also makes a regular product extremely overpriced.
1. The Exact Price
---
First of all, the serum doesn't have a clear price (as most products).
Instead – it depends of its auto-shipping.
But let me explain how things go – from the start:
First bottle costs around $8 (plus about $4 shipping).

That's the 30 days supply.

You can only order if you sign up for their monthly auto-shipping.

However, they claim you can quit whenever you want.

17 days after ordering the first bottle, you're automatically billed another month supply.

But this time, it costs almost $90 per bottle (plus shipping).

Your credit card is charged automatically and you're shipped the product.

On paper, you can send it back if you don't want it.

But from the reviews I read, they won't agree to refund you any penny.
So basically – LaFolie is using a very dirty strategy.
They tell you will be billed another monthly supply next month, when your first bottle runs out.
But in reality – you're billed another supply 17 days after you placed the order.
That's not long enough for you to see if the product works or not.
Plus – they don't even inform you about sending another bottle. You simply receive it and find out afterwards where it's from.
2. Refund Politics 
---
Now – the weird part is that LaFolie has a money back guarantee.
They claim you can return your first bottle in 18 days.

You will receive your money back (except the shipping fees).

Also, they claim you can cancel the auto-shipping anytime.
However – I read a lot of reviews that claim these facts aren't real.
The company doesn't agree to refund even unopened bottles. Also, they hardly let you cancel your subscription for no reason.
---
Conclusion
---
LaFolie's price is the best proof this company is a scam:
extremely overpriced

huge difference between the initial price ($8) and the regular one ($90)

fake money back guarantee 

dirty auto-shipping strategies
So I definitely advise you to stay away from this company and the products it offers.
There are so many complaints about it all over the Internet – feel free to check them out.
Instead of spending a fortune on some overpriced Minoxidil, there are lots of quality products that cost way less.
---
#6 – Where To Find It

(5 out of 10)
---
Unfortunately, LaFolie's serum isn't very easy to find.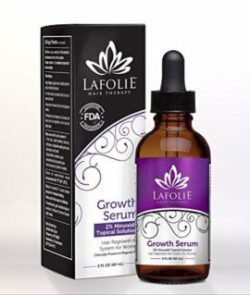 At this point – I could only see it available in 2 sellers:
its official website

Ebay
However – on Ebay it's not constantly available, so you can take it off this list sometimes.
On the other hand, retailers like Amazon or Walmart don't sell LaFolie's products.
That's another questionable thing – as Amazon is known to disagree with scams and dirty strategies.
So in my opinion, that's another proof that LaFolie isn't a very legit product.
Later Edit: LaFolie's website disappeared from Google. When you try to access it directly, there's an error. So it's clearly unavailable now (probably to all those complaints and alerts). 
---
#7 – FAQs
---
Coming up – I will try to answer the most common questions about LaFolie's serum.
Note: I might repeat something I already mentioned, but it's easier to spot here.
1. How often should you use it?
---
Twice a day – according to the instructions.
2. How long lasts 1 bottle?
---
As far as I know – it's meant to last 30 days.
But considering you don't have to apply a certain quantity, it can last a few days longer or run out in 20 days.
3. Can I take it with other drugs?
---
Yes – since this serum is a topical product, there's no risk of interaction with the drugs you're taking.
But if you're using another scalp solution, you should pay extra attention.
4. Are there any side effects?
---
The product itself doesn't mention anything. 
But Minoxidil (its main compound) is known to have some serious adverse reactions [2]:
rash

burning or stinging

allergic reactions
5. How fast should I notice an improvement?
---
Minoxidil may be a good hair solution – but it's not a fast one.
According to scientists, it needs about 4 months to start working (especially for scalps with little hair left).
Also – best effects appear after at least 6 months.
---
#8 – Final Conclusions
---
Here's how I would sum up my opinion on LaFolie (in 3 ideas):
1. Just Minoxidil
---
There's only 1 active ingredient in this serum – Minoxidil.
Even though it's an excellent substance for hair loss, it doesn't answer for LaFolie's huge price.
2. Really Overpriced
---
Basically – this serum is only overpriced Minoxidil.
Why exactly? Well – Minoxidil alone is far cheaper:
available in most drugstores

you can also find it on Amazon

some brands offer it for about $25
On the other hand, LaFolie's serum costs $90 per bottle – despite containing the very same thing.
3. Scam
---
According to all the complaints I found, LaFolie is a rip-off:
uses dirty strategies

doesn't keep its promises regarding refunds

charges customers' credit cards without their consent
Now, the serum is actually a decent product itself. But its huge price speaks for itself. 
Besides, LaFolie's website recently disappeared and doesn't seem to come back.
So that's a clear proof there's something wrong with the company.
---
My Verdict – Is LaFolie's Serum Worth Buying?
---
Short answer: Definitely not – it's a scam, if you ask me:
Cheap product masked as an expensive formula (overpriced).

Company uses some dirty strategies to keep customers.

Refund policy is fake.

You're forced to go for auto-shipping and charged before you can quit.

Lots of complaints from customers.

Website disappeared completely recently.
So my advice is to avoid this product and its company for the rest of your life.
At least if you don't want to spend some money in vain.
Better get a Minoxidil from your local pharmacy. 
Or if you want an even better solution – switch to an internal product (supplement):
treats the actual cause of hair loss/thinning

works much faster than any topical product (1-2 months)

results remain even if you quit the pills

much cheaper overall
So if you really want something that works, my advice is to choose a supplement.
I'm personally using one that works really well for my hair – and it saved me a ton of money in the last year.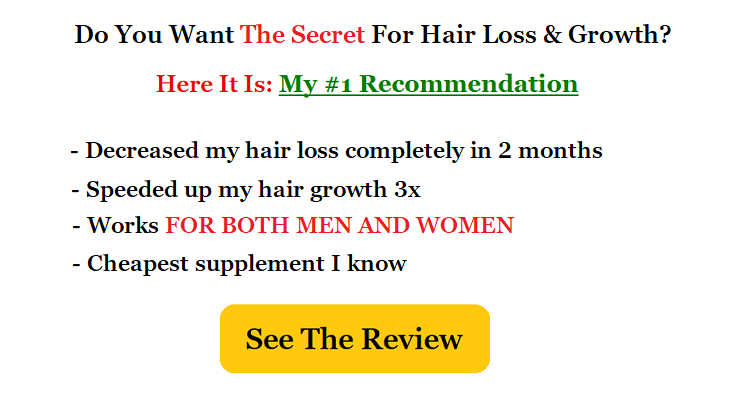 1 – https://www.ncbi.nlm.nih.gov/-pubmed/12196747
2 – https://www.webmd.com/-drugs/2/drug-3503/minoxidil-topical/details