It's time to review Nioxin for thinning hair – because it's one of the most popular treatments right now.
But does this thing really work?
Well – I tested it out myself so here's all you need to know about Nioxin.
Note: This review is based on my experience + research on this product.
So Let's Get To The Review
---
Full Name: Care System Kit by Nioxin
Versions: There are 5 different types (called systems). Each is designed for a certain kind of hair:
natural

colored

chemically treated, etc.
Best Actual Price: Around $45 per kit (all have the same prices).
You can also buy the products separately – but that's more expensive overall.
Cheapest Place To Buy: Probably Amazon.
Designed For: Reduce thinning hair – that's its #1 claim. It can also help with:
hair loss

damage protection

thickening
So basically – it's not meant to regrow hair or speed up hair growth. It's an anti-thinning solution.
My Rating: 7 out of 10 – It's not so amazing in terms of effect.
Worth Buying?: Not really – it's far as effective as a supplement:
needs several months to work

not effective for everyone

only works on the outside
So I would personally choose a supplement instead, since it treats the real problem (from the inside).
What I Liked About It
---
Uses a different technology than most shampoos/conditioners

Nice consistency and texture

Many products available

Good price for the quantity

Available on several retailers

You can find many authentic reviews about it
What I Didn't Like About It
---
No instructions on the label

Very intense medicinal smell

Needs about 3 months to start working

In my case, it wasn't very effective

I found enough negative reviews about it

May cause side effects (especially in the first months)

Expensive (compared to supplements)
What Is Nioxin? A Quick Overview
---
Shortly – it's a range of products meant to reduce thinning hair. 
The products are available in 5 different kits (systems):
Fine hair with light thinning

Fine hair with progressed thinning

Color treated hair with light thinning

Color treated hair with progressed thinning

Chemically treated hair with progressed thinning

Now – each of these 5 kits contains 3 products:
Cleanser Shampoo

Scalp Therapy Conditioner

Scalp & Hair Treatment

You can also buy them separately – but the overall price would be much higher.
Besides these 5 kits, Nioxin also sells additional products – all meant for thinning hair (serum, mask, spray, etc.).
You can find some of them in certain salons, but also on Amazon (which is a cheaper option).
So now that you know the main things about Nioxin, it's time to analyze its products more closely.
---
#1 – Ingredients

(8 out of 10)
---
All 3 products from Nioxin's kit are made for external use.
For this reason:
their ingredients aren't as important as in a supplement

what matters is the technology behind
But let's take a closer look at both.
1. Ingredients
---
Each of Nioxin's products contain about the same substances:
only their dosages are different

they have the same active ingredients
There's only a list of ingredients (mentioned one after the other).
So it's pretty hard to see which are active ingredients and which are inactive.
Now – among Nioxin's best active ingredients, I would mention:
Nettle Extract – it's really effective against hair loss. 

Biotin – helps thickening and decreases shedding. [1]

Tocopherol – can increase hair growth. [2]
Obviously – there are more than 20 others, but most don't have huge benefits for hair.
So just like in other topical products, it's hard to analyze Nioxin's formula. It's not very relevant, actually.
2. Technology
---
That's the secret behind Nioxin (according to its website).
Basically – it uses 3 different technologies:
Active Renewal – eliminated scalp residues.

Bioamp – controls hair moisture.

Scalp Access Delivery 2.0 – thickens and protects hair against UV.

So Nioxin actually works only on the outside.
That might sound great – but in my opinion, it's bad. Best results come up when you treat the hair from the inside.
---
Conclusion
---
Nioxin's ingredients are pretty basic (just like in every shampoo/conditioner).
However – it uses a different technology, which probably makes it more effective.
But in my opinion, Nioxin will never work as well as a supplement:
doesn't work on the inside

doesn't help the roots in any way
---
#2 – Smell & Texture

(8 out of 10)
---
First of all – I only tried out the products from Nioxin's System 2. 
But from what I read, the others look the same (in terms of consistency).
So here's what I would point out:
Scent is very intense and medicinal.

It feels like strong peppermint or camphor.

Both shampoo and conditioner have a whitish color.

The hair treatment comes as a spray.

The shampoo foams pretty well.
So in terms of consistency – Nioxin's products look like any regular shampoos/conditioners.
The only downside is that the smell is very strong – too strong, if you ask me.
Other than that, there's no major thing to complain about.
---
#3 – How To Use It

(8 out of 10)
---
To be honest, Nioxin has some pretty bad instructions:
there's no "how to use" section on the products

it's not mention how often you should apply them

only the spray has some directions 
The only instructions you can find are on the official website. 
So here's how you should use the kit:
Use the shampoo whenever you wash your hair (ever 2-3 days).

Apply the conditioner after every wash.

Let it sit for 1-3 minutes, then rinse.

Apply the treatment (spray) on the entire scalp.

My advice is to use it daily, or every 2 days (at least).
---
#4 – My Results

(7 out of 10)
---
Nioxin did work for my hair – but the effect wasn't amazing. 
In fact, compared to other products – it was quite weak. That's my overall impression.
1. My Background
---
Some years ago, I had been dealing with a massive hair loss.
Even though I managed to stop it (more or less), my hair was still affected:
I had thick roots and very thin ends.

My hair would get thinner once it got beyond the shoulders.

The ends were also very fragile.

I was still falling out a lot.
Nioxin is specially designed for thinning hair. So I was curious if it could really do anything for my hair.
I admit I was a bit skeptical (since it was a topical product, not a supplement).
But even so – I decided to give it a try.
2. How It Worked
---
As I said, my results with Nioxin weren't amazing.
I bought the System 2 kit – which is designed for normal hair with serious thinning (as mine was).

So here are my conclusions on how it worked:
I used the products for about 2 months.

In the first month, there was absolutely no improvement.

Afterwards, my hair wasn't shedding as much.

I could see less hairs on my brush, pillow and clothes (compared to previous month).

I also seemed to have more volume on top of my head.

However, the ends didn't seem any thicker.

My hair didn't grow more than usual either.
So basically – what Nioxin did was to make my hair look thicker. 
And yes, it also reduced my hair loss (but not completely).
But regarding thinning hair, it didn't help almost at all. My ends looked as thin and fragile as before.
Maybe I should have used it for more than 2 months, but that's when the products finished.
So why should I buy another kit – if it didn't really help?
---
Conclusion
---
Nioxin didn't help me tremendously.
Other than adding volume to my roots and improving my shedding – it was kind of useless.
It might work if you use it for longer (maybe 3 months). But I wouldn't really recommend it.
There are products that work way better in 1 month (and cost less). So that's what I would choose instead.
---
#5 – Other Opinions

(7 out of 10)
---
I tried to check out some other reviews on Nioxin – so that I could give an unbiased verdict.
Well, the good news is that I found plenty of opinions from real customers.
The bad news is that I also found enough negative reviews.
Note: I only considered authentic reviews, not general ones.
1. What People Say
---
As I said, I found both good and bad opinions:
Some people praise Nioxin for its effects.

Others say it really speeds up hair growth.

Some others say it's better as a volumizer (not as a thickening product).

A few say it doesn't work at all.

Some claim they used it for over 3 months without any effect.

There are a few criticizing its high price.
To be honest, it's quite hard to draw a conclusion from these reviews.
But it's quite clear that Nioxin works really well for some – and it doesn't work at all for others.
2. Biggest Complaints
---
It's obvious that the #1 problem is Nioxin's effect. 
Some people claim it's totally useless and doesn't work at all.
But other than that, here's what many people complain about:
It takes a long time to see an effect (about 3-4 months).

It's expensive for the quantity.

Ironically, it causes even more shedding in some people.

Now – it's clear that only certain people had these problems.
After all, Nioxin has enough positive reviews – so it's surely not a scam. 
But one thing is clear: it doesn't work for everyone and if it does – it needs several months to help.
---
Conclusion
---
Nioxin's products have mixed opinions:
some say it's really helpful

others say it doesn't work at all or that it made their hair worse
However, you should know that it takes at least 3 months to start working for real.
Before that, you might experience shedding, itching or no effect. It depends on your body.
---
#6 – Price

(8 out of 10)
---
In my opinion, Nioxin's products are quite affordable:
claim to be professional

don't cost a lot more than regular hair products

you get the chance to buy several versions combined
But let me give you more details.
1. The Exact Price
---
As I said, there are 5 versions of Nioxin's kits – all meant for 1 hair type:
they all cost about the same

price is around $45 per kit

Now – there are 3 products in 1 kit:
Shampoo (10.1 oz)

Conditioner (10.1 oz)

Scalp & Hair Treatment (3.38 oz)
They all cost $45 together. To be honest – the price doesn't seem very high for this quantity.
I mean, there are plenty of hair products that cost $20 for 5 oz.
With Nioxin – you get 2 products twice that quantity and a small spray.
So I personally can't call Noixin expensive.
2. The Separate Prices
---
Instead of buying a kit, you can buy Noixin's products separately.
Obviously – it's a lot more expensive in this way:
shampoo costs about $20

conditioner is almost $25

scalp & hair treatment also costs about $25
So if you make the calculations, that's $25 more (compared to the kit).
Basically – if you buy the kit, you get the conditioner or treatment spray for free. I say that's a much better deal.

Noixin also has additional products for sale on its website – but they are too numerous to mention here.
But you can find them on its official website easily.
---
Conclusion
---
Noixin is actually quite affordable, if you ask me. 
At least if you buy the whole kit – otherwise, it's starting to get pricey.
However, I personally wouldn't pay $45 on a hair shampoo + conditioner + spray.
If you want real results – supplements work much better and faster. Plus, they're much cheaper.
---
#7 – Where You Can Find It

(9 out of 10)
---
Nioxin is available in several retailers – but there's something interesting.
My first instinct would be to buy it from the official website.
However – they request you to:
create a professional account OR

check for a salon selling it nearby your home
In other words, you can't really see the prices on the official website.
And as far as I know – you can't buy it without a special account.
That's why I don't really recommend getting it from there. 
Instead – you can find it on:
Amazon (my recommendation)

Ebay

Several beauty websites
---
#8 – FAQs
---
Up next, I will try to answer the most common questions about Nioxin.
Note: I might repeat something I already mentioned, but it's easier to spot here.
1. How often should you use it?
---
The instructions aren't very clear – but here's what I recommend:
use the shampoo every 2-3 days

apply the conditioner after every wash

use the spray daily
2. How long lasts 1 kit?
---
That really depends on how often you use it.
But from my experience, I say about 1.5-2 months (more or less).
3. Are there any side effects?
---
I couldn't find anything on the label. But I found a few reviews complaining of:
From what I understood, these side effects appear mostly in the first month (until your body gets used to these products).
Afterwards, they might go away.
4. How fast should I see an effect?
---
Nioxin seems to be pretty slow from this point of view (which is a downside).
In my case, it started working after about 2 months. 
But in most cases, it needs at least 3 months to start working.
So compared to other products (especially supplements) – it's really slow.
---
#9 – Nioxin VS Others
---
I won't compare Nioxin with another shampoo/conditioner.
Instead – I will compare it with my #1 recommended product for hair (including thinning hair) – Folexin.

So here's how Nioxin (N) is different from Folexin (F):
N works only on the outside, F works from the inside.

N is mostly designed for thinning hair and shedding.

F works for hair loss, thin hair and hair growth (+ others).

N costs about $45 per kit, F costs $25 per bottle.

F offers a discount for buying more bottles together, N doesn't.

N has a lot more authentic reviews compared to F.

N ships in more countries than F.

F starts working from the first month, N needs around 3 months.
Basically – I recommend Folexin (and some other hair supplements) way more than Nioxin. 
Pills have a much better effect overall, since they work from the inside.
Nioxin only works at the surface, so the effect isn't as strong and long.
So my advice for you is to use a supplement instead of a shampoo + conditioner. It will work much better.
---
My Verdict – Is Nioxin Worth Buying?
---
Short answer: Not really – I don't like it because it's a topical product:
Only works on the outside.

Doesn't treat the real cause of the problem.

Needs a long time to work (about 3 months).

Not effective for everyone.

Expensive – compared to supplements.
Now – Nioxin has a decent price for the quantity. But it's still expensive as a hair product ($45 per kit).
Besides, in my case – the results weren't too good.
So I would definitely use a supplement instead, since I had much better results with this kind of products:
Much stronger formula

Cheaper overall

You can see an effect in 1-2 months (most cases)

Can even regrow new hairs
If you want to try Nioxin, feel free to do it. It can really help – just make sure you afford to buy it for at least 3 months.
But if you prefer a cheaper and stronger alternative, supplements are my #1 recommendation.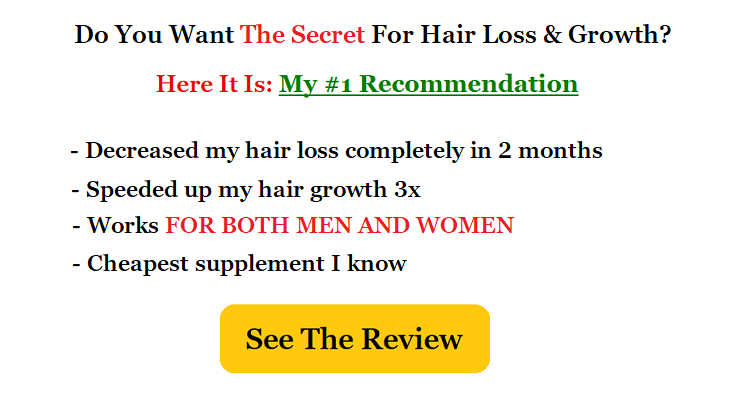 References:
1 – https://www.ncbi.nlm.nih.gov/-pubmed/28879195