It's time for my Hair La Vie review – because their products look very promising.
But are they really effective?
I found out lots of worrying reviews online – which makes me think they might be a scam.
For this reason, I tried to dig deep into these products and find out the truth behind.
Note: This review is based on my opinion + research on Hair La Vie.
---
What Is Hair La Vie?
---
Shortly – it's a hair product brand focused on natural formulas.
In other words, it claims to have products that are 100% chemical free.
The products are all designed to grow hair using natural ways.

Hair La Vie has 4 major products:
Clinical Formula Vitamins

Revitalizing Vitamins

Shampoo

Conditioner
There are many other products on their website – but these 4 are the best-sellers.
Out of these 4, their best product are the Clinical Formula Vitamins.
For this reason – this supplement has lots of offers on their website:
costs $59.95/bottle normally

they give you the chance to go for auto-shipping 

this is either monthly or every 3 months

in both cases, you also get some gifts and a discount
But is it really worth it? In my opinion – all of Hair La Vie's products are way too expensive.
So my advice is to go with a supplement that is $35 cheaper (and had better effects in my case).
So Let's Get To The Review
---
Full Name: Collection Products by Hair La Vie
Versions: There are about 10 on the official website – but I will only focus on :
Clinical formula vitamins (pills)

Revitalizing vitamins (pills)

Shampoo + Conditioner
Best Actual Price: Between $50-$60 per bottle (vitamins).
Cheapest Place To Buy: Only available on their official page.
Designed For: Mostly hair growth and everything it involves:
repairs damaged ends

stimulates follicles
It also claims to reduce breakage and shedding.
My Rating: 6 out of 10 – Not the best choice ever
Worth Buying?: Not really – All products are way too expensive for what they can do.
What I Liked About It
---
Ingredients are pretty good (especially in one type of vitamins)

High dosages in most substances

Pills are quite easy to swallow

Money back guarantee (at least on paper)

Very professional website
What I Didn't Like About It
---
Extremely expensive for what they contain

Lots of up-sells, which makes it hard to buy what you want

Some of the products don't have strong formulas

Shampoo makes the hair quite dry

Needs about 3 months to start working

Many negative reviews

Didn't have positive results in my case
---
#1 – Ingredients

(9 out of 10)
---
Both forms of Hair La Vie's vitamins have a pretty good formula:
many ingredients known for their hair benefits

strong herbal extracts

pretty high dosages
Regarding the topical products (shampoo + conditioner) – the ingredients aren't so easy to analyze.
But more on this a bit later.
Right now – let's take a quick look at each of the 3 products' formula.
1. Clinical Formula Vitamins
---
Speaking of ingredients – they are by far the best product from Hair La Vie: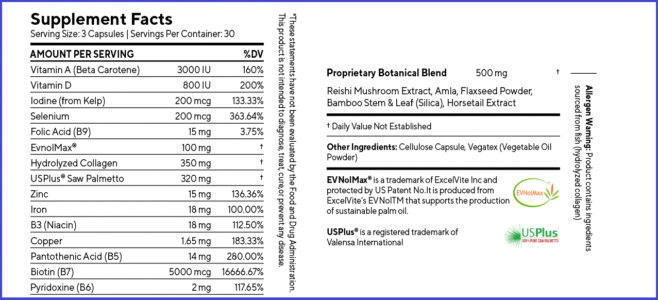 Out of these ingredients – here are the ones with biggest benefits for hair:
EvnolMax – it's a trademark form of vitamin E, which boosts growth.

[1]

Hydrolyzed Collagen – strengthens hair and smooths skin.

[2]

Zinc – can decrease shedding.

USPlus Saw Palmetto – a trademark form of Saw Palmetto (decreases DHT-related hair loss).

[3]

Proprietary Blend – several herbs for thickening and boosting hair growth.
Overall – this formula looks excellent, in my opinion.
It's the kind of product that would surely work.
2. Revitalizing Vitamins
---
This formula is also pretty good – but not as strong as the previous one:
not so many ingredients

rather based on vitamins/minerals

no trademark ingredients
As you can see, the herbal extracts are put together in a Proprietary Blend.
That's not necessarily bad – but it's usually because their individual dosages are lower. So it's a nice way of covering that.
So this formula isn't bad, but it's not amazing either.
3. Shampoo + Conditioner
---
Ingredients aren't very important here.
As in every topical product – active and inactive substances are all put together in a long list.
So it's hard to spot the important compounds:

However – what makes them unique is that they're made only from natural substances.
(At least that's what the brand claims).
---
Conclusion
---
Hair La Vie's Clinical vitamins are indeed very good:
2 trademark ingredients and 1 proprietary blend

strong formula
The Revitalizing vitamins also look good – but their formula isn't as impressive.
So overall, if you really want to buy a product from Hair La Vie – choose the Clinical formula.
However – I personally wouldn't recommend any, just because they're way too expensive.
---
#2 – Smell & Consistency

(8 out of 10)
---
Wondering how the pills and shampoo/conditioner look like? I've got the answer.
1. Pills
---
Hair La Vie's vitamins didn't struck me with anything.
They looked pretty similar to other hair pills:
made of a transparent gelatin cover

brownish powder inside

average dimensions

can be swallowed easily

no smell
Basically – if you're fine with taking regular pills, these vitamins shouldn't create you any trouble.
2. Shampoo + Conditioner
---
These are surely not my favorite products (in terms of consistency):
shampoo doesn't foam very well

conditioner is quite thick

also, it doesn't hydrate the hair properly (in my case)
Another thing worth mentioning is that you should shake the shampoo before using it.
From what I've seen – it has 2 phases (liquid + thick).
So if you don't shake it first – you will only get the liquid (it's at the top of the bottle).
When it comes to smell, they have a light fragrance. Nothing to complain about.
---
#3 – How To Use It

(8 out of 10)
---
Here's a brief summary on how you should use Hair La Vie's products.
That's what the label recommends for each:
Clinical vitamins require 3 pills per day.

You should take 2 in the morning and 1 at dinner.

Revitalize vitamins only require 2 pills a day.

You can take them anytime (together or separately).

Shampoo/conditioner can be used in every wash.
Basically – it's pretty simple and you can find all the instructions on the label.
Just keep in mind that Clinical vitamins (which are better) require 3 pills – while the others only 2.
That might make a difference (in terms of comfort).
---
#4 – My Results

(7 out of 10)
---
Honestly, I didn't have amazing results with these supplements.
But I pretty much know the reason – I only used them for 1 month (which isn't enough).
I used the Revitalizing vitamins, because at that point it was the only option.

1. My Background
---
My hair was growing out really slowly – so I was looking for a product to help.
I had dealt with a serious hair loss in the past.
That's the reason why my hair didn't look excellent:
very thin and fragile ends

too little volume

it was breaking very easily
Basically – my hair was still falling out, but not as bad as before.
So I wanted to see if Hair La Vie could stop my shedding and make my hair grow faster.
2. How It Worked
---
As I said – I used the Revitalizing vitamins, which are not the best ones at this point.
Anyway, they didn't really help a lot:
my shedding didn't get much lower

I couldn't notice any new baby hairs

my actual hair grew about an inch (that's something usual)

also, the shampoo didn't really suit me

it made my hair drier than usual
Now – I'm aware that 1 month (as I took the pills) is way too little.
In fact, Hair La Vie says you need 3 months to start seeing effects – which is a lot.
Considering these vitamins were super pricey ($48) – I couldn't really afford that.
So keep in mind that you should use them for at least 3 months – therefore, only buy them if you can afford that.
---
Conclusions
---
These vitamins disappointed me a bit – even though it's my fault for not taking them longer:
didn't increase my hair growth speed

hair didn't look nicer overall

shedding was only slightly better
So at $48 per bottle – I really don't think these pills are worth buying.
Plus – if you buy the Clinical version (the better one), it's even more expensive: $60.
Honestly, I don't think it's worth paying so much money on a monthly product.
I got some much better results in 2 months from a $25 supplement – so that's a much better choice for me.
---
#5 – Other Opinions

(6 out of 10)
---
In order to judge fairly, I wanted to check out some other (authentic) reviews of previous customers.
Note: I only considered authentic reviews, not general ones.
1. What People Say
---
Unfortunately – I couldn't find too many authentic reviews of Hair La Vie.
The products don't sell on Amazon, which was my #1 to go website for real opinions.
You can only find reviews on Hair La Vie's official website:
95% offer 5 stars out of five

only praises about the products

no chance to write your own review

That's what makes me think that those reviews are fake positive.
So they're surely not worth considering.
However – I also found out some reviews on HighYa. And these are surely from real customers:
They're about 50-50 (positive-negative).

Some people say the products are really helpful.

Other praise the vitamins for their benefits.

However, some complain about no effect.

Others even claim they lost more hair than before.
So basically – opinions are quite mixed up, so they're clearly authentic.
2. Biggest Complaints
---
As I said – Hair La Vie also has some serious negative reviews.
Considering I found these complaints several times – I'm pretty sure they're not fake:
Shampoo dries hair really bad.

Conditioner doesn't hydrate properly.

Products caused massive hair loss.

Company doesn't want to refund unsatisfied customers.

Unfriendly and rude staff.
Now – some people also said they never received their order, despite paying it.
But I only found 2-3 reviews of this kind, so it's not something very common.
Either way – Hair La Vie seems to be a great company to deal with until you decide to ask for a refund.
From what I read, that's were the problems begin.
So if you were counting on their money back guarantee – I say you should think twice.
---
Conclusion
---
There are both positive and negative reviews on Hair La Vie.
But that's only if you know where to look for:
their official website only has 5 star ratings

there's absolutely no complaint
Instead, if you check out authentic websites – you will find plenty of negative reviews.
That's what makes me think Hair La Vie is far from what it claims to be.
Plus – many customers are calling it a scam. So I'm not sure if it's worth trying.
---
#6 – Price

(4 out of 10)
---
That's by far the biggest downside of Hair La Vie.
All 4 products I reviewed are extremely expensive for what they do.
1. The Exact Price
---
As I said – you can only find these products on the official website.
Ebay is also an option, but it's quite hard to find a good price (including shipping).
So here's how much Hair La Vie costs:
Shampoo + Conditioner = $49

Clinical Formula Vitamins = $59.95

Revitalizing Vitamins = $48
Honestly – these prices are really high for a monthly supply.
You do get a discount for buying larger packages – but the price is still very high.
For example, you can get the Clinical vitamins for $46 per bottle if you buy the 6 months supply.
To be honest – I wouldn't recommend buying so many from the start, without trying them first.
But either way you buy Hair La Vie, all products are really overpriced.
2. Competitors' Price
---
I will compare the Clinical Vitamins (CV) with my #1 hair supplement Folexin (F):
F has a slightly better formula (but CV isn't far).

CV requires 3 pills per day, F only 2.

F worked much faster for me personally (2 months).

CV costs $60 per month, F costs $25.

Both offer a discount for buying more bottles together.

You can get CV for up to $45.67 per month.

F comes for almost $18 per bottle.
So overall – Folexin is $35 cheaper than Clinical Vitamins, which is a lot of money.
That's why I personally recommend it over Hair La Vie's products.
Even though both can work – Folexin is faster and a lot cheaper.
So that's what I prefer to use instead.
---
#7 – Where To Find It

(5 out of 10)
---
As I mentioned above – you can't really find Hair La Vie products easily:
Only available on the official website.

The company doesn't sell on Amazon.

You can also find them sometimes on Ebay.

However, they're usually opened and unused on Ebay.
So if you really want to purchase these products – the official website is the best choice.
But there's a little problem:
they try to up-sell you lots of times

once you added a product to your cart, they give you extra offers

only clicking on them will add them to your cart (automatically)

you will have to delete them manually
So I recommend revising your cart before making the actual payment.
Later Edit: Hair La Vie's vitamins are now available on Amazon for similar prices. Still, most of the other products from this brand can only be found on its official website.
---
#8 – FAQs
---
Coming up, I will try to answer the most common questions about Hair La Vie.
1. How many pills per day?
---
It depends what vitamins you're using:
Clinical Formula requires 3 

Revitalizing Blend requires 2
You can either take these pills together or space them out – whatever is more comfortable for you.
2. How long lasts one bottle?
---
Each of them are designed for one month.
Regarding the shampoo/conditioner, that depends how frequently you use them.
3. Can I take it with other drugs?
---
Normally – you should.
But my advice is to ask a doctor first, as the vitamins contain some unusual ingredients (the trademark ones).
So it's better to consult a specialist first and see if there's a risk of interactions.
4. Are there any side effects?
---
I personally didn't experience anything while taking these pills.
The label doesn't mention anything either.
However – some people claim their hair loss worsened and their hair became dry and brittle.
5. How fast should I notice an effect?
---
Hair La Vie's website mentions you need at least 3 months (which is quite a lot).
Also – the products work best after 6 months, which is even longer.
So keep in mind they're not the kind of products that work in 1-2 months.
---
#9 – Final Conclusions
---
Here's how I would sum up Hair La Vie in 3 ideas.
1. Quality Formula
---
I'm talking mostly about Clinical Vitamins – the other products aren't anything special.
But the Clinical Vitamins look pretty good:
2 trademark ingredients

high dosages

not the same formula as in every supplement
2. Pretty Slow
---
None of these products can work very fast.
In fact – compared to other hair supplements, they're quite slow:
they need about 3 months to work

it will take up to 6 months until you see major effects
So you will have to take many bottles before you start seeing changes.
3. So Overpriced
---
Honestly, all of Hair La Vie's products are really pricey.
Considering what they contain – the price is way too high.
That's one of the major reason why I wouldn't recommend them.
---
My Verdict – Is Hair La Vie A Scam?
---
Short answer: Not really – it's a legit company with legit products.
However, I personally wouldn't advise you to buy them:
Price is absolutely huge ($50-$60 per bottle).

Don't contain some miraculous ingredients.

Need at least 3 months to start working.

Have enough negative reviews and complaints.
Funny thing – you won't find any complaint on Hair La Vie's official website.
That makes me think the company isn't 100% honest.
Either way – Hair La Vie's products cost way too much for what they can do.
If you really want a good hair supplement, you can get something that works much faster (1-2 months) for $35 less.
That's my personal choice.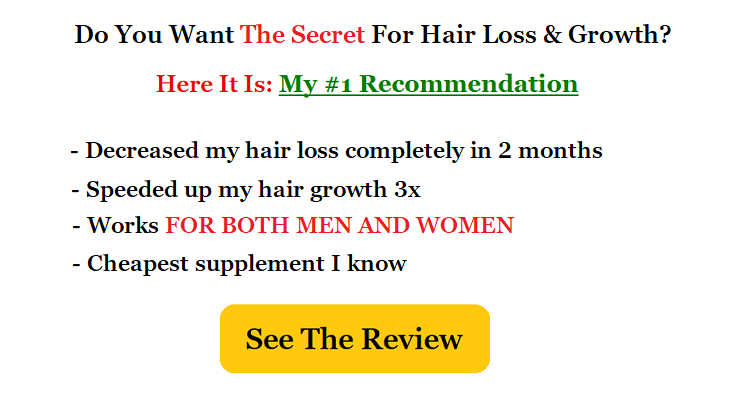 1 – https://www.ncbi.nlm.nih.gov/-pmc/articles/PMC3819075/
2 – https://www.ncbi.nlm.nih.gov/-pmc/articles/PMC4206255/