It's time to review Sugar Bear Hair Vitamins – which is a general hair health product. Honestly, it looks really good at first:
comes as a gummy form (not pills or tablets)

very nice taste

really easy to take
However, there's also a negative side of this product – and it's actually a long one.
So can these gummies speed up hair growth? Or they're potentially dangerous (as some say)?
Let's dig deep into this product and find out the hidden truth behind.
Note: This review is based on my experience + opinion on these vitamins.
So Let's Get To The Review
---
Full Name: Hair Vitamins by Sugar Bear Hair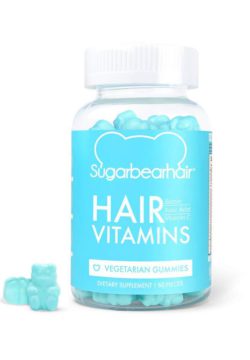 Versions: There's only a 30-days bottle, but there are 3 different packages:
1 month supply with 1 bottle

2 months supply with 2 bottles

3 months supply with 3 bottles + free brush
However – the discount for buying a larger pack is very little (less than $5). 
Best Actual Price: Around $30 per bottle
Cheapest Place To Buy: Amazon or Ebay (but Amazon is easier in terms of shipping).
Designed For: Hair health in general:
increases strength

nourishes the hair roots

improves overall health
Keep in mind that it's not a hair loss/growth supplement (at least it doesn't claim to be).
My Rating: 6 out of 10 – I rated it so low because of the side effects.
Worth Buying?: Not really – it's not as good as it seems as first:
contains lots of sugars/sweeteners

ingredients are pretty basic

may cause serious breakout (acne)

a bit overpriced
Even though it tastes great, this product is far from a great one.
So at $30 per bottle, I think you can choose a much better supplement for less money.
What I Liked About It
---
Great taste (something like berries and punch)

Only 2 gummies per day

Contains most vitamins necessary for hair

You can find it in many retailers

Many authentic reviews online 
What I Didn't Like About It
---
Pretty weak formula with lots of sugars

Not effective for everyone

In my case, it didn't really work (only made my hair dry)

Many complaints of acne and stomach pain as a side effect

Might be dangerous

Expensive for the formula it has
What Are Sugar Bear's Vitamins?
---
First of all – they're not vitamins (or rather, not only vitamins). 
That's because this product also contains:
Some minerals

Enough sugar

Sweeteners and flavors 
So the #1 ugly truth behind this product is that it's full of sugar and sweeteners:
they're not healthy on the long term

might cause side effects (especially on the skin)
And if you check out some Amazon reviews, you will see that's real (I will discuss it below).
Now – these gummies are designed to improve hair health in general.
But judging after the vitamins they contain, they should also boost hair growth (if not even decrease hair loss).
So does this really happen? It's time to get into more details on this product.
---
#1 – Ingredients

(7 out of 10)
---
To be honest, Sugar Bear's vitamins have a decent formula for hair in general.
However – for hair growth, it seems pretty weak:
Mostly vitamins and minerals

No powerful herbal extracts (like Horsetail, Nettle, Saw Palmetto)

A really high quantity of sugar
Now, this formula doesn't look bad at all.
But compared to other supplements – it looks much weaker (in terms of hair growth).
Now – I would divide the ingredients in 3 classes:
vitamins

minerals

inactive ingredients
So let's take a quick look at each category.
1. Vitamins
---
Sugar Bear's product contains pretty much all the vitamins that are essential for hair:
Vitamin A – doesn't have a major benefit, but an excess causes hair loss. 

Vitamin C – it's an antioxidant, so it protects and strengthens hair. [1]

Folic Acid – seems to increase hair growth.

Vitamin D – its deficiency leads to hair loss. [2]

Vitamin E – there is very little info about its hair benefits (only that it's an antioxidant).

Biotin – it's one of the best vitamins for hair health. [3]
Vitamin B6 – strengthens and increase hair growth. [4]

Vitamin B12 – produces new hair cells.

Choline – it's not a real vitamin, but it helps hair affected by stress.

Inositol – it's a B vitamin complex that works best with choline.
So in terms of vitamins, this product has all you could wish for. 
2. Minerals
---
At this chapter – Sugar Bear's supplement could be better.
It doesn't contain as many minerals as vitamins and it only has 2 that really help:

Panthotenic Acid – just like vitamin B6, it seems to increase hair growth. [4]

Iodine – can help if your hair is falling out due to thyroid problems.

Zinc – it's an essential mineral for hair health and also increase growth. [5]
Out of this list – zinc is by far the most important mineral for hair.
A downside I found is that there's no iron or magnesium (which are really useful nutrients). 
3. Inactive Ingredients
---
I wouldn't normally count these in, but this supplement has a big problem here:
Many sugars/sweeteners

Coloring agents

Artificial flavors 
So the fact that it comes as sweet gummies has a price. 
Compared to regular supplements, it's a lot more unhealthy (if I can call it so).
---
Conclusion
---
For a general hair health product, Sugar Bear gummies look well enough.
But for a hair growth product – this formula looks weak:
potent extracts missing

most ingredients don't improve growth speed

full of sugars
So judging after its formula, it's not a product I would recommend any soon.
---
#2 – Smell & Taste

(9.50 out of 10)
---
That's probably the strongest point of Sugar Bear's product.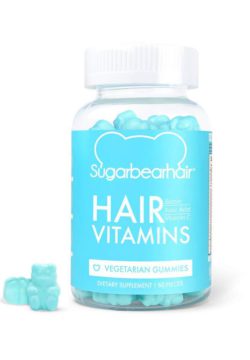 At this chapter, there's almost nothing you can complain about:
When you open the bottle, the smell is pretty weird (very intense).

However, one gummy alone doesn't smell too bad.

Taste is also pretty good – similar to punch/berries (but very sweet).

You can chew them instead of swallowing them full.

They're not the kind of gelatin gummies.
So if you were used to pills or tablets, you will surely enjoy these gummies.
But as I said – they taste extremely sweet. That's not a problem in terms of taste, but it is a problem in terms of health (more on that later on).
However, when it comes to taste – Sugar Bear's product looks great.
---
#3 – How To Take It

(9 out of 10)
---
The label makes a few clear recommendations:
You need to take 2 gummies per day.

There's nothing mentioned about the schedule.

So you can take them either together or space them out.

It recommends chewing them thoroughly before swallowing.

It doesn't say if you have to drink some water afterwards.

Also recommends not to go beyond 2 gummies/day.
So things are pretty clear here.
With other products, I would have trouble understanding the instructions (an oil from Wild Hair Growth is the best example).
But Sugar Bears is fine at this chapter. So in my opinion – 2 gummies per day isn't a lot.
I would recommend spacing them out and taking 1 in the morning and 1 in the evening, but it's totally up to you. The effect would probably be the same anyway.
---
#4 – My Results

(6 out of 10)
---
To be honest, Sugar Bear's vitamins were far from the top products I tried.
I could see an improvement in my hair, but it was minimal. Besides – there were some other problems as well.
1. My Background
---
I have had years of hair loss due to a mix of different causes – so my hair was still recovering from that.
Even though my hair stopped falling out in pieces, it still had some problems:
very thin ends

fragile and easy to break

growing very slowly
Since it was unhealthy but not damaged, hair masks and treatments didn't really help.
So normally – adding a boost of vitamins should help my hair in several chapters (including growth). 
That's why I was curious if Sugar Bears could help.
2. How It Worked
---
My results with this supplement weren't too amazing:
My hair didn't seem to grow more than usual after 2 months.

It did grow – but not faster or longer.

However, it seemed a lot more brittle than before.

I used lots of conditioners but none could make it much softer.

Also, I was feeling a lot more tired and without energy (maybe due to the sugar),

The only good point is that I had some more volume than before.

Also, my nails would grow twice as fast (surprisingly).
So basically, these gummies didn't do anything important for my hair. 
On the contrary – they might have made it drier (I'm not 100% sure it was them, I only believe so).
And in terms of growth, I couldn't notice any real effect. Ironically – they only helped my nails, not my hair.
---
Conclusion
---
I would probably not recommend Sugar Bear's vitamins:
didn't increase my hair growth

the positive effects on my hair were minimal

made my hair drier and frizzier
It's true they are easy to take and taste well – but is it really worth that, if they don't work? 
Besides, they're not very cheap. So for these money, you can get a much better product (even though it's a supplement).
---
#5 – Other Opinions

(7 out of 10)
---
In order to create an unbiased review, I tried to check some other opinions about Sugar Bear's product.
The good news – there were plenty of real customer reviews.
The bad news – many of them were complaining about a serious side effect.
Note: I only considered authentic review, not the ones based on general info.
1. The Positive Side
---
I found enough customers that were satisfied with this product:
Some said it really works for hair growth.

Others said it improves their hair loss.

There are some that praise its general benefits (healthy hair).

Many people claim their nails also saw a boost in growth.

Most praise the smell and taste.

As you can see – some people's results seem totally different from mines. 
However, not all saw such an amazing improvement in their hair. Others had to deal with severe side effects.
2. The Negative Side
---
Honestly, the complaints I found about this product were totally different than other hair supplements.
And I mean that in the bad way:
Lots of people complain about acne breakout.

Some claim they never had acne problems before. 

But most are convinced it was these gummies causing it.

Others complain about the high quantity of sugar inside.

Also, some said they ended up with stomach cramps.

And there are some who had problems with their packages.

Now – I found over 30% reviews complaining about acne, so it's a major side effect.
If you ask me, it's probably because of the high dose of sugar. The ingredients themselves could never cause acne alone.
---
Conclusion
---
There are enough satisfied users, but there are also many serious complaints.
So if you want to stay away from acne, I wouldn't advise you to use these gummies.
Maybe you never had a breakout before, but you're still at risk – just like the others (many customers claim they never had it before, so…).
---
#6 – Price

(7 out of 10)
---
In terms of cost, Sugar Bear's vitamins are somewhere in between:
not the priciest hair product I tried

expensive for what they contain
So let's get into more details here.
1. The Exact Price
---
Sugar Bear's product has a similar price no matter where you buy it from:
Costs about $30 per bottle.

You can buy a 1,2 or 3 months supply.

However, the price is still about the same (per bottle).

For the 3 months supply, you pay a bit over $29 per bottle.

Now – for a gummies product, it's quite expensive. For the formula/ingredients it has, it's also overpriced (in my opinion). 
Yes – there are many supplements that cost much more, but that's not an excuse.
If you ask me, Sugar Bear's product should cost under $20 for what it contains.
2. Competitors' Price
---
I will only compare Sugar Bear's vitamins with my top recommended hair product (Folexin).
Now – I will only stick to the price facts here.
If you want the full comparison, you can see it below.
Folexin costs about $24/bottle, Sugar Bear costs around $30.

With Folexin, you can get a discount for a larger pack (about $18/bottle).

With Sugar Bears, the price is around the same as before ($29/bottle).
Besides, in my case – Folexin's effect is much better overall. 
That's why I personally recommend it instead of Sugar Bear's product:
it has a much lower price

works better for hair growth/loss or thinning hair (at least for me).
---
 #7 – Where To Find It

(9 out of 10)
---
Fortunately, Sugar Bear's vitamins are available in several websites/retailers:
the official page

Amazon

Ebay

Ulta

some other smaller sellers
Now, the question is – which of these has the lowest price?
Well, there's no big difference, to be honest.
The very best price is probably on Amazon – but it's only a few cents lower than the official website.
Ebay has also really low prices, but that depends from the seller. Plus, you might have to pay the shipping fees here.
So if you really want to buy this product, choose Amazon for the best deal.
---
#8 – FAQs
---
Up next, I will try to answer the top questions you might have on Sugar Bear's vitamins.
Note: I might repeat something I already said, but it's easier to spot here.
1. How many gummies per day?
---
Only 2 – you can either take them together or space them out (whatever it's easier for you).
It's recommended to chew them before swallowing, and you can also have some water afterwards.
2. How long lasts one bottle?
---
30 days – one bottle is 1 month supply.
There are 60 gummies and you're taking 2 per day.
3. Can I take it with other drugs?
---
It's better to ask your doctor first, because Sugar Bear's vitamins aren't herb based.
So there might be some interactions, that's why it's better to seek for advice if you're following a chronic treatment.
Normally – there shouldn't be any problem, but it's better to stay safe.
The label also doesn't mention anything about this. 
4. Are there any side effects?
---
I couldn't find anything on the label or on the official website.
Also – I personally didn't experience any side effect (except for hair getting dry and brittle).
However, I found many reviews complaining about:
acne breakout or pimples (over 30% reviewers)

stomach pain

headaches
So one of these serious side effects may come up in your case as well.
5. How fast should I notice an effect?
---
There's no info on this on the label.
But some reviewers said they same an improvement after about 3 weeks (which is pretty fast).
However – I say you should use these gummies for at least 1 month before you expect any effect.
---
#9 – Sugar Bear's Vitamins Vs Others
---
I will not compare Sugar Bear's vitamins with some other gummies.
Instead, I will compare it with my top recommended product for hair growth – Folexin.

So let's take a look at Sugar Bear's (SB) vs Folexin (F):
F contains about 30 ingredients, SB contains about 15.

SB contains only vitamins + minerals, F contains these + herbal extracts for hair growth.

F is the best product I know at decreasing hair loss, SB is weaker.

F also speeds up hair growth, SB didn't really help (in my case).

SB comes as gummies, F as gelatin pills.

They both require 2 servings per day.

SB costs about $30, F costs $24.

F offers a discount for a larger pack ($18 per bottle), SB keeps the same price.

F has no major side effects, SB may cause some acne.
Now – I don't have anything against Sugar Bear's gummies. If they were more effective, I would have been the first to praise them.
However, I can't possibly recommend them over Folexin (considering all the facts from above).
It's true that Folexin is a supplement and comes as pills, but in terms of effect – it's way better than Sugar Bear's.
So that's the product I personally recommend instead.
---
#10 – Final Conclusions
---
Here's how I would sum up Sugar Bear's vitamins in 3 ideas.
1 – Really Easy To Take
---
Compared to regular supplements, this product has a clear advantage:
uses gummies instead of pills

taste is really good

you can chew them before swallowing

only 2 per day
No matter what – gummies will always be more attractive than pills. Especially when you don't have to swallow them whole.
2 – Very Different Results
---
Truth is – opinions were extremely divided on this product:
some really praised it for its growth effects

others said it only improves hair in general

some others said it's useless

while others complained about its side effects
Now – I personally don't fit into any of these categories.
My results were rather negative, but I didn't experience any side effects.
However, one thing is clear – Sugar Bear's vitamins does not work for everyone.
3 – Potentially Dangerous
---
I was scared by how many negative reviews I found on Sugar Bears. 
Most of these were complaining about:
acne breakout

stomach pain
Besides, it contains a high quantity of sugar (compared to 95% supplements)
To be honest, these are some serious issues that you can't see in most supplements.
That's why I would think twice before buying Sugar Bear's vitamins.
---
My Verdict – Are Sugar Bear Vitamins Worth Buying?
---
Short answer: Not really – their potential side effects are too dangerous, if you ask me.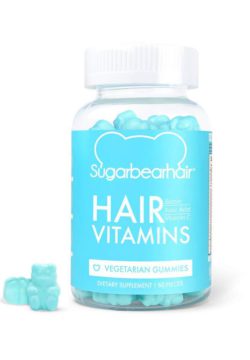 Besides, it's not such an amazing product:
Full of sugar and sweeteners.

Ingredients aren't too powerful.

Only contains vitamins and minerals.

Not very effective for hair growth (my experience).

Many negative reviews.

Too expensive for what it contains.
Sure enough – it's great in terms of taste and consistency. But that's pretty much it.
Considering it can cause severe acne, I personally would stay away from it.
There's a product that works better, costs less and has no serious side effects. So that's what I would recommend instead.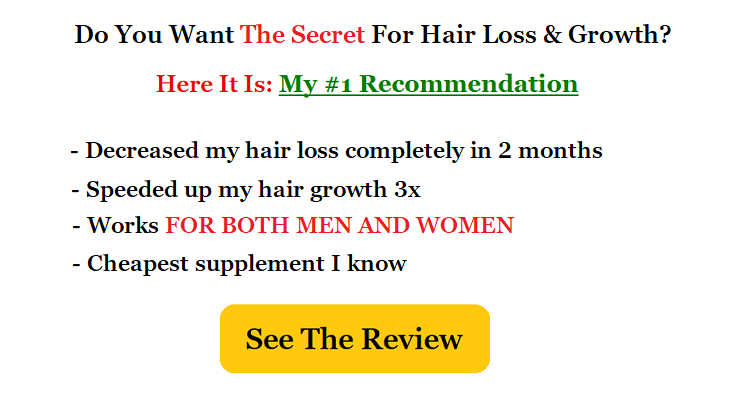 1 – https://www.healthline.com/-nutrition/best-vitamins-hair-growth
2 – https://www.ncbi.nlm.nih.gov/-pmc/articles/PMC5387874/
3 – https://ods.od.nih.gov/-factsheets/Biotin-HealthProfessional/
4 – https://www.ncbi.nlm.nih.gov/-pubmed/11344694