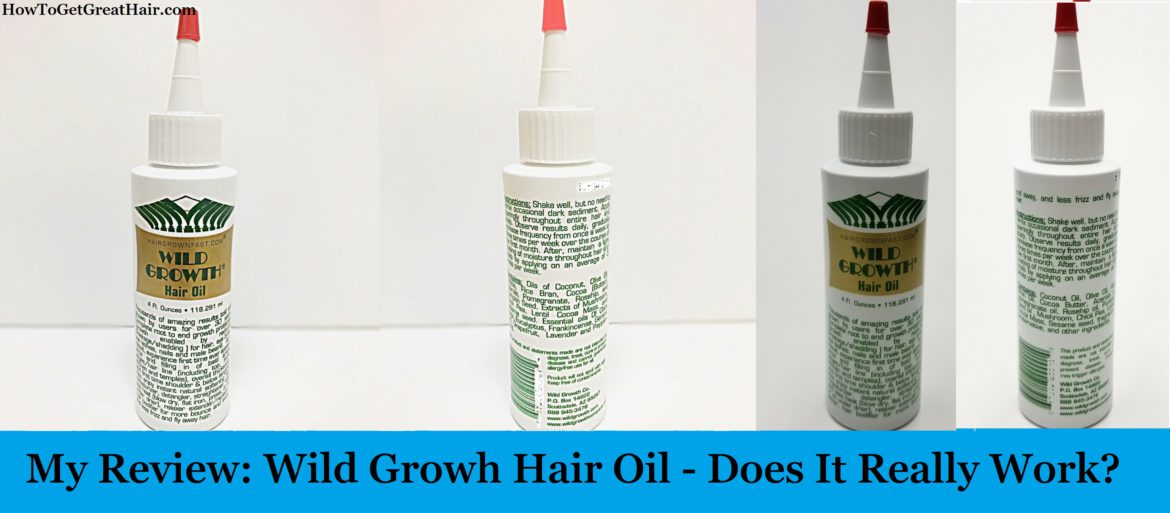 It's time to review Wild Growth Hair Oil – because it doesn't look any bad:
really low price

high quantity for the money
However, I found lots of complaints and negative reviews about it.
Considering it costs just $9 – it might be a useless product. Or it might not.
Well, I tested it out myself so here's all the details you need to know about this Wild Oil.
Note: This review is based on my personal experience + opinion on this product.
So Let's Get To The Review
---
Full Name: Hair Oil By Wild Growth
Sizes: There are two available – 4 and 8 oz (I will focus on the first one).
Best Actual Price: Around $9
Cheapest Place To Buy: Ebay – but if you want a safer place, you can choose Amazon.
Designed For: Hair growth in general – and anything it involves:
reduces hair breakage

protects the ends and the roots

softens the hair
Also – it claims to be effective for beard, eye lashes and eyebrows.
My Rating: 5 out of 10 – I wouldn't recommend it.
Worth Buying?: Definitely not – it's really cheap, but that's pretty much it:
doesn't grow hair really well (or fast)

extremely thick, greasy consistency and terrible smell

causes real problems in some people (bad hair loss – ironically)

contains some basic ingredients
So I would surely not recommend it, even if it's so affordable. You can get a much better product instead.
What I Liked About It
---
Price is really good for the quantity

Available in 2 sizes

You can get it from many retailers and shops

Many authentic reviews
What I Didn't Like About It
---
Most ingredients have no benefits for hair

Greasier and thicker than most oils I used

Really bad smell

Leaves your hair extremely greasy

Only made my hair grow 1 inch more than usual (in 1 month)

I found lots of serious complaints about it

Can cause hair loss in some people
---
What Is Wild Growth Hair Oil?
---
Shortly – this product is designed to regrow new hairs or speed up hair growth.
So it claims to do this in several ways:
Protects the hairs from the roots to the ends.

Reduces breakage/shedding.

Fills in bald spots (no matter what's causing them).

Softens and detangles hair.
However – that's just on paper. Because in reality, it's far from being as effective as it claims. 
And thing is – it's an oily product. Simply applying oil on your hair roots will make them grow faster – that's a rule.
So there's nothing special about this product that makes it better than regular oil.
Obviously, at $9 per bottle – it's really worth trying.
But it's surely not a product that I recommend – or that I would try again. You will understand below why. 
---
#1 – Ingredients

(5 out of 10)
---
Just like many topical products, Wild Growth's formula is pretty weak:
No ingredient in the focus

No doses

Some substances don't have any benefits for hair
Basically – it's just a mix of nice-smelling herbs. 
Most of them aren't even useful for hair growth – but they make the list longer (that's the goal in many topical products).
1. What It Contains
---
Here's a list of Wild Growth's active ingredients:

Now – out of this list, it's the oils that are the most important:
they stimulate hair follicles

increase sebum secretion 
Here's a tip to keep in mind: any oil will speed up hair growth.
Oily substance stimulate sebum production, which also stimulates follicles.
Basically – applying oil to your scalp for a few weeks will make your hair grow much faster.
But there's also a downside – it will get really greasy and you will have to wash it daily.
2. Overall Formula
---
So it's the oils that do most of the job in Wild Growth's formula.
As I said – any oils would do, using Jojoba or Coconut Oil isn't a must.
Other than the oils, I can't find anything interesting in this formula:
there are about 20 substances

but most of them don't have any hair benefit
Plus – topical formulas are never as effective as supplements.
So there's no point comparing Wild Growth with any supplement – because there's a huge difference (in terms of effect).
---
Conclusion
---
Wild Growth has a pretty weak formula (just like most topical products):
doesn't contain anything special

no doses mentioned

its ingredients aren't very effective 
As I said – this product can only help because it's an oil.
Applying an oil to your scalp will automatically speed up hair growth (even if it's regular  Olive oil).
So this product itself doesn't do anything special.
---
#2 – Smell & Texture

(6 out of 10)
---
To my huge surprise, Wild Growth has some real problems at this chapter.
1. Smell
---
In my opinion, this product's smell is absolutely terrible.
I mean – I used some products with a nasty smell before, but this one seems even worse:
Feels like soil and cigarettes (that's the best comparison I could find).

It's extremely intense.

It lasts about 2-3 hours in your hair.
The only solution would be to add some scented spray afterwards. But I doubt that would take off the smell completely.
But overall – Wild Growth's smell is absolutely bad, in my opinion.
2. Texture
---
I can't say I liked its consistency either:
It's really thick – much thicker than other hair oils.

Takes a very long time to soak in (and it actually doesn't completely).

Leaves your hair extremely greasy (a lot more greasy – compared to other oils).

Washing your hair daily is a must.

It has a yellowish color.
Basically – I consider this product as really hard to use.
Do you know Castor Oil? Well, 10 times worse than that.
It's so gross that even applying it is hard – not to mention how it leaves your hair.
Also, it leaves lots of greasy marks on your clothes (especially at first, when you don't know how badly it stains).
---
Conclusion
---
I definitely didn't like the consistency of Wild Growth. 
It's super thick and hard to apply, smells really bad and strong and it makes a grease out of your hair.
So I definitely prefer regular oils (like Castor or Coconut) – they have a way better texture.
---
#3 – How To Use It

(7 out of 10)
---
Normally – I would have rated it higher, but the instructions are pretty confusing (to me at least).
So here's what the label recommends:

Now, I don't really understand these instructions:
They say you should use it 3 times per week in the first month.

Up next, they say you should use it as a maintenance treatment (from the second month).

However, they recommended using it as often – 3 times per week.
So if you can clarify these instructions for me, I would really appreciate it.
Because to me – they look really confusing.
So I can't really tell which is the optimal schedule for this oil, honestly.
---
#4 – My Results

(8 out of 10)
---
Overall, Wild Growth did work (more or less). So it's surely not a scam – but it's not a great product either.
1. My Background
---
I used to have a bad hair loss for several years – so my hair looked pretty badly:
very thin ends (compared to the roots)

growing extremely slow

ends were breaking off very easily
Obviously – my hair loss didn't decrease considerably, but it was better than it used to be.
So the only things I expected from Wild Growth would be to speed up my hair growth and strengthen it.
It claims to solve both things – so I was very curious to see if that's true or not.
2. How It Worked
---
As I said in the beginning – any oil would speed up hair growth.
It's because of the greasy consistency, that stimulates hair follicles and sebum production.
So Wild Growth had to work – even a bit.
And it did – not amazingly, but I could see a small change:
My hair grew about 2 inches/month (a bit more than normally).

The ends felt a bit stronger.

They didn't seem to break off as easily.
However – there's also a negative side:
My hair didn't get any more volume or get thicker.

The ends were still extremely thin (compared to the roots).

My scalp was really greasy all the time.

I had to wash my hair every other day (sometimes even daily).
Now – at first, I used Wild Growth daily. But I soon switched to 2-3 days, because it was making my hair literally leaky.
Using to every 2 days was better – but it was still extremely oily and horrible. 
So I'm not sure if a minor growth was worth the sacrifice.
---
Conclusion
---
Wild Growth did improve my hair growth – but not amazingly (maybe 1 inch more than normal).
Considering all the hard work I did following the treatment (washing my hair constantly, applying the oil really often) – I don't think it's worth using.
It does have a good price, but its effect isn't amazing:
you can use any regular oil to get the same effect

it will be much easier to use 

also, it will cost you even less
However – my top recommendation is a hair supplement, because it makes real wonders for hair growth. 
Plus, it's extremely easy to use and doesn't leave your hair dirty (as oils do).
---
#5 – Other Opinions

(6 out of 10)
---
In order to make this review as unbiased as possible – I tried reaching out to other customers.
There are lots of real opinions on Wild Growth:
opinions are pretty divided

there are both satisfied and unsatisfied customers
Up next – I will try to mention the main things I found about this product.
Note: I only considered authentic reviews (not general ones).
1. Positive Reviews
---
Here's the good part I found about Wild Growth:
Some people say it really thickens hair.

Other claim they saw fast results in their hair's growth speed.

Some others say it really softens and smooths hair.

There are a few that praise its low price.

However – I didn't find as many positive opinions as in other products.
2. Negative Reviews
---
To be honest, there were a lot of complaints on this product.
Here's what most people mentioned:
Hair started falling out and thinning.

One or several bald spots appeared.

Didn't help even after 3 months.

Really bad smell and hard to use.
Now – the first 2 complaints are surely something major (especially because I saw many people mentioning them).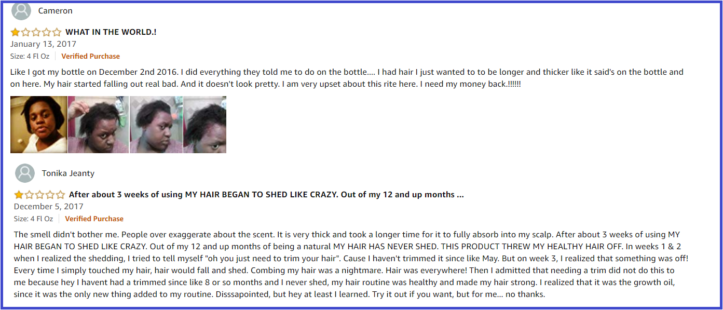 So basically, this product isn't safe at all. It can cause the opposite effects in certain people:
hair loss

bald spots

hair thinning
I personally didn't experience anything of this kind, so I can't really tell.
But considering there are so many complaints on this topic – I'm sure they're real.
Sure enough, they wouldn't appear to everyone (I'm the best example for that). But there's still a chance that you get 1 of these problems too.
---
#6 – Price

(9 out of 10)
---
At this chapter, there's nothing I could criticize about Wild Growth:
really affordable

doesn't come in a low quantity
1. How Much It Costs
---
As I said in the beginning, you can find this product in two sizes: 4 and 8 oz.
Here's an average price for each:
Smaller size is around $9.

Larger size costs about $15.
Surely – the exact price depends on the seller, discounts or certain days (prices fluctuate from day to day).
But overall, this product is anything but expensive.
Now – I do agree that it doesn't have any special ingredient. So the price is right – it shouldn't be any higher.
But considering there are hundreds of products that contain basic stuff and cost over $30 per bottle, Wild Growth is really decent at this chapter.
2. Where You Can Find It
---
Just like I mentioned, the price depends a lot on the seller.
But good news here – you can find Wild Growth in many retailers:
Amazon

Ebay

Walmart

Walgreens
Now – these are just a few, there are many other smaller websites that sell it.
But the question is – where can you find the best price?
Ebay has different sellers, so they have the lowest prices ever.

However – you have to contact the seller and pay the shipping taxes.

That's why it's a bit more dangerous.
On the other hand, Amazon's price is a bit higher (around $9) – but it's a lot more safer.
So if you're looking to buy Wild Growth, I think Amazon is the best choice.
---
#7 – FAQs
---
Here's a list of the most common questions you might have about Wild Growth.
Note: I might repeat something I already mentioned, but it's easier to notice here.
1. How often you should apply it?
---
As I said, the instructions are pretty confusing regarding to that.
But from what I understand, 3 times per week would be fine. That means every 2 days on an average.
2. How much lasts 1 bottle?
---
That's not mentioned anywhere either.
But in my case – a 4 oz bottle was enough for about 1 month and a half.
So it really depends how often you apply it. But if you apply it ever 2 days, I should last at least 1 month.
3. How should you apply it?
---
It's pretty simple:
shake the bottle well enough

apply a few drops all over your scalp

massage or brush through
I personally never used the brush – because the product is very thick, so it would only make my brush dirty.
Using your hands is much easier. However – keep in mind this oil will make your hair really greasy.
4. Are there any side effects?
---
The label doesn't mention any – since it's a topical product.
But I read many reviews of people complaining about hair falling out (ironically), thinning or getting bald spots.
So I think I can call these side effects – and they seem to be more common than it other products.
That's why you should be really careful with this product.
5. How fast should I notice an effect?
---
According to the label – you should check your hair daily.
But it doesn't mention anything about how fast it should start working.
Now – in my opinion, you should see an effect after 1 month (at most). It won't be a major one, but there should be an effect.
---
#8 – Final Conclusions
---
Here are 3 ideas you should keep in mind about Wild Growth.
1. Really Cheap
---
Compared to other hair oils, this one is so affordable:
less than $10 per bottle (for the 4 oz size)

lasts long enough – more than 1 month
It's surely not a great product in terms of effect – but that's not the point here.
Other products work just as bad and cost over $30, so Wild Growth is really affordable (even just for trying).
2. So Hard To Use
---
Wild Growth's consistency matches its super low price:
the thickest oily lotion I've seen

really greasy and doesn't soak in completely

leaves your hair so greasy

absolutely terrible smell
Basically – it's very uncomfortable to use, even every 2-3 days.
Plus, you have to wash your hair several times. Otherwise the grease won't go off.
3. Possibly Dangerous
---
There are lots of authentic reviews complaining about it.
According to many people – instead of growing hair, it causes:
hair loss

thinning

bald patches
Thing is – there were more than 10 people complaining about that, which makes me think it's real.
Obviously, these won't happen to everyone – but they might. So be careful if you use this product.
---
My Verdict – Is Wild Growth Worth Buying?
---
Short answer: Not really – it might be cheap, but it has some big downsides:
Ingredients are pretty weak overall.

Extremely hard to use (greasy and bad smell).

Leaves your hair extremely greasy.

Doesn't speed up hair growth considerably.

Can cause serious side effects in some people (hair loss and bald spots).

Many negative reviews overall.
Its only big advantage is price.
But considering what it contains – the price isn't even that low.
So what should you choose instead?: A special supplement called Folexin – that's designed for hair growth.
It does cost more than $9 – but it's way cheaper than others. Besides:
Decreases hair loss completely in 1-2 months.

Speeds up hair growth a lot.

Thickens hair and adds volume.

Works for both men and women.

Really easy to take (compared to Wild Growth).
That's the product I personally use and what I also recommend to anyone with hair loss or who wanted to grow out hair.
So I hope you choose the right thing for you.