It's time to review New Nordic Hair Volume – because it looks like an interesting supplement:
designed for hair growth and extra volume

based on natural compounds

excellent price
So does this supplement really work?
Is it any better than its cousin Hair Gro (from the same brand)? Or it's just a scam?
Well – I tried to dig deep into this product so here's the truth behind.
Note: This review is based on my own opinion + research on New Nordic's Hair Volume.
So Let's Get To The Review
---
Full Name: Hair Volume from New Nordic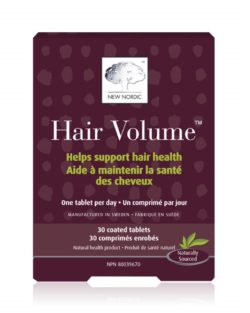 Form: Either tablets or gummies.
I personally recommend the tablets (gummies are usually full of sugar – so they're not as healthy).
The regular version is the 30 days supply for both – but you can also find 60, 90 or 180 days versions.
Best Actual Price: Around $12 per month (for the tablets). Gummies cost about $18.
Cheapest Place To Buy: Probably Amazon
Designed For: Supporting hair health – which involves:
increasing growth speed

improving hair density and fullness

fighting against hair damage
It mostly helps hair that is naturally healthy (not affected by stress, hormonal imbalances, etc.)
My Rating: 7 out of 10
Worth Buying?: It depends.
It's a good deal for the money – but it's not one of my top recommended supplements:
not very strong formula

mostly effective for growing out healthy hair

doesn't decrease all cases of hair loss
So if you have healthy hair and a tight budget, this product might be a good choice.
But I personally recommend a supplement that worked much better for both hair loss & growth (in my case).
What I Liked About It
---
You only have to take 1 pill per day

Many positive reviews and satisfied customers

Really effective for adding volume

Also increases hair growth rate (but mostly in healthy hair)

Available in several retailers

Excellent price (for all versions)
What I Didn't Like About It
---
Formula is pretty basic and ingredients have lower dosages

Pills are thicker than most

Many users complain about side effects

Not effective for hair loss (especially serious cases – hormonal imbalances, stress, etc.)
---
What Is Hair Volume? A Quick Overview
---
Shortly – it's another supplement from New Nordic.
This brand offers many products for different affections.
Now – as you can tell by its name, Hair Volume has 2 major benefits:
Adds extra volume and density

Increases hair growth speed
In other words, it's not a hair loss supplement – nor does it help with stress, hormonal imbalances, etc.
That's why it's not a product I would personally recommend. Not as a first choice – at least.
Other than that, it has a really low price (like most New Nordic supplements, actually).
So now that you know the main things about it – it's time to analyze it closer.
---
#1 – Ingredients

(7 out of 10)
---
I wasn't very impressed by Hair Volume's formula:
ingredients are pretty weak overall

most herbs that don't have clinical evidence behind
Compared to New Nordic's Hair Gro – this product seems to have similar ingredients, but in lower dosages.
That's why I'm not a big fan of this formula.
I also think it could mostly help a healthy hair (in the best case).
Anyway – I would divide these ingredients in 2 groups:
Herbal Extracts

Minerals/Vitamins
So let's take a closer look at each.
1. Herbal Extracts
---
Hair Volume contains only 3 herbs:
Apple Extract – promotes keratin production and strengthens hair strands.

[1]

Millet Extract – can decrease shedding in some cases.
Horsetail Extract – the best herb against thinning hair.

Basically – except for Horsetail, I wasn't very familiar with these herbs.
I found little info about their hair benefits, that's why I don't have an excellent opinion on them.
2. Minerals/Vitamins
---
This supplement could be better at this chapter as well.
Compared to other products – it contains few vitamins/minerals.
Plus, it lacks some of the essential ones (Niacin, Vitamin B, etc.).

L-Methionine – a deficiency can weaken the hair and cause shedding.

[2]

Panthotenic Acid – prevents gray hair.

Zinc – a low level can affect the hair and produce massive fall out.
Copper – just like zinc, a deficiency is dangerous for hair.

[3]

Biotin – the best vitamin for hair health.
---
Conclusion
---
Hair Volume's formula is pretty weak overall – in my opinion:
doesn't contain essential ingredients

many of its herbal extracts are quite unknown

dosages could be higher overall
So I would not recommend this product to someone suffering from stress, hormonal imbalances or other issues.
If your hair is normally healthy – Hair Volume might help.
But I would surely not recommend it for hair loss (despite its low price).
---
#2 – How To Use It

(9 out of 10)
---
Let me tell you a few ideas about Hair Volume's pills and usage.
1. The Pills
---
Their #1 problem is size.
Compared to most supplements on the market – Hair Volume's pills are a bit thicker:
come as tablets (not capsules)

no gelatin cover

pretty large dimensions
Now –  the pills are surely not impossible to swallow.
In fact, once you get used to them – it should get quite easy.
But compared to other supplements, it's worth noting that these pills are larger and thicker.
2. The Schedule
---
That's a great advantage of Hair Volume.
It's one of the few products that only require 1 pill per day:
you can take it at any time throughout the day

just make sure you swallow it with plenty of water
So this sort of compensates the large dimensions drawback. 
---
#3 – Results

(8 out of 10)
---
I don't have a personal experience with Hair Volume.
As I never tried this supplement myself, I can't share my own results with it.
I did use the "Hair Gro" supplement from the same brand – but they're not the exact same things.
For this reason – I tried to look for other customers' opinions.
Note: I only considered authentic reviews, not promotional ones.
1. What People Say
---
Hair Volume has an average of 4 stars (out of 5) on Amazon.
Considering it has over 900 reviews – that's a really high grade.
So here are some of the most common thoughts about it:
Some people say the pills really improve volume.

Others claim they're great for growing hair faster.

There are a few who noticed a decrease in their hair loss.

However, most only had nutrient deficiencies.

On the other hand, there are many complaints as well.

Some people say the pills also grow body hair faster.

Others claim they can't see any small difference.

A few others complain about side effects.
So Hair Volume has mixed opinions – but more than 50% are positive.
That's an excellent proof that the supplement itself is effective – but not in all cases.
2. Biggest Complaints
---
As I said – I found plenty of negative reviews, besides the positive ones.
Most of them were complaining about:
No change or improvement (even after several months)

Pills are too large and thick

Side effects

Hair loss actually worsened

Since I haven't tried Hair Volume myself, I can't speak from experience.
But there's one thing you should know.
This supplement is mostly designed to help hair that is overall healthy (no hormonal imbalances, stress, damage, etc.).
So that's a main reason why it's not effective in so many cases.
---
Conclusion
---
Hair Volume has mixed reviews – but enough of them are positive.
So if you thought this supplement might be a scam, it's not the case at all.
However – I wouldn't recommend it as a first choice:
not effective for hair loss in general

works best for hair that is quite healthy
It's a great choice as a general hair health product (especially for the money).
But if you really want a product that grows hair fast and decreases most kinds of hair loss, I recommend something else.
---
#4 – Price

(10 out of 10)
---
This is probably the biggest advantage of New Nordic's products.
Most of them have really affordable prices – and Hair Volume makes no exception.
1. The Exact Price
---
Amazon has the lowest prices overall:
Tablets cost $12.65 as a listing price (30 days supply).

Gummies cost $18 per bottle (30 days supply as well).

However, both have small discounts often times.
Now, these prices are really low – compared to most supplements on the market.
It's true that Hair Volume doesn't contain great ingredients – so it has no reason to be pricier.
But even so, it has a really affordable price.
New Nordic also has an official website – but surprisingly, prices are much higher there:
1 month supply of tablets costs $22

1 bottle of gummies costs $18 (around the same as on Amazon)
2. Worth It Or Not?
---
In terms of price – it's definitely worth the money.
If you buy it from Amazon, the price is super low – so it's surely worth that.
However, I wouldn't recommend this supplement as a first choice:
mostly helpful for healthy hair

not designed for hair loss (especially if it's caused by hormonal imbalances)
So even though it's a cheap product – it's not effective in all cases.
If you're dealing with hair loss, I don't really recommend it.
In case you only want to grow your hair out (on a budget), it's a pretty good choice actually.
---
#5 – Where To Buy It

(9 out of 10)
---
Fortunately – New Nordic's products are available in many retailers.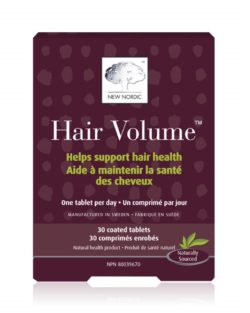 Hair Volume is actually available in all retailers selling New Nordic's products:
Amazon

Ebay

Walmart

Walgreens

Other online pharmacies
You can also find it on New Nordic's official website.
But as I said above, most of the prices are higher than on Amazon (except for the gummies, which I don't recommend).
So if you want the very best price – Amazon remains the best choice.
---
#6 – FAQs
---
Coming up, I will try to answer the top questions about New Nordic's Hair Volume.
Note: I might repeat something I already mentioned, but it's easier to spot here.
1. How many pills per day?
---
Good news here – you only need to take 1 tablet per day.
If you're going for the gummies (which I don't really like), you need to take 2 daily.
2. How long lasts one bottle?
---
Both the tablets and gummies are meant to last for 30 days.
So in most cases, a bottle is one month supply.
3. Can you take it with other drugs?
---
I would recommend asking your doctor first (especially if you're on a long term treatment).
But since it doesn't have very strong ingredients – you will probably get a positive verdict.
It's only recommended that you take Hair Volume a few hours before/after other pills.
4. Are there any side effects?
---
I found a few complaints on this topic – most users mentioned:
headaches

skin irritation and rashes

stomach cramps

nausea
However, they're not extremely common – so you will most likely not experience them.
5. How fast should I notice a change?
---
The label doesn't mention anything here.
But from what I read, it takes about 2-3 months to see an improvement.
Some people swears they could see an effect from the first month – but these are rare cases.
So you should give it at least 2 months.
---
#7 – Final Conclusions
---
Here's how I would sum up my opinion on Hair Volume (in 3 ideas).
1. Formula Could Be Better
---
As I said before – I wasn't impressed by this supplement's ingredients:
most have no hair studies behind

dosages are lower than in other compounds

pretty basic formula overall
It's surely not a useless product.
But if your hair is in a bad shape – I doubt it could be very helpful.
2. Great Price
---
If you ask me, that's the best thing about Hair Volume:
really low cost overall

all products are decently priced

easy to find on Amazon
It's true that its ingredients aren't excellent – so it would be unfair to cost a lot.
But even so, Hair Volume is really affordable for all budgets.
3. Not Meant For Hair Loss
---
That's an essential aspect.
New Nordic's supplement is designed to add volume and stimulate growth – not for:
decreasing hair loss

reducing breakage

fixing hormonal imbalances 
So it should be effective for a hair that is normally healthy.
But if you're dealing with severe hair loss, I personally consider it too weak.
---
My Verdict – Is Hair Volume Worth Buying?
---
Short answer: It's a good deal for the money – since it's super cheap.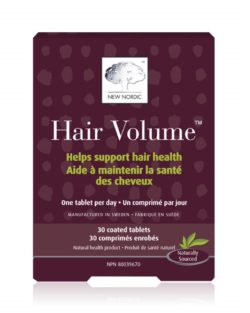 I recommend it in 2 cases:
You want extra hair volume without using topical products

You want to grow your healthy hair faster
If you're in one of these situations and you have a tight budget – I recommend Hair Volume.
However, it's not my top choice for:
Hair loss

Growing out unhealthy hair

Strengthening or reducing hair breakage
Since it has some pretty weak ingredients (for that), Hair Volume isn't going to help much.
At least that's how it seems (according to many reviews).
So what should you use instead? I recommend a stronger supplement called Folexin:
Decreased my severe hair loss completely in 2 months.

Increased my growth speed a lot (almost 3x).

Lowest price among all similar products.

Works for both men and women.
Now – Folexin is a few dollars pricier, but it's way cheaper than any other quality supplement.
Unfortunately, I couldn't include New Nordic's products here (despite being really affordable).
So as you can get Folexin for $18 per bottle, it's not that expensive to me.
But I certainly recommend it for anything that involves hair growth/loss.
For the money – it's the best product I ever used.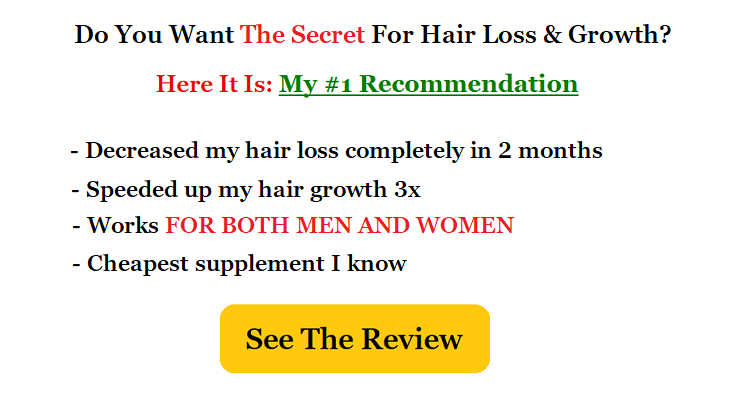 1 – https://www.ncbi.nlm.nih.gov/-pmc/articles/PMC6213762/
2 – https://www.ncbi.nlm.nih.gov/-pmc/articles/PMC5917003/