It's time for my Halo Hair Vitamins review – because this product might be a scam:
very little info about the brand

many promotional (fake) reviews

incredibly high price
Besides – this brand has a similar name to Halo Beauty (which is a legit company).
So they might be tricking customers with this strategy.
But is Halo Hair Vitamins a scam? 
I analysed this product and found out the hidden details behind.
Note: This review is based on my opinion + research on Halo Hair Vitamins.
So Let's Get To The Review
---
Full Name: Hair Gummy Vitamins from Halo Hair
Sizes: Only one (30 days supply)
Best Actual Price: $56 per bottle (extremely expensive)
Cheapest Place To Buy: The official website
It's not available on Amazon or any other retailer.
Designed For: Hair loss and growth – it claims to:
regrows thicker and longer hair

fight shedding

increase fortification and volume
Shortly – it claims to work for any kind of hair loss or hair problem (which is very unlikely).
My Rating: 2 out of 10 – I consider it a scam
Worth Buying?: Definitely not – it has some major problems:
Tricky price offer (a lot more expensive than it claims)

Only promotional/biased reviews 

Formula and ingredients are mostly hidden 
I would honestly avoid people to stay away from this product (it's potentially a rip-off).
I personally prefer a $25 supplement that worked better than anything else for my hair.
What I Liked About It
---
Gummies are pretty easy to take
What I Didn't Like About It
---
Full ingredient list isn't disclosed

No directions on how you should take the gummies

High quantity of sugar

No authentic reviews online

The only reviews available are on its official website (most likely fake)

Free bottle offer is also fake (you can only buy the product)

Extremely expensive per bottle
---
What Is Halo Hair? A Quick Overview
---
In a few words – it's a (pretty secret) brand that produces one product – gummy vitamins.

Why do I say it a "pretty secret" brand?
Very little info about it

Website doesn't look very professional

Only produces this product (as far as I could find)
Other than that, there's one more thing worth mentioning.
Halo Hair isn't the same thing as Halo Beauty (which is a very professional hair brand).
I personally believe they took a similar name on purpose – to be mistaken for that legit company.
But that's only a supposition.
Back to Halo Hair's vitamins – what makes them so special?
Claim to have "the #1 hair regrowth formula".

Promise to help most hair problems.

State they have some clinical trials behind (but I couldn't find any).

So in reality – these claims aren't completely true, if you ask me:
formula is extremely far from the best one

not effective for all kinds of hair loss

no clinical trials on the product itself
Not to mention that they don't offer a free bottle (as the website claims).
In reality, you're redirected to a purchase page where you can only buy the products.
So to be honest – I personally consider Halo Hair close to a scam.
---
#1 – Ingredients

(5 out of 10)
---
First of all – Halo Hair's product claims to have "the #1 hair regrowth formula".
Honestly, that is completely false. 
In fact – formula is a major problem of this supplement:
Ingredient list isn't fully disclosed

Only 6 ingredients listed

No dosages for any
Besides – the formula is identical to Hair Bloom, a supplement I consider a scam.
Even the description of each ingredient is exactly the same.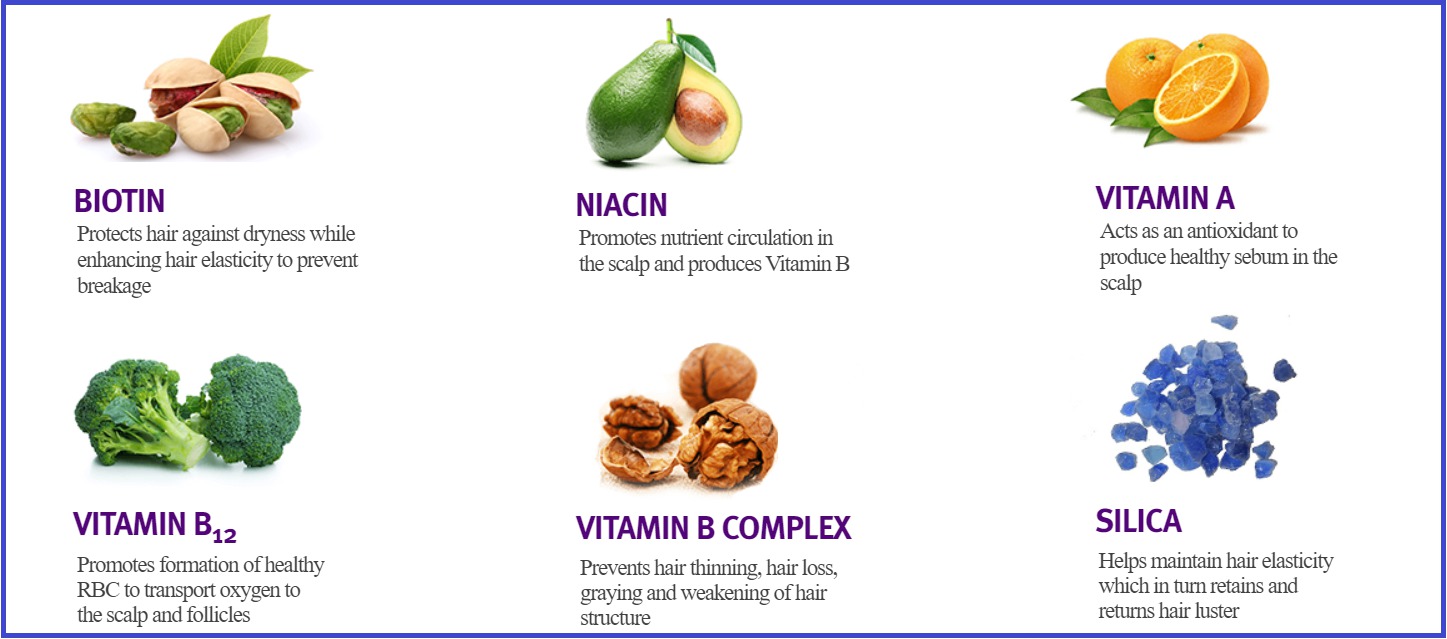 Still – let's take a quick look at its 6 mentioned ingredients:
Biotin – effective against hair loss (but not in very high dosages). [1]
Niacin – promotes blood flow and hair growth when applied topically. [2]

Vitamin A – it's an antioxidant.

Vitamin B12 – promotes healthy hair growth.

B Vitamins Complex – stimulates follicles and prevents thinning. [3]

Silica – maintains hair strength and prevents breakage.
All in all, this formula is pretty weak.
Compared to other supplements on the market – it doesn't have anything special.
Most of the other products contain these 6 ingredients and several stronger ones.
That's why I have a bad opinion on Halo Hair's formula.
---
Conclusion
---
In terms of ingredients – Halo Hair is pretty bad:
very weak ingredients overall

no dosages mentioned

full formula isn't disclosed
Plus, the only 6 mentioned ingredients and their description made me think this product is connected to Hair Bloom.
That's another similar supplement I reviewed and I personally consider a scam.
These 2 products look identical (in terms of formula).
For this reason – I personally believe they have the same company and practices behind.
---
#2 – How To Take It

(4 out of 10)
---
Halo Hair's website offers almost no information about the product itself:
No instructions on how you should use it.

No recommendations about the time of the day (when it's best to take it).

Even the period after which it should work isn't mentioned.
Basically – there's very little info.
That's a serious reason to question this brand.
In most cases – brands that try to hide info about their product (formula, directions, etc.) are scams.
Now – there are some things I found out about Halo Hair's supplement:
as you probably know, it comes as gummies (not pills)

you need to take 2 gummies per day

they're chewable and don't have to be swallowed

smell/taste is similar to berries
I'm personally not a fan of gummies due to their high amount of sugar.
This increases the risk of getting acne (many complaints in other similar gummy supplements).
However – if you're willing to run the risk, it's your own choice.
Still, in terms of instructions – Halo Hair's product has some major issues at this point.
---
#3 – Results

(1 out of 10)
---
Firstly – I never tried this supplement myself.
Since I strongly believe it's a scam, I guess I would have wasted my money in vain.
Besides, it's not extremely easy to order it either.
For this reason – I tried to look at other users' opinions on this product.
1. What People Say
---
The first warning sign is that I couldn't find ANY SINGLE OPINION on Halo Hair:
no reviews on third-party websites

not available in any retailers

no page on BBB, TrustPilot or similar websites
Now – there are some customer reviews on this product.
But the problem is that they're on its official website.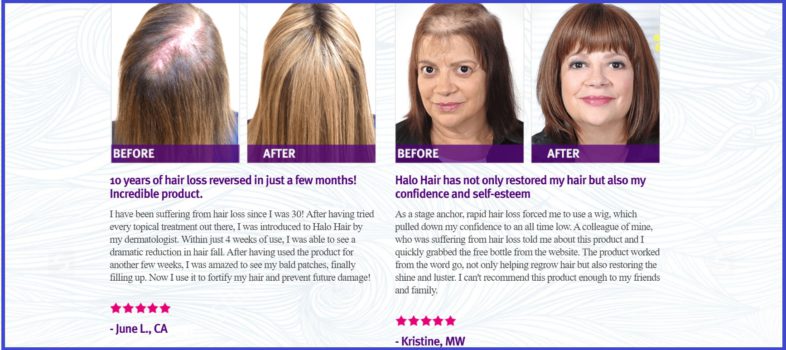 I always try to avoid the company's website – because in 90% of cases, the reviews are biased (false positive).
And it seems to be the same case here:
All reviews are strongly praising the product.

They also seem very similar in terms of language.

The photos seem fake (and edited with Photoshop).
So I'm personally pretty sure those reviews are fake.
Since you can't find absolutely any opinion on this product anywhere else – I totally doubt they're made my real users.
2. Biggest Complaints
---
As I said – I couldn't find Halo Hair on BBB.
However, that's not necessarily a good thing.
That's because I personally have enough complaints on this product even without having tried it:
No serious info about the brand behind

Extremely high price

No authentic opinions available anywhere
I will not mention the ingredients, effect or any other aspects here.
But even so – I personally have several complaints on this product.
PS: If you're a previous user of Halo Hair, I would appreciate hearing your feedback on it (whether positive or negative).
---
Conclusion
---
Halo Hair's vitamins have no customer opinions all over the Internet.
I personally doubt there's no person who ever used this product.
However, they're probably not allowed to leave a review anywhere.
For this reason – I strongly doubt this supplement and its company behind.
I prefer to use a $25 legit supplement that made real miracles for my hair (and I'm not the only one saying so).
---
#4 – Price

(2 out of 10)
---
This supplement is really tricky at this chapter.
And I'm not saying this in a positive way.
1. The Exact Price
---
According to Halo Hair's official website, you can start by ordering a free bottle:
you only have to give you your personal info

then you have to press the "Order Now" button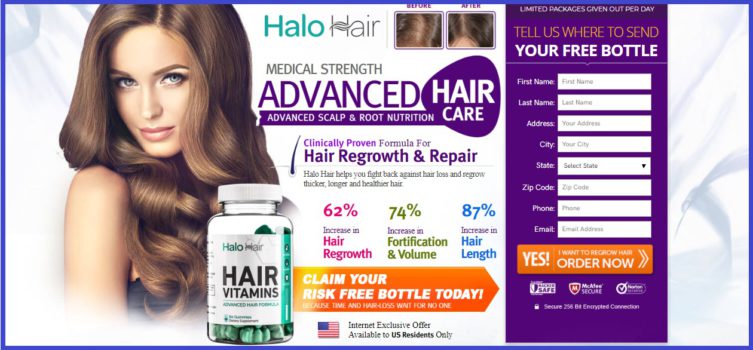 However – once you try to make an order, you're redirected to the following page:

As you can see – that's an order page where you can select the quantity you want.
But there's no option to choose the free bottle promised before.
So in other words, that free bottle option doesn't exist. 
You can only buy the supplement normally:
The standard price is $56 per bottle.

The more bottles you buy, the lower it costs.

For instance, if you buy 5 bottles you get each for $35.
Now – these prices are absolutely huge (considering this supplement's formula).
Even $25 per bottle is way too much, if you ask me.
Not to mention that paying $56 for this kind of product is absolutely unacceptable.
2. Competitors' Price
---
I only want to compare Halo Hair's vitamins with my #1 recommended hair supplement (Folexin):

H has a pretty weak formula with only 6 ingredients listed.

F contains almost 30 different compounds (some of them very strong).

H costs $56 per bottle normally,

F is sold at $25 per bottle in normal conditions.

However, both products offer a discount when buying more bottles at once.

The largest package in both is 5 bottles.

You can buy H at $34 per bottle in this case.

F only costs $18 per bottle if you buy the largest package.
Basically – Halo Hair's product costs almost double (in the best case).
Still, it has a much weaker formula compared to Folexin.
So in my opinion – it's extremely easy to choose between these 2.
One has a great formula and an affordable price, while the other is pricey and rather weak.
---
Conclusion
---
In terms of price – I can't possibly recommend Halo Hair:
supplement is extremely expensive

its actual value is under $15

price is still very high even if you buy several bottles 
So whether you choose an alternative or not, I would advise you to avoid this product.
It's literally not even close of its actual value (in terms of money).
Unless you want to spend your money randomly – I don't recommend it.
---
#5 – Where To Find It

(2 out of 10)
---
As I mentioned before – Halo Hair's product is quite hard to find:
Only available on its official website.

Not sold on big retailers.

Not even available on Amazon.

At this point, I couldn't find it on Ebay.
Now – the fact that it's only sold on its company's website isn't necessarily a bad thing.
I know a lot of products following this strategy and they're still great (in terms of quality).
But there's another problem:
Halo Hair's website doesn't look extremely safe

I personally would not buy from it
There's simply no info about the company – only a page about the product.
Also, I personally don't agree with all the claims there.
So I would surely think twice about buying from that website.
And since I wouldn't have any other choice – I would probably think twice about buying this product.
---
#6 – FAQs
---
Coming up – I will try to answer the top questions about Halo Hair's vitamins.
Note: I might repeat something I already mentioned, but it's easier to spot here.
1. How many gummies per day?
---
You only need to take 2 everyday (either together or throughout the whole day).
2. How long lasts one bottle?
---
Each bottle is a 30 days supply.
There are 60 gummies inside and you need to take two daily.
3. Can you take it with other drugs?
---
Pretty much yes – since it's only based on vitamins.
But if you're following a long term treatment, I would recommend consulting your doctor for more advice.
4. Are there any side effects?
---
I couldn't find too many opinions on this product – that's why I can't tell about the side effects.
Also, I haven't used it myself, so I can't give out my opinion.
However, out of its 6 ingredients – biotin can be the most dangerous one:
high dosages (over 1000 mg) can cause side effects

the most common are acne and headaches
Since there's no dosage mentioned, I can't tell if the risk of side effects is high or not.
5. How fast should you notice an effect?
---
Honestly, I'm not sure if you could ever see an effect from this product.
But on paper – it would need about 2-3 months to start working.
---
#7 – Final Conclusions
---
Here's how I would sum up my opinion on Halo Hair's vitamins (in 3 ideas).
1. Really Weak Formula
---
If you ask me, that's one of the worst thing about this product:
only 6 ingredients mentioned

most of them are quite basic (mainly vitamins)

no dosages for any
So in terms of ingredients – I don't think it's worth more than $15.
That's why I don't consider it potent at all.
2. No Free Bottle
---
If you were drawn by this product's free bottle offer – you should think twice:
at this point, you're not offered any free bottle

you're automatically redirected to a purchase page

there there's no free bottle option

you can only purchase the supplement
I know this isn't fair at all (especially since the free bottle offer is clearly listed).
But it's worth keeping in mind.
3. Potential Scam
---
In my opinion, this supplement isn't completely legit:
tricky price offer (the free bottle offer I mentioned above)

extremely expensive in reality

no full formula disclosed

no real user experiences (only false ones)
So I personally could never recommend a product like that.
It's up to you what decision you take – but I advise you to avoid it.
---
My Verdict – Is Halo Hair's Product A Scam?
---
Short answer: Pretty much yes, if you ask me.
There are just too many weird things about it:
Formula and ingredients are mostly hidden.

No instructions or info about the pills themselves.

No customer opinions all over the Internet.

The only opinions are on the brand's website (and they look fake).

Many promotional reviews online.

Price offer is very tricky (no free bottle despite claiming so).

Extremely expensive per bottle.
As I said before – this supplement is really similar to Hair Bloom, a product I reviewed in the past.
Everything about these 2 products looks identical (from offer to those 6 ingredients mentioned).
It's also possible that they have the same company behind.
Since Hair Bloom turned out to be a scam (lots of complaints online) – Halo Hair might be in the same case.
For this reason, I advise you to stay away from it.
So what should you use instead? 
My personal recommendation is called Folexin:
excellent formula and ingredients

worked really well for my hair

enough satisfied users online

lowest price among all supplements I tried
So if you want a quality alternative to Halo Hair, that's the product I would recommend.
But whether you buy Folexin or not, I still advise you to avoid Halo Hair.
It's really not worth all the money, no matter what it claims.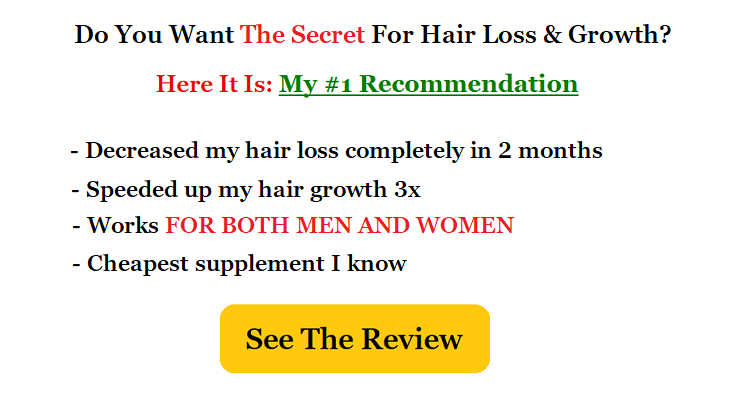 1 – https://www.karger.com/-Article/FullText/462981
2 – https://www.researchgate.net/-publication/6630887