It's time to review New Nordic Hair Gro – a hair supplement that looks pretty promising:
pretty high doses

decent price

over 50% positive reviews
However – its ingredients look pretty weak to me (compared to other products).
So is New Nordic's supplement really effective? Or it's just another scam?
Let me give you all the details you need.
Note: This review is based on my personal experience with New Nordic's product.
So Let's Get To The Review
---
Full Name: Hair Gro Supplement from New Nordic
Form: Only tablets (comes just as a supplement form)
Best Actual Price: Around $26 per bottle
Cheapest Place To Buy: Probably Amazon. They also have an official website, but it costs around $13 more.
Designed For: Hair growth and anything involving it.
According to the label, you can use it for:
hair growing really slow

balding scalps
However, I doubt it's extremely effective for balding people.
My Rating: 6 out of 10 – It could be much better at some chapters.
Worth Buying?: Not really. It's a decent supplement – but it's not as effective as others:
ingredients are pretty unknown

it didn't regrow hair too well (in my case)

no positive reviews from men
So basically – I recommend using a stronger supplement that works for both men and women (the best proof that a product is effective).
What I Liked About It
---
Pretty high doses of ingredients

Speeds up hair growth considerably

Decent price

You can find it in several retailers

Many authentic reviews (and most are positive)
What I Didn't Like About It
---
Most ingredients are pretty unknown

Thick pills that aren't easy to swallow

Doesn't decrease hair loss completely (in my case)

Needs 8 months for the best effects

Doesn't work too well for men (I couldn't find any review)
---
Hair Gro – A Quick Overview
---
New Nordic's supplement is meant to increase hair growth.
According to the official website – here's what makes it special:
Contains only natural ingredients.

It's vegan and gluten-free.

Improves the rate of hair growth.
However – it also needs 8 months for the best results, which is a very long time.
For this reason, New Nordic's Hair Gro isn't among the best hair supplements that I have seen.
Even though it's a decent product – its downsides are bigger than its good points (in my opinion).
So now that you have a main idea about it – it's time to analyze it closer.
---
#1 – Ingredients

(8.50 out of 10)
---
New Nordic's ingredients aren't any bad, but they're not amazing either – in my opinion:
high doses overall

most ingredients aren't very famous
So basically – this supplement doesn't use the classic ingredients (which work best for hair growth). Instead, it has a pretty different formula.

As you can see – it contains 3 major ingredients:
Proprietary Blend

Zinc 

Biotin
So let's take a quick look at each:
1. Proprietary Blend (744.32 mg)
---
This is actually a mix of the most essential ingredients.
The only downside is that they only mention the overall dose – not the one for each ingredient.
But here's what it contains:
Apple Extract – seems to promote hair growth

[1]

Millet Extract – improves hair growth rate in alopecia (but I found no study)

EVNolMax – reduces oxidative stress damage

Tocopherol – increases hair growth up to 34% (after 8 months)

[2]

L-Methionine – helps prevent hair loss

Silicon (Horsetail) – improves hair growth speed and thin hair

[3]
2. Zinc (10 mg)
---
This is one of the best ingredients for hair loss.
A zinc deficiency weakens the hair and makes it fall out – so zinc really helps for prevention. [4]
However – the dose from this supplement isn't very high.
3. Biotin (0.48 mg)
---
It's also really helpful for hair in general:
promotes hair health

increases growth speed 

[5]
---
Conclusion
---
New Nordic's ingredients aren't very special:
most don't have many studies behind

I couldn't find too much info about some
So in my opinion – there are 3 important ingredients: Silicon (Horsetail), Zinc and Biotin.
When it comes to the rest, I'm not very familiar with them and I couldn't find too much data.
So to me – that says enough about their potency.
---
#2 – How To Take It

(7 out of 10)
---
New Nordic's supplement isn't as good as others – from this point of view.
1. The Pills
---
I wouldn't give them the highest mark:
pretty thick (compared to others)

not covered in gelatin
So basically – they're not really easy to swallow. Considering you need to take 2 per day – they could be better at this chapter.
2. How To Take Them
---
As I said, you have to take 2 pills per day.
So here's what the label recommends:
take them after eating

make sure you take them before/after other drugs

you should follow this schedule for 8 months (for best results)

Now – that's probably the supplement that requires the longest time.
Normally – you should see real results after 3 months at most. 8 months seems way too much when your hair is falling out.
---
Conclusion
---
New Nordic's pills are a bit too thick, if you ask me.
Also – it requires a very long time to work at its best (compared to other supplements – 8 months vs 3).
That's why I can't really praise it at this chapter.
---
#3 – My Results

(8 out of 10)
---
I wasn't really satisfied with this supplement – though it did work.
1. How I Used It
---
I have to confess that I only took 2 bottles (that's around 2 months).
I know they mention to work best after 8 months, but who could wait that long?
So New Nordic might not have worked at its best for me

But it was enough to see what it can do
2. How It Worked
---
Here's how these pills worked for me:
My hair loss started to get better with the second bottle.

However, it didn't go away completely.

I would say it reduced with 40% (which is not miraculous).

My hair did seem to grow faster than before.

Also, my hair ends stopped thinning as before.

But in 2 months, I didn't get too many baby hairs.
So basically – this supplement did decrease my hair loss, but only partially.
It increased my hair growth speed – but it didn't seem to regrow new hair.
However, I only used it for 2 months – so that could be the explanation. If I had used it for longer, the results might have been better.
But tell me honestly – WOULD YOU TAKE SOME PILLS FOR 8 MONTHS just to see how well they can work?
Because I surely wouldn't – as long as there are much faster alternatives.
---
Conclusion
---
I wouldn't recommend New Nordic's supplement.
It does work, but there are much better choices overall:
cheaper prices

work much faster

way better effect overall
---
#4 – Price

(9 out of 10)
---
In my opinion, New Nordic is pretty good at this chapter.
1. The Exact Price
---
Here's what you need to know:
a bottle costs around $26 (depending on the discount you get)

that's the quantity enough for 1 month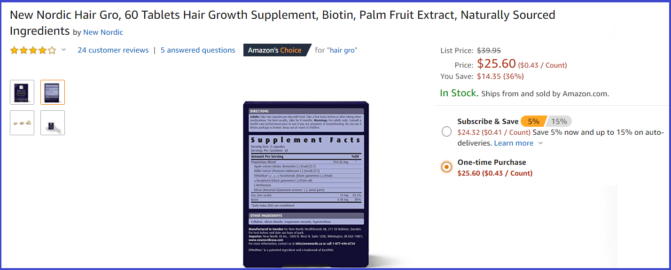 Now – the exact price depends a lot of the sellers. 
In most supplements, the price was around the same – no matter where you bought it from. But in this case, the price are really different.
2. Where To Find It Cheapest
---
You can find this supplement in several retailers:
Amazon

Ebay

Official website

Vitacost

Other supplement websites
Now – it's the price that makes the difference between these retailers.
You can find the lowest price on Ebay – but it depends on the seller, so prices really fluctuate. However, Ebay isn't very safe for some people.
So I would say the best price is on Amazon (around $26 because of the discount) including shipping.
Believe it or not – on the official website, it costs around $40 per bottle. 
---
Conclusion
---
New Nordic's product has an affordable price – if you buy it from Amazon.
However – as a price/quality ratio, it's surely not among my top recommendations.
---
#5 – Other Opinions

(9 out of 10)
---
One of the reasons why I gave New Nordic a try was because of the reviews:
most are positive

many people said it really helped
Now – from what I've seen, most reviewers were women. I found very few reviews made by men.
Note: I only considered the reviews that seemed authentic and personal (not general ones).
1. Women
---
As I expected, opinions were mixed up.
Some really praised this product, while others said it was useless:
A few people said it really works

Other said you need to take it for 6 months to tell the difference

On the other hand, some others said there was no change

2. Men
---
As I said, I didn't find too many reviews. For this reason, I assume not many men tried it out. 
However – I personally doubt it would help male baldness or hair loss (considering its ingredients). 
It just doesn't seem strong enough to do that, if you ask me.
---
Conclusion
---
Opinions about New Nordic were pretty mixed up:
most were positive

over 90% were made by women
That's another extra reason to think that New Nordic isn't really effective for male hair loss.
So instead – I would prefer to use a product that works for both men and women (the best proof that it's effective).
---
#6 – Final Conclusions
---
Here's how I would sum up New Nordic's product in 3 ideas:
1. No Amazing Ingredients
---
In my opinion, there's nothing impressive:
most don't have any hair-related studies

there's very little info about them

if they were really useful, there was much evidence and data
So that's the reason why I don't trust New Nordic's supplement that much.
Other than that – the doses look pretty good.
2. Needs A Long Time
---
Even the label mentions this:
the pills work best after 8 months
So basically – you need to take them for 8 months to get the most of it.
That's definitely way too much – if you ask me. Many supplements only need 3 months (at most) to work at their best.
3. Works Better For Women
---
Here's why I say this:
I found almost no reviews from men

very few reviews mentioned hair loss
So most opinions were about how these pills speed up hair growth and everything.
Regarding male baldness or alopecia – there was nothing.
That's why I would recommend this product to men, when there's so many effective products out there.
---
My Verdict – Is Hair Go Worth Buying?
---
Short answer: Not really. It's not a bad supplement at all – but there are much better choices.
Why I don't recommend it? Let me explain:
Ingredients are pretty weak in my opinion (very little info).

Pills are pretty hard to swallow.

It didn't decrease my hair loss completely.

Also, it wasn't the best when it comes to regrowing new hairs.

In my case, it took about a month until I saw some changes.

Doesn't seem to work for male hair loss.
Now – it is indeed an affordable supplement, but what's the point? 
So what do I recommend instead? 
A supplement that is my favorite choice for hair loss & growth – because it's much better overall:
decreases hair loss completely (in my case)

speeds up hair growth about 3 times

works for both men and women

is a few dollars cheaper
So that's what I would choose instead and what I recommend you to choose as well.
Out of the dozens of hair supplements that I tried – that was by far the best. So it's my top pick at this point.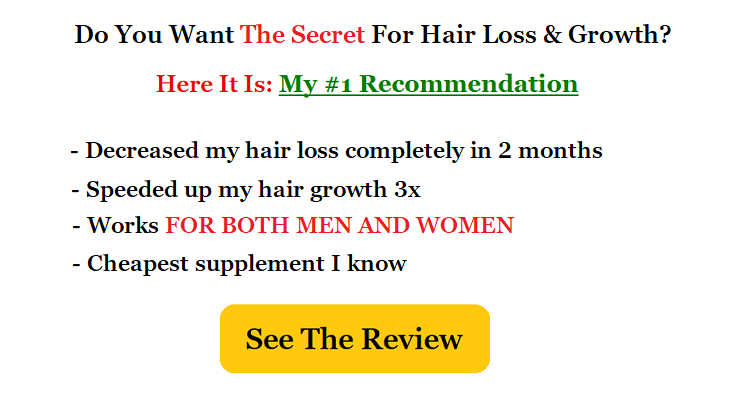 1 – https://www.ncbi.nlm.nih.gov/-pubmed/11841365
2 – https://www.ncbi.nlm.nih.gov/-pmc/articles/PMC3819075/
3 – https://www.ncbi.nlm.nih.gov/-pmc/articles/PMC3509882/
4 – https://www.ncbi.nlm.nih.gov/-pmc/articles/PMC3870206/