It's time to review Vitalize Hair Regrowth System – a set of products designed to regrow hair naturally.
So does this product work?
I found quite a few problems about it – including:
So could Vitalize be a scam? Are you making a mistake buying it?
I tried to dig deep into this product – so here's the hidden truth I found out.
Note: This review is based on my opinion + research on Vitalize.
So Let's Get To The Review
---
Full Name: Hair System from Vitalize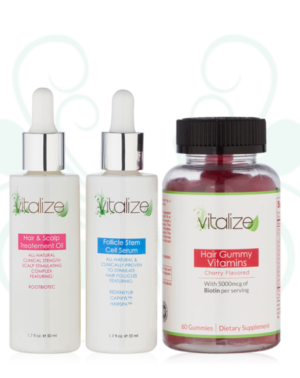 Versions: There are basically 2:
3 Part Hair System (3 products)

Full Hair System (6 products)
In my opinion, the first one is a better choice (though I don't personally recommend it).
Best Actual Price: $99 for the 3 products set, $199 for all 6
Cheapest Place To Buy: The official website (unavailable on Amazon)
Designed For: Anything that involves regrowing (new) hairs – it claims to:
decrease and stop hair loss

thicken existing hair

stimulate follicles and grow new hairs
Basically – it claims to grow hair even on bald scalps (which is pretty difficult to achieve in reality).
My Rating: 6 out of 10
Worth Buying?: Not really – it's way too expensive overall:
very low quantity in most products

no special ingredients

you have to use about 3 products daily 
Even though the products aren't bad at all – I would never pay so much money on them.
Instead, I prefer a $25 supplement that does the job of several products alone.
What I Liked About It
---
Most products have a nice smell and consistency

Some are based on herbal ingredients

Pretty easy to use

Some people say they work really well

Many authentic reviews online
What I Didn't Like About It
---
Ingredients aren't mentioned in their full version

No dosages for most products (just in the supplement)

Oil treatment is very greasy and washes out pretty hard

Very low quantity in most products (1.7 oz)

Many complaints

Extremely expensive overall (all products)
---
What Is Vitalize Hair Regrowth?
---
Shortly – it's a set of products designed for 3 major purposes:
decrease shedding

thicken existing hair

regrow new or actual hair
In order to do this – Vitalize offers 6 different products:
Follicle Stem Cell Serum – regrows new/existing hair.

Hair & Scalp Oil – nourishes and stimulates follicles.

Vitamins – promotes growth.

Shampoo + Conditioner – stimulates hair roots.

Edge Control – supports hairline growth.

However, these products are also offered as 2 systems (a mix of products):
3 Part Hair System: Serum + Oil + Vitamins

Full Hair System: Serum + Oil + Vitamins + Shampoo + Conditioner + Edge Control
Obviously – in terms of price, standards are set very high:
$100 for 3 part system

$199 for full system
So as you can probably tell – these prices are really high (especially for some products on this kind).
But now that you know what to expect from it, let's analyze Vitalize more closely.
---
#1 – Ingredients

(6 out of 10)
---
Vitalize's formula has 1 major problem:
4 out of 5 products have no ingredient list.

Their active ingredients are only mentioned separately.

Only the supplement's ingredient list is shown.
So basically – for most of these products, you can't tell what's inside.
Hiding the formula tells me that it's pretty weak actually. Why else would you want to hide it?
Either way – let's take a close look at the known ingredients for the 6 products.
1. Follicle Stem Cell Serum
---
According to the official website – the serum is based on 1 substance (Redensyl) but features 2 other active ingredients.

Redensyl – a faster alternative to Minoxidil for alopecia. [1]

Capixyl – a recent ingredient that seems to increase hair growth.

Hair Spa – there's no information about it anywhere.
Overall – this serum's formula doesn't look bad (due to Redensyl).
But I can't possibly praise it since:
the full ingredient list is hidden

there are no dosages for any ingredients (not even Redensyl)
2. Hair & Scalp Oil
---
This product is based on "RootBio Tec" – an ingredient I couldn't find anything about.
Just do a search in Google and you will understand.
Among the inactive ingredients – there are several oils and herbs:
Argan Oil

Jojoba Oil

Lavender Oil
However – since they're inactive, their only benefit is a nice smell and an oily texture.
3. Vitamins (Supplement)
---
That's the only product with a clear ingredient list. This includes:
Biotin – the best vitamin for hair health/growth. [2]

Zinc – a deficiency can cause severe shedding. [3]

Several Vitamins (A, B6, B12, C, D, E)

Proprietary Blend – made of herbs like Ginseng, Cinnamon, Peony, etc.

Overall – this formula doesn't look bad at all.
However, except the vitamins and minerals – most of the ingredients are rather unknown.
So I doubt they have major hair benefits, since few people heard of them.
4. Shampoo & Conditioner
---
They have about the same ingredients mentioned:
Caffeine – can improve hair loss and alopecia. [4]

Biotin – decreases shedding and improves hair health, but mostly when taken by mouth.

Niacin – can increase hair growth when applied topically. [5]
5. Edge Control 
---
This product is meant to stimulate hair follicles.
But unfortunately – there is absolutely no ingredient mentioned.
The only info listed is that it's free of parabens and sulfates and also 100% vegan.
But in my opinion – that's not extremely useful.
---
Conclusion
---
Vitalize's products aren't anything special in terms of formulas:
most ingredients are hidden

no dosages for many products

a lot of unknown ingredients
The only formula that seems potent is the Follicle Serum's – as it's based on Redensyl, a serious ingredient.
But when it comes to the others, I'm a bit disappointed.
---
#2 – Smell & Texture

(8 out of 10)
---
Even though I haven't tried these products myself – here are some details about their consistency.
1. Smell
---
According to most reviews – Vitalize's product all have a normal scent:
natural and herbal fragrance

none smells too intense

very lightweight scent
Basically – if you're sensitive to strong perfumes, you shouldn't worry too much here.
2. Texture
---
Unfortunately – things are not that perfect here.
And that's mostly available when it comes to the hair oil:
It's very greasy overall.

Leaves your hair really oily after every application.

It's also hard to wash out.

You will have to rinse several times to take it out completely.
Regarding the other 4 products, I couldn't find too many complaints.
So unless you can't wash your hair daily, these products don't have any major issues.
---
#3 – How To Use It

(8 out of 10)
---
As I somehow expected – I couldn't find too many instructions easily.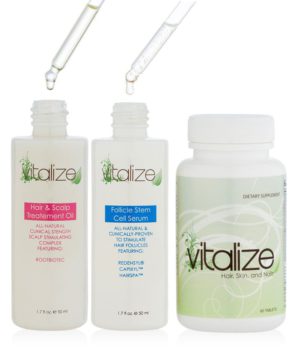 So after doing some research, here's how you should use Vitalize's products:
Apply the serum on your scalp daily and massage.

Use the oil treatment daily, on wet or dry hair.

Regarding the supplement, take 2 pills per day.

Use the shampoo and conditioner for every wash.

Apply the edge control only on the hairline (it's more concentrated).
Basically – out of 5 products, at least 3 should be used daily:
serum

oil treatment

supplement
So if you're not a busy person, Vitalize shouldn't be too hard to use.
Otherwise I doubt you afford wasting more than half an hour per day just to use these products. I personally couldn't do that.
---
#4 – Results

(6 out of 10)
---
As I said – I didn't try Vitalize's products myself. So I won't be able to speak from experience.
However, I tried to check out several customer reviews.
In this way – you can see an unbiased perspective on how Vitalize actually works.
Note: I only considered authentic reviews, not general ones.
1. What People Say
---
The positive side is that I found enough real opinions on these products.
The negative side is that many of them were negative.
So here's a quick look on what most people think about Vitalize:
Some say they could see results after a while.

Others say it works pretty well even for alopecia.

On the other hand, others say they saw no results.

A few others claim they used it for months without any changes.

Many complain about different issues of the products.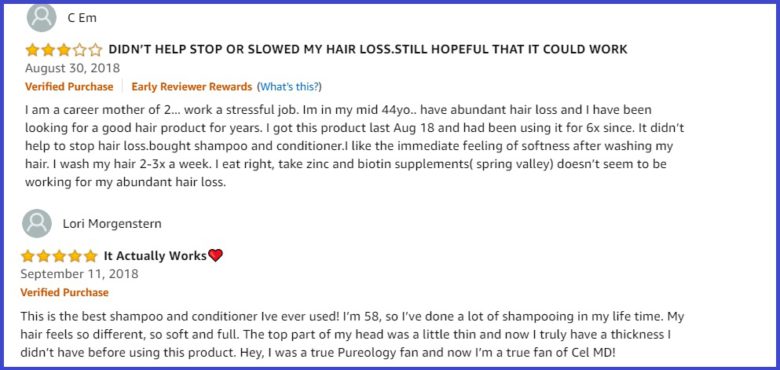 Basically – there are 2 groups of customers:
some say it worked really well

others say it didn't work at all
Unlike other products, Vitalize has very few average reviews. It's either 5 stars or 1 star – which is a bit weird.
But in case you're curious, let's take a closer look at the negative side (as that's what really matters).
2. Biggest Complaints
---
Most people complaint about 4 major issues:
Price is way too high.

Hair oil has a very little quantity.

It doesn't even last for 1 month.

There is no effect even after many months.
Now – I tend to agree with the first 3 issues (I can't tell about the last one, since I didn't use it).
Vitalize's systems seem extremely pricey – especially for the quantity they offer.
So even though I never used the oil, I'm sure it doesn't last too much. 1.7 oz is an incredible low quantity (especially for $40).
---
Conclusion
---
Opinions are mixed on Vitalize – especially in terms of results:
some praise its effect

others say it doesn't work at all
So it's probably a matter of luck. You may seem big changes – or you might not see any difference.
But considering the high number of (real) complaints, I personally wouldn't recommend Vitalize.
Instead of using 3 or 6 different products for over $100 per month – better use one single supplement that works better than everything I tried.
---
#5 – Price

(3 out of 10)
---
Honestly – all Vitalize's products are extremely expensive.
In my opinion, most of them are overpriced – as they're surely not worth as much as they cost.
1. The Exact Price
---
You can buy Vitalize's products in 2 forms:
single products

systems (3 or 6 products)
Regarding single products, here's how much they cost on the official website:
Follicle Serum: $49.99 for 1.7 oz

Oil Treatment: $39.99 for 1.7 oz

Vitamins: $29.99 for 30 days supply

Shampoo + Conditioner: $65 for 8 oz each (You can only buy them together)

Edge Control: $29.99 for 1.7 oz

Now let's take a look at the 2 systems:
3 Part System (Serum + Oil + Vitamins): $99

Full Hair System (All 6 products): $199
So the 3 Part System offers you a discount of $20 (compared to buying all 3 products alone).
On the other hand, the Full Hair one only offers a $16 discount:
all 6 products cost $215 together

you can get them for $199 with the Full Hair System
2. Worth It Or Not?
---
Definitely not – if you ask me.
First of all, I don't recommend any of the 2 systems or the products:
quantity is extremely low (1.7 oz in most)

that's surely not enough for 1 month

prices are huge for this quantity

also, they cost way too much for the ingredients inside
Now – if you're 100% sure you want to try Vitalize either way, my advice is to get the 3 Part System:
contains the most important 3 products

you get them for $20 less

best deal among Vitalize's products
But as I said – I don't actually recommend these products.
---
Conclusion
---
In my opinion – Vitalize is extremely overpriced. And I'm talking about all of its products:
very low quantities

contain mostly regular ingredients

not worth so much money
Instead of spending $100 on the cheapest system, my advice is to try an internal product (supplement) that costs $25 and made real miracles for me. 
So that's what I personally recommend instead.
---
#6 – Where To Find It

(5 out of 10)
---
At this point – you can only buy Vitalize from its official website.
It's not available on other retailers like:
Amazon (apparently discontinued)

Walmart

Ebay (very few sellers have it)
So if you decided to buy these products, Vitalize's official website remains the best choice.
Also – if you want to buy a system (as I recommend), the official website is the only solution.
Even if other retailers offered the products, they wouldn't offer them as systems with a discount (as far as I know).
---
#7 – FAQs
---
Up next, I will try to answer the top questions about Vitalize.
Note: I might repeat something I already mentioned, but it's easier to spot here.
1. How often you should use it?
---
It mostly depends on the products and their directions. But here's a sum up:
serum and oil treatment: daily

vitamins: 2 pills per day

shampoo + conditioner: with every wash
2. How long lasts 1 bottle?
---
Out of the 6 products, it's only the vitamins that are designed for 30 days.
The others aren't meant for a certain period.
Plus – most of them are in a very low quantity (1.7 oz). So that's surely not enough for 4 weeks.
3. Can I take it with other drugs?
---
You can use all 5 topical products with other drugs without any worries.
Since they're meant for topical use, there's no risk of interactions.
However – you should ask your doctor before taking the vitamins. That especially if you're following a long term treatment.
4. Are there any side effects?
---
Fortunately – there are very few complaints on this:
some people say their hair loss increases (in the first weeks)

other say they experienced some itching
But as I said, these complaints were very rare.
So as far as I'm concerned – Vitalize's products are pretty safe.
5. How fast should I notice an effect?
---
The official website doesn't mention anything on this.
For this reason – my advice is to use Vitalize for at least 2 months.
Since most of its products are topical, they need a longer time to work (compared to supplements).
So make sure you afford buying the quantity for at least 2 months before you order (that's about 3 systems, if you ask me).
---
#8 – Vitalize VS Others
---
I will only compare Vitalize with my #1 recommendation for hair loss & growth – a supplement called Folexin.
Even though Vitalize comes as 3 or 6 products and Folexin as 1, there's plenty of room to compare:
F contains almost 30 famous ingredients (with dosages mentioned).

V contains about 3 active ingredients per product.

However, most of them are unknown (in terms of research).

F costs about $25 per bottle (30 days supply).

It also offers a discount, so you can get it for $18 per bottle.

V costs at least $100 per system (or $199 for the larger one).

Most of its products are topical, so they're not that strong.
So overall – instead of buying Vitalize, I personally prefer Folexin.
Even though it's just 1 product, in my case it worked better than many products:
works from the inside on the outside

treats the actual cause of hair loss

effective for both men and women

cheapest supplement of this kind
So even though I had great results with many supplement, Folexin has by far the best price.
For this reason – instead of paying a small fortune on Vitalize, I think it's a much better choice.
---
#9 – Final Conclusions
---
Here's how I would sum up my opinion on Vitalize (in 3 ideas):
1. Too Many Products
---
If you ask me – Vitalize requires you to use too many products daily.
According to its directions:
3 products should be used daily (serum + oil + pills)

2 need to be used with every wash (so every 2-3 days)
In my opinion – that's pretty uncomfortable and take a long time.
Plus, most of these products need to be used on wet hair.
So you will end up washing your hair daily (which can take a lot of time).
2. Very Low Quantities
---
That's available for 3 products:
All of them contain 1.7 oz per bottle – which is extremely little.
Considering you have to apply 2 of them daily, a bottle will probably run out in 2 weeks (at most).
3. Huge Price
---
To be honest – all Vitalize's products are really overpriced:
cost over $30-$40 per bottle

don't contain some amazing ingredients
Not even buying a system will save you a lot of money – as the cheapest one is $100.
So in my opinion, it's not worth spending your hard-worked money on Vitalize. There are so many cheap options on the market.
---
My Verdict – Is Vitalize Worth Buying?
---
Short answer: Definitely not.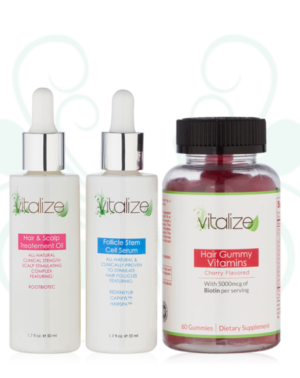 Even though its products are far from bad – they're extremely overpriced:
the cheapest ones cost $30-$40 per bottle

quantities are very low in most

they don't even last for 1 month
Besides – Vitalize requires you to use at least 3 products daily. That's not just expensive, but also takes a very long time.
If you're not a stay-at-home person, that would be pretty hard.
And there's one more thing:
Most of Vitalize's products are topical.

This kind of products don't work too well (on the long term).

Basically, they only improve the problem on the outside.

They don't treat the actual cause inside.
Now – it's true that Vitalize offers 1 internal product (vitamins), which is great.
But its formula isn't very strong – so its results will probably not be amazing if used alone.
That's why I don't really recommend Vitalize – either the supplement or the other products.
For these money, you can get about 3 monthly supplies of a strong supplement that might work better. So that's what I would choose instead.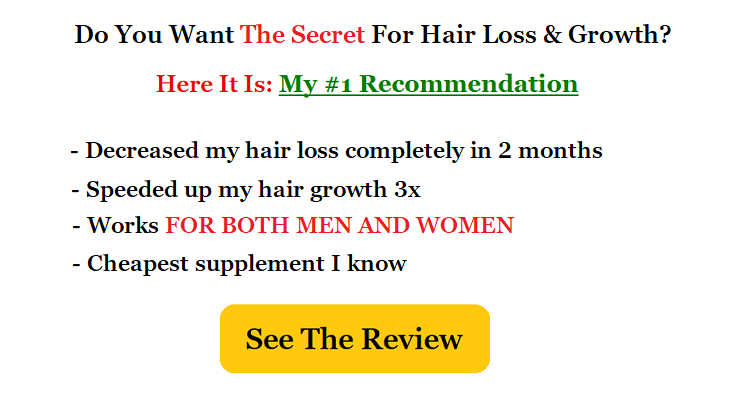 References:
1 – https://www.omicsonline.org/-2471-9323-1000140-108138.html
2 – https://www.ncbi.nlm.nih.gov/-pubmed/28879195
3 – https://www.ncbi.nlm.nih.gov/-pmc/articles/PMC3870206/
4 – https://www.ncbi.nlm.nih.gov/-pmc/articles/PMC3500065/