It's time for my Amplixin review – a brand of products meant to fight hair loss and promote growth.
So what makes it so special?
Lots of positive reviews

Decent price (compared to similar products)
But is Amplixin worth it? After all, all of its products are meant for topical use – which isn't very effective.
Well – it's time to find out the truth behind Amplixin.
Note: This review is based on my experience + opinion on Amplixin.
Contents
---
Here's what you can find in this article:
But first – let's see a quick overview of Amplixin.
So Let's Get To The Review
---
Full Name: Hair Support System from Amplixin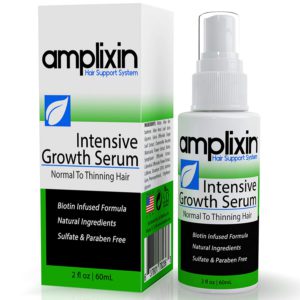 Versions: There are several products available, including:
Hair loss & growth serum

Shampoo/C

onditioner

Hair mask
I will focus on the serum in this review (it's by far the #1 product).
Best Actual Price: Around $28
Cheapest Place To Buy: Probably Amazon
Designed For: The serum is meant to:
prevent shedding and hair loss

decrease thinning

speed up hair growth
The other products are all meant for faster growth, hydration, etc. But they don't have a very strong effect.
My Rating: 8 out of 10 – It's a good product, but not among my recommendations.
Worth Buying?: It depends – mostly if you have a DHT hair loss.
Otherwise, I wouldn't recommend it:
it's a topical product

only works on the outside

doesn't treat the actual cause 

not effective for many types of hair loss
Instead – I recommend a $25 supplement with a much better formula.
What I Liked About It
---
Formula is based on several herbs

Nice smell and consistency in all products

Works really fast (about 1 month)

Lots of positive reviews and opinions

Pretty affordable
What I Didn't Like About It
---
Ingredients have no dosages

No clear formula (active and inactive ingredients are all together)

Only works for DHT induced hair loss

Didn't stop my hair loss completely

Shampoo, conditioner and hair mask aren't very effective alone

Doesn't treat the actual cause of hair loss (only the symptoms)
---
What Is Amplixin? 
---
Shortly – it's a brand focused on hair health products.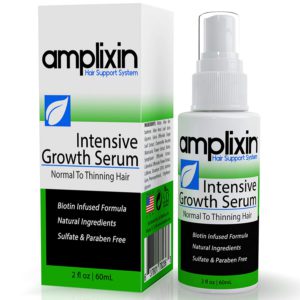 But how are these products different from the rest?:
Designed for hair loss caused by DHT excess.

Formulas are based on biotin.

All are meant for topical use.
Now, Amplixin's #1 product (the serum) is meant to stop DHT hair loss and increase growth.
But that's not all – Amplixin offers some other products:
growth stimulating shampoo

revitalizing conditioner

hydrating mask

itchy scalp treatment
But as you might expect, its products are far from perfect.
So is Amplixin as good as it claims? Here's my own analysis.
---
#1 – Ingredients
(8 out of 10)
---
Firstly, all Amplixin products are topical – which means 2 things:
No dosages.

Ingredients are all listed together.
In other words, you can't really tell what is the main ingredient. Or how much of it there is.
All ingredients are put together (whether they're active or inactive). So it's hard to spot the real active formula.
But I tried to do the hard work for you.
1. Serum
---
According to the label – its #1 ingredient is biotin. 
Other than that, here are some of the important substances it contains:
Caffeine – can decrease shedding and alopecia. [1]

Sage Leaf – stimulates hair follicles and promotes growth.

Chamomilla Extract – calms down irritated scalp.
In my opinion, these ingredients don't look amazing (especially in a topical product).
They're simply not very strong or numerous.
2. Shampoo/Conditioner
---
They're both based on a blend called AmpliGro Complex (3 ingredients):
Caffeine – good for hair loss.

Red Clover – strengthens hair roots. [2]

Peptide Complex – decreases hair loss caused by DHT excess. [3]

The other ingredients are mostly additives and consistency agents.
---
Conclusion
---
Honestly, Amplixin's ingredients didn't impress me:
not very strong ingredients

no dosages
Plus – it's a topical product, which means it doesn't treat the internal cause (which is bad).
That's why it's not a product I would use (not as a #1 choice, at least).
---
#2 – Smell & Texture

(9 out of 10)
---
Here's what you should know about Amplixin's consistency.
1. Smell
---
All 3 products I tried have the same fragrance:
fresh and natural scent

not very strong

feels like herbs (probably Sage)
So if you're sensitive to smells, Amplixin shouldn't bother you.
It's not very intense, as other products I tried .
2. Texture
---
Here's what you should know:
serum is pretty similar to a hair mousse

it's not oily or greasy

shampoo feels oilier than other products

but it still doesn't leave hair greasy (in my case at least)

conditioner isn't very thick either
So in my opinion – shampoo and conditioner could be a bit thicker.
But even so, once you apply them on your hair – there's no greasiness.
Plus, you don't need huge amounts of any. The shampoo foams well enough – so there's no need to use more than usual.
---
#3 – How To Use It

(10 out of 10)
---
Amplixin's instructions are pretty clear (on all products).
Serum is recommended for daily use.

Spray it directly onto your scalp and then massage.

Leave it in your hair (don't rinse).

You can use the shampoo for every wash.

Conditioner can also be used after washing.
Basically – you should use the shampoo and conditioner normally.
But when it comes to the serum, it's essential not to rinse.
Don't worry, it won't weight down your hair (on the contrary). It actually leaves it very smooth and silky.
---
#4 – My Results

(7 out of 10)
---
I used several products from Amplixin for about 2 months.
Even though the results weren't amazing – it worked decently for a topical product.
1. My Background
---

I was suffering from a serious hair loss caused by several factors:
hormonal imbalance

stress

thinning hair
Now – Amplixin is meant to decrease hair loss caused by DHT excess (a hormonal imbalance).
But what about hair loss caused by stress? Or by fragile hair?
I was curious if these products could help me – and in what level.
2. How It Worked
---
First of all – I used the stimulating shampoo, conditioner and serum.

I applied them as the label recommended for about 2 months.
My hair loss decreased with around 40% after 1 month.

Hair felt much thicker (in the roots).

There was less breakage.

I had a lot more volume on top.

In terms of growth, I couldn't see big changes.

Also, my ends were still pretty thin (almost as before).
Now – I know 2 months isn't such a long period.
If I used Amplixin for 6 months, the results would have been much better.
But here's the thing:
my shedding decreased from month 1 

after 2 months, it was about the same
Basically – Amplixin seemed to work about the same after 1 and 2 months (which isn't normal).
If you ask me, it's all about its mechanism.
It's meant to stop hair loss caused by DHT – but that wasn't the only cause of my hair loss.
So in my opinion, decreasing my hair loss with 40% was the most it could have done (since it wasn't all caused by DHT excess).
---
Conclusion
---
Amplixin did work – but not amazingly:
decreased my shedding partially

didn't make my hair grow faster

not helpful for thinning ends
So unless your hair loss is caused by DHT excess, I doubt it would help much.
Even so – I wouldn't recommend Amplixin, because it's a topical product and has a weaker effect.
In these cases, supplements work much better (since they treat the problem from the inside). That's what I recommend instead.
---
#5 – Other Opinions

(8 out of 10)
---
I tried to find more reviews on Amplixin – so that I could offer an unbiased opinion.
And fortunately, I found plenty of real opinions.
Note: I only considered authentic reviews, not the ones based on general info.
1. What People Say
---
I checked out Amazon reviews, which are known to be authentic:
Many people praise Amplixin (especially the serum).

Some say they saw really fast results.

Others claim their shedding decreased completely.

There are also some complaints.

Some people claim the products aren't original.

Others say they simply didn't help at all.

There are a few claiming they're only effective for DHT hair loss.
Now – I have to agree with the last category.
Amplixin is meant to fight DHT excess. So if your shedding is caused by stress, it surely won't help too much.
But other than that – there are over 50% positive reviews on Amplixin.
So it's pretty clear that it's not a scam, but a good product.
2. Biggest Complaints
---
As I said – here's what some people criticize Amplixin for:
Sellers don't always send original bottles.

Sometimes the products are diluted. 

In those cases, they're not as effective as usual.
I found more complaints on this topic, so it can't be a coincidence.
Other than that – many people say Amplixin didn't work for them, which is 100% possible.
If their hair loss isn't caused by DHT excess, these products will surely not help.
---
Conclusion
---
As it's normal – Amplixin has lots of mixed reviews. 
However, more than half are positive – which makes it clear it's a really good product (especially in certain cases).
---
#6 – Price

(8 out of 10)
---
To be honest, Amplixin isn't too bad at this chapter.
It's surely not a cheap product – but it's not that expensive either.
So compared to many so-called hair loss solution, it's actually affordable.
1. The Exact Price
---
Here are the prices I found for Amplixin on Amazon:
Serum costs around $28 (2 oz).

Shampoo is almost $27 (8 oz).

Conditioner is also $27 (8 oz).

Masks costs $26 (8 oz).
Now – these prices may seem high for some topical products.
But considering Amplixin works for so many people, I don't think it costs so much.
I personally wouldn't pay so much on it (just because it only works on the outside).
But compared to similar shampoos/conditioner/serums – I actually think it has a decent price.
2. Competitors' Price
---
I want to compare Amplixin with my #1 recommendation for hair loss – a supplement called Folexin.
Price is about the same in both (F costs $25 at most).

F has a much better formula, with 30 ingredients.

A is a topical product, F is a supplement.

A has more of a local action, while F treats the real cause from the inside.

F only comes as pills, A has several versions.

A doesn't offer any discount for buying more products at once.

On the other hand, you can find F for as little as $18 per bottle.
Now – Folexin is my top recommendation for hair loss & growth:
decreased my hair loss completely in 2 months

made my hair grow almost 3 times faster

cheapest product of this kind

works from the inside (not just on the outside)
Basically – supplements have a much better effect on the long term.
They treat the actual cause, not just the external symptoms (as topical products do).
That's why I definitely recommend a supplement instead of Amplixin or any topical product.
---
#7 – FAQs
---
Coming up, I will try to answer the top questions about Amplixin.
Note: I might repeat something I already mentioned, but it's easier to spot here.
1. How often you should use it?
---
It depends on the product:
shampoo/conditioner: in every wash

serum: daily or every 1-2 days
2. How long lasts 1 bottle?
---
That really depends on how much/often you use it.
But in my case – each of the 3 products I used lasted almost 2 months.
So that's a pretty long period, in my opinion.
3. Can I use it while taking pills?
---
Absolutely. Amplixin only has topical products, so there's no possible interaction with any drugs you're taking.
4. Are there any side effects?
---
I personally didn't experience anything.
However – some of the reviews I read mentioned: 
But as you can see, all symptoms were temporary and pretty minor.
5. How fast should I notice an effect?
---
One month – if you ask me.
I could see some real changes after this time and most reviews I read claimed the same things.
So Amplixin is a pretty fast product, compared to others.
---
#8 – Final Conclusions
---
Here's how I would sum up my opinion on Amplixin (in 3 ideas).
1. Affordable
---
Compared to many other shampoos/conditioners, Amplixin has a decent price:
costs under $30 per bottle

you don't need a high quantity

a bottle can lasts even 2 months
So when it comes to cost – you can't complain about Amplixin.
2. Fast Effect
---
From what I saw, this product doesn't need months to start working:
I could see an effect after about 1 month

many reviews I read said it worked quite fast
Now – that's mostly available to the serum.
The shampoo, conditioner and the others don't work very well alone.
3. Only For DHT Hair Loss
---
That's an essential thing:
Amplixin isn't effective for everyone

it only works if your shedding is caused by DHT excess
And what if it's not? Well – it might help a bit, but there won't be any major change.
So keep this in mind before purchasing it.
---
My Verdict – Is Amplixin Worth Buying?
---
Short answer: It depends.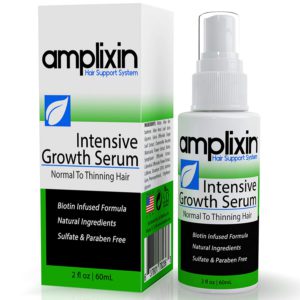 If your hair loss is caused by DHT excess – it might be a good choice.
But if it's caused by any other thing (including stress), Amplixin won't help too much.
Now – I personally don't recommend it for 3 reasons:
It's a topical product.

Only works on the outside.

Doesn't treat the real (internal) cause.
Instead, my advice is to use a hair supplement:
long term (and better) effect

treats the real cause on the inside

even lower price
No matter what topical products I used, they never worked as well as supplements.
So that's why I will never use an external product – at least not alone.
You can use any additionally.
But my honest advice is to use an internal treatment as a #1 choice – the results are much better overall.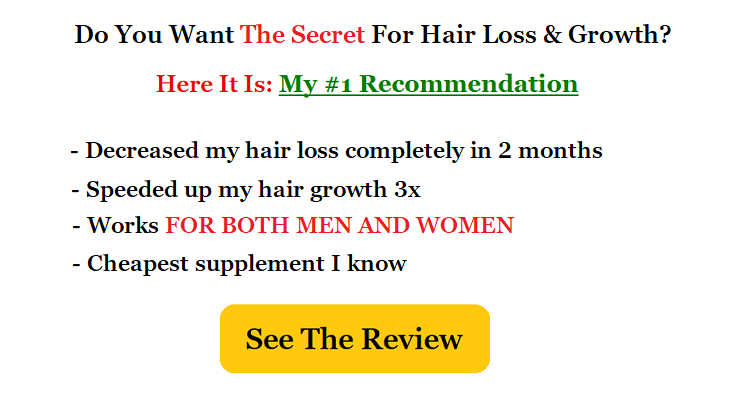 References:
1 – https://www.ncbi.nlm.nih.gov/-pmc/articles/PMC3500065/
2 – https://www.ncbi.nlm.nih.gov/-pmc/articles/PMC3206499/