It's time to review Plantur 39 shampoo – a European product designed to treat hair loss in women (0ver 40).
At first sight, it doesn't look too bad:
formula based on caffeine

pretty decent price
But since it's made in Europe – it's not really accessible in the US.
However, is Plantur 39 worth trying? Does it help (more than other shampoos on the market)?
I decided to test out this product and see for myself.
Note: This review is based on my own experience + research on Plantur 39.
So Let's Get To The Review
---
Full Name: Phyto-Caffeine Shampoo from Plantur 39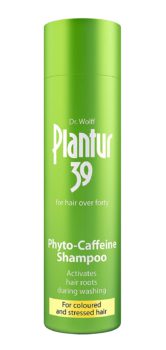 Versions: There are 2 forms available:
For fine, brittle hair

For colored and stressed hair
I will focus on the second one in the review (as it's more suitable for a large number of women).
Best Actual Price: Starting from around $15 (depending on the seller).
Cheapest Place To Buy: Probably Ebay (not available on most US retailers)
Designed For: Women over 40 (especially the ones dealing with thinning/hair loss):
protects hair against aging

improves scalp resistance

decreases breakage and fall out

promotes smooth and fuller hair
My Rating: 6 out of 10
Worth Buying?: Not really – even though it's not a bad product.
But in my opinion, it's not any better than most shampoos:
pretty useless in my case

doesn't work for severe cases of hair loss

more of a volume/hair health product
If you want a shampoo that really works for your hair loss, take a look at this alternative.
What I Liked About It
---
Formula based on caffeine and 2 other herbs

Nice scent and consistency

Not required to be used daily

Pretty good price per bottle
What I Didn't Like About It
---
No dosages and few details on the ingredients

Pretty ineffective in my own case

Formula/ingredients are pretty weak

Doesn't work for severe hair loss

Mostly available in Europe + UK

Hard to find on the American market

On Amazon UK, you have to buy at least 2 bottles at once
---
What Is Plantur 39? A Quick Overview
---
In a few words – it's a German brand that creates products for hair over 40 (in women):
prevents and treats hair loss

protects hair from aging factors

provides necessary nutrients for hair at this age
So how can it do that?
According to them – by using a complex called phyto-caffeine that supports hair health. [1]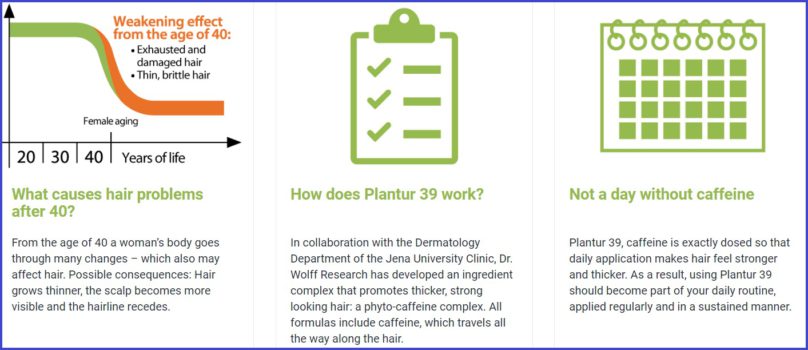 On paper, this sounds pretty good.
But in reality – Plantur 39 isn't excellent at many chapters.
In other words, it doesn't keep its promises about hair loss and thinning in many cases.
And even though it does work for many people – it's far from the best shampoo of this kind.
So now that you know the main things about it, it's time to analyze it closer.
---
#1 – Ingredients

(7 out of 10)
---
As with most shampoos – Plantur 39 doesn't have a very strong formula:
most ingredients are inactive

the active ones are mentioned together with the inactive ones

no dosages for any

little info on the ingredients
However – the ingredient list is fully disclosed (unlike in other products).

Out of its active ingredients, the most important ones are:
Caffeine – penetrates follicles and blocks DHT excess. [2]
Green Tea Extract – it's one of the best DHT blockers among herbs.

Hydrolyzed Wheat Protein – strengthens and adds volume.
These substances are responsible for most of Plantur 39's effect.
As for the rest – they're mostly there for smell/consistency.
So even though this formula isn't bad for a shampoo – I personally wouldn't expect miracles from it.
---
Conclusion
---
Plantur 39's shampoo doesn't have a bad formula:
based on 3 potent herbal extracts

all ingredients are fully disclosed
But in terms of hair results – this formula doesn't seem so potent (especially for someone over 40 dealing with hair loss).
It might help a bit, but not considerably – if you ask me.
I personally would use supplements instead.
They have a much stronger effect overall – which is necessary for hair loss.
---
#2 – Smell & Texture

(9 out of 10)
---
I tried to analyze Plantur 39's consistency in 2 aspects.
1. Smell
---
Like most shampoos – its has a pretty nice fragrance:
smells like a mix of herbs

scent is rather fresh than sweet

suitable for both genders from this point of view
Besides – its smell has an average intensity.
This means it stays in the hair for a few hours, but it's not too strong to be felt by everyone.
2. Texture
---
It's pretty regular at this chapter:
whitish color

lathers pretty well

you only need a small quantity per wash
Now – if your hair is long, you might need to use more than if it was short.
But when it comes to lather, there's nothing to worry about.
Plantur 39 isn't one of those medicinal shampoos that need a large quantity to clean your hair.
---
#3 – How To Use It

(10 out of 10)
---
Basically – Plantur 39 works just like any other shampoo:
You have to apply it on your wet hair.

Massage with your fingers until it lathers.

The label recommends letting it sit for 2 minutes at least.

Afterwards you can rinse normally.
Also – you don't have to use this shampoo daily (as it's required with others).
The label mentions that you should use it with every wash.
So you can continue washing your hair at the same period as before.
---
#4 – My Results

(5 out of 10)
---
I have actually used Plantur 39's products myself.
Given that I'm a European, this brand was really easy to find in my area.
However – the results weren't the best.
1. My Background
---
First of all – I was suffering by a major hair loss a few years ago.
As far as I know, it had multiple causes mixed together:
hormonal imbalances (the main one)

some nutrient deficiencies

stress
Now – you may say that Plantur 39 is designed for women over 40.
That's completely true. But the #1 cause of hair loss in this age category is DHT excess (hormonal imbalances).
That's exactly the problem I had.
This is why I thought Plantur 39 might actually help me.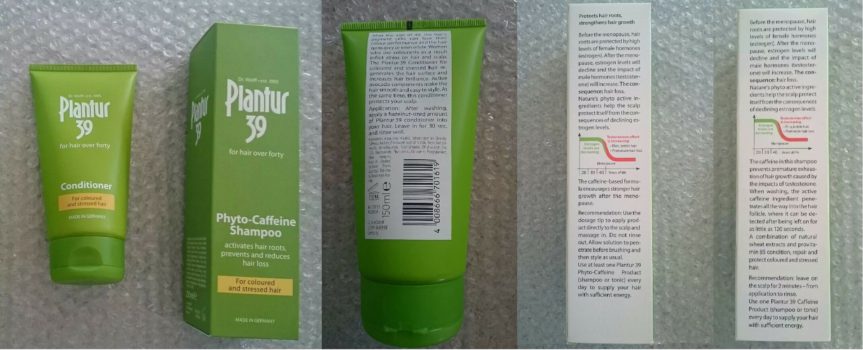 2. How It Worked
---
As I said before – my experience with this product was pretty weird:
Hair seemed to get better in the first 3 weeks.

It had more volume and looked fuller (though it was still thin).

I also felt like it wasn't falling out as badly as before.

However, my hair loss returned after the first month.

My hair still looked a bit more voluminous.

But it continued to fall out massively.
Basically – Plantur 39 mostly helped my hair's looks and fullness.
Though it did not make it thicker for real, it did make it seem thicker.
But in terms of hair loss – it only helped in the first couple of weeks.
Now – my hair might have gotten used to it, so this could be why it stopped working after 1 month.
But overall, I was far from satisfied in terms of results.
---
Conclusion
---
Though it was cheap and easy to use – Plantur 39 wasn't worth it for me:
hair loss only got better in the first weeks

product stopped working afterwards
So overall, it didn't really help my hair.
That's why it's not a product I would recommend or use again.
I personally prefer supplements – as they have a much stronger effect and start working really fast.
As for shampoos, there is an alternative that I have been using for a really long time.
Compared to Plantur 39, I consider it much better.
---
#5 – Other Opinions

(7 out of 10)
---
In order to create an unbiased review – I tried to include other customer's experiences as well.
In this way, you could see the whole perspective.
Note: I only considered authentic reviews, not promotional ones.
1. What People Say
---
First of all – I mostly included the reviews from Amazon, since they're 100% real.
Plantur 39 has a lot of reviews on this retailer (the UK version).
So here are the most common opinions:
Some people say it makes them hair softer and more manageable.

Others claim they saw results in their shedding.

A few others say it's really affordable.

Some others claim their hair is growing faster.

Others say it does work, but it needs many months to see a change.

There are also enough negative reviews.

Some say it doesn't work at all, even on the long term.

Others complain about the side effects.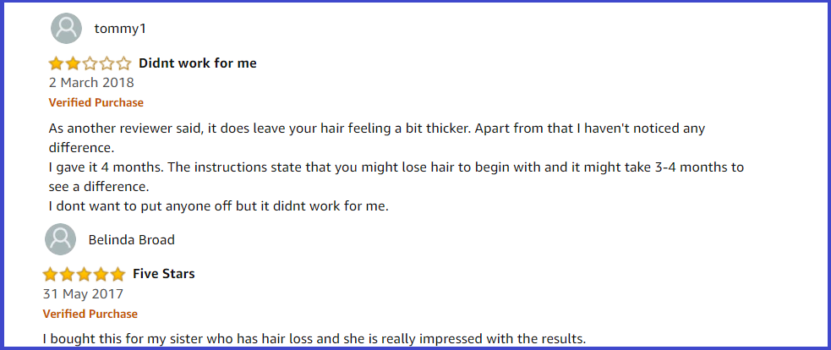 Overall – reviews on Plantur 39 are pretty mixed up.
However, more than 50% customers are satisfied – which means the product is surely not a scam.
It only has its ups and downs.
2. Biggest Complaints
---
As I said – I found plenty of negative opinions on Plantur 39 as well.
Most are referring to:
Poor effect that takes a long time

No changes even after several months

Scalp side effects (itching, rashes, etc.)

Worsened hair loss

Now – I personally didn't experience great results from Plantur 39.
That's why I tend to agree with some of the negative reviews.
But I can't tell about side effects, as I didn't have to deal with any.
Still – this shampoo definitely does not work in many cases. All these complaints stand as a proof.
---
Conclusion
---
I found both positive and negative reviews on Plantur 39:
some people say it's really helpful

others say it doesn't work at all
Now – if your hair is generally healthy, this shampoo should help with thickness.
But in cases of hair loss, I doubt it's going to help a lot (since it's a topical product).
As I said before – supplements are a much better alternative in this case.
---
#6 – Price

(8 out of 10)
---
First of all – Plantur 39 has a decent price.
From this point of view, there's nothing you can complain about.
But since it's pretty hard to find in the US – things get more complicated.
1. The Exact Price
---
According to Amazon UK – Plantur 39 costs the following (converted in dollars):
Shampoo for colored/stressed hair costs $15.45 per bottle.

It contains about 8 oz.

Shampoo for fine hair costs exactly the same.

It also has the same quantity.

However, you have to buy at least 2 bottles together.

Buying one alone isn't allowed.
Now – paying $16 for 8 oz doesn't sound too much.
But the fact that you have to order either 2 bottles or none isn't very pleasant.
So in terms of price, Plantur 39 is quite cheap.
But its buying options aren't the best ones.
2. Shipping Issues
---
That's the real problem of Plantur 39's cost.
As I said before – this shampoo isn't available on Amazon US, Walmart or any other retailers.
So it's pretty hard to buy if you're located in the US, Canada, etc.
You can order it from Amazon UK – however:
the minimum quantity is 2 bottles

you can't buy one bottle alone

you will also have to pay for the shipping

not all sellers from Amazon UK deliver to US
---
Conclusion
---
If you live in Europe – Plantur 39 could be a good deal (in terms of price).
Though it's far from a product that I like, it doesn't have a bad offer.
Just keep in mind that you will have to buy 2 bottles from the start – so the cost is higher than it actually seems.
But if you're from the US – I don't recommend it:
not available in any retailer

you have to order it from Europe
So the price is much higher for US buyers – and it's really not worth it.
---
#7 – Where To Find It

(6 out of 10)
---
If you really want to buy Plantur 39, you have several alternatives.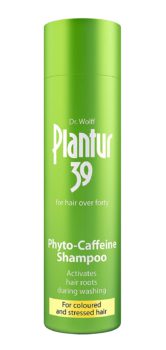 But depending on the place you live in – here's the best one:
Europe: Plantur 39's official website (they have a mini website for each country)

UK: Amazon

US & Canada: Probably Ebay (though it's pricier overall)

Australia: Retailers recommended by Plantur 39's website
Basically – in Europe, it's quite easy to find.
If you're living in Northern or Southern America, it's a harder job.
I personally don't recommend Ebay because the final price might be double (due to shipping taxes).
Plus – it's not a very safe option, as most sellers are from China.
So in case you're from the US, I would recommend you to any other shampoo that is more accessible.
---
#8 – FAQs
---
Coming up – I will try to answer the top questions about Plantur 39.
Note: I might repeat something I already mentioned, but it's easier to spot here.
1. How often you should use it?
---
According to the label – whenever you wash your hair.
So there's no requirement that you have to use it daily or every other day.
2. How long lasts one bottle?
---
Anywhere around 2-3 months, I would say.
But it all depends on the quantity you use and how often you wash your hair.
In case you wash it every day, it may last only 1 month.
3. Can you use it with other drugs?
---
Definitely – it's a shampoo like all the others.
So it can't possibly affect the other drugs you're taking.
4. Are there any side effects?
---
I found a few reviews complaining of minor issues like:
scalp itching

irritation and rashes

worsened hair loss
However – I personally didn't experience anything. So it's not a very strong product.
5. How fast should you notice an improvement?
---
I say you should give it at least 3 months.
Topical products usually require a longer time, compared to supplements.
Plantur 39 might not work for everyone – but it will still need a few months even if it does.
---
#9 – Final Conclusions
---
Here's how I would sum up my opinion on Plantur 39 (in 3 ideas).
1. Made In Europe
---
This shampoo and the whole brand are German products.
Not that it mattered in terms of quality – but they're not very accessible to the US market:
not available in usual retailers

doesn't sell in local shops

usually has to be ordered from abroad
In most cases – international shipping is quite pricey.
That's why buying Plantur 39's products from the US isn't a good idea.
2. Not For Everyone
---
These shampoos don't work well for all users – keep this in mind:
not very effective against hair loss

effect is usually quite weak

mostly boosts general hair health
So if you're dealing with massive hair loss, I wouldn't recommend this shampoo.
At least not alone and not as a #1 choice.
3. Tricky Price
---
Plantur 39's products seem quite cheap at first sight.
However – if you plan to buy them from Amazon, here's the trick:
price is listed for every bottle

but you can only order 2 bottles (or more)

there's no way to order one bottle alone
So make sure you afford buying 2 bottles from the start – and that you will use them both.
---
My Verdict – Is Plantur 39 Worth It?
---
Short answer: Not really – even though it's not a bad product at all.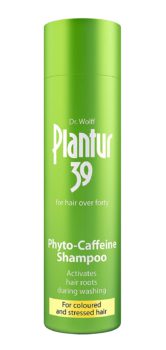 But considering what it can do, I wouldn't recommend it:
Not effective for serious cases of hair loss.

Doesn't treat the actual cause from the inside.

Didn't work too well in my case.

Pretty hard to find on the US market.
It's true that it has a good price – but if you buy it from Amazon UK, the offer is really tricky.
You can only buy 2 bottles at once (or more) – so the price becomes double.
Based on the effect it has, I don't think Plantur 39 is worth the time and money.
I'm speaking mostly from experience here.
So what do I recommend instead? A shampoo made by Valotin:
very effective for most hair problems

excellent ingredients and formulation

worked really well in my case

really affordable
If there was a hair shampoo I should recommend, it would surely be this one.
Compared to Plantur 39, it's superior from all points of view.
Since the effect is also better and way faster – so it's totally worth it.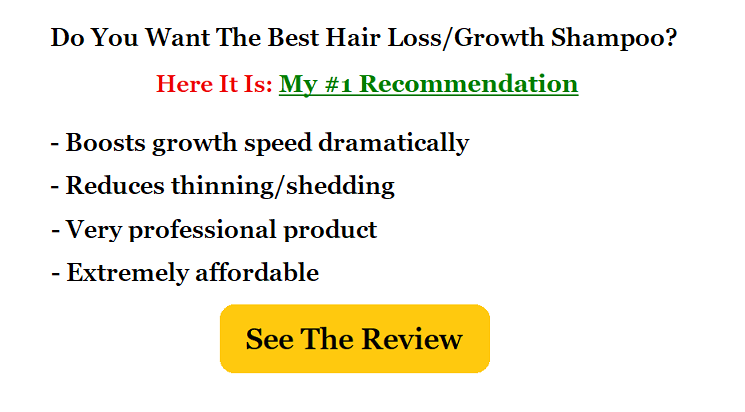 1 – https://www.ncbi.nlm.nih.gov/-pubmed/29512972