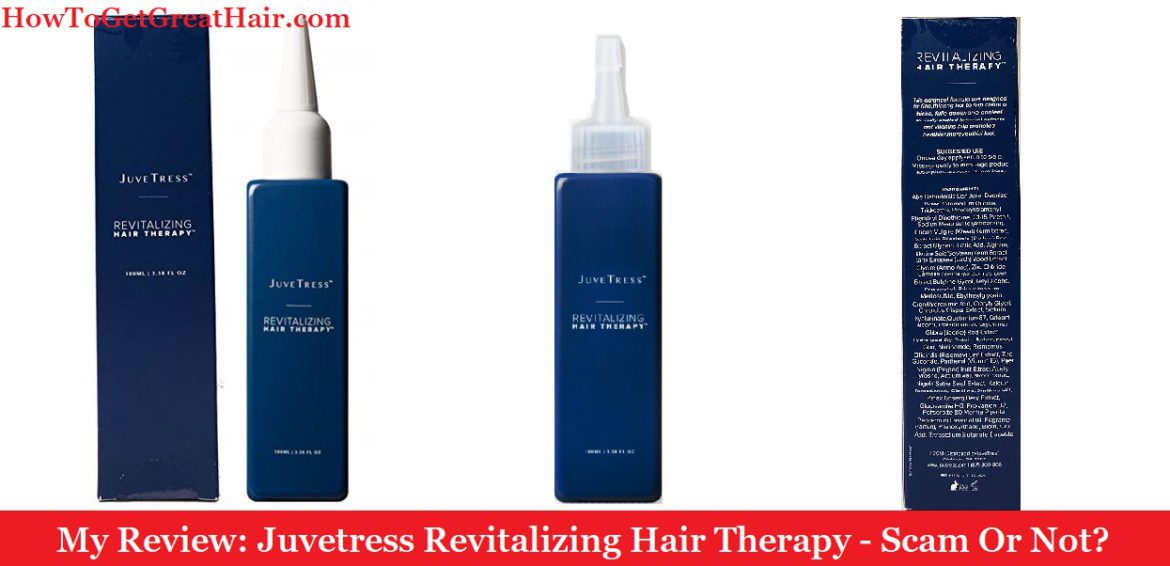 It's time to review JuveTress Revitalizing Hair Therapy – because it looks quite different from most hair products:
unusual ingredients

different mechanism
So is this product any good? 
At $79 per bottle – it might be just another hair scam.
Well, I tested it out myself, so here's the hidden truth behind.
Note: This review is based on my experience + research on JuveTress.
So Let's Get To The Review
---
Full Name: Revitalizing Hair Therapy from JuveTress
Versions: Only one (3.3 oz bottle). 
There was an 8 oz size in the past, but it's not available for sale anymore.
Best Actual Price: $79 per bottle
Cheapest Place To Buy: Probably the official website (unavailable on Amazon).
Designed For: Mostly thinning hair – it helps with:
adding density and fullness

extra volume
Keep in mind that it's not a hair loss product – nor it has anything to do with hair growth.
My Rating: 7 out of 10
Worth Buying?: Not really – it's way too expensive for what it does:
only works for thinning hair (no hair loss or growth)

enough negative reviews (about 50%)

not effective for everyone
It's surely a legit product, but I personally don't think it's worth the price.
If you're looking for an affordable product for shedding or hair growth – I prefer a $25 supplement instead.
What I Liked About It
---
Unique formula

Contains ingredients that are pretty rare (in hair products)

Smell is very light and pleasant

Adds real volume to hair in less than a month (my case)
What I Didn't Like About It
---
Most of the ingredients are inactive (around 47 out of 50)

Thick consistency and hard to apply

You have to apply it twice daily

Very expensive overall

Little quantity per bottle (3.3 oz)

Many unsatisfied customers and complaints

Only available on the official website
---
What Is JuveTress? A Quick Overview
---
In a few words – it seems to be a revolutionary hair product.
Why exactly?:
Unique formula with unusual ingredients.

Designed to restore hair density and volume.

One of the few products effective for aging hair.

Basically – JuveTress's Hair Therapy isn't the typical hair product.
It's mostly designed for thinning hair with no volume – not for hair growth or shedding.
However, its revolutionary formula comes with a price:
$79 per bottle

only 3.3 oz in quantity
Surprisingly or not, this product has a pretty high percent of negative reviews (compared to others).
So now that you know the main things about it, it's time to analyze it closer.
---
#1 – Ingredients

(8 out of 10)
---
As with every topical product – JuveTress's formula isn't very clear:
All ingredients are mentioned together.

No dosages.

There are around 50 different substances.

However, most are inactive ingredients.
Basically – out of its 50 ingredients, most are fragrances and consistency agents.
This means its formula isn't as good as it seems (at first sight).
Now – I divides JuveTress's ingredients in 2 groups. So let's take a closer look at each:
1. Active Ingredients
---
According to its official website – JuveTress in based on 3 substances.
These are the only responsible for its effect:
Redensyl – a blend that promotes hair thickness and density. [1]
Chinese Skullcap – prevents and fights hair loss (especially due to aging). [2]

MICROSIL Volume – a recent ingredient that adds volume and shine.

Basically – JuveTress's main ingredients are totally different from other topical products.
And in my opinion, that's a positive thing.
Because in terms of hair thinning – these 3 ingredients look very promising.
2. Inactive Ingredients
---
Here the list is pretty long (over 40 substances). 
However – none of these substances has an actual effect on hair. They're mostly:
consistency agents

additives

fragrances

cleansers
So JuveTress's effect has nothing to do with these ingredients (no matter how good they sound).
---
Conclusion
---
JuveTress's formula is pretty unusual (in the good way):
uncommon active ingredients

2 trademark substances
Even though it's not as great as it seems (just 3 ingredients are active out of 50) – I personally consider it more than decent.
It's surely not a formula that grows hair or stops shedding.
But when it comes to thinning hair – it surely helps (at least a bit).
So a product with this kind of formula must be effective – if you ask me.
---
#2 – Smell & Texture

(7 out of 10)
---
I have a mixed opinion about JuveTress at this chapter (both like and dislike it).
Here's what you should know about its consistency.
1. Smell
---
To my big surprise – this product's scent was more than pleasant:
pretty light but still easy to notice

smells like a mix of herbs

not very intense or bothering 
Also, I noticed the smell remains in your hair until the next wash. But don't worry – it's too light to be noticed from distance.
So if you're trying to avoid intense-smelling products, JuveTress should be fine for you.
2. Texture
---
That's the actual problem of this product:
really thick consistency

doesn't soak in instantly 

a bit hard to apply evenly

takes a long time until you rub it all over your scalp

leaves hair a bit greasy
So it's not the kind of product you can apply in 2 minutes.
Since you have to use it twice daily, it's even harder.
---
#3 – How To Use It

(8 out of 10)
---
Just like every quality product – JuveTress offers clear instructions:
You need to apply the product twice a day (for best results).

Use a quarter-size amount every time.

Massage with your fingers.

Make sure you spread the product all over your scalp.

There's no need to rinse.
Now – there are a few things I want to clarify:
A quarter-size amount is about 2.5 cm

That's what most of us use with a shampoo

Use this quantity every time you apply the product
Basically – the directions are really clear. 
The only thing I don't like is that you need to apply it more than once a day.
That can be pretty uncomfortable – since there's a risk that you forget about it (or you have a busy schedule).
Plus, JuveTress's consistency isn't the best one – so you're going to need a while until you spread it all over your scalp.
---
#4 – My Results

(8 out of 10)
---
I have actually used a bottle of JuveTress some time ago.
So I will be able to speak from experience – more or less.
1. My Background
---
First of all – my results won't be very relevant:
I was mostly dealing with hair loss

My hair was thinning only in the ends

The roots were in perfect health

I had no bald spots 
Besides – JuveTress claims to be effective for thinning and shedding caused by aging, which wasn't really my case.
That's why I don't consider my experience with it very relevant.
2. My Results
---

Overall – I could see a difference while using this product:
My hair felt a lot thicker after less than 1 month.

That's because it had a lot more volume.

I also noticed less hairs falling out than before.

However, my ends were still very thin and fragile.
Basically – what JuveTress did was to make my hair look fuller.
It actually wasn't, but it had way more volume than before.
But based on my experience with it – I see it as a great product for scalp thinning.
On the other hand – if you have thin ends (as I did), I'm not sure it will help so much.
It might, but you need to use it for several months (most likely).
---
Conclusion
---
In terms of results, JuveTress does work – but mostly for:
extra volume

minor hair loss

thinning scalp hair

aging hair
I actually think it's an excellent product for these issues – since I saw a change in less than 1 month.
However, I wouldn't recommend it for thin ends, hair loss or growing out your hair.
In this case – a supplement would do a much better job (I speak from experience). 
---
#5 – Other Opinions

(6 out of 10)
---
Since my results weren't very relevant, I decided to look into other people's opinions on JuveTress.
In this way – you can see an unbiased perspective.
Note: I only considered authentic reviews, not general ones.
1. What People Say
---
First of all – I couldn't find too many reviews on this product.
On Amazon, there was only 1 review (from a person who just began using it).
Most of the real reviews I found were on HighYa and Reviewopedia. 
So here's what people say:
Some claim it's really effective against thinning hair.

Others say it adds a lot of volume.

A few even claim their hair loss got better.

On the other hand, some say they saw no result in 3 months.

Others complain about the side effects.

Some people even call it a scam.

So overall – opinions are about 50% positive and 50% negative.
Honestly, that's not a great sign – since top hair products have over 70% positive reviews (Nutrafol is a great example).
2. Biggest Complaints
---
As I said – there are enough unsatisfied customers on JuveTress.
Most complaints are related to:
No effect or improvement

Side effects on the scalp (itching, dandruff, high blood pressure)

Huge price

No hair growth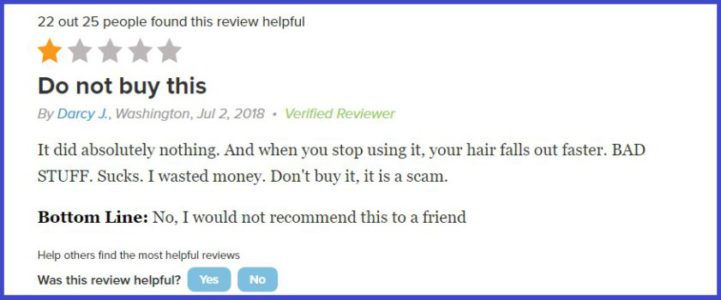 Now – except for the last complaint, I tend to agree.
JuveTress doesn't promise to regrow or grow hair faster – so it's not designed for that. No surprise it doesn't work.
On the other hand, it surely doesn't work for everyone. 
Actually – it doesn't work for a high per cent of people, according to all the reviews online.
As for the price, I can't argue that it's really expensive.
---
Conclusion
---
JuveTress has enough positive reviews – but it also has lots of negative ones.
So based on that, it's not a product I would recommend.
Besides being super pricey – it doesn't work for a high number of people. So I just don't think it's worth the shot, that's all.
---
#6 – Price

(5 out of 10)
---
Honestly, JuveTress is extremely expensive for a topical product.
But let me give you more details on why I believe this.
1. The Exact Price
---
At this point – you can only find JuveTress on its official website:
1 bottle costs $79

3 bottles cost $213

6 bottles cost $402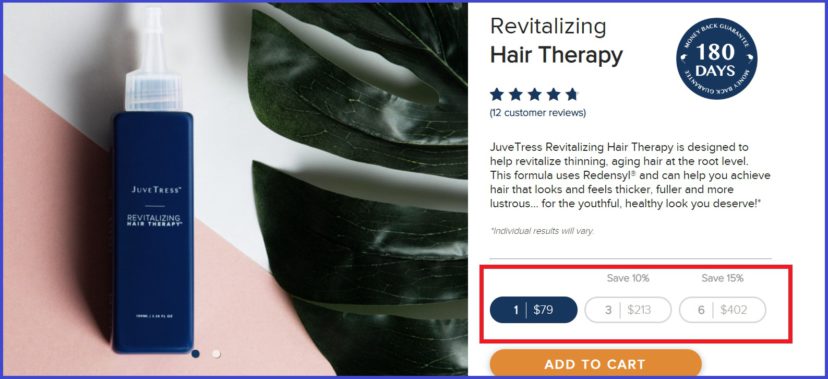 Basically – you can order either 1, 3 or 6 months supply at once.
Obviously, the price is better if you buy more bottles at once.
However – $79 per bottle is an absolutely huge price. I personally couldn't afford paying so much constantly.
And all this for a product that work in about 50% of customers.
For me, it's pretty clear that JuveTress is not a wise choice.
2. Competitors' Price
---
I only want to compare JuveTress with my top recommended hair product.
I'm talking about a supplement called Folexin.

J costs $79 per bottle in the least case.

F normally costs $25 per bottle at most.

J is a topical product meant for thinning hair.

F is a supplement that helps hair loss, growth and thinning.

J is based on 3 active ingredients.

In F, there are about 30 active ingredients.
So when it comes to thinning scalp hair and extra volume, JuveTress is helpful for some people.
But not for everyone – and it costs a small fortune.
On the other hand, Folexin works for both hair loss and thinning – and it has a decent price, in my opinion.
Plus, it treats the real cause of the problem (since it works on the inside).
That's why I see it as a better alternative – at least for myself.
---
#7 – Where To Find It

(5 out of 10)
---
Unfortunately – you can mostly buy JuveTress just from its official website:
It used to be available on Amazon some times ago.

However, it's discontinued at this point.

You can also find it on Ebay, but not too easily.

There are just a few sellers offering it.

Plus, it usually has an even higher price there.
So basically – the only real option remains its official website.
The good thing is that the website is totally safe – just like the brand:
not that kind of company to sign you up for auto-shipping randomly

also, they won't charge your credit card without asking

nor the will send you another month supply without your consent
In other words – it's not that kind of questionable company, it's an honest one.
So if you're worried about giving out your credit card data – don't worry. They won't use it to charge you extra money, I can tell for sure.
---
#8 – FAQs
---
Coming up – I will try to answer the top questions about JuveTress.
Note: I might repeat something I already mentioned, but it's easier to spot here.
1. How often you should use it?
---
According to the label – you need to apply it twice a day and spread it all over your scalp.
2. How long lasts one bottle?
---
Normally, it should last around one month.
But it depends on the quantity you're using – and whether you apply it twice a day or not.
3. Can I take it with other drugs?
---
It's best to ask for your doctor's advice – especially since JuveTress contains some pretty uncommon ingredients.
But since it's a topical product, there shouldn't be any interaction with other drugs you're taking.
4. Are there any side effects?
---
Apparently there are enough.
According to several reviews – some people developed:
itchy scalp and rashes

dandruff

scalp infections
5. How often should I see a change?
---
The label recommend using it for 180 days – but results can appear much faster.
I saw some changes in less than one month (in terms of volume).
So it's a pretty fast product, if you ask me.
So a product with this kind of formula must be effective – if you ask me.
---
#9 – Final Conclusions
---
Here's how I would sum up my opinion on JuveTress (in 3 ideas).
1. Different Formula
---
This product doesn't contain the same ingredients as most:
based on 3 substances

2 of them are trademark ingredients

none of the is often used in hair products
I personally see this as an advantage that makes it unique.
2. Not Effective For Everyone
---
According to review – JuveTress works for about 50% of users:
many negative reviews

a lot of unsatisfied customers
It's true that it's also effective for many.
But compared to other products – it has way more negative reviews (as a percent).
3. Really Expensive
---
To be honest, this product is extremely overpriced:
one bottle costs $79

you can only buy it from its official website

there's not cheaper option
It's true that it has a pretty unique formula. But in my opinion, that doesn't compensate for the absolutely huge price.
---
#10 – My Video Review
---
---
My Verdict – Is JuveTress A Scam?
---
Short answer: Definitely not – it's a legit product.
However, it's not a product I would recommend – I personally think it's not worth it:
Extremely expensive ($79 for 3.3 oz).

Lots of complaints and negative reviews.

Mostly effective for thin hair.

Doesn't regrow or increase hair growth speed.
Overall – it's not a bad product, since it contains a pretty unique formula.
But I just don't think it's worth so much money (at least I couldn't afford buying it).
So what do I use instead? A hair supplement that works not just for hair thinning – but also for:
massive shedding

faster hair growth

increasing thickness
Considering it's a lot cheaper – that's the alternative I prefer to use.
So if you think JuveTress is a good choice for you, you should give it a shot.
But if not, I think a supplement would be a much better (and cheaper) choice.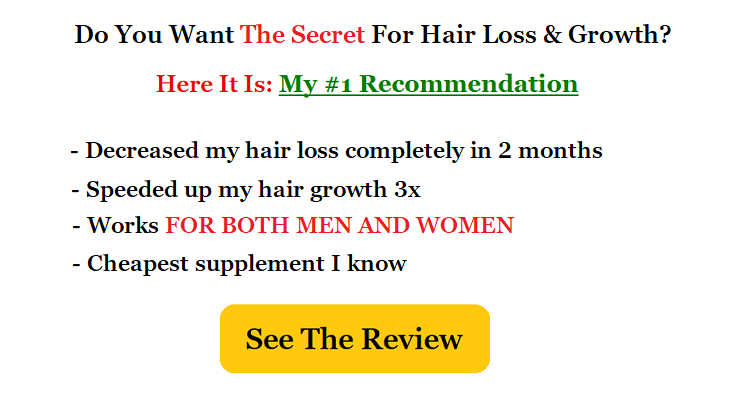 1 – http://www.nardev.com/-UploadSection/-ProdCat-276-1446515551.pdf