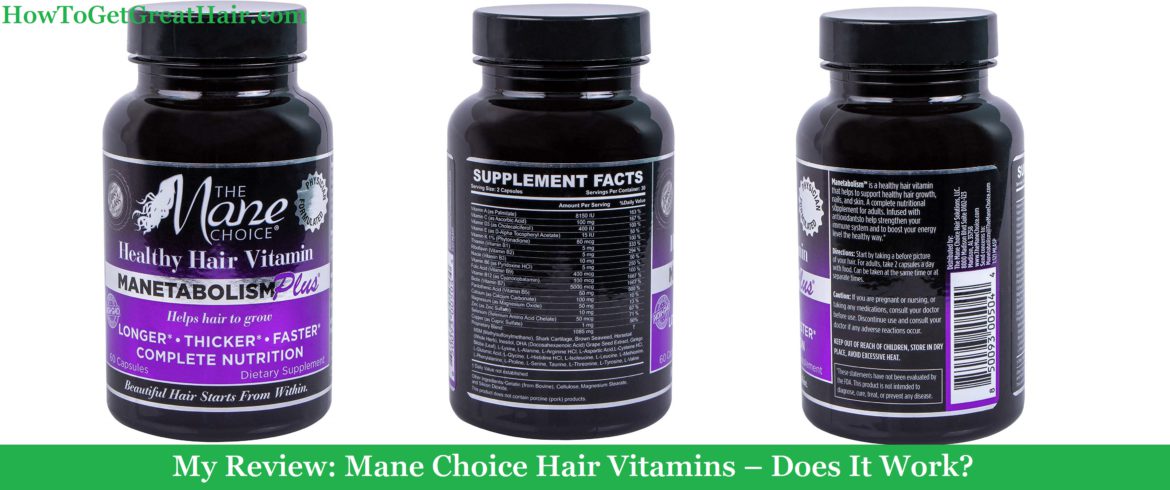 It's time to review Mane Choice Hair Vitamins – because this product is pretty popular.
I've tried some other products from The Mane Choice and I was satisfied. But are these pills just as good?
Let's dig deep into these vitamins.
Note: This review is based on my experience + research about The Mane Choice's vitamins.
So Let's Get To The Review
---
Full Name: Manetabolism Plus Vitamins from The Mane Choice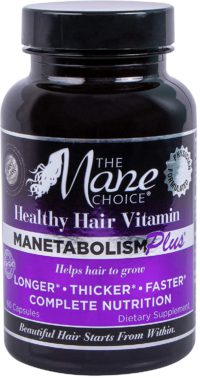 Versions: Only 1 (30 days supply)
Best Actual Price: Around $26
Cheapest Place To Buy: Either Amazon or the official website.
Designed For: Hair growth – according to the label:
promotes longer and thicker hair

provides a complete nutrition
My Rating: 7 out of 10
Worth Buying?: It could be – but it's not a product I personally recommend.
That's because it has some small problems:
many complaints about acne and breakouts

not the best formula I know
It's definitely a good product – but I think there's a better product for the same money.
What I Liked About It
---
Contains lot of vitamins and amino acids

Only 2 pills per day

Works pretty well for hair growth

Softens hair (in my case)

Pretty good price – compared to similar products

Available in many retailers
What I Didn't Like About It
---
Very few herbal extracts among the ingredients

Many negative reviews

Lots of complaints about acne 

Pills taste really bad (dead fish)
---
What Are The Mane Choice Vitamins?
---
Shortly – they're a supplement designed to grow hair faster and healthier.
You can find it in 3 "Manetabolism" versions:
Plus Vitamins (for women)

Men Vitamins

Kids Gummy Vitamins
But as the first one is their bestseller – that's the one I will focus on in this review.
So what makes The Mane Choice more special? According to them:
promotes healthier hair

improves dietary nutrition

boosts energy levels naturally
These are just a few of this product's claims – there are several others.
But obviously, it's not as perfect as it seems (because of its potential side effects).
Now that you know the basic things about it – it's time to analyze The Mane Choice closer.
---
#1 – Ingredients

(9 out of 10)
---
In my opinion, The Mane Choice has a pretty good formula:
over 15 vitamins/minerals

lots of amino acids
What I personally don't like is that there are very few herbs. They have a much stronger effect (in terms of hair growth).
But this supplement's formula remains pretty good.
As you can see – there are 2 types of ingredients:
Vitamins + Minerals

Proprietary Blend
So let's take a closer look at each:
1. Vitamins + Minerals
---
The Mane Choice contains exactly 18 substances – which is a very impressive number:
Now – I won't take each of them by turn. But some of the most important ones are:
Thiamine – a deficiency might cause alopecia.

Niacin – increases hair density. [1]

Folic Acid – improves and speeds up hair growth.

Biotin – it's the best vitamin for hair growth. [2]

Zinc – it's really effective at decreasing hair loss. [3]
Overall, this supplement contains about all essential vitamins + minerals for hair.
2. Proprietary Blend
---
That's a special mix of The Mane Choice (I haven't seen it in this exact formula in other products):

As you can tell – it's mostly based on amino acids.
Out of the other ingredients, it's worth mentioning:
Shark Cartilage – some sources say it helps shedding (it's the #1 ingredient from Viviscal).

Horsetail – it's very effective for thinning hair.

MSM – might help hair growth. [4]
Honestly, this blend doesn't look very impressive (or powerful).
---
Conclusion
---
The Mane Choice's formula is surely not bad:
contains the most important nutrients

pretty high dosages overall
But as I said – the vitamins + minerals make the most of these ingredients.
So it's surely not one of the best hair formulas I know.
---
#2 – How To Take It

(8 out of 10)
---
Here's what I would point out about The Mane Choice's pills and schedule.
1. The Pills
---
At first sight – they look quite normal:
regular gelatin pills

transparent color with a white powder inside

average dimensions
Now – the real problem is their taste. 
Normally, gelatin pills don't have any taste – but these ones smell like dead fish. So their taste is absolutely disgusting.
I recommend taking them with lots of water (so that you feel the bad taste as little as possible).
2. The Schedule
---
Just like most hair supplement – The Mane Choice's product requires 2 pills per day:
you can take them together or separately

it's recommended to take them with food
So the schedule is pretty reasonable, if you ask me.
The effect should be the same whether you take both pills together or not.
---
#3 – My Results

(8 out of 10)
---
The Mane Choice did improve my hair – but it wasn't the best supplement ever.
But overall, I was 70% satisfied.
1. My Background
---
I used this supplement because I was trying to grow out my hair.
Truth is – I had suffered from hair loss some time before. So my hair wasn't amazing:
fragile and easy to break

thick roots and thin ends

would grow really slow (due it its bad condition)
So I was curious if The Mane Choice would make it grow considerably faster.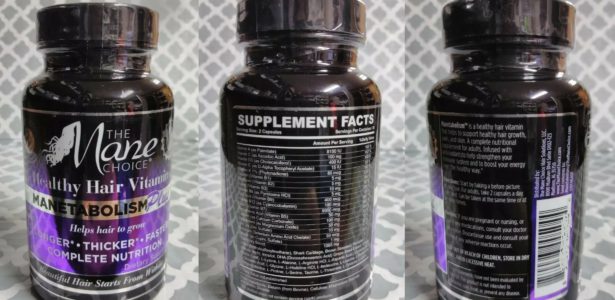 2. How It Worked
---
I used The Mane Choice for 1 month (1 bottle).
That might sound like a short period – but it was enough for me:
My hair felt much softer and silkier.

It also grew about 1 inch in that month. 

Hair loss got better (about 30%).

My hair ends were still very thin.

Also, it didn't feel any thicker or fuller.
So basically – my hair grew more than usual with these vitamins. 
If I had used them for 2-3 months, the effects would have been much better (that's for sure). 
However – I stopped using the pills for 1 reason, they made my stomach hurt:
I was always taking them after eating

also, I never took both pills together

however, my stomach was hurting 30 minutes after 
Was the formula too strong? Definitely not.
Maybe it was just how my body reacted to these pills. But anyway – I wouldn't recommend them as a #1 choice.
---
Conclusion
---
The Mane Choice surely works – in terms of hair growth.
However, its effect wasn't the best (out of all supplements I tried).
So for this price – I prefer using a stronger formula that has some slightly better results in 1 month.
That's my #1 personal choice.
---
#4 – Other Opinions

(7 out of 10)
---
I tried to include other customers' reviews – so that you see other points of view as well.
Fortunately, there are many real opinions on this product.
However – not all are positive.
Note: I only included authentic reviews, not the ones based on general info.
1. What People Say
---
Here are the most common thoughts on The Mane Choice:
Some people say it really increases hair growth.

Others claim it boosts hair health and shine.

Many complain that it causes acne and breakouts.

Others say it doesn't work at all.

A few complain about the bad taste.

So as I said – it's not all good about this product.
But considering it has enough positive reviews, it's surely not a scam.
2. Biggest Complaints
---
There are quite a few unsatisfied customers – and they have about the same reasons:
Most claim these pills cause severe acne.

Some said they never had acne before, but this product caused them a major breakout.

Others say it doesn't work very fast.

A few others claim they couldn't see any changes (even after 3 months).

Now – it's clear that a product will not work for everyone.
But regarding acne, I saw many customers complaining of that.
In my case, there was no acne or pimples. I had this problem with another supplement (SugarBear gummies).
But since there were so many complaints, I'm sure it's a real thing.
---
Conclusion
---
Even though there are many satisfied customers, The Mane Choice has some serious complaints:
acne and breakouts

weak effect

works very slow
The last 2 may be less common, but acne is present in many reviews.
So if you ever had pimples – you should think twice before trying out this product.
---
#5 – Price

(9 out of 10)
---
To be honest, this product has an affordable price overall.
It's not really cheap – considering its formula. But some similar supplements costs $10 more – so I think it's decent enough.
1. The Exact Price
---
Here's what I found out about The Mane Choice supplement:
prices are slightly different (depending on the seller)

the lowest price is on its official website

it costs about $26

shipping is an additional $6
So basically – that would be almost $32 per bottle. 
Keep in mind that this is the regular price – so you don't have to go for auto-shipping to get it.
2. Competitors' Prices
---
I want to compare The Mane Choice with my #1 recommended hair supplement (Folexin):
Both have a high number of ingredients.

Folexin has a stronger formula overall (more herbal extracts).

Both require 2 pills per day

Prices are quite similar.

Folexin is $25 per month, Mane Choice costs $26.
So in terms of prices, these supplements are about the same.
However – Folexin has some big discounts if you buy more bottles at once.
In this way, you can get it for $18 – while Mane Choice doesn't have a lower price.
So that's why I personally prefer Folexin – price is lower overall and formula is stronger.
---
#6 – Where To Find It

(10 out of 10)
---
Fortunately – The Mane Choice's supplement is available in many retailers:
Amazon

Ebay

Lucky Vitamins
However – the best price is on the official website ($26 + $6 shipping).
Now – let's check out the prices from Amazon:
it normally costs about $32

you can often find discounts and sales

at this point – you can get it for about $22

that's $10 cheaper
So if you wanted to buy this supplement right now – Amazon would make the best option.
Ebay also has really good prices, but it's not as safe as Amazon.
---
#7 – FAQs
---
Coming up, I will try to answer the most common questions about The Mane Choice's vitamins.
Note: I might repeat something I already mentioned, but it's easier to spot here.
1. How many pills per day?
---
Just 2 – you can either space them out or take them together.
2. How long lasts 1 bottle?
---
There are 60 pills per bottle.
Considering you're taking 2 daily – this means one bottle is 1 month supply.
3. Can I take it with other drugs?
---
My advice is to ask your doctor first – because this formula has lots of vitamins and amino acids.
Though they might sound harmless, they can interact with certain substances.
So if you're following a long term treatment, the safest way is to ask your specialist first.
4. Are there any side effects?
---
According to the label – not really.
But according to many reviews I read – acne and pimples are quite common. 
Also, I personally experienced stomach pain – which can count as a side effects.
So The Mane Choice isn't 100% safe. But breakouts are by far the most usual secondary effect.
5. How fast should I notice an effect?
---
It usually takes about 3-4 weeks, but it can sometimes take longer.
I could see some changes in 1 month – but there were some people who claim they didn't.
So this supplement isn't the fastest (at least not for everyone).
---
#8 – Final Conclusions
---
Here's how I would sum up my opinion on The Mane Choice (in 3 ideas).
1. Decent Formula
---
This supplement doesn't have the best ingredients on the market.
However – it claims to be "hair vitamins". 
So compared to other vitamins, it doesn't have a bad formula at all:
18 vitamins + minerals in total

contains the most essential vitamins for hair

also has several amino acids
However – it has very few herbal extracts, which are the best for hair growth.
2. Does Work
---
This supplement is surely not a scam:
about 60% of reviews said it worked

I could see some improvement myself
So even though this formula isn't very strong – it does improve hair growth.
3. Potentially Dangerous
---
Many previous customers complained about side effects:
acne and breakout

pimples

stomach pain
However – acne was a major problem for lots of people.
That's why I consider The Mane Choice a bit dangerous from this point of view.
---
My Verdict – Is The Mane Choice A Scam?
---
Short answer: Definitely not – it's a 100% legit product.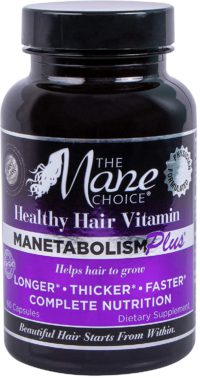 In fact, it has a lot of good sides. But it's not among the supplements I would recommend:
Only 1 herbal extract (which are the strongest for hair growth).

Caused me some stomach pain.

Many reviews complaining of acne.
Sure enough – The Mane Choice is not a bad supplement at all.
I have nothing against it – but I simply prefer other supplements, in terms of effect.
My top recommendation is a product called Folexin:
best formula/ingredients I know 

works really fast (1-2 months)

grows hair considerably

cheapest product of this kind (even $18 per bottle)
So that's my personal choice for hair loss/growth.
But if you decide to try The Mane Choice instead, feel free to do it. It's your choice after all.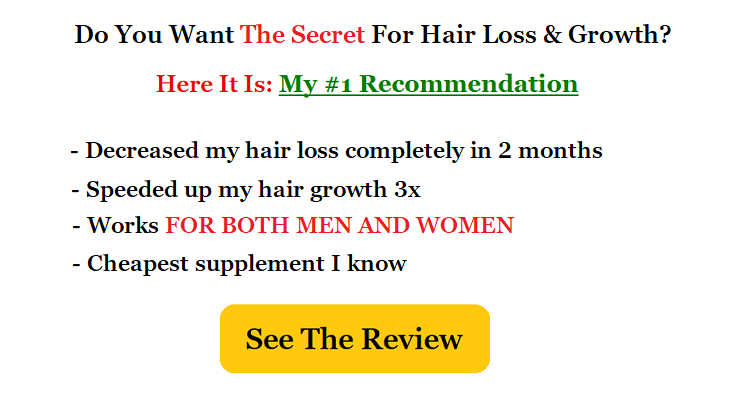 References:
1 – https://www.ncbi.nlm.nih.gov/-pubmed/17168873
2 – https://ods.od.nih.gov/-factsheets/Biotin-HealthProfessional/
3 – https://www.forhims.com/-blog/zinc-for-hair-loss