It's time to review Hims Hair Growth – a hair kit designed for male hair loss.
To be honest, the products look really impressive at first sight. But here's the problem:
many negative reviews

staff is apparently very unprofessional

lots of customers calling it a rip-off
So are these products really a scam? Despite looking really promising, I found lots of complaints online.
Well – I analyzed every aspect about Hims Hair Growth. So here's the truth behind.
Note: This review is based on my opinion + research about this product.
So Let's Get To The Review
---
Full Name: For Him's Products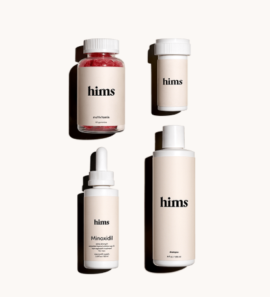 Options: They have 4 different products, combined in 3 main hair kits:
Complete Kit (Finasteride + Shampoo + Minoxidil + Gummies)

Non-Prescription Kit (Everything except Finasteride)

Edible Kit (Finasteride + Gummies)
Also – you can buy each of the 4 products separately.
Best Actual Prices: From $28 to $44 for the kits.
Cheapest Place To Buy: The official website (by far the best prices).
Designed For: All 4 products are meant for male hair loss.
My Rating: 5 out of 10 – Good products but terrible company.
Worth Buying?: Not really – it has high chances to be a scam:
many people complain they never received the order

most of them lost their money

you can find some of the products in pharmacies cheaper
Now – all 4 products are effective. It's simply the company and their offers that have real problems.
Considering it has so many (authentic) complaints behind – I would surely not recommend it.
Instead – you can get the same products from a safer company.
What I Liked About It
---
Most products are indeed effective

Very professional website (at first sight)

You can choose from 3 different kits or buy the products separately
What I Didn't Like About It
---
Many complaints from real customers

The company never answers phones/emails

You can find the same products in pharmacies (for less money)

You need an online consultation for Finasteride (it also costs extra $5)

Doesn't ship internationally
---
What Is Hims' Hair Growth?
---
Shortly – it's a brand that promises to treat male pattern hair loss (not from other causes) and restore the hair.
These promises are based on 4 products they have:
Finasteride – a supplement designed to stop male hair loss.

Minoxidil – a solution that will regrow hair from scratch.

Shampoo – meant for a maintenance treatment.

Biotin Gummies – also designed to regrow hair.

So Hims' combines these 4 products in 3 different kits OR you can buy any product separately.
So far so good. Now here comes the thing:
you can't get Finasteride without a prescription

you can have a consultation on Hims' website (for an extra $5)
Seems too good to be true? It certainly is. From what I read:
some people are rejected after having consulting Hims' doctors

this means they don't receive the prescription for Finasteride

however, they don't receive the $5 back
Unfortunately – many seem to be in this situation.
Plus – many people complain about never receiving their order (despite having paid for it).
That's what makes me think that Hims' Hair Growth could be actually a scam.
Well – I will show you the truth behind this brand. But let's start by analyzing every aspect of its products.
---
#1 – Ingredients

(8 out of 10)
---
As I said, Hims has 4 different products – each based on 1 major ingredient.
Now – these ingredients are decent overall. But I couldn't find anything special about them:
2 classic substances for hair loss

no herbal extracts

no unique ingredient
Basically – you can get products with the same ingredients from your local pharmacy. 
That's why I'm not a fan of Hims' products. 
However, let's take a closer look at each 4 ingredients you can find in these products.
1. Finasteride
---
This is a substance designed for male hair loss:
blocks the hormone causing hair loss (DHT)

[1]

it's FDA approved
So Finasteride is a real solution for hair loss. But here's the negative side:
doesn't help all men (hair loss isn't always caused by DHT)

you need a prescription to buy it
Even if you buy it from Hims' website – you still need to see a doctor (but online). So you're not just going away with it.
2. Minoxidil
---
This is another key ingredient for hair loss:
it's a topical solution that needs to be applied on the scalp

it stops hair loss

[2]

also regrows new hairs from scratch (on the long term)

However – Minoxidil has a big downside. You have to use it for the rest of your life, otherwise the new hairs will fall out.
3. Shampoo
---
Hims' shampoo claims to do 2 things:
Reduce scalp DHT

[3]

Adds volume to existent hair

So basically – it doesn't really do anything for regrowing hair. It's just a maintaining treatment.
Now – it does contain some useful ingredients (herbal extracts, vitamins), but they're not very useful on the outside.
That's why I don't consider this shampoo too amazing.
4. Biotin Gummy Vitamins
---
Hims' gummies don't contain just biotin – but several vitamins and minerals, including:
iron, calcium and potassium

vitamin B complex

vitamin A, C, D and E

folic acid

Surprisingly, the doses of most ingredients are pretty high.
However – the bad part is that there's a lot of sugar on these gummies. So they're way too sweet, in my opinion.
---
Conclusion
---
None of Hims' 4 products contains something amazing:
Minoxidil and Finasteride can be bought from every pharmacy.

Shampoo is pretty weak (in my opinion).

Only the gummies have decent ingredients.
So even though I expected a lot from these products – they look pretty basic, if you ask me.
---
#2 – How To Take Them

(8 out of 10)
---
None of the 4 products has any major issue at this chapter. So let's take a quick look at each.
1. The Pills
---
Normally – Finasteride is the only one that comes as pills. 
However, I will also include the biotin gummies here – as you also have to take them by mouth.
Finasteride requires only 1 pill per day.

The pills are pretty small (compared to other hair supplements).

Also, swallowing them is quite easy (even without water).

Regarding biotin gummies – you need to take 2 per day.

They're chewable and very sweet.
However – in my opinion, the gummies are pretty hard to take, because they are way too sweet for most people's taste.
If you happen to be diabetic, you should never take them.
2. The Lotions
---
Here I'm talking about both Minoxidil and the shampoo – as both are used topically:
Minoxidil has to be applied 1-2 times per day.

It has a very liquid consistency (but it doesn't add extra grease).

The shampoo foams well enough and has a nice smell.

You have to let it sit for at least one minute, then rinse.
Basically – you can use Minoxidil as any hair oil. As for the shampoo, it's even easier.
So there's nothing to complain about these 2 at this chapter.
---
#3 – Results

(5 out of 10)
---
First of all, I haven't tried any of these products myself. Since they're designed for men – it was useless to try them.
But the point is – I won't be speaking from experience.
However, I found many customer reviews on Hims' products – so I will count on them.
Note: I only considered authentic reviews, not general ones.
1. The Positive Side
---
Firstly – most reviews I read complained that they never got the actual products.
But out of the people who did receive them, most were satisfied:
Some say they really stopped the hair loss.

Others claim Hims' really increases hair growth (even on a bald scalp).

Some men say they had very thin hair, and these products filled it in.

So basically – I found quite a few reviews complaining that the products don't work.
There were other complaints instead.
2. The Negative Side
---
Honestly – I founds lots of complaints about the same things.
So that makes me think Him's products have a real problem – or rather the company.
Now – here's what over 75% reviewers complain about:
Products aren't shipped at all.

However, customers are charged immediately after placing the order.

You can't really cancel your membership (or auto-shipping).

Staff is really unhelpful and never answers the phone/emails.

You don't get any receipt for your order.

They charge your credit card every month – but they don't send the products.

You have to pay $5 for an online consultation to their doctors.

However, the doctors reject many of the patients (without refunding the $5).

That's just a quick sum up, because I found lots of other similar complaints.
But overall – Hims' products seem to be a big rip-off, judging after all these serious complaints.
---
Conclusion
---
There are 2 clear things about Hims:
Their products are effective (if you receive them).

Their offer is pretty much a scam.
There's simply no way you can ignore all those hundreds of complaints all over the Internet.
Now – Hims' website has mostly positive reviews, so it's clear that they're biased.
Therefore – I would not recommend these products to anyone. There are high chances that you order, pay for them and never receive them.
---
#4 – Price

(7 out of 10)
---
At first sight – I would say that Hims' products are quite affordable.
But if you dig deeper into them – you will see they're really overpriced. But let me explain.
1. Hims' Exact Prices
---
According to the official website, here's the price for each product separately:
Finasteride costs $28.50.

Minoxidil is $15.

Shampoo costs $14.

Biotin Gummies are $16.
Now – each of these prices are for the 30 days supply.
As I said in the beginning, Hims' has 3 main kits with combinations of these products:
Complete kit costs $44 and contains all 4 products.

Non Prescription kit costs $30 and contains all except Finasteride.

Edible kit costs $28 and contains Finatseride + Gummies.
Normally – I would say these prices are pretty good. There's nothing expensive after all.
But that's not really true – and here's why.
2. Pharmacy Prices
---
You can find 2 of these products in any pharmacy:
Finasteride is usually covered by insurance

So you can find it for less than $5

Minoxidil's prices are similar in pharmacies

But you can find it in online retailers (like Amazon)

You can get a 3 months supply for around $20
So basically – the real prices of both are way lower in reality. 
But if you don't check that out, you might believe that Hims' offers are really good.
Regarding Biotin Gummies – you can also find them cheaper, but under a different name (just look at its ingredients).
---
Conclusion
---
All Hims' products are way more overpriced than they seem:
the pharmacy prices are much lower

you can also get better prices on Amazon (or other retailers)
So basically – if you really want these products, buying them separately from Amazon would be cheaper.
---
#5 – Where To Find Them

(6 out of 10)
---
First of all – you can only find Hims' products on the official website.
However – you can find most of them in other places (BUT under a different name):
Finasteride is available in most pharmacies (only with prescription).

Minoxidil can be bought from pharmacies or online retailers.

You can find similar gummies on Amazon.

The Shampoo is the only one you can't find in other retailers.
Now – regarding the shampoo, you can't find the exact one somewhere else.
But there are similar shampoos – you only need to check the ingredients and look for something similar.
So you can find lots of similar products (for lower prices actually).
---
#6 – FAQs
---
Here I will answer the most common questions about Hims' products.
Note: I might have mentioned some of the things before, but they're easier to spot here.
1. How many pills/applications per day?
---
That depends a lot on what kit you get. But let's take each of the 4 products:
Finasteride – 1 pill/day

Minoxidil 1-2 applications/day

Gummies – 2 pieces/day

Shampoo – when needed
2. How long lasts 1 bottle?
---
All 4 products are meant to last for 1 month. So a bottle is a 30 days supply.
3. Can I take it with other drugs?
---
When it comes to the shampoo, gummies and Minoxidil – it's fine. You can take them with other medications without any worries.
Now, regarding Finasteride – it's recommended to consult your doctor:
you can't get it without a prescription anyway

it can interact with other drugs

that's why it's important to let your doctor know what drugs you're taking besides
4. Are there any side effects?
---
There are – but mostly in Finasteride [4]. Even the official website mentions it:
diziness

weakness

decreased libido
Now – some of these problems might go away on their own after a few months (if you continue taking Finasteride).
But in case some serious problem comes up – consult your doctor fast.
5. How fast should I notice an effect?
---
There's no clear answer to this question. It depends from person to person.
However – it might take up to several months (depending on the kit you're using):
If you use all 4 products, results should be visible faster.

If you're only using one, it will probably take longer.
---
#7 – Final Conclusions
---
Here's how I would sum up Hims Hair Growth in 3 ideas:
1. Real Effect
---
The products themselves really work.
Now – I'm talking mostly about Minoxidil and Finasteride:
decrease hair loss and regrow new hairs

some are FDA approved

several studies behind
The only problem is that you won't always receive your order.
2. Many Unsatisfied Customers
---
That's the biggest problem about Hims' products – the company itself seems to be a scam:
Many people never received their orders.

However, they were charged the money from the start.

Others were charged even in the next months (without receiving any product).

Cancelling your auto-shipping is really hard.
More than 50% of the reviews I read complained about these things.
So to me – it's pretty clear the the company itself is scamming people. 
3. Overpriced
---
Despite being effective, Hims' products are quite overpriced actually:
Some can be found in pharmacies much cheaper.

Others are available on Amazon for less money.
Basically – Hims' products aren't original, not unique.
Minoxidil and Finasteride exist in every pharmacy – and so do biotin gummies.
So even though they're pretty cheap on Hims' website, they're even cheaper in reality.
---
My Verdict – Is Hims' Hair Growth A Scam?
---
Short answer: Pretty much yes – in my opinion:
Many negative reviews and complaints.

Their products aren't unique.

You can actually buy them cheaper in reality.
Now – the products themselves are really effective, nothing to say about it.
It's the company that seems to be a scam (judging after the dozens of complaints I found).
So if you're looking for a quality hair loss/growth product, I surely don't recommend Hims':
high chances to get scammed

you will probably not receive your order (despite being charged the money)
I simply think it's too risky to try it. Plus – if you really want these products, you can get them from a pharmacy or from Amazon.
However – I personally recommend another product:
has the best ingredients on the market (about 30)

works for both men and women

decreases hair loss for real

also thickens and adds volume
So that's the product I personally use. At $24 per bottle (or even $18), I think it's a much better deal overall.
Plus – it's not a scam, you will receive your order. I can guarantee for that.
1 – https://www.drugbank.ca/-drugs/DB01216
2 – https://www.webmd.com/-drugs/2/drug-3503/minoxidil-topical/details
3 – https://www.medical-newstoday.com/-articles/68082.php