It's time to review TRX2 Stimulating Shampoo – which is a must-try product, if you ask me.
And to be honest – it's an excellent choice for hair loss/growth:
excellent formula and ingredients

trustworthy producer

one of the few products scientifically tested
So what makes TRX2 so good? What's the secret behind it?
Let me explain why I recommend it.
Note: This review is based on my own research + opinion on TRX2's product.
So Let's Get To The Review
---
Full Name: TRX2 Stimulating Shampoo from Oxford BioLabs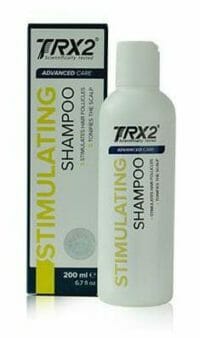 Sizes: Only one (6.7 or or 200 ml)
If you need a larger quantity, you can buy several bottles at once.
Best Actual Price: $26.95/bottle
Cheapest Place To Buy: Oxford BioLabs' official website
It's not available on Amazon or other 3rd-party retailers.
Designed For: Stimulating hair growth:
works directly onto the follicles

increases growth speed and rate

boosts scalp health and tonifies 
Since it stimulates growth – it's also effective against hair loss and shedding.
My Rating: 8 out of 10 
Worth Buying?: Yes – it's a great choice for hair growth/loss I know:
professional formula and clinical evidence behind

great value for the money

quite affordable
It's a really good shampoo, but I personally prefer a cheaper alternative that works even better.
What I Liked About It
---
Really good ingredients and compounds

Many compounds are clinically tested

Pleasant citrus smell and nice consistency

Lathers really well

No minimum number of uses/week

One bottle can last more than a month

Really good price for the quality (especially when compared to competitors)

Eligible for worldwide shipping
What I Didn't Like About It
---
Very few reviews outside the official website (though those are verified with Trustpilot)

You can't find them in many retailers

Price is constant even if you buy several bottles at once (no discount)
---
#1 – Ingredients

(9.50 out of 10)
---
In terms of formula – this shampoo looks more than amazing.
If you ask me, it has some excellent ingredients:
formula based on natural (herbal) extracts

unique ingredients 

compounds are clinically tested

Basically – its ingredients are known to have hair benefits (confirmed by studies).
That's a feature you can find in very few shampoos.
So TRX2 has a major advantage here.
Now – in terms of active ingredients, there are over 15.
However, I will only analyze the top ones (those are mostly responsible for the shampoo's effect).
1. Soya Bean Germ Extract
---
This extract is one of the secrets behind TRX2's amazing effect.
That's because the ingredient itself has a unique feature:
speeds up cell dividing in hair follicles

boost growth energy

dramatically increases hair growth rate [1]
Just like the other compounds from TRX2, it has a 100% natural source.
So overall – it's probably one of the most important compounds from TRX2.
2. Piroctone Olamine
---
That's probably the first time you hear about this compound.
Well – it's another unique ingredient when it comes to TRX2's product.
In terms of effect:
soothes and calms down irritated scalp

prevents and fights dandruff

moisturizes and promotes hair thickness [2]

3. Plant Keratin
---
This is a unique substance which can't be found in too many hair products:
made from hydrolyzed corn, wheat and soy proteins

has a 100% natural source
In terms of benefits – it's mostly focused on hair health and moisture:
protects hair strands and roots

moisturizes and nourishes follicles

contains proteins that are essential for hair health
Since these benefits are essential for hair growth, I wouldn't underestimate Plant Keratin.
---
Conclusion
---
In terms of ingredients – TRX2's product is above many hair growth shampoos:
original and quality formula

ingredients have clinical evidence behind

over 15 active compounds
It's true that this shampoo has a pretty uncommon formula.
But I'm saying this in the most positive way.
After all – if it contained the same stuff as most, it wouldn't be superior (as it is in reality).
---
#2 – Smell & Texture

(10 out of 10)
---
In terms of consistency – there's nothing to complain about this shampoo.
Just like most products from Oxford BioLabs, it has a pleasant smell and a nice texture.
1. Smell
---
First of all – this shampoo has a very light scent.
So if you're that kind of person that can't stand strong fragrances – TRX2 is great pick for you.
Other than that:
smells pretty much like light citrus

there's also a minty fragrance (but it's even lighter than the citrus)

leaves the hair very fresh

fragrance doesn't stay in the hair for more than 1-2 days
Basically – it doesn't have an intense scent at all (which is an advantage – for me at least).
But overall, I really love its fragrance.
2. Texture
---
You can't complain about this product's consistency either:
whitish to transparent color 

lathers normally

you don't need a higher quantity (compared to regular shampoos)
Also – since one of its ingredients prevents dandruff, there's no chance that this shampoo ever irritates your scalp.
That's another major advantage you should keep in mind.
---
#3 – How To Use It

(10 out of 10)
---
Fortunately – Oxford BioLabs offers clear instructions for all of its products.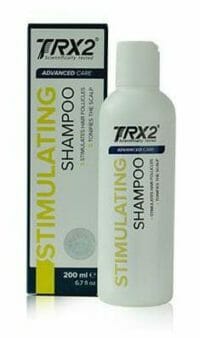 And TRX2 Stimulating Shampoo makes no exception:
You have to apply it on wet hair and massage (just as with any other shampoo).

Then rinse and repeat, if it's necessary.

However, applying it once should be enough for most people.

It's recommended that you use it in every wash.
Now – the label mentions that this shampoo is suitable for daily use.
However, its official website recommends using it in every wash.
In other words – it doesn't have to be used daily for best results.
if you wash your hair every day, you should use it as such

but if you wash it twice a week, that's also enough

just make sure to use it in every wash
Considering that most shampoos recommend using them 5-7 times/week, TRX2 looks even better.
---
#4 – Results

(8 out of 10)
---
If you were curious about how this shampoo actually works in reality, here's the thing.
I will try to give you more details on my own experience with it – but also on the opinions I found about it.
1. My Experience
---
To be honest – my results with TRX2's shampoo aren't the most relevant:
I started using this shampoo in early 2019

in the past, I have had some serious hair loss

also, my hair was growing out very slowly (due to falling out so badly)

since then, my hair stopped falling out and grew out a lot
Basically – by the time I started using TRX2, my hair was already quite healthy.
That's why my results with it weren't the most relevant.
But even so, the shampoo seemed to help.
My hair was stronger, smoother and it didn't fall out as badly as before.
But on the other hand – I can't guarantee it was its effect alone.
2. Other Opinions 
---
Considering my experience with TRX2, I decided to check out other people's opinions on it.
Note: I only analyzed authentic reviews, not promotional ones.
First of all, this shampoo doesn't have a lot of reviews.

Other products from the same brand have a lot more.

Now, most reviews I found were on its official website.

I normally avoid those reviews (as they tend to be biased).

However, these ones were verified by Trustpilot.

This means they were 100% real.
Now – out of the few reviews I found on Stimulating Shampoo, most were positive:
some praised it effect against hair loss

others said it's the only shampoo they will ever use

a few others also mentioned its strong effect for hair growth

some also said it leaves hair in a great shape

The only drawback about this shampoo is the small number of reviews.
But other than that, the existent ones are positive.
So considering its ingredients and reputation – I can almost guarantee those reviews are completely legit.
That's why I would recommend this shampoo.
---
Conclusion
---
TRX2's shampoo has a great reputation overall:
few reviews about this exact product

still, most of them rated it very high
In my case – I could also see some positive results.
So all in all, I think TRX2's product is superior to many shampoos (in terms of effect).
It's not my #1 pick, though.
That's why I personally prefer another alternative that worked even better for me.
---
#5 – Price

(8 out of 10)
---
Honestly – TRX2's shampoo isn't as expensive as I expected.
It's true that it's not the cheapest shampoo on the market.
But for its quality and great formula – I say it's pretty worth buying actually.
1. The Exact Price
---
According to Oxford BioLabs:
TRX2 Stimulating Shampoo costs $26.95 per bottle.

There are 6.7 oz (or 200 ml) in one bottle.

You can also buy several bottles at once. 

However, price/bottle remains the same even if you buy 10 bottles.

Now – $27 for almost 7 oz isn't very cheap at first sight.
But considering it's a professional shampoo with excellent ingredients, I say its price isn't that high.
Besides – if you use the shampoo twice a week, one bottle is going to last more than a month.
That's why the price is lower than it seems:
you don't need a high quantity per wash

daily use isn't required
Most hair growth/loss shampoos require daily use – which means a bottle is going to run out in 1-2 weeks.
But that's not the case at all when it comes to TRX2.
2. Competitors' Price
---
I only want to compare TRX2's product with my #1 recommended shampoo.
I'm talking about Valotin's product.

Both products have some excellent formulas with clinical evidence.

They have about the same price.

However, their quantity is totally different.
TRX2 comes in a 6 fl. oz. bottle.
On the other hand, Valotin comes in a double quantity (12 fl. oz).
In terms of price, Valotin can b

e a couple of dollars cheaper.
Overall – Valotin's product is clearly superior in terms of value.
It's slightly better, cheaper and it also comes in a double quantity.
Since it's the shampoo I have had best results with, it's clearly my #1 pick.
So I consider it a much better choice, to be honest.
---
Conclusion
---
In terms of price, TRX2's shampoo is quite affordable:
cheaper than any other professional product

great price for its actual value

one bottle can last more than 1 month
However, there's a better alternative that I have had better results with.
Since it also has a higher value, I would surely go with it instead.
---
#6 – Where To Find It

(7 out of 10)
---
That's probably the biggest downside about TRX2 (and all Oxford BioLabs products).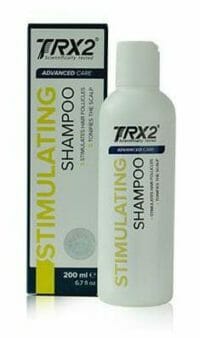 You can't find them in too many 3rd party retailers:
main seller is Oxford BioLabs' official website

some products are also available on Ebay

however, they're not sold officially

this means the products may not be original (and their price is different)
For this reason – I strongly recommend buying this shampoo from its official website.
They offer free shipping for certain orders.

The amount is different depending on the exact region.

Shipping is also available worldwide (at different rates).
So if you want to get the original products for the best price – go for the official website.
---
#7 – Final Conclusions
---
Here's how I would sum up my opinion on TRX2's shampoo in 3 ideas.
1. Strong Composition
---
In terms of ingredients – this shampoo is very valuable:
compounds have studies behind

very potent active ingredients

original formula
If you ask me – it's one of the best formulas I have seen in a hair growth/loss shampoo.
That's why I trust this product so much.
2. Great Quality/Price Ratio
---
TRX2's shampoo is really worth it in terms of price:
professional product

formula is really valuable

one bottle lasts more than a month
So compared to some shampoos from the market – this one is much better.
Its quality is really high (surprisingly high for the price).
3. Lasts Quite A Lot
---
That's a major advantage of this shampoo.
Since it doesn't have a minimum number of uses per week, it can last more than most shampoos:
I used it 2 times per week and saw results

applying it once was enough

it lathers quite well, so you need a normal quantity
Basically – that's another proof for its great price (since it's not going to run out fast).
---
My Verdict – Is TRX2 Worth Buying?
---
Short answer: Yes – it's an excellent hair growth/loss shampoo:
Potent formula with high quality ingredients.

Some compounds have clinical evidence behind.

Very professional product with a reputable producer.

Great price for the quality.

You can use it even once per week.

One bottle can last more than 1 month.
So I surely recommend this product.
But as I told you – I don't consider it the very best shampoo you can get.
It's a great option, but it's simply that there is an even better alternative out there.
What exact product I'm talking about? Valotin's shampoo:
excellent composition with original ingredients

double quantity

extremely effective in my case

really low price
Now, both TRX2 and Valotin are some very valuable products.
But if you ask me, Valotin is clearly superior – that's the reason why it's the shampoo I'm constantly using.
So if you want to make the most of your money, that's what I recomemnd you to go for.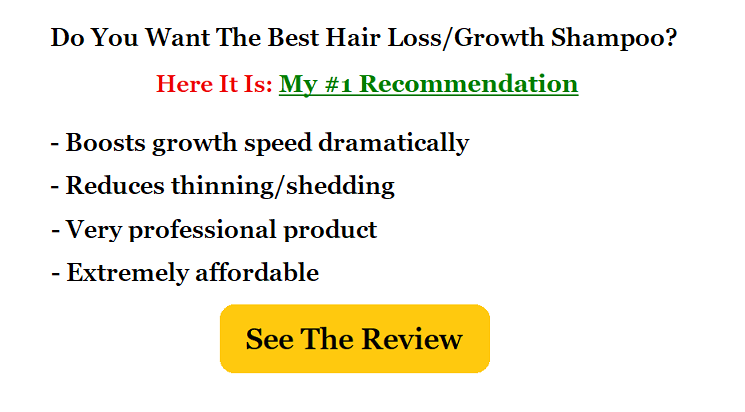 References:
1 – https://www.e-sciencecentral.org/-articles/SC000016219