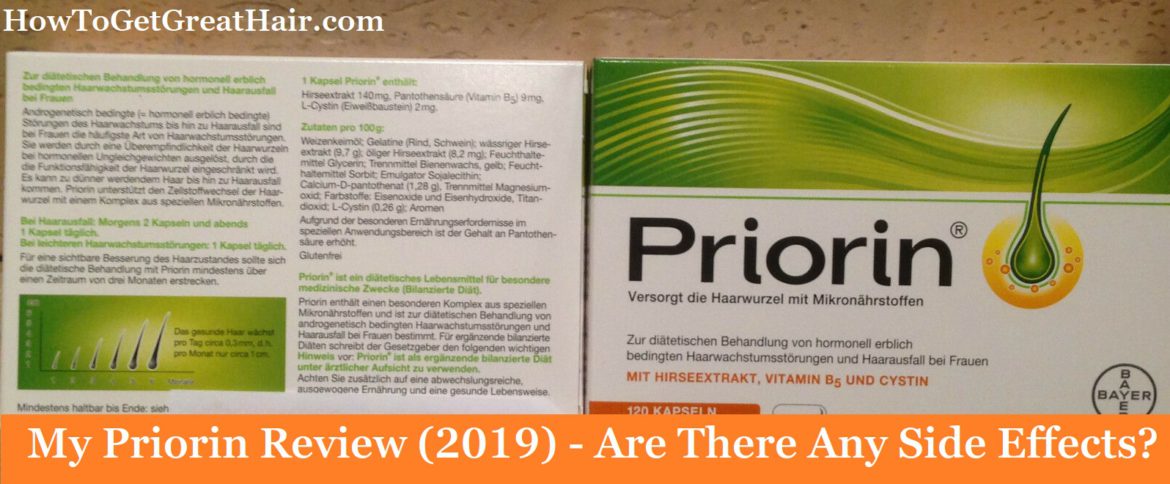 It's time for my Priorin reviews – a hair supplement that was really popular at one point.
So does this product keep its promises?

Does it bring the major hair changes it claims to?

Or is it just another scam?
I tried to dig deep into this supplement and find out the truth behind.
So here's what I discovered.
Note: This review is based on my own experience + research on Priorin.
So Let's Get To The Review
---
Full Name: Extra Hair Capsules from Priorin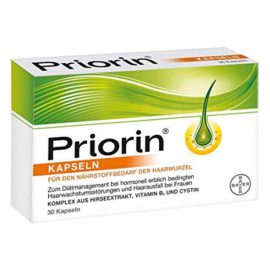 Versions: It comes as 3 different products:
Capsules (2 sizes – 60 or 90)

Shampoo

Liquid (serum)
I will focus on the capsules in my review – as they have the best effect.
Best Actual Prices: Around $36 for the capsules (1 month supply)
Cheapest Place To Buy: Probably Amazon or Ebay
Designed For: Treating hair loss – it promises to:
strengthen hair roots

recover hair fibers' health and improve density

enhance hair growth
It's basically a hair loss treatment that can also help with growth.
My Rating: 7 out of 10
Worth Buying?: Not really – it's a good product in some cases, but not my first choice:
only contains 4 ingredients

needs quite a long time to work (4-6 months)

pricier than other stronger products
I personally prefer a $10 cheaper supplement that worked much better in my case.
What I Liked About It
---
All ingredients have some studies behind

Supplement only requires 2 pills per day

Shampoo lathers well enough and doesn't have to be used daily

Effective for growing out healthy hair

Decreases minor hair loss

Enough authentic opinions and reviews
What I Didn't Like About It
---
Formula isn't as good as it claims

Supplements has some pretty large pills

Not very effective for severe/general hair loss

Mostly designed for women's hair

Not very easy to find in the US (especially the liquid)
---
What Is Priorin? A Quick Overview
---
In a few words – it's a German brand that offers 3 products (all designed for hair loss):
Supplement

Shampoo

Liquid

Though all 3 have the same purposes – it's the supplement that has the best effect.
So what makes Priorin better than other products? Here's what it claims:
rich in nutrients for hair

revitalizes weak and damaged hair

a solution for hair loss caused by different factors
Now – after using this supplement for a long enough period, I don't necessarily agree.
Though it's a legit product and can decrease hair loss – it's not effective in severe cases.
It does help, but only partially – so it's super far from the best products I know.
Since it doesn't even have a great formula, that's not very surprising.
So now that you know the main things about it – it's time to analyze it closer.
---
#1 – Ingredients

(6 out of 10)
---
In my opinion, Priorin's formula isn't very strong.
Compared to other hair supplements from the market:
only contains 4 active ingredients

dosages are pretty low in most compounds

there's only 1 herbal extract (Millet)
So despite its high claims, I personally cannot praise this ingredient list.
Though the 4 compounds are not bad, they are UNDER most hair supplements from the market.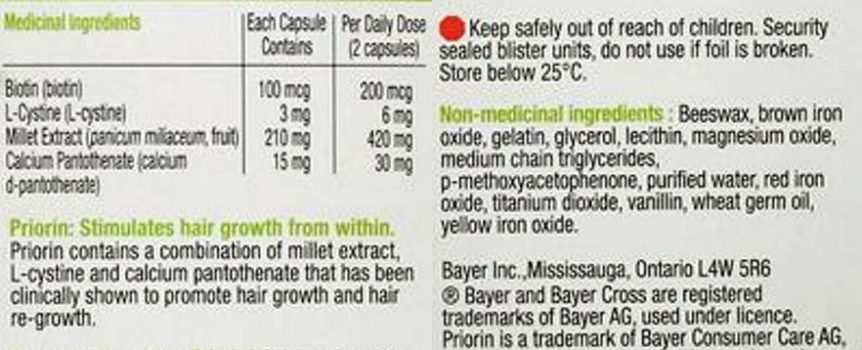 Now – here are the 4 ingredients from Priorin's composition:
As I said – none of these ingredients is weak, as each has some clinical evidence behind.
But compared to supplements with over 20 ingredients (as most are) – they are much weaker, if you ask me.
---
Conclusion
---
Priorin's formula is far from amazing – despite having 4 quality ingredients.
So in my opinion, it's way too weak to help a serious hair loss.
It might work for a minor shedding – but I personally doubt it could help in severe cases.
Since there are so many stronger formulas on the market, I wouldn't really choose Priorin.
---
#2 – Smell & Texture

(8 out of 10)
---
I will try to analyze each of Priorin's 3 versions (in terms of consistency and looks).
1. The Supplement
---
As I already mentioned – it comes as capsules.
What I personally don't like is their size:
larger than most hair pills

also a bit harder to swallow
Basically – Priorin's pills are quite large and brown. Though color isn't an issue, the larger dimensions are.
So keep in mind that these are not the easiest-to-swallow pills you have seen.
However, I never had a hard time swallowing them, so they're not that scary (if you're used to larger pills).
2. The Shampoo
---
Though I never tried it myself, there's a lot of info about it:
pleasant herbal scent

lathers pretty well

you need about the same quantity as in other shampoos
Plus – I never found too many complaints about scalp irritations or rashes (as it happens with other brands).
So I think it's pretty safe to use.
3. The Liquid
---
I'm not very familiar with this version, as it's very hard to find in the US.
But if you manage to find it – here's what you should know:
similar to a serum (but lighter consistency)

very light herbal smell

doesn't leave hair greasy
So it's some kind of light hair treatment, in terms of texture.
---
#3 – How To Use It

(9 out of 10)
---
Fortunately – Priorin offers clear directions for all of its 3 products.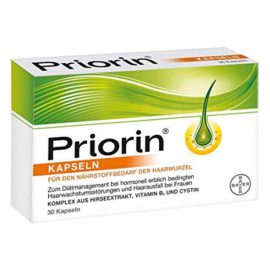 Regarding the SUPPLEMENT:
you need to take 2 capsules per day

it's recommended to space them out

also, you should take them with plenty of water
Shortly – it has about the same schedule as most hair supplements, so nothing new here.
When it comes to the SHAMPOO:
you should use it whenever you wash your hair

let it sit for 2-3 minutes

then rinse normally
Basically, you don't have to use it everyday for best results (as some shampoos require).
You can use it only when you have to wash your hair – which is great.
And lastly, the LIQUID:
it's recommended to use it once a day

you should apply it and massage the area

rinsing isn't necessary
Now – the liquid isn't the most comfortable product ever, as it has to be applied daily.
But since it doesn't make your hair greasier, I don't think that's so hard.
---
#4 – My Results

(7 out of 10)
---
I have actually used Priorin myself, some years ago – but only the supplement.
Though I wasn't expecting much from it (due to its formula), it actually helped me quite a bit.
1. My Background
---
I was suffering from a massive hair loss about 4-5 years ago:
I was losing more than 100 hairs per day

my hair ends got extremely thin

hair volume decreased to half maybe
Now – the hair from the top of my head still looked healthy.
So I had no bald spots, thinning roots or anything.
But the ends looked worse than I ha ever seen in someone – really thin, dry and very brittle.
It's also worth mentioning that the cause behind my shedding was a combination of:
hormonal imbalances (over 50%)

bad nutrition

certain deficiencies

stress
That's why many hair supplements (especially vitamins) didn't help me at all.
But Priorin worked better than I initially expected.
2. How It Worked
---
My results with Priorin were visible (though not amazingly):
I used the pills for about 5 months.

My hair loss decreased after about 3 months.

From over 100 hairs a day, I was losing around 70.

So there was an improvement after the first 3 months.

However, my hair loss didn't get better afterwards.

I was losing about 70 hairs a day but it never got lower than that.
So even though Priorin helped, the results seemed to stagnate after the third month.
To be honest, it was a bit disappointing – considering the results I saw initially.
But considering its formula, I wasn't even expecting to get this minor improvement.
So despite continuing to take Priorin, my hair loss never got any better.
Regarding growth – my hair seemed to grow faster than before.
But since the ends were in such a bad shape, they ended up breaking even worse. So it was in vain.
---
Conclusion
---
Priorin helped me a bit – but it was far from the results I needed.
Maybe it would have helped more if I had a smaller problem.
So if you only want to grow your hair out – it could be a good choice (though not the best one, if you ask me).
But for a serious hair loss, I don't actually recommend this product.
Instead – I prefer a cheaper supplement that has a way better formula. It helped me way more than Priorin.
---
#5 – Other Opinions

(7 out of 10)
---
In order to create an unbiased review – I decided to include some other customers' thoughts.
In this way, you can see other people's point of view (not just mine).
Note: I only considered authentic reviews, not promotional ones.
1. What People Say
---
Priorin has several reviews on websites like Amazon, Ebay, etc.
The supplement has an average of 4.5 stars from 35 reviews on Amazon.
That's not amazing (especially since there's a low number of reviews) – but it's pretty good.
So here's what most customers think about it:
Some say it's great for making hair thicker.

Others claim it helps a lot with hair growth.

A few others say they use it for hair health and it's so useful.

There are also some who claim it improved their shedding.

On the other hand, some say it doesn't work at all.

Others say it's too expensive for the real value.

Basically – opinions are quite mixed up, but most are on the positive side.
So it's quite clear that Priorin is effective – especially when it comes to growing healthy hair.
But let's take a closer look at the negative side as well.
2. Biggest Complaints
---
Most unsatisfied customers criticize Priorin for:
No effect (even after 6 months)

Shipping issues

High price for the quality

Instructions not translated in English
Now – I cannot agree with all these complaints, as I haven't experienced them myself.
But since they are left on Amazon (which is a trustworthy retailer) – they are definitely true.
So you should keep this issues in mind before ordering Priorin.
---
Conclusion
---
Priorin has mixed feedback from users – but there are enough positive reviews.
So if your hair is healthy, these pills should help grow it faster.
They might also help in cases of shedding – but not a severe one.
If you're dealing with a massive hair loss, I doubt this product will help significantly (based on my experience with it).
So I personally would suggest using a stronger formula – if you want long-term results.
---
#6 – Price

(7 out of 10)
---
In my opinion, Priorin is a bit too expensive for what it contains.
It's not very expensive (compared to other supplements) – but I consider it slightly overpriced.
1. The Exact Price
---
Here's the lowest price I have found for each Priorin product:
Supplement costs $36.67

Shampoo costs $19.40

Liquid costs around $33 (hard to find in the US)

Basically – the first 2 products can be found on Amazon at this price.
Regarding the liquid, I couldn't find it on any US site. The price I mentioned is from Amazon's UK version.
Either way, it's only the shampoo that has a good price.
The supplement should cost under $25, if you ask me – considering its ingredients.
However, I must admit that it's not a product impossible to afford.
So despite being a bit overpriced, it's still affordable for most people.
The only issue is that you need to use it for at least 4-6 months.
So in this case, you should make sure you can afford buying at least 4 bottles – which isn't that easy for everyone.
2. Competitors' Price
---
I will only compare Priorin with my #1 recommended hair supplement (Folexin):
P only contains 4 active ingredients (though all are quality substances).

F contains almost 30 ingredients (most of them have clinical trials behind).

You can find P as a supplement, shampoo or liquid.

F is only available as a supplement.

Regarding the pills, P costs $37 per bottle.

However, there's no discount if you order more bottles at once.

On the other hand, F normally costs $25 per bottle.

If you buy more bottles at once, you can get it for about $18.
So despite being pricier – Priorin doesn't offer any discount for larger orders/regular customers.
At this chapter, Folexin is totally different.
Considering that it also has a stronger formula, I think it's above Priorin at this point.
Its only downside is that it only offers a supplement – but in my opinion, that's a positive thing:
shampoos rarely decrease hair loss considerably

in most cases, they're just an extra cost
So as there are only Folexin pills, I think you're saving a good deal of money.
---
#7 – Where To Find It

(6 out of 10)
---
Unfortunately, Priorin isn't very easy to find online.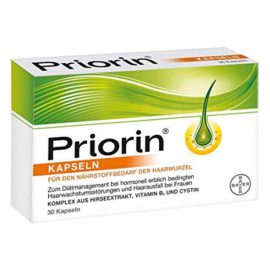 As it's a product made in Germany (just like Pantogar) – it's only available in certain websites in the US:
Amazon 

Ebay

(Sometimes) Lucky Vitamins
However, you can mostly find the supplement and shampoo on those retailers.
When it comes to the liquid (serum) – I personally couldn't find it anywhere.
You can find it on Ebay if you're lucky, but in most cases shipping is going to be really expensive (over $15).
So it's probably not a wise choice buying it from there.
As for Priorin's official website, there is one.
However – it does not sell the products itself. It only redirects you to the closest seller.
So if you really want to order one of Priorin's products, Amazon is the best choice at this point.
---
#8 – FAQs
---
Coming up – I will try to answer the top questions you might have about Priorin.
Note: I might repeat something I already mentioned, but it's easier to spot here.
1. How often you should use it?
---
You need to take 2 pills per day, in case you're using the supplement.
Regarding the others – the shampoo should be used in every wash while the liquid works best if used daily.
2. How long lasts one bottle?
---
The supplement is designed to last either 30 days (60 capsules) or 45 days (90 capsules).
It depends on what size you choose.
As for the shampoo and liquid, there's no standard period.
3. Can I use it with other drugs?
---
Pretty much yes – if you're using the shampoo or liquid, you're 100% safe.
In case you're taking the supplement, it's also quite safe to use with other medicines.
But if you're following a long term treatment, I would recommend getting your doctor's consent first (just in case).
4. Are there any side effects?
---
All 3 products are quite safe – as I found very few complaints about secondary reactions.
You might experience nausea, rashes or skin irritations – but these are extremely rare.
5. How fast should I notice an improvement?
---
According to the label, it takes about 4-6 months for the supplement to start working.
The liquid and shampoo aren't as strong – so they probably need an even longer time.
So from this point of view, Priorin can't be called a fast product.
---
#9 – Final Conclusions
---
Here's how I would sum up my opinion on Priorin (in 3 ideas).
#1 – Overrated Formula
---
As I said before – I personally consider Priorin's formula pretty weak:
very few active ingredients (only 4)

none has amazing results in studies (though they do work)

dosages are very small
So even though it's a supplement that helps – I doubt it works better than others.
At least judging after its ingredients.
#2 – Helpful For Hair Growth
---
In my opinion – Priorin works best for women with healthy hair who want to grow it out.
Judging after its formula, it's not a product that can stop hair loss completely.
At least that's how it was in my case.
However – it has many positive reviews from women with healthy hair.
So when it comes to that, I'm sure it's helpful.
#3 – Slightly Overpriced
---
That's what I think about Priorin's expenses:
pills should cost under $25

the formula is too weak for $36

shampoo is the only one with a right price
So even though it's not as overpriced as other products, I think Priorin's supplement could be a bit cheaper.
---
My Verdict – Is Priorin A Scam?
---
Short answer: Surely not – though it's not my favorite product ever, it's completely legit.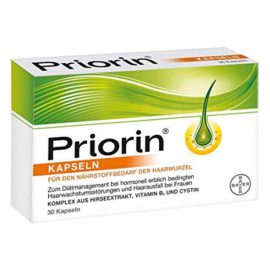 In fact, it could be a good choice in some cases:
you want to maintain your hair's health

your hair is healthy and you want to grow it out

you're dealing with a small hair loss
However – even in these cases, it's not my top recommendation:
Only contains 4 (basic) active ingredients

It takes about 4-6 months to work

Not effective for massive hair loss

A bit expensive, if you ask me
So even though it can help grow healthy hair out, I don't think it's the best choice ever.
However – I don't recommend it for hair loss (especially serious cases).
I have used it myself – and even though it helped a bit, my hair loss remained pretty bad.
So what would I choose instead? The supplement I'm constantly using (Folexin):
much stronger formula (about 30 ingredients)

worked in about 2 months for me

lowest price among the supplements I know

effective for hair growth (but also for complicated hair loss)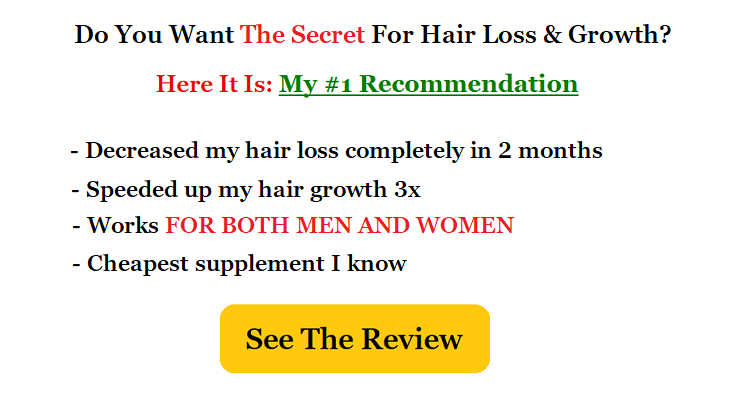 1 – https://www.ncbi.nlm.nih.gov/-pubmed/28879195
2 – https://www.ncbi.nlm.nih.gov/-pmc/articles/PMC6017824/
3 – https://www.researchgate.net/-publication/287695871