It's time for my Procerin review – a product specially designed for male hair loss.
And to be honest – it's one of my favorite products for male hair loss: 
excellent formula

lots of praises and positive reviews

really low price
But does Procerin regrow new hairs for real – or it's just another scam?
I did my long research on this product so here's the actual truth behind.
Note: This review is based on my own research + opinion on Procerin. 
So Let's Get To The Review
---
Full Name: Procerin for men
Versions: There are 2 products (that work best together):
Hair Regrowth Tablets

Scalp Foam
The website recommends using both for fastest results (I mostly recommend the pills).
Best Actual Price: Around $50 per month (for both products).
The pills cost around $27 and the foam almost $37.
Cheapest Place To Buy: The official website (better prices than on Amazon).
Designed For: Male hair loss and everything it involves. It can:
block DHT excess causing hair loss

stimulate new growth

fight thinning hair
And from what I saw, it really keeps its promises.
My Rating: 8 out of 10 – It's a great product actually.
Worth Buying?: Definitely – it's really useful:
based on the #1 herbal DHT blocker (Saw Palmetto)

strong formula

really low price (compared to others)
It's not my #1 recommendation for male hair loss – but it's still a great product.
What I Liked About It
---
Really potent formula with good ingredients

Pretty high dosages

Based on Saw Palmetto

Very effective for hair loss caused by DHT excess in men

Really low price overall (plus discounts available)

90 days money back guarantee

Available on several retailers
What I Didn't Like About It
---
Pills are a bit thicker than most 

Not effective for women hair loss

Doesn't work in some cases (see those negative reviews)
---
What Is Procerin? A Quick Overview
---
Shortly – it's a supplement designed for 1 major problem: male pattern hair loss.
So what makes it so special?
If you ask me – it has 4 major benefits:
Formula based on Saw Palmetto (#1 DHT blocker among herbs)

Comes as 2 different products that work best together

Has some studies behind (though I couldn't find them on government websites)

Pretty cheap
Now – Procerin it offers 2 products:
Hair Regrowth Pills

Scalp Treatment Foam 
When taken together, it claims to work better than most supplements:

So to be honest, Procerin really is a great choice for male hair loss caused by DHT.
That's mostly because of its excellent price (compared to some competitors).
You're basically saving some money choosing Procerin – especially if you buy the 6 months supply at once.
And that's the major advantage I'm looking for when recommending a product.
---
#1 – Ingredients

(9 out of 10)
---
Surprisingly or not – Procerin actually has an excellent formula:
As I said, Procerin recommends using 2 products (supplement + foam).
Even though their ingredients are about the same, let's analyze both.
1. Supplement
---
Most of its ingredients are really powerful (in terms of hair):

Saw Palmetto – #1 herb at blocking DHT and preventing hair loss.

[1]

Zinc – promotes hair growth and thickening.

[2]

Vitamin B6 – prevents alopecia and stimulates growth.

[3]

Calcium – a deficiency can affect hair health.

[4]

Magnesium – can improve hair growth.

Proprietary Blend – contains essential herbs like Nettles, Uva Ursi, Gotu Kola, etc.
Overall – this formula looks really good (mostly because of the high dose of Saw Palmetto).
The other ingredients aren't as essential as that herb.
2. Foam
---
It contains about the same herbs as the pills.
The only difference is that this formula is meant for topical use – so it's not as strong as the supplement.
Its top ingredients are:
Saw Palmetto Extract

Hydrogenated Castor Oil

Niacin

Zinc Sulfate

Evening Primerose Oil
But as I said – despite having good ingredients, the foam's effect isn't as strong (compared to the pills).
---
Conclusion
---
Overall, Procerin has a really good formula (much better than many hair products):
based on Saw Palmetto (the best remedy against DHT)

high dosages
So if you're suffering from male hair loss, this formula should definitely help.
That's why Procerin is a product I do recommend.
---
#2 – How To Use It

(8 out of 10)
---
Things are pretty simple at this chapter.
Procerin offers clear directions about how exactly you should use both products.
1. The Pills
---
What I personally don't like is the size of the pills:
a bit larger than most

no gelatin cover

swallowing them isn't so easy (at first)
However – taking them with plenty of water could solve this issue.
Other than that, the directions are pretty clear:

You need 3 pills per day.

The label recommends starting with 1 in the morning.

The you should take 2 pills at night, before going to bed.
Another thing I would add is to take them with or after eating. In this way – you can avoid an eventual stomach pain.
2. The Foam
---
In terms of texture, it actually looks really good:
whitish color

very light natural scent

doesn't leave hair greasy
So here's exactly how you should apply it:
Shake the bottle before using it.

Apply 2 pumps in the affected areas twice a day.

Massage and spread the foam.

Let it dry for about 1 minute and let it sit.

There's no need to rinse, as it doesn't leave hair greasy.
Except the fact that you need to apply it twice a day (which can be a bit uncomfortable) – the foam seems really easy to use to me.
---
#3 – Results

(8 out of 10)
---
As Procerin is only designed for male hair loss – I couldn't test it out on my hair.
I had no bald spots, only general hair loss. So it wouldn't have been effective for sure.
However – I checked out several customer reviews, so that I can judge fairly.
Note: I only considered authentic reviews, not general or promotional ones.
1. What People Say
---
As with most products, Procerin has mixed reviews on most websites.
This means 2 things:
it's a legit product (since it has positive reviews)

it only works for what it claims to (DHT male hair loss)
So here's what people say about Procerin:
Some claim it's the best treatment they ever used.

Others say they've been using it for many years.

A few others say it really improved their shedding.

Some claim it stopped their baldness from progressing.

A few say they couldn't see any change.
Basically – it's quite normal that a product doesn't work for everyone.
Some people may not have DHT hair loss, which is why Procerin might not have helped at all.
But overall, I could find enough satisfied customers.
2. Biggest Praises
---
Among the positive reviews – some customers were praising Procerin for:
its affordable cost

refunding policies

friendly support
As I said – I haven't tried it out myself, so I can't speak from experience.
But given that it has several satisfied customers, I consider it a pretty good option.
---
Conclusion
---
In my opinion – Procerin is a great supplement for male hair loss:
many satisfied customers

some say it really reduces hair loss
Obviously, there are some negative reviews. So it's clear that it doesn't work for everyone.
But considering its price and formula, I think it's a great choice for DHT male hair loss.
---
#4 – Price

(8 out of 10)
---
That's actually one of the main advantages of Procerin, if you ask me.
It's also one of the reasons why I recommend it.
1. The Exact Price
---
The cheapest place to buy it is its official website.
Obviously – prices depend on what products you buy:
As you might expect – the price is way better when you buy both. Let's take the 1 months supply to compare:
Supplement costs $26.95.

Foam costs $36.95

Both together cost $49.99.
This means you get almost $14 off – which is a pretty good discount.
But there's more:
You get some bigger discounts when buying 3 or 6 months supply.

For a 3 months supply, you get the pills for $23, the foam for $30 and both for $43.

For a 6 months supply, prices are: $20 for the pills, $26 for the foam and $36 for both.

So in my opinion – these discounts are quite significant.
You can't find too many hair supplements/products for such a low price.
2. Competitors' Price
---
I will compare Procerin with my #1 recommended supplement for hair loss (Folexin).
F works for both men and women, P mostly for men.

F works rather for general hair loss

P is specially designed for male pattern hair loss.

Both have a really good price overall.

F costs $25 normally (and $19 with the biggest discount).

P costs $49 normally for both products (and $27 for the supplement).

If you buy more bottles of P, you can get it for about $20 per bottle.
So basically – they have about the same price overall.
Procerin is clearly more expensive, because it comes as a 2 products pack.
But you can start only with the supplement, see how it works and buy the foam only afterwards.
That's $27 per bottle – at most.
I don't know any cheaper supplement for male hair loss on the market.
---
Conclusion
---
In terms of price, Procerin is better than it seems at first sight:
quite affordable

big discounts when buying several months supply

90 days money back guarantee
So in my opinion, it's a great choice for male hair loss (in terms of budget).
Considering you can get your money back in 90 days, there's a minimal risk.
---
#5 – Where To Find It

(8 out of 10)
---
Unfortunately – Procerin isn't available in every retailer.
There are 3 major places to buy it from:
Its official website

Amazon

Ebay (many different sellers)
However – there's a difference between these when it comes to prices.
Amazon does sell the products for the same price, but it has no money back guarantee and no free shipping.
For this reason – the official website seems the best choice to me.
Ebay does have some lower prices than both (sometimes) – but it's also riskier.
Plus, you may end up having to pay some huge shipping fees.
---
#6 – FAQs
---
Coming up, I will try to answer the top questions about Procerin.
Note: I might repeat something I already mentioned, but it's easier to spot here.
1. How long lasts 1 bottle?
---
Both the supplement and the foam are created as a monthly supply.
So one bottle only lasts for 30 days.
2. How often should you use it?
---
According to the directions from the label:
3 pills per day (the supplement)

2 pumps twice a day (the foam)
3. Can I take it with other drugs?
---
When it comes to the foam, it's completely safe to use no matter what drugs you're taking.
Regarding the pills – there are some possible interactions, according to its website.
For this reason, it's recommended to ask your doctor before starting the tablets.
4. Are there any side effects?
---
From what I read – there are only minor ones (and pretty rare):
However – they rarely appear, so there's nothing to worry about.
5. How fast could I notice an effect?
---
According to its official website – it takes about 1-2 months to start working.
So from this point of view, Procerin is pretty fast (compare to other products).
---
#7 – Final Conclusions
---
Here's how I would sum up my opinion on Procerin (in 3 ideas):
1. Strong Formula
---
I was positively impressed by its ingredients:
based on Saw Palmetto (#1 DHT blocker)

some original ingredients

pretty good dosages
Now – it's true that not all its ingredients are amazing. But Saw Palmetto kind of compensates for them.
So it's the kind of formula that seems excellent for male hair loss.
2. Excellent Price
---
I rarely say this about supplements – but Procerin really has a good price:
pills cost about $27 per bottle ($20 with discount)

foam costs around $37 ($26 with discount)

both cost $50 ($43 with discount)
Now – the foam isn't the cheapest ever, but the supplement has a really good price.
So if you buy both, you're actually saving enough money.
3. 90 Days Guarantee
---
That's a feature you can't find in every product.
Procerin has a 90 days money back guarantee – which means you can return the product and get all your money back.
That's a sign that the company trusts the product, which can tell a lot about its quality.
---
My Verdict – Is Procerin Worth Buying?
---
Short answer: Definitely – as long as you're a male dealing with hair loss.
It's actually one of my top recommended products:
Really affordable price (unlike most products).

Based on Saw Palmetto – the best herbal DHT blocker.

90 days money back guarantee.

Enough satisfied customers.
So for those of you wondering if Procerin was a scam – it's surely not. It's a 100% legit product.
That's why I think it's really worth buying.
However – there are some cases when I wouldn't recommend it:
you're a woman dealing with hair loss

you're a man but your hair loss isn't caused by DHT excess (very rare)
In these cases – I recommend a supplement that costs about the same, but works really well:
Effective for both men and women.

Starts working in 1-2 months (it depends from case to case).

Really good against hair loss and growing actual hair.

Affordable price.
So if Procerin doesn't seem the right choice for you – this supplement should.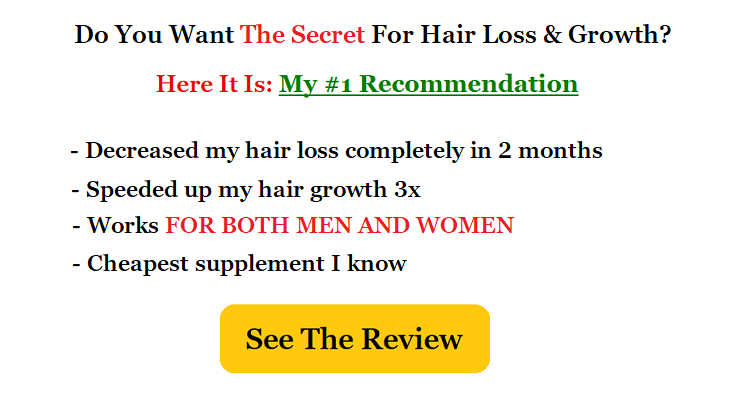 1 – https://www.ncbi.nlm.nih.gov/-pmc/articles/PMC2840915/
2 – https://www.ncbi.nlm.nih.gov/-pmc/articles/PMC3870206/
3 – https://www.ncbi.nlm.nih.gov/-pubmed/11344694