It's time to review Unite 7 Seconds Shampoo & Conditioner.
I used to buy the shampoo + conditioner pack together for about $40. But it's not available anymore.
So at this point – you can find each for about $30, which is kind of pricey to me.
So are these 2 products worth buying? Or you should get something cheaper instead? Let's find out the real deal about them.
Note: This review is based on my personal experience with these 2 products. 
So Let's Get To The Review
---
Full Name: 7 Seconds Shampoo/Conditioner from Unite Hair
Sizes: 10 oz for the shampoo, 8 oz for the conditioner
Best Actual Price: Around $30 for each
Cheapest Place To Buy Them: Amazon or Ebay, depending which you like most.
Ebay has the lowest prices ever – but it's not as safe as Amazon.
Designed For: Dehydrated hair mostly:
both contain hydration ingredients

the conditioner also prevents color fading 
My Rating: 7.50 out of 10 – Not amazing for the money.
Worth Buying?: In my opinion, no. I just see them as 2 overpriced products:
they do their job in terms of hydration

but they don't work any better than $15 products
So in my case, they didn't have any special results. That's why I recommend a product that is way cheaper but works much better.
What I Liked About Them
---
Nice smell and texture

The conditioner contains Argan oil and Shea butter (or something derived from them)

Moisturize the hair pretty well

2 different sizes available

You can find them on many retailers, including their official website
What I Didn't Like About Them
---
Didn't make my hair much smoother or softer than before

You need a pretty high quantity of shampoo per wash

I'm not a fan of the ingredients

Pretty expensive for how they work
---
#1. Ingredients

(8 out of 10)
---
To be honest – Unite 7's ingredients don't look bad, but not too good either.
But let's take them by turn:
1. Shampoo
---
It contains ingredients derived from several sources:
Coconut – responsible for cleaning the hair
Minerals and vitamin B12 – for shine
Potatoes – for extra strength
I did a quick research about these ingredients and I couldn't find a lot. 
From what I know, coconut compounds are pretty weak when it comes to cleansing. So I'm not sure if they're as effective as the producer claims.
2. Conditioner
---
Unlike the shampoo, it focuses more on moisturizing.
It also contains ingredients from many sources:
Argan Seeds and Green Tea – for conditioning 
Orange, Lemon and Apple Extract – for moisturizing and fragrance
Shea Butter – for nourishing and shine
Minerals – for protection and extra shine
These ingredients look a bit better – compared to the shampoo. But they're still not my favorites.
Except Argan Oil and Shea Butter, the others aren't that hydrating (as far as I know).
---
2. Texture & Smell

(9 out of 10)
---
There isn't a lot to say about Unite's products at this chapter. 
But I will try to give you as many details as I can.
1. Texture
---
The shampoo and the conditioner are pretty similar:
both have a whitish color

the conditioner is a bit thicker

the shampoo is very light
There's only one thing I didn't like about the shampoo – it doesn't foam a lot.
So you need to use a larger quantity than normal, which means that it will run out faster than other shampoos. 
That's one of the downsides I found about it.
2. Smell
---
At this chapter, I kind of enjoyed Unite 7's products:
very light, refreshing smell

it's not too strong overall

doesn't stay in your hair forever (or you don't constantly feel it)
Concluding – I may not love the shampoo in terms of foam, but the conditioner looks and smells pretty good. 
---
#3. How They Work 

(8 out of 10)
---
I can't say I was disappointed by Unite 7's products.
They did work – but to me, they didn't seem any better than regular products (especially the conditioner). 
Once again, let's take them by turn:
1. Shampoo
---
It did its job overall:
Cleans up the scalp well enough

Didn't make my hair greasier – so I didn't have to wash it more often

As I said, it just didn't foam a lot

So you have to use a higher quantity than you would normally
Now – I don't have super greasy hair, so I can't tell its effect on this hair type. 
But it didn't make my hair oilier overall – so I don't think it has any negative effect.

2. Conditioner
---
Here's how it works:
Moisturizes the hair well enough (especially the ends)

Prevents hair from getting frizzy
But to be honest – it didn't help my hair more than $15 products. 
It didn't feel softer or more hydrated than before – even though I used it several times. For a $30 conditioner, it wasn't too impressive.
---
#4. How To Apply Them 

(10 out of 10)
---
Both the shampoo and the conditioner are really easy to use.
You can find any other extra info on the label:
Apply the shampoo on your wet hair.

I advise you to use it only once/wash (it will last for longer).

As I said, it doesn't foam as much as other shampoos.

After you rinse, apply the conditioner (add more on the ends).

Let it sit for about 5 minutes (that's what I recommend).

Then you can rinse as usual.
It's surely not complicated – just like with every other shampoo or conditioner.
---
#5. Quantity

(9 out of 10)
---
Here I will refer mostly to the sizes and forms of these products. So let's take them by turn.
1. Shampoo
---
I could find it in 2 sizes only:
the regular form (10 oz)

the larger pack (33.8 oz)
Now – the 33.8 oz version is a much better deal as a price. But it costs around $70 – so I doubt someone would pay so much without trying it first.
So if you never used this shampoo before – the 10 oz version is probably much better.
I personally wished there was an in-between form – somewhere around 20 oz. 
2. Conditioner
---
It also exists in similar sizes:
However, I couldn't find the larger pack on Amazon. So keep in mind that it exists – but they simply don't have it there.

---
#6. Price

(8 out of 10)
---
To be honest, the shampoo and the conditioner aren't really cheap.
But in my opinion – they are too expensive for what they can do. Here's the thing:
they cost around $30 each (the 10/8 oz version)

for me they didn't work better than $15 products

the shampoo also lasts less than others of the same size
Now – I'm not saying they're bad. That's not what I meant. 
The point is – they're too expensive for what they do. They work just like $15 shampoos and conditioner – there's no big difference.
So I kind of feel they're a bit overpriced. 
It could be because of their brand (Unite 7 is a serious company) or who knows?
But the point is – I personally wouldn't buy them again, at this price.
---
#7. Final Conclusions
---
Here are the main things you should know about United 7's shampoo and conditioner.
1. Uncommon Ingredients
---
At least that's my personal opinion:
they both contain lots of herbal extracts

I couldn't find many info about them (related to hair)
So I can't really tell if the claims from the official website are true.
For example – they claim their coconut derived substances are great for cleansing the hair.
Well – I couldn't find much info about those compounds and hair. That's why I'm not really impressed with the ingredients.
2. Work Best Together
---
I recommend using both the shampoo and the conditioner:
their effect is much better together

the label also recommends this (though it's pretty obvious)
3. Pretty Overpriced
---
Considering what they can do, I don't think they're worth the money.
Speaking from my experience:
work similar to cheaper products

you sometimes need a higher quantity
So I think both the shampoo and the conditioner cost too much for what they offer.
---
My Verdict – Are Unite 7 Products Worth It?
---
Short answer: Not really, to be honest.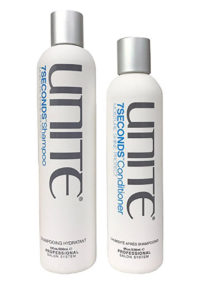 They're not bad products at all – but I didn't see a big difference between them and $15 products. There's only a double price:
both the shampoo and the conditioner work fine

but they didn't make my hair look like "wow"

it wasn't softer or smoother than usual
So I just didn't see a difference that would be worth an extra $15. 
Plus – I'm not a big fan of Unite 7's ingredients. I just couldn't see any proof of their benefits.
Obviously, I'm not saying the company has fake claims – but I think they're not as amazing as they claim them to be.
So overall – I would not buy Unite 7's shampoo and conditioner again. 
For $30, you can get several bottles of a better shampoo/conditioner. That's what I would recommend instead.