It's time to review Ovation Hair Therapy – because it's a very promising hair treatment:
different formula (from most products)

really easy to use

trustworthy producer
However – it all comes with a cost. And at almost $60 per bottle, Ovation Therapy is super pricey.
So is it worth all these money? Is it a quality product or just another scam?
I decided to dig deep into this product and find out the actual truth.
Note: This review is based on my experience + research with Ovation Hair.
So Let's Get To The Review
---
Full Name: Cell Therapy from Ovation Hair 
Sizes: There are basically 2: 12 oz and 6 oz.
Also, there's a version designed for men – but it's only available in a 12 oz size.
Best Actual Price: Around $57 per bottle (12 oz)
Cheapest Place To Buy: Probably Amazon (free shipping included)
Designed For: Restoring hair strength – it promises to:
reduce breakage

increase hair density and volume

grow hair longer
Basically – it's meant to restore hair health. So it's not necessarily a hair loss/growth product.
My Rating: 7 out of 10
Worth Buying?: It depends. If you're willing to pay the high price – yes, it's a good product.
But I only recommend it for extra volume and strength.
When it comes to hair loss or speeding up hair growth – it's not too effective (in my case at least).
So I prefer a $35 cheaper supplement that helped me a lot more.
What I Liked About It
---
Ingredients are pretty valuable

Pleasant smell and consistency

2 different sizes available

Easy to apply (for a hair treatment)

Effective for extra volume and density

Available on most online retailers

Many authentic opinions about it
What I Didn't Like About It
---
Doesn't work for hair loss/growth

Really expensive overall

You can only apply it on wet hair 
---
What Is Ovation Hair Therapy?
---
In short – it's a treatment designed to restore your hair health.
What makes it different from others?:
It's NOT A SHAMPOO.

It's NOT A CONDITIONER.

Only meant to repair and restore hair.

It's NOT DESIGNED FOR HAIR LOSS/GROWTH.
Basically – it works best for people with damaged hair that is otherwise healthy.
If you have hormonal imbalances, a poor diet or health problems – Ovation Therapy isn't going to help.
Here's another thing that makes it different:
It needs to be applied between shampooing and conditioning.
But all these special features come with a cost:
product itself is really pricey

you can't find it for a decent price too easily
So does Ovation Therapy work for real – as well as it looks?
Now that you know the main things about it – it's time to analyze it closer.
---
#1 – Ingredients

(8 out of 10)
---
Ovation Therapy's formula doesn't look bad at all:
So for a topical product, these ingredients are surely not bad.
However – they're far from perfect.
None of the substances has any dosages mentioned. Plus, most don't have any studies behind.
Now – I tried to divide Ovation Therapy's ingredients in 2 groups (so that you can understand them better):
Protein & Herbs

Inactive Ingredients
So let's take a closer look at each.
1. Protein & Herbs
---
These are basically the active ingredients from this product.

In my opinion – the most important ones from this list are:
Hydrolyzed Keratin – the best protein to repair damaged hair. 

Hydrolyzed Rice – it's rich in amino acids and promotes hair strength.

Apigenin – improves blood flow and promotes growth. [1]
Oleanolic Acid – fights excess hormones that stimulate hair loss. [2]
Serrenoa Serrulata – it's similar to Saw Palmetto and it blocks DHT excess.

Aloe Vera – soothes irritates scalp and skin.

Fenugreek Seed – stimulates hair follicles and promotes growth.
Basically – what makes these ingredients special is their diversity.
You can't find most of them in every product on the market.
So Ovation Therapy is one step ahead (from this point of view).
2. Inactive Ingredients
---
These aren't very relevant, as they have no effect in terms of hair.
Instead – their purpose is to improve the product's consistency. Here the list included:
fragrances

preservatives

consistency agents

purified water

substances that balance pH
---
Conclusion
---
In my opinion – Ovation Therapy's formula is above the average (in terms of topical products):
very diverse ingredients

most substances can't be found in every products of this kind

high percent of herbal-based ingredients
Now – it's surely not the best formula I know.
And I personally wouldn't recommend topical products (at least not alone). They're just not as strong as supplements.
But when it comes to Ovation Therapy – I can't criticize its formula.
---
#2 – Smell & Texture

(9 out of 10)
---
In terms of consistency – I personally liked the product.
But here's what you should know about it.
1. Smell
---
If you're a fan of light fragrances, Ovation Therapy is right for you:
light pineapple scent (or something between tropical fruits and herbs)

stays in your hair for a long time

doesn't smell fake
Basically – the scent isn't too intense, but it's not too light either.
It's strong enough to stay in your hair but light enough to not feel it from the distance.
So I'm a fan of it.
2. Texture
---
Since it's neither a shampoo nor a conditioner – this product has a different consistency:
average texture (neither thick nor light)

easy to apply however

doesn't leave hair greasy

whitish color
Basically, it's thicker than a conditioner would be but lighter than a shampoo.
Also – it doesn't lather. From this point of view, it behaves more like a conditioner.
But overall, I personally like its texture.
---
#3 – How To Use It

(9 out of 10)
---
A good thing about Ovation Therapy is that it offers very clear instructions.
Many similar products tell you how you should mainly use it – but here the directions are really detailed.
So here's how you should use Ovation Therapy's treatment:
Best results are when it's used 2-3 times per week.

However, you should only use it when you wash your hair.

Wash your hair with your regular shampoo and rinse.

Only then apply Ovation Therapy's treatment.

The recommended quantity is "half dollar size amount". 

But that depends on your hair length.

If your hair is medium or long, use more.

Apply the product on your damp hair and massage.

Make sure to spread it throughout your hair (especially ends).

Let it sit for about 5 minutes and rinse.

Then you can use your regular conditioner.
Sounds complicated? It might – but that's just because the instructions are very detailed.
Basically, all you should keep in mind is that the treatment should be used between shampooing and conditioning.
Other than that – applying it is super simple.
---
#4 – My Results

(7 out of 10)
---
Ovation Therapy's treatment is one of the products I actually tried myself.
Though my results with it weren't the best – I still consider it a decent product (in some cases).
1. My Background
---
Firts of all – my results won't be 100% relevant:
I started using this product while dealing with a bad hair loss

my hair had very little damage

but even so, it wasn't healthy at all
Ovation Therapy's treatment is designed to strengthen and improve hair health.
Since my hair was falling out due to stress and hormonal imbalances – it was hard to get an amazing result with this kind of product.
That's because it's simply not designed for that.
That's why I'm saying my results weren't completely relevant.
But I was curious if it could increase my volume and strengthen my actual hair.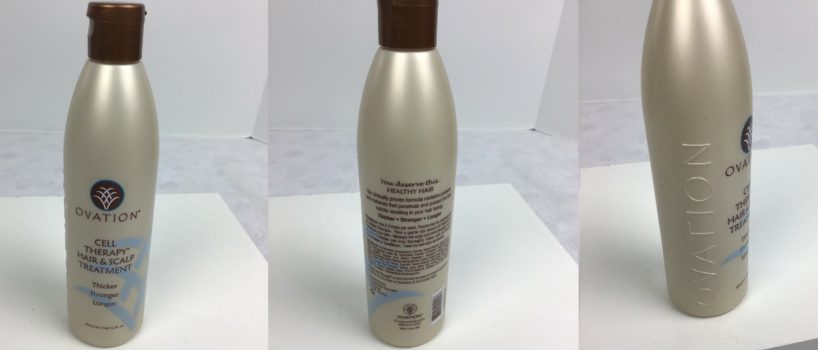 2. How It Worked
---
As I said – my results with it weren't the best ever:
I used a bottle of this treatment (it was quite pricey to buy a second one).

That lasted for about 2-3 or maybe a bit more.

After about 3 weeks, my hair felt denser.

That's probably because its volume increased a lot.

However, that didn't stop the shedding (not even improved it).

It's true that my hair ends weren't breaking as bad as before.

But I was still losing almost as many hairs as before.
So basically – Ovation Therapy kind of did what it promised:
increased my volume and density

strengthened my hair (especially the ends)
But when it comes to the other problems I had (hair loss), it didn't help.
Also – I didn't notice any improved growth speed or any actual thickening (just volume).
So I can't say this product helped me too much.
I personally wouldn't buy it again (it's also really expensive).
But it might be more helpful if you're not dealing with hair loss or you want to grow your hair out.
---
Conclusion
---
I can't tell I liked Ovation Therapy's treatment too much:
improved my overall volume

didn't decrease my hair loss at all

also, it didn't seem to speed up my hair growth
But as I said – I'm probably not the best person to test it out, considering my hair issues.
The product itself is surely not a scam (despite its high price).
But I personally prefer supplements instead of this kind of treatments. They're cheaper and work much better (in my case at least).
---
#5 – Other Opinions

(7 out of 10)
---
In order to create an unbiased review – I tried looking for other opinions.
Since my results weren't completely relevant, different opinions might be more helpful.
Note: I only considered authentic reviews, not promotional ones.
1. What People Say
---
Fortunately – Ovation Therapy has plenty of opinion online.
However, I tried to avoid its official website (reviews posted on official websites tend to be biased).
Instead – here's what Amazon buyers say about this product:
Some praise its strong effect.

Others say it really repairs hair damage.

A few others claim it's really good at strengthening hair.

And lastly, some say it really adds volume.

On the other hand, there are enough criticizing it.

Some say it doesn't help thin hair at all.

Others complain it only made their hair look worse.

Many criticize its very high price.
So as it's normal – opinions are quite divided.
But as I said, there are enough unsatisfied customers about it.
2. Biggest Complaints
---
Amazon has quite a few 1 star reviews on Ovation Therapy's treatment.
Most are related to:
Really high price

No or poor effect

Side effects (more rare)

Worsening hair loss/thinning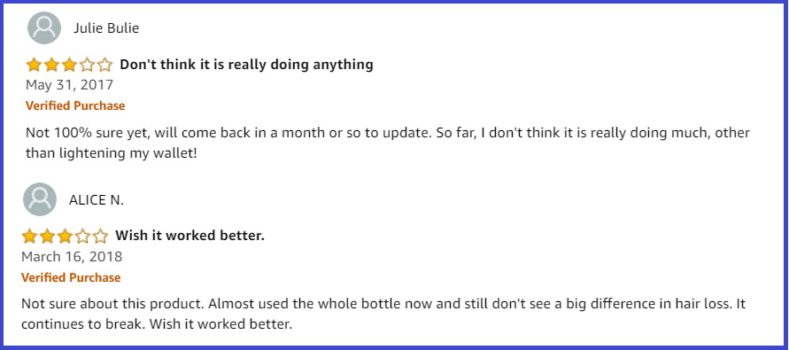 Now – it's perfectly normal that a product also has negative reviews. It can't just work for 100% of users.
However, some of these critics about Ovation Therapy are true.
The product is extremely expensive and it can cause side effects (though not very often).
I personally didn't experience great results with it, so I can't defend it in terms of effect.
So it's surely not a perfect product.
---
Conclusion
---
Opinions are divided on Ovation Therapy's treatment:
Some say it really adds volume and fullness

Others say it doesn't strengthen hair at all
In my case, it wasn't too effective – that's why I can't praise it.
But even so, I don't consider it a bad product (and surely not a scam).
I personally had best results with supplements (better effect and lower price). So that's my personal pick.
But when it comes to Ovation Therapy – I definitely don't see it as a scam.
---
#6 – Price

(4 out of 10)
---
That's probably the biggest drawback of Ovation Therapy.
In my opinion, its price is way too high for an average person (like myself).
1. The Exact Price
---
I compared its price on Amazon and on the official website, but it's the same.
So here's what you should know about it:
It costs $56.95 on both (the 12 oz bottle).

Both Amazon and Ovation Hair's website offer free shipping.

The 6 oz bottle costs around $30.

It can only be bought from the official website.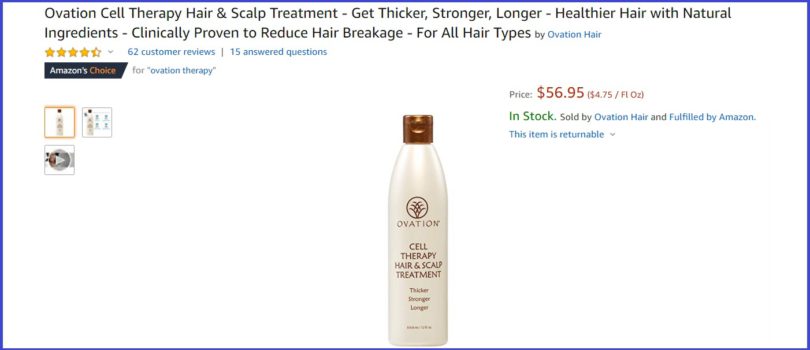 Now – paying $60 for a bottle seems way too much for me. Even if that bottle has 12 oz.
The 6 oz version is also very expensive at $30.
So I personally couldn't afford paying that on a product that isn't meant to make a huge difference.
I mean – you can strengthen your hair with many other products (and some are way cheaper).
2. Worth It Or Not?
---
In my opinion – it's not worth it.
I'm not saying it's a bad product or anything.
All I'm saying is that I consider it way too overpriced for its actual value:
mostly made to strengthen hair

not designed to stop hair loss
Even though its ingredients look good – I still don't think they're worth $60.
So I personally wouldn't spend my money on it.
My alternative are supplements – which are way cheaper and have a much stronger effect. What's your alternative?
---
#7 – Where To Find It

(10 out of 10)
---
Most products from Ovation Hair are really easy to find.
At this point – they are available on:
Amazon

Ebay

several beauty online shops

the official website
Now – the price is exactly the same on Amazon and Ovation Hair's official website.
For this reason, they are my top pick if you want to buy this product.
On the other hand, you can only find the 6 oz bottle on OH's website. Amazon doesn't seem to sell it.
Regarding Ebay – there are lots of selling offering the product BUT:
some of the bottles aren't new (opened but not used)

shipping isn't included

different sellers don't ship in certain countries

more dangerous overall
So I stick to my previous recommendations:
For a 12 oz bottle, both Amazon and OH's are good choices.
For a 6 oz bottle, go for OH's official website better.
---
#8 – FAQs
---
I will try to answer the most common questions about Ovation Therapy's treatment.
Note: I might repeat something I already mentioned, but it's easier to spot here.
1. How often should you use it?
---
According to the label – best results appear when used 2-3 times a week.
However, it's recommended to use it in every wash.
2. How long lasts 1 bottle?
---
It mostly depends on the size.
But a 12 oz bottle should last about 2-3 months, if not more.
3. Can I use it with other drugs?
---
Yes you can – because it's just a topical product.
No matter what drugs you're currently taking, there's no risk of interactions.
Just pay attention if you're using it with another scalp product (other than shampoo, conditioner, etc.).
In this case, my advice would be to ask your doctor first.
4. Are there any side effects

?
---
I personally didn't experience any.
However – some Amazon customers claim they developed some secondary reactions from this treatment:
scalp rashes

itching

worsening hair loss

headaches
Anyway – these side effects are probably very rare, so you don't have anything to worry about.
5. How fast should I notice an improvement?
---
The label doesn't mention anything on that.
But judging after my experience, you can see results in less than a month.
In my case, the changes weren't amazing from the first wash.
But in 2-3 weeks, you should notice a change in volume (at least).
---
#9 – Final Conclusions
---
Here's how I would sum up my opinion on Ovation Therapy's treatment (in 3 ideas).
1. Different Formula
---
I'm saying this in a positive way.
This product doesn't contain every ingredient you can find in similar items. Instead:
formula based on keratin

several herbs are associated

also contains some essential oils
So in my opinion – this ingredient list looks quite promising.
2. Not A Hair Loss Remedy
---
That's something you should keep in mind.
Ovation's treatment is meant to strengthen and add volume

hair growth is a secondary (and possible) effect

not meant to stop hair loss
So basically – you shouldn't buy this product for hair loss, because it's not going to help a lot.
3. Really High Cost
---
If you ask me – this product is overpriced:
extremely expensive for its formula

no trademark ingredient

not a "miracle making" product
It's true that the quantity it offers is pretty high too.
But even so, I still consider it too expensive for that.
---
My Verdict – Is Ovation Therapy Worth Buying?
---
Short answer: It depends. In my opinion – no, as it's too expensive.
But if you need a strengthening treatment, it might be a good option:
easy to apply

only needs to sit (at most) 5 minutes

doesn't leave hair greasy or dirty
As I said – I personally wouldn't buy it again:
Not effective for hair loss at all.

In my case, it didn't help hair growth.

Mostly increases volume and density.

Extremely expensive to buy it constantly (for me).
So is it a scam? Definitely not – it's totally legit. I simply don't consider it worth so much money, nothing else.
My personal choice are hair supplements:
work best for hair growth and shedding

cheaper price overall

easier to use

best effect in my case (compared to other products)
But as I said – you know better than me what you need and what you're looking for.
So if you afford buying Ovation Therapy's treatment, go for it. It might help a lot.
But if you really can't afford it (on the long term) – supplements might be a better choice for you.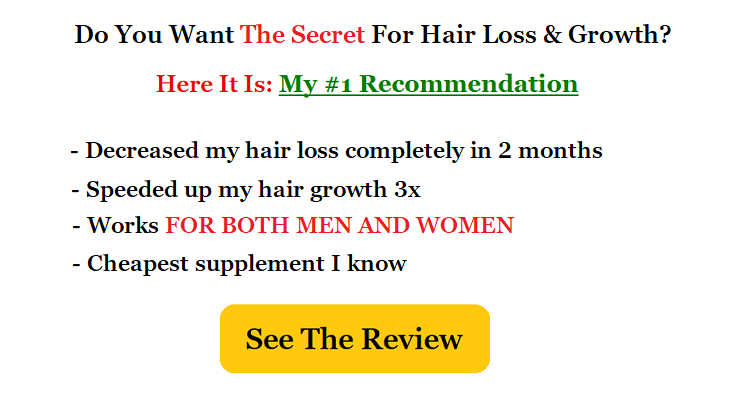 1 – https://www.ncbi.nlm.nih.gov/-pubmed/19277688