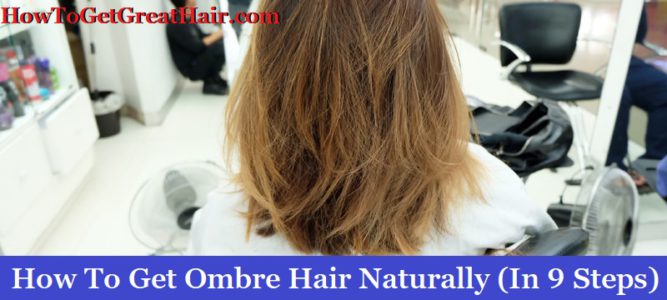 Ombre hair is a real trend right now – but is the hair damage worth it?
In case you didn't know it – getting an ombre is extremely harmful for your hair. For this reason – I've been looking for a healthier approach. 
So here's how to get ombre hair naturally – you only need to follow 9 easy steps:
harsh chemicals that would destroy your hair

you don't have to spend lots of money in a salon
The method is quite simple – so you can easily do it at home.
But before the actual instructions – here's what you should expect from this method.
---
The Good Side
Only natural, easy to find ingredients

No damage for your hair

You can repeat it anytime – for a different shade

No maintaining shampoo needed

You can do it at home

Minimal costs
The Negative Side
Slow method – you need to repeat it several times to get the shade you want

The result depends a lot on your hair color

For very dark hair, it's hard to get the result you want

You need a lot of patience
Basically – it's a really easy method, but the results aren't that amazing. At least not from the first try.
So if you want to go for this natural ombre – you need to be patient and repeat it several times.
However, if your hair is black (or anything close) – this method may not work that amazing. But anyway – you're not losing anything trying it.
---
What You Need To Use
---
As it's a natural method – don't expect a lot of ingredients. 
Basically – I recommend using just 3 ingredients that are good at lightening hair:
Lemon Juice

Cinnamon

Honey
Now – each of them can lighten hair (especially lighter shades). So if used in combination – their effect is even stronger.
But as I said – they're not going to make miracles from the start, especially if your hair is darker.
So if you're still willing to give them a chance – let's see what you need to do for this natural ombre.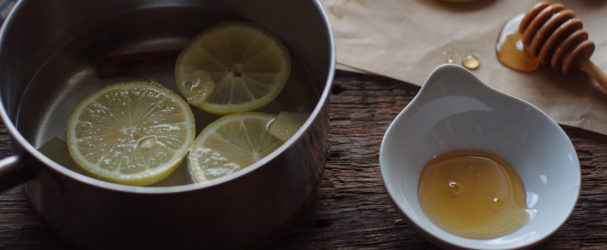 ---
The 9 Steps You Need To Follow
---
Before I start – let me clarify one thing:
this method will probably not work from the start

you will have to repeat it several times

if you have very dark hair, your chances of success aren't that high
Once you have this in mind – it's time to start.
#1. Add the following ingredients in a bowl:
a glass of fresh lemon juice

2 tablespoons of honey

a teaspoon of cinnamon powder
#2. Mix them up until you get a sticky mass. Then add some water until the mixture looks smooth and liquid. 
You can also add some conditioner – to prevent your hair from drying out.
#3. Let this mixture sit for about 20 minutes.
#4. It's time to apply it on your hair:
the lighter shade you want – the more mixture you have to apply

I recommend it applying it just at the ends (at least for the beginning)

you can use a brush – just like for

a hair mask
#5. Use the brush to spread the liquid upper. You probably a gradual change in your hair, not a clear difference.
#6. Sit in the sun for about an hour – if possible. This will help the lighting molecules penetrate your hair faster.
If you can't – don't worry. Just make sure you cover your head with a cap and let it sit for about 2 hours.
#7. Wash your hair as usual – but using a conditioner is a must, this time. 
#8. Dry your hair and check out if there's any difference. Normally, you should notice at least a small change between your roots and your ends.
But that mostly depends of 2 factors:
the time your let it sit and 

your hair color
#9. Repeat the 8 steps after one week. You should now see a bigger difference – but if that doesn't happen, do it again every week.
After 4 tries – there should be a real change.
---
My Verdict – Can You Get Ombre Hair Naturally?
---
Short answer: Normally, you should. But this method isn't usually 100% effective.
That's because it mostly depends on 2 factors:
your natural hair color

the number of times you repeat it
So if your hair color is a dark black – you will either have to repeat it over 5 times to get an effect OR you won't see any change.
However, if you happen to have a lighter shade – you will probably be more successful with this method.
Either way, I think it's worth trying out. After all, there's a minimal cost and a pretty easy technique. So you have nothing to lose.
Now I would like to hear from you:
How dark is your hair color?

Have you ever got an ombre hair in a salon?

Would you prefer the classic ombre – or this kind of natural approach?
I'm waiting for your answers, questions or suggestions in the comment lines below.