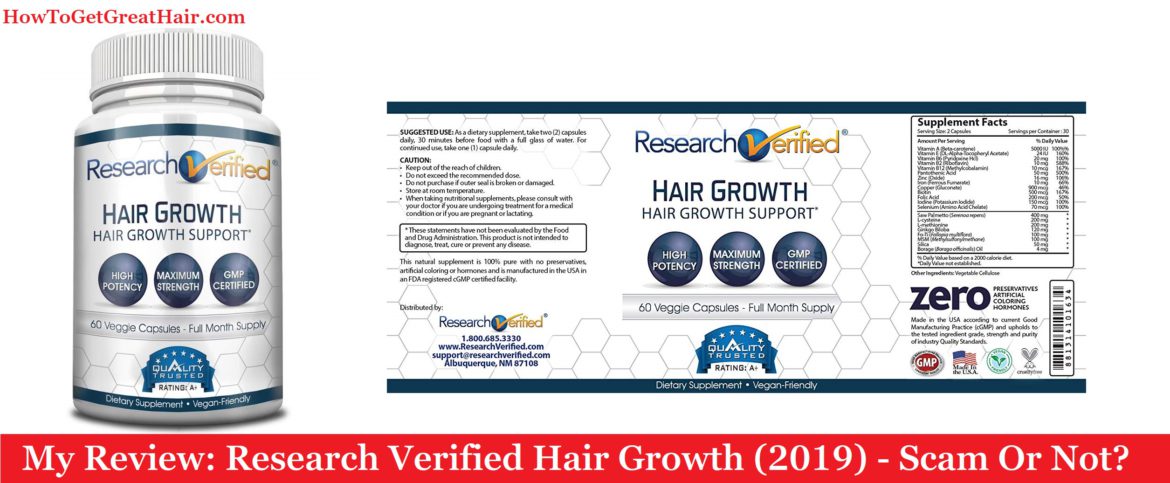 It's time to review Research Verified Hair Growth – a supplement that doesn't look too bad:
promising formula

high dosages

increasing popularity
However, it all comes with a cost. And RV's supplement is really expensive at $48 per bottle.
So is this supplement a scam (since it has enough customer complaints)?
Or is it as good as it actually seems? I tried to find out the truth behind it.
Note: This review is based on my own opinion + research on RV's product.
So Let's Get To The Review
---
Full Name: Hair Growth Support from Research Verified
Sizes: Only 1 month supply (but you can buy more bottles at once)
Best Actual Price: Around $50 per bottle
Cheapest Place To Buy: Probably Amazon
Designed For: Hair growth and everything it involves:
stimulates follicles

increases growth speed

fights and prevents hair loss
In other words – it's both a hair loss and growth supplement.
My Rating: 7 out of 10 – It's good but too expensive.
Worth Buying?: No – it simply costs too much for its actual value.
Though it's a great supplement, it's way too overpriced.
I prefer a $23 cheaper supplement with a slightly better formula (that I personally use).
What I Liked About It
---
Really good formula (with high dosages)

Contains several herbal extracts

Pills are easy to take and swallow

Available on most retailers

You can find many honest opinions about it online
What I Didn't Like About It
---
Way too expensive for what it contains

Many unsatisfied customers
---
What Is RV's Hair Growth?
---
In a few words – it's a 2-in-1 hair supplement. Why exactly?
Well – it's designed for 2 major purposes:
Increases hair growth speed and quality.

Fights hair loss (including the one caused by DHT excess).
Other than that, it's a valuable supplement for most hair issues (including thinning hair).
Now – what makes it more special than other products? According to the official website:
it has a 365 money back guarantee

only contains ingredients that are verified through research

formula is pretty good
However, its good points have a high price.
One bottle of RV's product costs almost $50 – a price that many of us couldn't afford (including myself).
So now that you know the main things about it, it's time to analyze it closer.
---
#1 – Ingredients

(9 out of 10)
---
In my opinion – RV's supplement has an excellent formula:
based on ingredients with real hair benefits

contains several herbal extracts

high dosages for most compounds
It's not the very best formula I know – but it's surely among the top ones.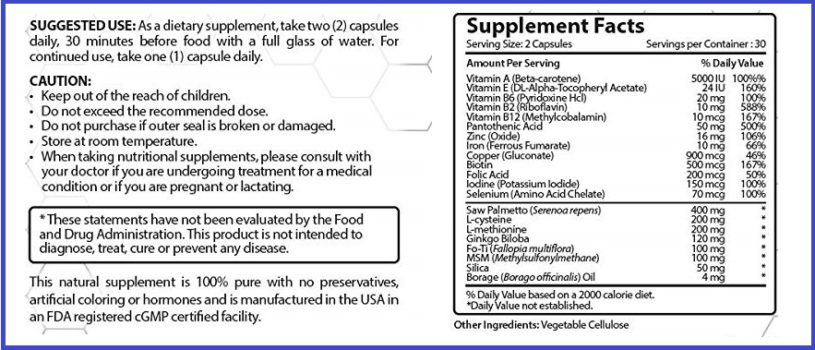 Now – I would divide its ingredients in 3 major groups:
Vitamins + Minerals

Herbal Extracts

Other Ingredients
So let's take a closer look at each (briefly):
1. Vitamins + Minerals
---
The list is very long here, as RV's supplement contains the most essential nutrients:
Vitamins B2, B6, B12 – stimulate hair follicles and prevent shedding. [1]
Vitamin E – it's an antioxidant that can promote hair growth. [2]

Zinc – a deficiency can cause massive hair loss.

Biotin – it's the best vitamin for hair (especially for growth).

Folic Acid – it's responsible for healthy cell growth in hair.

Iron – a lack in this mineral can lead to shedding. [3]
These are the most important ones from RV's product – but there are about 13 vitamins/minerals overall.
2. Herbal Extracts
---
Herbs are by far the strongest remedies for hair loss/growth.
So fortunately – RV contains some essential extracts:
Saw Palmetto – fights hair loss caused by DHT excess (best natural blocker). [4]

Ginkgo Biloba – increases scalp blood flow.

Fo-Ti – it's really effective against gray hair and shedding. [5]
Borage Oil – stimulates hair growth. [6]
Overall – 4 herbal extracts isn't a lot (compared to other supplements). But it's better than nothing,
3. Other Ingredients
---
This group includes some active ingredients that are less common in hair products:
MSM – some sources say it can increase hair growth speed.

Silica – effective for strengthening hair.
There are also some amino-acids, but their benefits are more general.
---
Conclusion
---
Overall – RV's supplement has a really good formula:
high dosages in most ingredients

valuable compounds
I personally would have preferred some additional herbal extracts (instead of so many vitamins).
That's because most supplements contain vitamins – but not all contain herbs.
But even so – this formula is better than 75% of its competitors.
---
#2 – How To Use It

(8 out of 10)
---
Here's what you should know about RV's pills and schedule.
1. Pills Facts
---
Good news here – the pills are pretty easy to take and swallow:
average dimensions

made of transparent gelatin cover

yellow powder inside
So they look like most hair supplements – and they can be swallowed normally, with a glass of water.
2. The Schedule
---
RV is pretty regular at this chapter as well. According to the label:
you need to take 2 pills per day

it's better to space them out throughout the day

for best results, you should take them before eating
Now – I personally recommend taking hair supplements with or after food.
In this way, there's no chance of getting stomach cramps (this can happen sometimes).
That was the schedule I followed with most products and I had great results with some.
So I don't think it can change their effect for your hair – only the one for your stomach.
---
#3 – Results

(7 out of 10)
---
The first thing I want to mention is that I have not tried this supplement personally.
For this reason – I have no experience to share about it.
Therefore, I tried to look at other customer's reviews and feedback (so that I could give you an unbiased opinion).
Note: I only considered authentic reviews, not promotional ones.
1. What People Say
---
RV's hair supplement has 4 star on Amazon (out of 5) from 59 reviews.
Though that's not bad at all – there are enough complaints about it.
So here are the most common opinions I could find about it:
Some say it made their hair grow a lot faster.

Others claim they noticed less hairs falling out.

A few noted some improvements in terms of thickness.

Some others say it's a good supplement, but too expensive.

On the other hand, others said they say no changes.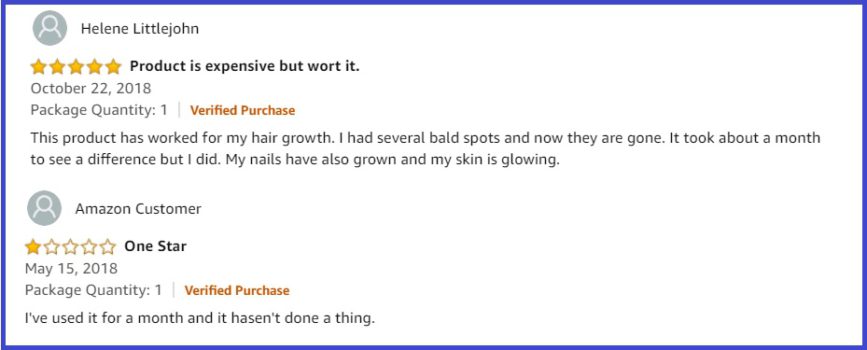 Basically – RV's product has a lot of honest reviews (with mixed feedback).
But as I said, it has enough negative opinions.
2. Biggest Complaints
---
Most of those unsatisfied customers criticized RV's product for things like:
Absolutely huge price

Poor effect

Pretty slow in terms of results

Now –  I haven't found any complaints about side effects, which is great.
But even though I haven't used this supplement, I have to agree with the #1 aspect.
The product is indeed overpriced for its actual value (ingredients, brand, effect).
---
Conclusion
---
Research Verified's product has mixed feedback overall.
And even though it's a good supplement – most users complain about its high price.
Also, in many cases – it takes several months until there's any results (which is quite normal).
So it's not my #1 recommendation in terms of hair supplements, to be honest.
---
#4 – Price

(4 out of 10)
---
In my opinion – RV's price is extremely unfair (and it's probably its biggest downside).
I consider the supplement really overpriced for its actual value.
1. The Exact Price
---
The price for this supplement is the same no matter where you bought it from:
It costs $48 per bottle.

That's only 1 month supply.

You can get more bottles at once in order to get a discount.

In that case, you could get it for $24 per bottle.
However – most of us would probably buy only 1 bottle at first (if it's the first time trying it).
So paying $50 per 1 bottle seems way too much for me.
That even if the ingredients inside these pills aren't anything special:
no trademarks

no original brand ingredient
So that's a major reason why I cannot recommend this supplement. It's just unfairly expensive.
2. Competitors' Price
---
I only want to compared RV's product with my top recommended hair supplement (Folexin):
They both have really good formulas.

I consider F's formula slightly better (as it contains way more herbs and ingredients overall).

RV costs $48 for 1 bottle.

On the other hand, F is way cheaper at $25.

Both products offer big discounts for larger orders.

RV costs $25 per bottle if you buy a 6 months supply.

F costs less than $18 per bottle if you buy the largest pack.
So overall – I consider Folexin as a much better choice.
RV's supplement is by no means bad, on the contrary.
But compared to Folexin – it's way more expensive and not as potent (in terms of ingredients). At least that's what I think.
If RV was cheaper, I would definitely recommend it (but not as a #1 choice).
But in this situation – I just don't think it's worth so much money.
---
#5 – Where To Find It

(10 out of 10)
---
Fortunately – Research Verified's products are really easy to find:
Available on major retailers (Amazon, Walmart, etc.)

Sold on their official website

Can be found in certain stores/online pharmacies
So if you're interested in these supplements – you don't have any excuse.
Now – where do they have the lowest price?
Regarding the hair supplement (but it's the same for the others) – prices are about the same in all sellers.
Amazon sells it for $48 per bottle, as well as the official website.
If you want a lower price – you might find it on Ebay. But there's a lower safety level as well.
---
#6 – FAQs
---
Up next – I will try to answer the top questions about RV's hair supplement.
Note: I might repeat something I already mentioned, but it's easier to spot here.
1. How many pills per day?
---
You need to take 2 daily – for best results, try to space them out.
I also recommend taking them after eating (or together with food). You can avoid stomach cramps in this way.
2. How long lasts 1 bottle?
---
A bottle is designed for 30 days – so it's a monthly supply.
3. Can I take it with other drugs?
---
If you're taking it together with other drugs – I recommend asking your doctor first.
Since it contains many vitamins and minerals, there's a small risk of interactions. So it's better to stay safe.
4. Are there any side effects?
---
Fortunately – I couldn't find any complaints about secondary reactions.
They might exist, but they're probably pretty rare (headaches, nausea, etc.).
5. How fast should I notice an effect?
---
The label doesn't mention anything about this.
But from what I read – it's not a super fast supplement.
It needs about 2-3 months to start working, so be prepared to buy several bottles if you want to see its actual effect.
---
#7 – Final Conclusions
---
Here's how I would sum up my opinion on RV's supplement (in 3 ideas).
1. Promising Formula
---
Though it's not the best formula in a hair supplement – it's surely a good one:
high dosages

ingredients with important benefits

substances with studies behind
So I personally expect from this product to work, judging after its compounds.
2. Few Side Effects
---
It's true that I haven't used it myself – but even so, I couldn't find too many complaints about its side effects:
people say it's pretty safe

few cases of headaches or nausea
I personally recommend taking it after eating (unlike what its label says).
I just think it's much safer and easier to prevent any stomach pain.
3. Way Too Expensive
---
All RV's supplements are kind of pricey.
But the hair formula seems worse than all:
it costs almost $50 per bottle

there's no trademark ingredient inside

most of its compounds are regular substances
So even though it's a good supplement – I see it way too expensive for its actual value.
---
My Verdict – Is Research Verified's Product A Scam?
---
Short answer: Definitely not – it's a totally legit and quality product.
So would I recommend it? To be honest, no.
Despite have a lot of qualities and good points – I don't think it's such a great choice:
Extremely overpriced for its actual value

Formula could be better for the money

Enough customers who had no improvement
Basically – I would recommend RV's product if it was cheaper (not as a first choice, though).
But at $50 per bottle, I can't possibly advice you to buy it.
I personally use a $25 supplement with a much better formula – which has excellent results for me.
So if I had to recommend an alternative to RV's product – it would surely be that one.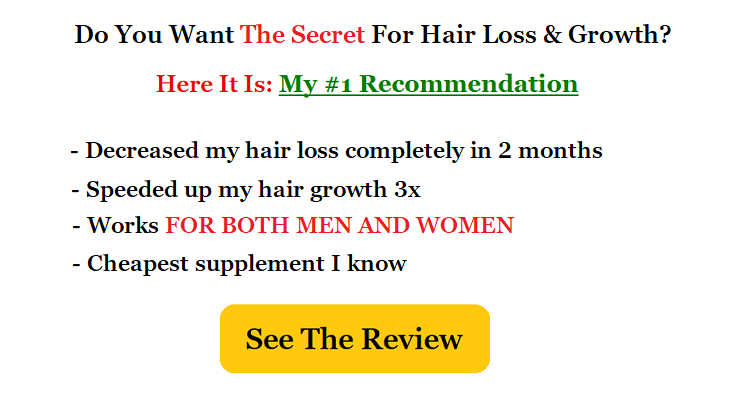 1 – https://www.ncbi.nlm.nih.gov/-pubmed/30547302
2 – https://www.ncbi.nlm.nih.gov/-pmc/articles/PMC3819075/
3 – https://www.ncbi.nlm.nih.gov/-pmc/articles/PMC3678013/
4 – https://www.ncbi.nlm.nih.gov/-pmc/articles/PMC2840915/
5 – https://www.ncbi.nlm.nih.gov/-pmc/articles/PMC4471648/