It's time to review Folliboost Hair Growth Serum – which is a topical remedy for hair.
So does this thing really work?

Is it any more special than other products?
At $41 per 2 oz bottle – it's surely more special (but only in price).
So is this serum a scam? Or is it worth the very high price?
I tried to dig deep into this product – so here's what I found out.
Note: This review is based on my own research + opinion on Folliboost.
So Let's Get To The Review
---
Full Name: Folliboost Hair Growth Serum from Tricho Labs
Sizes: Only 1 version (2 oz bottle)
Best Actual Price: Around $41 per bottle
Cheapest Place To Buy: Probably Amazon (best offer I found)
Designed For: According to the label – hair growth:
improves density and thickness

adds fullness in existing hair

combats hair loss
At least that's what the product claims.
My Rating: 7 out of 10 
Worth Buying?: Not really – but mostly due to its huge price.
Other than that, it's a decent product (especially if you're looking for a serum).
But if you prefer a cheaper alternative that works much better (in my case) – this is my top choice.
What I Liked About It
---
Average ingredients (they could be a lot worse)

Nice smell and consistency

Really easy to apply 

Doesn't leave hair greasy at all

Many authentic reviews on Amazon (many are positive)

Available in several retailers
What I Didn't Like About It
---
No dosages/quantities for the ingredients

You need to apply it 2 times a day

Bottle is very small (2 oz only)

Doesn't last for more than 1 month

Extremely expensive for its actual value
---
What Is Folliboost? A Quick Overview
---
Shortly – it's a product from Tricho Labs designed for hair growth.
But actually, it claims to do more than that:
thicken and increase hair volume

decrease shedding

stimulate follicles
Since it's a liquid product, the stimulation part is totally possible.
Most oily liquids stimulate follicles, whether it's Olive oil or a $100 oil from Amazon.
But anyway – what makes Folliboost more special than other hair serums? Here's what it claims:
Based entirely on natural ingredients.

Money back guarantee (30 days).
I would also add its absolutely huge price – $40 for a 2 oz bottle.
So this serum should actually make miracles at this price – otherwise I wouldn't think it's worth buying.
Therefore – now that you know the main things about it, it's time to analyze it closer.
---
#1 – Ingredients

(7 out of 10)
---
In my view, Folliboost's formula has both a good and a bad side:
Based on natural ingredients (herbs).

No dosages/quantities.
Now – topical products usually don't have very clear ingredients.
But even so, you can't really tell the quantities from Folliboost – which is a downside.

Either way, I would divide its ingredients in 2 groups:
Active ingredients

Inactive ingredients
1. Active Ingredients
---
These are mostly the herbal extracts and vitamins from this formula.
There are around 20 different ingredients – and some of the most important are:
Peppermint Oil – promotes hair growth without affecting its health. [1]
Vitamin E – also improves growth. [2]
Soybean Germ Extract – can reduce hair loss. [3]

Biotin – excellent for growth and against shedding.

Wheat Germ Extract – can improve dry and damaged hair.
Now – most of these ingredients are studied for their internal benefits.
In other words, they work only when taken internally (as supplements).
When applied on the scalp – their effect isn't as impressive.
So even those these substances are really good for hair – they're not as effective in topical products.
2. Inactive Ingredients
---
They don't really matter – since they have no effect on hair.
Folliboost contains around 15 inactive ingredients – mostly:
consistency agents

fragrances and scents

preservatives
So basically, these ingredients aren't necessarily useful to hair. They only make the oil easier to apply.
---
Conclusion
---
Folliboost's formula is about average, in my opinion:
high number of ingredients overall

several herbal extracts

no quantities
Even though some of its ingredients have many studies behind – they were mostly tested internally.
So when applied on the skin/scalp, the effect won't be as powerful.
That's why I'm personally not a fan of topical products and prefer supplements instead.
But when it comes to Folliboost – I say it have a average formula (not bad but not great either).
---
#2 – Smell & Texture

(10 out of 10)
---
In terms of consistency, Folliboost is better than most hair serums.
So here's what you should know about it.
1. Smell
---
These drops actually have a very pleasant scent:
similar to peppermint (or other herbal fragrances)

light intensity

doesn't stay in your hair forever
Basically – you can feel the smell when you apply the product, but it doesn't last for long.
That's a good thing, if you ask me – because no one will tell you're using it.
2. Texture
---
Though it's not perfect – Folliboost is still superior in terms of consistency:
quite easy to apply

doesn't leave hair greasy

pretty thick consistency
Now – the serum isn't very light and oily, as most products of this type are.
In fact, that's the reason why it doesn't leave hair greasy.
As it's a bit thicker, it stays put wherever you apply it until it soaks in.
So from this point of view – I have only praises about it.
---
#3 – How To Use It

(8 out of 10)
---
The good part is that Folliboost offers clear instructions (that are available anywhere).
The bad part is that you have to use it more often than other serums.
Here's what the directions recommend:
For best results, you have to use it 2 times a day.

It's recommend it to apply it in the morning and evening.

Apply a few drops in certain areas of your scalp.

Use your hands to spread the liquid.

Massage with your fingers and do not rinse.

The product should soak in in a few minutes.
Now – the solution itself is quite easy to apply.
And since it has a great consistency – it doesn't leave your hair or hands sticky.
However, the fact that you need to apply it twice a day can be a downside (especially if you're a busy person).
---
#4 – Results

(8 out of 10)
---
Folliboost isn't one of the products I have tried myself.
So as much as I wanted – I cannot give out a personal opinion about it.
However, I checked out several customer reviews – so that I can judge fairly.
Note: I only considered authentic reviews, not promotional ones.
1. What People Say
---
I checked out Folliboost's opinions on Amazon (which is known to allow only previous customers to write a review).
Surprisingly or not – the reviews were about 75% positive:
Some people praised its consistency and texture.

Others said it really helped with hair growth.

A few admitted it helped, but it took over 3 months to start working.

Some say it's totally useless and doesn't help at all.

Others claim it only worsened their hair's condition.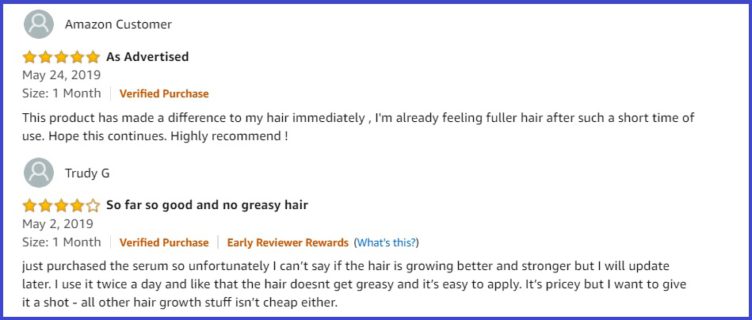 Now – it's quite normal that opinions are mixed up.
But since there are enough satisfied customers, I personally don't consider Folliboost a scam.
That even though it has enough complaints.
2. Biggest Complaints
---
As I said – there are a couple of users who were not satisfied with this serum.
Most complain about:
Really big price (for the quantity offered).

No effect in 2-3 months.

Worsened hair loss.

Now – these are surely not some issues for everyone.
But since they are among the complaints from Amazon – they must be real.
However, as I haven't tried Folliboost myself, it's hard to give an opinion.
The only point where I can agree is price – which is indeed way too high.
---
Conclusion
---
Folliboost has mixed opinions from previous customers:
some say it's really helpful

others say it doesn't improve hair at all
But since there are more satisfied customers – I certainly believe this product is legit.
Even so – I personally wouldn't choose it, just because it's a topical remedy and only treats the symptoms (instead of the actual problem inside).
That's why supplements are my own alternative.
---
#5 – Price

(4 out of 10)
---
From this point of view – Folliboost looks worse than its competitors.
In terms of price, I consider it unfairly expensive (despite being a good product).
1. The Exact Price
---
Here's what you should keep in mind:
Amazon has the best offer for this product.

It costs $41.01 for 2 oz.

You also get free shipping if you buy it from Amazon.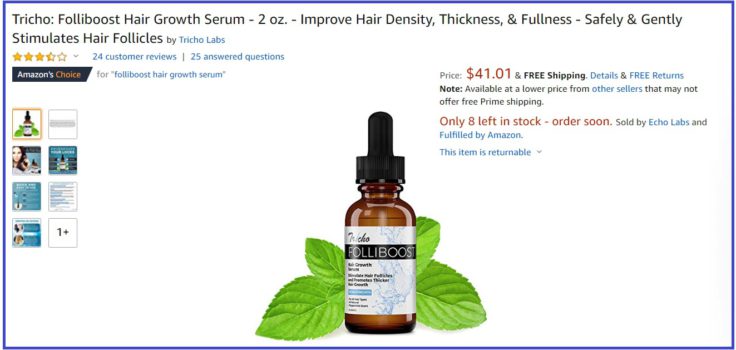 Now – on its official website, it costs $80 on paper (which is absolutely absurd).
But the company offers big discounts quite often – so you can get it for about the same price as on Amazon.
Either way, $40 for a bottle of 2 oz is absolutely huge.
Besides – since you have to apply the product twice daily, it will probably last less than 1 month.
So in my opinion, it's way too overpriced.
2. Competitors' Price
---
I only want to compare Folliboost with my #1 recommended hair product (a supplement called Folexin).
Folexin costs $25 per bottle (30 days supply).

You can also get it for $18 if you buy more bottles at once.

Folliboost costs $41 per 2 oz.

You can get it for about $32 if you buy 3 bottles at once.
Now – both products offer a significant discount, which is great.
But in my opinion, $32 for 2 oz is still way too much. 
That especially since one bottle isn't very likely to last 1 month.
So I don't consider Folliboost as good as Folexin (in terms of price).
When it comes to effect – I always saw much better results from supplements compared to topical products. 
So I would definitely prefer Folexin (or other supplement) over a serum.
---
#6 – Where To Buy It

(9 out of 10)
---
This serum is quite easy to find, which is a big advantage.
Some of the best places to buy it from are:
Amazon (my top pick)

Its official website

Ebay
At one point, it was also available on iHerb – but I can't tell if this changed or not.
Also – you can't really find Folliboost in local shops (as far as I know).
So in my opinion, Amazon remains the best option to buy it right now (for 1 bottle):
best price overall

free shipping

money back guarantee
In case you want higher quantities (2 bottles or more) – go for the official website, as it offers some discounts.
---
#7 – FAQs
---
Up next – I will try to answer the top questions you might have about Folliboost.
Note: I might repeat something I already mentioned, but it's easier to spot here.
1. How often should you use it?
---
According to the label – it works best when applied 2 times a day.
You should use it once in the morning and once in the evening.
2. How long lasts 1 bottle?
---
There's no mention about that.
But since one bottle only has 2 oz and you have to apply about 5 drops twice a day – it shouldn't last more than 3-4 weeks (at most).
3. Can I use it with other drugs?
---
Absolutely.
Since it's a topical product, there's no risk of interactions with other drugs. So consulting your doctor before isn't a must.
4. Are there any side effects?
---
I found some complaints from previous customers.
Among its side effects, they mentioned:
itchy scalp and rashes

dandruff

worsening hair loss
However, most reviews stated it as a safe product. So side effects are probably quite rare.
5. How fast should I notice an effect?
---
I couldn't find any claims about this.
But in my opinion, you should give it 2-3 months.
That's the time when you should notice an effect for topical hair products in general.
---
#8 – Final Conclusions
---
Here's how I would sum up my opinion on Folliboost (in 3 ideas).
1. Easy To Use
---
Unlike other hair serums – this product is a lot more user-friendly:
gel-like consistency

doesn't leave hair greasy

soaks in really fast
So that's a major reason why I consider it a good serum (one of the few actually). At least in terms of texture.
2. Mixed Reviews
---
As it's normal – Folliboost has both good and bad opinions.
But even so, the positive reviews are more common.
So this makes it pretty clear the product isn't a scam – for those claiming so.
3. Really Overpriced
---
In my opinion, Folliboost costs way too much for its actual value:
price is $41 per bottle

there are only 2 oz in one bottle

that's not enough for 1 month
So in terms of price, I personally wouldn't afford it – or recommend it.
---
My Verdict – Is Folliboost A Scam?
---
Short answer: Definitely not – the product is completely legit.
But despite its good points, it's not a product I would actually recommend:
Only works on the outside.

Extremely expensive for its real value.

Very little quantity per bottle.

Needs to be applied quite often.
Now – this is my personal opinion. 
I'm not claiming Folliboost is a bad product, on the contrary.
Even though I haven't tried it – it certainly looks like a legit and decent product.
But I personally couldn't afford paying a small fortune every 3 weeks.
What would I choose instead? A supplement:
much better effect than topical products 

works on the inside and treats the actual problem

lower price overall

easier to take 

results appear faster (and last longer)
So if you want a serum and you're willing to pay the high price – Folliboost is a good choice.
But if you want a better product for less money, supplements are my top recommendation.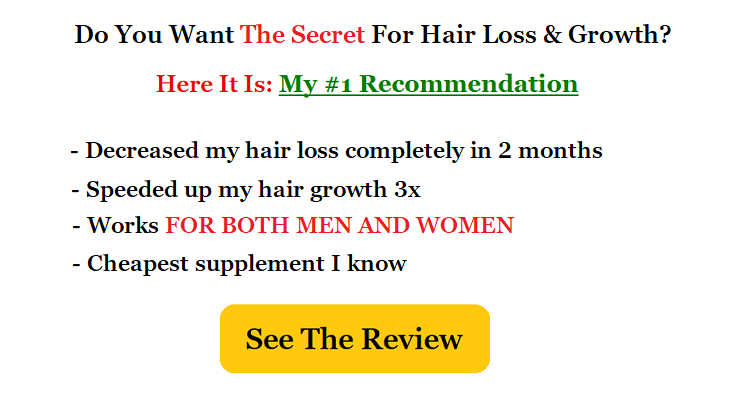 1 – https://www.ncbi.nlm.nih.gov/-pmc/articles/PMC4289931/
2 – https://www.ncbi.nlm.nih.gov/-pmc/articles/PMC3819075/