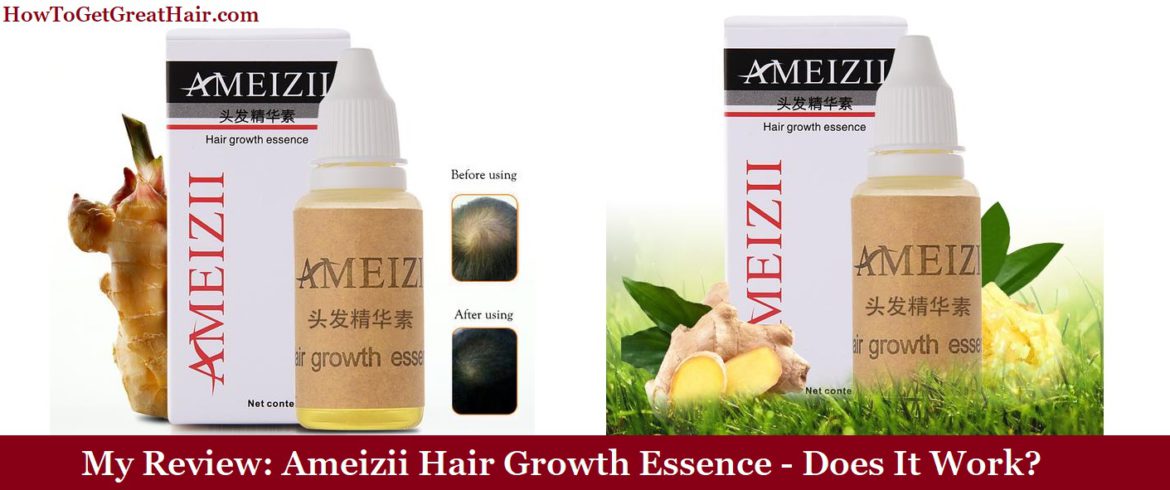 It's time to review Ameizii Hair Growth Essence – which is an oil that claims to make miracles for hair:
revitalizes follicles

stimulates growth that lasts forever

prevents all kinds of hair loss
Now – that's what the label claims.
Whether it's true or not, it's another story.
So is Ameizii a scam? Since it has very few details about its formula/company – it might be.
For this reason, I tried to dig deep into this product and find out the real truth behind.
Note: This review is based on my own opinion + research on Ameizii.
So Let's Get To The Review
---
Full Name: Hair Growth Essence from Ameizii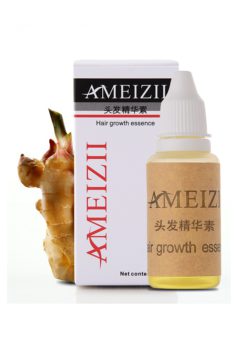 Form: Only liquid (20 ml per bottle)
Best Actual Price: Around $2
Cheapest Place To Buy: Probably Ebay (discontinued from Amazon)
Designed For: Everything related to hair growth/loss (according to its label):
2-3 times faster growth

promotes new roots growth (hard to believe)

revitalizes follicles
I personally tend to believe these claims are fake – as no product can treat all kinds of hair loss.
My Rating: 4 out of 10
Worth Buying?: Surely not – it's not a quality product at all:
many negative reviews

full ingredient list isn't disclosed

expensive for the quantity
Instead – I personally recommend a hair supplement that helped me more than anything else.
What I Liked About It
---
Pleasant herbal smell

Available from many seller on Ebay
What I Didn't Like About It
---
Most of the ingredients are hidden

The ones that are mentioned aren't anything special

Pretty thick and greasy texture

Needs to be applied daily (once or ever twice)

You have to wash your hair afterwards

Makes hair quite greasy

Few authentic reviews online (out of these, most are negative)

Pretty hard to find in the US

Quite expensive for the quantity
---
What Is Ameizii Hair Growth?
---
Shortly – it's a product based on traditional Chinese herbs, designed for various hair issues.
According to its description:
activates dormant follicles

reduces hair loss faster than other products

increases hair thickness naturally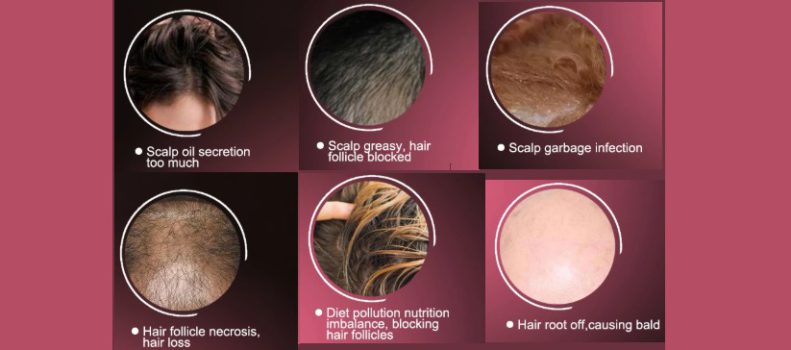 But if you ask me, these are pretty unrealistic claims.
In reality – Ameizii's product seems to be quite far from what it claims.
At least that's what most users state.
Besides, its pretty basic formula could stand as a proof.
Not to mention that it comes in a really small quantity (20 ml or 0.67 oz).
So now that you know the main things about Ameizii – it's time to analyze it closer.
---
#1 – Ingredients

(4 out of 10)
---
First of all – this product doesn't give out its whole formula (which is a major downside).
Usually, products with poor ingredients use this method.
That's what makes me doubt Ameizii's quality.
Now – there are 3 ingredients mentioned:
Ginseng – improves nourishment, strength and hair flexibility. [1]

Ginger – stimulates blood flow and prevents shedding.

Polygonum multiflorum – maintains hair health and color. [2]

I personally don't consider them very effective for hair (compared to other herbs).
That's why I doubt Ameizii can do what it claims, in terms of hair.
The known part from its formula is pretty weak and basic, if you ask me.
---
Conclusion
---
This product is really disappointing in terms of formula.
Not only that it doesn't give out all of its ingredients – but the mentioned ones are pretty weak:
mostly traditional Eastern herbs

their hair benefits are limited

no dosages
So Ameizii's hair essence is surely a product I would not recommend.
If you ask me – it's not really a hair essence but only a herbal mix (and not a very good one).
---
#2 – Smell & Texture

(7 out of 10)
---
Though I haven't tested this product myself, here's the info I found about its consistency.
1. Smell
---
According to the reviews I read – Ameizii's scent is pretty pleasant:
average intensity

smells like a mix of herbs

doesn't stay in the hair for days
In terms of fragrance – I can't give you a name, but it feels like several herbs mixed together.
So it has a fresh scent, which is pretty nice from what I read.
2. Texture
---
Apparently – Ameizii's consistency isn't the nicest one:
really greasy liquid

leaves hair quite oily (especially if applied daily)

can weigh down some hair types (thin or straight hair)
Overall, this essence looks pretty much like a hair oil.
But from what I read, it's quite thicker than most regular hair oils.
It's not as greasy as Virgin Fertilizer, but it's not very far either.
That's why I don't think it's really suitable unless you have a pretty dry hair type.
---
#3 – How To Use It

(6 out of 10)
---
Initially, I couldn't find any directions about Ameizii's product.
However – I managed to find some on a 3rd party retailer.
So here's how you should use this product:
First, apply a few drops in your hands.

Use them to massage the product throughout your hair.

Insist on the areas affected by hair loss (if you have any bald spots.

Continue by adding the product on your scalp.

According to the instructions, you need about 2-3 ml.

Massage with your fingers and let it sit for at least 30 minutes.

Afterwards, rinse it.

It's recommended to use it 1-2 times a day.

Now – if you ask me, this product is pretty hard to use.
First of all, applying it daily (or even twice a day) is pretty uncomfortable.
Not to mention that you have to wash your hair afterwards – which is going to take even more time.
So if you ask me, it's definitely not worth the effort.
---
#4 – Results

(5 out of 10)
---
As I already said – I don't have a personal experience with this product.
Instead, I tried to look into other customer's experience with it.
In this way, you could see an unbiased perspective – and that's the point of this review.
Note: I only considered authentic reviews, not promotional ones.
1. What People Say
---
First of all, Ameizii has very few customer opinions online.
I could only find some on Amazon – but there are less than 15 (which isn't very relevant).
The product has a rating of 2.8 stars out of 5 – which isn't too promising either.
So here's what these reviews say:
Some people claim it helped their hair grow a lot.

A person even says her hair grew 2 inches in 1 week (impossible, if you ask me).

Others say their hair feels softer.

However, most users say they weren't satisfied.

Some say they couldn't see any improvement.

Others complain it only made their hair greasier.

So overall – most users criticized Ameizii.
Most Amazon products have way more positive reviews than negative ones – so it's quite obvious Ameizii isn't what it claims to be.
2. Biggest Complaints
---
Let me give you some more details about these negative reviews.
Most people complained about:
No effect even after months of usage

Greasier hair

Takes a long time to use

Weighs hair down way too much

Pricey for what it does
Basically – out of 13 reviews, I found at least 5 different complaints.
So it's quite obvious that this product can't do what it promises. Not to mention that it's far from a hair loss solution.
---
Conclusion
---
Based on the reviews I found, Ameizii doesn't work (in most cases).
Out of the positive reviews I found about it, some looked really questionable (hair grew 2 inches in a week – which is impossible).
However – there were far more complaints.
So I personally would never recommend Ameizii.
If you need a quality alternative – I would suggest a $25 supplement that I personally use.
---
#5 – Price

(5 out of 10)
---
Ameizii might not seem overpriced at first sight.
But if you look at its quantity, you will definitely change your mind.
1. The Exact Price
---
First of all, this product's prices vary a lot (depending on the seller):
around $2 on Ebay

$20 on Shopper's Nirvana (reduced from $60)

unavailable on Amazon
Now – $2 for 0.67 oz (20 ml) isn't the lowest price ever.
But keep in mind that you will also have to pay for the shipping (which might cost over $15).
That's the downside when you're buying from Ebay.
So paying around $20 for less than 1 oz of liquid seems way too much for me. Especially since it may not even work.
2. Competitors' Price
---
I will only compare Ameizii with my #1 recommended hair product (a supplement called Folexin):

A costs $2 per bottle plus shipping (around $15).

This quantity is only enough for 2 weeks at most.

So you end up paying over $30 per month.

F costs $25 per bottle (monthly supply).

Shipping costs around $4 in the US.

If you buy more bottles at once, you can get it for about $18 per bottle.
Overall – Ameizii might sound cheaper at first.
But you should also consider the quantity, as many people don't look at that.
Plus – I'm pretty sure it's not going to work amazingly for most people. That's a main reason why I don't recommend it.
As for Folexin, it's the cheapest supplement that worked really well for me.
Even though I never used Ameizii, I could never compare it with Folexin – which is way better in:
ingredients and formula

customer feedback

price/quality/quantity ratio
---
#6 – Where To Find It

(7 out of 10)
---
I already mentioned it – Ameizii isn't the easiest to find product.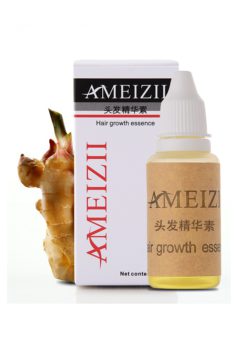 That's probably since it's made in the East and most products from that part are harder to find here.
Anyway, Ebay is the best option for getting this product – despite its real downsides:
shipping depends on the seller

but in most cases, it's way over $10-$15

it usually takes several weeks until you receive the order

you will not always receive what you ordered
Other than Ebay, I also found Ameizii on a website called Shopper's Nirvana.
However – it costs a lot more ($20 per bottle). Plus, the initial price was $60.
Regarding Amazon, the product is discontinued there.
It might have something to do with the high number of complaints, to be honest.
---
#7 – FAQs
---
Coming up, I will try to answer the top questions about Ameizii.
Note: I might repeat something I already mentioned, but it's easier to spot here.
1. How often you should use it?
---
According to the directions I read – you should apply it 1 or 2 times a day.
2. How long lasts one bottle?
---
Not very long. The same instructions recommend using about 2-3 ml per application.
However, the whole bottle has 20 ml.
So if you make the calculations – it's about 7 to 10 days (if you use it once a day).
In case you decide to apply it twice, it's going to last less than a week.
3. Can you take it with other drugs?
---
Pretty much yes.
It's a topical product based on herbal extracts – so there's no risk of interactions.
4. Are there any side effects?
---
Unfortunately, I couldn't find any info on this topic.
Since there are only a few reviews – there was no mention about side effects.
But if you ask me, the product could cause some scalp rashes at most – so nothing serious.
5. How fast should you notice an improvement?
---
According to the label, you should see results in 2-3 weeks.
But I personally doubt it – as no product can ever work so fast.
So normally – if Ameizii really worked, it would need at least 2-3 months for you to see a change.
Nothing faster, unfortunately.
---
#8 – Final Conclusions
---
Here's how I would sum up my opinion on Ameizii (in 3 ideas).
1. Overestimated Promises
---
Ameizii claims to be a miracle-maker for every kind of hair loss.
Plus, it also promises to boost hair growth and revive follicles.
Honestly – most hair products cannot revive follicles once they are dead.
So how could an oil with a basic formula do that?
All its negative reviews are a great proof that it can't keep its promises.
2. Quite Hard To Use
---
The label recommends using it 1-2 times per day:
this involves applying it and massaging

you also have to let it sit for at least 30 minutes

then you have to wash your hair
Basically – you would have to wash your hair at least once a day.
If you apply the product twice, then it's going to take even more.
Honestly – you would have to be unemployed to keep up with this schedule.
3. Probably Won't Help
---
Most reviews about Ameizii are negative.
That's why I doubt this product could help with hair loss.
If your hair is in a good shape – you might see some positive results.
But that would happen no matter what other product you would use.
That's why I doubt Ameizii could help with a major issue.
---
My Verdict – Is Ameizii Worth Buying?
---
Short answer: Definitely not – it claims to be way better than it really is:
No formula or dosages mentioned

Really hard to use on the long term

Many negative reviews

Hard to find in the US

Overpriced for the quantity it comes from
Not to mention that it claims to be a miraculous product that is good for almost any hair problem.
But in reality – it's far from that.
Plus – one of the things it claims literally shocked me.
According to its description, it can revive hair follicles – which is almost impossible.
Most hair products on the market can't do that, as hair follicles cannot be revived once they die.
However, Ameizii claims to do that – even though it actually doesn't.
So what do I recommend instead? A supplement.
Supplements are by far the best when it comes to hair problems:
treat the real cause from the inside

work for both men and women

effect lasts on the long term (even after you stop using it)

results appear faster than with topical products
So if I were to recommend you an alternative to Ameizii, it would surely be a supplement.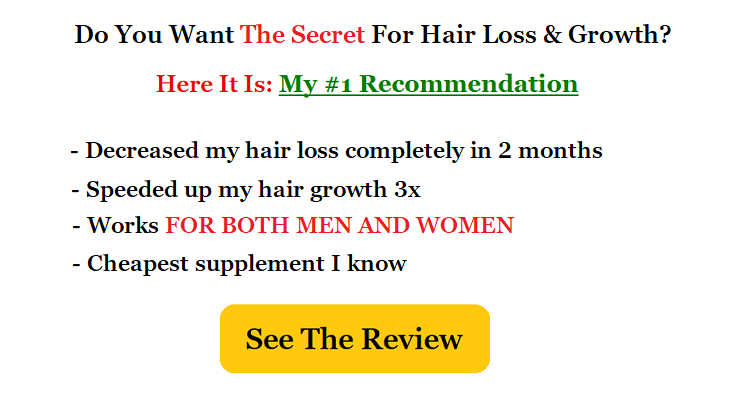 1 – https://www.ncbi.nlm.nih.gov/-pmc/articles/PMC6163201/