It's time to review Virgin Hair Fertilizer – a product that's been really popular lately.
So does it really grow hair much faster?

Are those scary side effects stories true?
I tried to dig deep into this product and find out all the hidden details.
So here's the truth behind you should know.
Note: This review is based on my opinion + research on Virgin Hair Fertilizer.
So Let's Get To The Review
---
Full Name: Virgin Hair Fertilizer
Versions: Only 1 pack of 8.8 oz (125 g)
Best Actual Price: Around $6
Cheapest Place To Buy: Amazon is the most comfortable choice
Designed For: Rapid hair growth – according to the label.
However, it also has several additional benefits – like:
fights against dandruff

deeply condition dry hair

prevents breakage
Overall – it's a product that works best for black women with coarse hair (too strong for normal hair).
My Rating: 6 out of 10
Worth Buying?: Not necessarily – at least I can't recommend it:
very weird formula

too greasy for normal to dry hair (only for coarse hair)

can be dangerous when applied to scalp
It's true that it has an excellent price, though.
But even so – I prefer a cheap supplement that worked really well for me (plus that it's 100% natural).
What I Liked About It
---
Excellent price (for all packages)

Available on most retailers

Many authentic opinions available online

Doesn't have to be rinsed from hair
What I Didn't Like About It
---
Ingredients are really weak overall

Very intense peppermint smell

Consistency is really sticky and oily

Mostly effective on coarse hair (not just dry hair)

You need to apply it daily

Can cause side effects on the scalp (due to vaseline)
---
What Is Virgin Hair Fertilizer?
---
In short – it's a cream meant to "fertilize" hair and make it grow faster instantly.
So how exactly does it work?:
Its formula is based on vaseline (Petroleum Jelly) and Peppermint Oil.

Vasline moisturizes coarse strands.

In this way, it improves breakage.

Peppermint Oil stimulates follicles (if used with scalp massage).
However – that's the explanation on paper.
Because in reality, Virgin Hair Fertilizer can have the opposite effect on some people:
increase shedding and breakage

irritate the scalp
Sure enough – these cases aren't extremely common, but there are enough complaints.
So is this product really worth using – despite having a very basic formula (that doesn't even look like a hair cream)?
Now that you know the main things about it, it's time to analyze it more closely.
---
#1 – Ingredients

(4 out of 10)
---
In my opinion – Virgin Hair Fertilizer's formula is quite disappointing:
Mostly made of vaseline (Petroleum Jelly)

Not extremely safe (after some sources)

Main active ingredient is Peppermint Oil
Basically – this cream doesn't contain any ingredient known for its hair benefits.
Instead, it focuses on greasy substances that will stimulate the follicles either way (any oil stimulates hair growth).
So let's take a closer look at VHF's ingredients:

Herbal Extract – I'm not sure what that is, since there's no name of a certain herb.

Petroleum Jelly – moisturizes hair and decreases breakage. [1]
Peppermint Oil – promotes hair growth. [2]

Lanolin – just like Petroleum Jelly, also moisturizes hair strands.

Fragrance – no actual benefit.
As you can see – Virgin Hair Fertilizer has about 4 active ingredients.
And out of these, Lanolin and Petroleum Jelly are meant to add a nice consistency (rather than for their hair benefits).
In fact – some sources don't even recommend applying these 2 on hair (they might be dangerous).
---
Conclusion
---
In terms of ingredients, this cream looks pretty bad:
no classic substances for hair growth

based on Peppermint oil
In my opinion – adding Peppermint oil alone to your scalp would lead to the same results.
So as I formula, I couldn't recommend VHF.
That especially because I'm not sure how healthy it is applying lanolin and vaseline on your scalp. I personally wouldn't do that.
---
#2 – Smell & Texture

(6 out of 10)
---
Consistency is a really important aspect of Virgin Hair Fertilizer.
So here's what you should keep in mind before you buy it.
1. Smell
---
If you ask me, it could smell a lot better:
Scent is very intense and deep.

Feels like herbs (most likely peppermint).

Lasts in the hair until you wash it.
So in my opinion, it's a pretty distressing smell.
Even though the cream claims to contain fragrance among its ingredients, you can mostly smell the Peppermint oil.
So it is the kind of smell that would bother a lot of people.
2. Texture
---
There are a few things to complain about here, as well:
Cream is really thick overall (compared to others).

Also, consistency is quite sticky.

Has a transparent color.
Now – since it has a really oily and sticky texture, make sure you only apply it on your scalp.
A lot of people complain this cream made their hair fall out even more.
But in reality – that's probably because they applied it in the wrong manner (on the hair too).
Even so, in terms of consistency – it's not a product I'm personally into.
---
#3 – How To Use It

(7 out of 10)
---
Even though it has clear instructions – this cream isn't so easy to apply.
At least when it comes to its texture (I already detailed this aspect above).
So here's how you should use Virgin Hair Fertilizer:
Apply a small quantity on your scalp (the label doesn't say how much).

Massage with your fingers to spread it.

Comb or style your hair as usual.

Make sure to use it daily.

Now – the directions say you should apply it both on hair and scalp.
But judging after the reviews I read, I say it's better to use it just on the scalp.
At least if your hair isn't very dry. Otherwise, due to its greasy consistency – it might actually help.
---
#4 – Results

(7 out of 10)
---
To begin with – I haven't used this product myself. 
Since I don't have dry/coarse hair, I was way too afraid to put a vaseline cream on it – no matter how much it would help.
As I can't speak from experience – I decided to check out all the reviews on VHF I could find.
In this way, you can see the whole picture.
Note: I only included authentic reviews, not general ones.
1. What People Say
---
Even though there are many satisfied customers, there are enough complaints as well.
So here are the most common thoughts on Virgin Hair Fertilizer (on Amazon):
Some people say it works really well.

Others claim it grows their hair better than anything else.

A few others praise its low price.

On the other hand, some say it doesn't work at all.

Others complain that it made their hair loss a lot worse.

Some others criticize its bad texture and smell.

A few say it's really hard to apply and leaves hair sticky.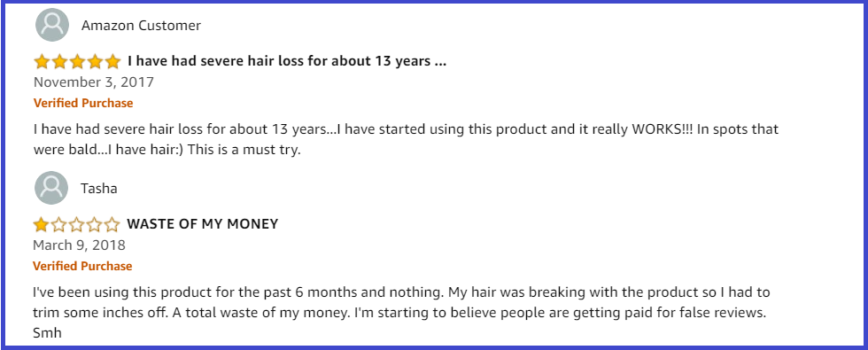 However – I noticed that most positive results were from black women with coarse hair.
As their hair is really dry, the vaseline from VHF moisturizes it pretty well.
On the other hand – for a hair that is just a bit dry, that is way too much. So it becomes sticky and greasy.
2. Biggest Complaints
---
As I said, there were enough negative reviews on this creams.
Most of them were related to:
Side effects (worsening hair loss, itching, etc.)

Poor overall effect

Cream's sticky texture

But as I said – most complaints were probably from women with normal to dry hair.
In those cases, I surely don't recommend this product – as it's way too strong and greasy.
On the other hand, it's true that it doesn't work for everyone with coarse hair.
Lots of black women are complaining that it didn't work, so it's all a matter of luck.
---
Conclusion
---
Even though it has mixed reviews, I wouldn't recommend Virgin Hair Fertilizer (unless you have really coarse hair):
not effective for everyone

enough complaints about side effects

doesn't grow the hair from the inside
Instead – my advice is to try a supplement.
It has much better results on the long term and it's much healthier. Plus – it grows your hair naturally, from the inside.
So that's the kind of product I always use instead.
---
#5 – Price

(10 out of 10)
---
Honestly, that's the biggest advantage of this cream.
It's true that it doesn't contain anything special – so it had no reason to cost more than $10.
But even so, I must admit that its price is really good.
1. The Exact Price
---
Amazon probably has the best offer for this cream.
Besides – it allows you to buy several packs at once. For instance:
One tube costs $6.29.

Shipping isn't included, but it's free if your order is over $25.

Two tubes costs $9.99.

There's also a pack of 4, which costs $17.99.

So basically – price is excellent no matter which of these packages you chose.
2. Worth The Money?
---
Now – Virgin Hair Fertilizer costs very little, that's a fact.
But is it really worth the money? Just think about it:
Petroleum Jelly costs $1 at most.

Peppermint Oil is available for under $4.

The other compounds are also really cheap.
So Virgin Hair Fertilizer has a really low price – but its formula has a pretty low quality, if you ask me.
There's no major ingredient for hair, basically.
So even though it's totally worth $6 (or even $10) – I don't think it has a really good value, in terms of ingredients.
---
Conclusion
---
This cream is extremely cheap – which is a big advantage.
But despite being worth the money, I don't regard it as a valuable choice. That's my personal opinion, of course.
---
#6 – Where To Find It

(9 out of 10)
---
Fortunately, Virgin Hair Fertilizer is quite easy to find online.
I can't tell if it's available in local stores as well. But when it comes to online retailers, most are selling it:
Amazon (best offer)

Ebay (probably lowest price)

Walmart

Online pharmacies or smaller retailers
Now – if you ever bought anything from Ebay, you know what a wide range of options/prices it has.
For this reason, you can probably find Virgin Hair Fertilizer for less than $6 there.
However, that doesn't include the shipping fees (which are usually large).
That's why I believe Amazon has a much better offer:
prices are really good for all packages

shipping is free for orders over $25
So you can buy this cream whenever you want to shop for anything else on Amazon (if you want to get free shipping).
At this point – I think it's the best choice.
---
#7 -FAQs
---
Coming up, I will try to answer the most common questions about Virgin Hair Fertilizer.
Note: I might repeat something I already mentioned, but it's easier to spot here.
1. How often you should use it?
---
According to the label – you should apply it daily, for best results.
2. How long lasts 1 tube?
---
I haven't used this product myself, so I can't really tell.
But from what I read – it should last more than 1 month.
Surely, it also depends how much cream you apply daily.
3. Can I take it with other drugs?
---
Since it's a topical product, it's pretty safe from this point of view.
So you can ask for your doctor's advice before using it – but it's not a must, in this case.
4. Are there any side effects?
---
According to some reviews I read, they're pretty common (compared to other creams).
These side effects include:
hair loss and breakage

itchy scalp

rashes
5. How fast should I notice an improvement?
---
Some people claim they could see results in as little as one week.
But medically speaking – it's impossible that hair grows so fast. So those reviews are surely fake.
However, VHF seems to work pretty fast.
So I say you should use it for at least 1 month before you expect any changes.
---
#8 – Final Conclusions
---
I will try to sum up my opinion on Virgin Hair Fertilizer (in 3 ideas)
1. Really Cheap
---
Compared to other topical product – VHF has a really low price.
And that's available for any package you buy.
So it's the kind of product affordable for any kind of budget.
2. Mostly Vaseline
---
As I mentioned in the beginning – this cream has a pretty weird formula:
based on Petroleum Jelly (vaseline)

the main active ingredient is Peppermint Oil

really sticky and greasy consistency
Basically – VHF is vaseline mixed up with a few drops of essential oil.
I couldn't possibly praise this kind of formula.
3. Might Be Dangerous
---
According to some articles – vaseline and lanolin aren't safe to apply on the scalp:
can block follicles

promote bacteria multiplication

may cause scalp infections in the end
Since there are enough people complaining of side effects, these claims might be true.
It's also true that it doesn't happen to everyone.
But I personally wouldn't use this kind of substances on my scalp – nor products based on them. Better be safe than sorry!
---
My Verdict – Is Virgin Hair Fertilizer Worth It?
---
Short answer: Hard to tell.
It's definitely worth the money – since it only costs $6 per tube.
But I personally would think twice before using it:
Ingredients alone are really weak.

Cream is very greasy and sticky.

Some users complain about hair loss and breakage after using it.

Some sources say its ingredients can be dangerous on scalp.
Also – unless you're a black woman with coarse hair, I wouldn't recommend it.
It's simply too strong and too sticky to help your hair. Instead, it will over moisturize it – so it will look really greasy.
What do I prefer using instead? A supplement.
I'm a big fan of certain hair supplement – because in my case, they worked better than anything else:
Grow hair naturally (from the inside)

Effects appear very fast (1-2 months in many cases)

Work for both men and women, with all types of hair

Really good price
So instead of using a greasy topical cream and taking the risk of side effects – I prefer to go for a natural supplement that works even better.
But obviously – what you choose is all up to you. So hopefully you take the right decision.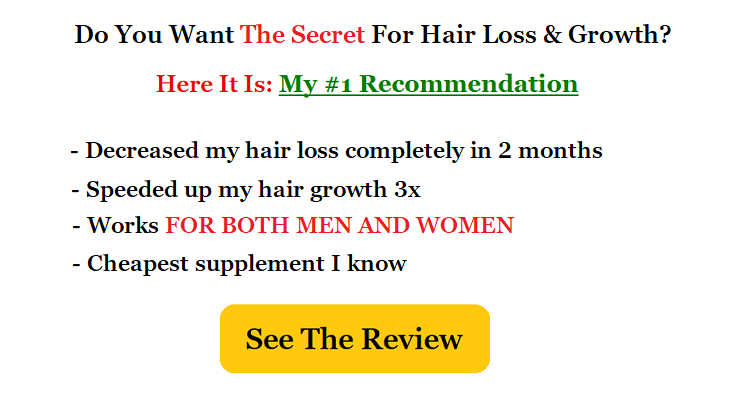 1 – https://www.healthline.com/-health/vaseline-for-hair