It's time to review Hot Tools 2 Inch Curling Iron – because it seems a great tool at first sight.
It's cheap but it seems really professional. So what can you ask for more?
However – is Hot Tools' product that good as it claims? Here's what I discovered about it.
Note: This review is based on my personal experience with this tool.
Biotin
So Let's Get To The Review
---
Full Name: 24k Curling Iron from Hot Tools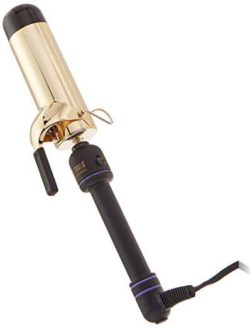 Sizes: The one I reviewed has 2 inches, but there are several versions: from 1 to 5/8 inches.
Best Actual Price: Around $50.
Cheapest Place To Buy: Ebay – but you can also find it on Amazon.
Designed For: Curling hair with long lasting results (that's what it claims).
My Rating: 7.50 out of 10
Worth Buying?: Yes and No. It's a great tool in terms of curling and price.
But it uses a really high heat – so it can literally burn your hair in some cases (the reviews are the best proof).
For this reason:
it also damages hair pretty easily

plus that it doesn't have any ceramic cover for protection
So it's not a product I wouldn't personally recommend.
What I Liked About It
---
Nice curl patterns with no frizzy hair

Long barrel – so you can finish faster than with other tools

4 different heat settings

There are 6 other sizes (they all have a different barrel)

Really affordable

You can find it in several shops and retailers

One year warranty, in case it breaks off
What I Didn't Like About It
---
No ceramic cover

Damages hair ends pretty severely (in my case at least)

Gets really hot (up to 470 F)

The 2″ version is pretty heavy

It can really break and burn your hair (many reviews of this kind)

So it's pretty dangerous to use – especially in high heat
---
#1. Technology

(9 out of 10)
---
Hot Tools' product has several features that you can't find in any curler. 
But some of the most important are the 2 technologies it uses. So let's take them by turn.
1. Gold Infused Barrel – here's what makes it special:
spreads the heat evenly

so the whole barrel surface has the same temperature

there are no hot spots

also, the hair is curled smoothly
Now – this product isn't the only one with this kind of technology. But there aren't many others, to be honest.
So this feature really makes it special.

2. Pulse Technology – it's pretty similar:
finds the spot where your hair strand gets less heat

adapts the temperature

in this way, your hair gets the same heat all over its surface
In other words – it ensures that your hair ends won't get a high temperature.
Instead, the ends and the top part of your curl should have the same temperature.
It might sound complicated – but it's not.
Conclusion: This tool's technologies are surely promising. 
As the heat is distributed evenly all over the hair strands – the curls should have a nice pattern.
---
#2. Features

(7 out of 10)
---
Now – Hot Tool's product isn't the best curler ever, in terms of features.
Some of its specs are pretty good, while others could be improved. Here's what I mean:
Very long barrel – which means you need less time to curl your hair.

High heat – up to 470 F (at this chapter, it's too much – in my opinion).

Also has a spring clamp.

Pretty heavy for a curling iron.

Keeps a constant heat (but I already mentioned that).
Basically – it's the long barrel that I like most about this product.
Compared to other curling irons, it's much longer. This means you can take thicker or longer strands of hair.
So overall – it means you can style your hair faster, which is really important for me.
Plus – Hot Tools has some even longer curling irons. I simply reviewed the 2″ version, but even so – I'm really happy with its length.
Conclusion: Except the weight and its very high temperatures, I kind of like this tool's features.
There's nothing impressive – but it still looks like a decent curler.
---
#3. How To Use It

(8 out of 10)
---
According to the official website, you can use this tool for 2 major things:
curls (several types)

straightening
Now – I'm not really sure you can straighten your hair with this 2″ version. I tried – and couldn't do it.
But when it comes to curling – it's pretty good.
Using it is pretty simple – just like with any curling tool:
Set it up to the lowest heat.

Apply some protection cream/spray on your hair.

You can start with a thick hair strand and see how it goes.

Try several types of curls to see which you like best.

Depending on how you like – you can use thicker or thinner strands.
TIP: Try to use it at the lowest heat possible (280 F). This tool gets very hot – so it can seriously damage your hair (I mean it – you will see below).
It can curl well enough even if used at low heat, so that's how I advise you to use it.
---
#4. How It Works

(8 out of 10)
---
I used Hot Tools' curler for a while and I must say that I wasn't very impressed.
Now – it's surely a good product for this price, but I consider it a bit dangerous.
But here's what I could say about it.
1. The Positive Side – it surely has some strong points:
really smooth curls with nice patterns

they last a lot (but my naturally curly hair might have influenced that)

curls even at lower temperatures (280 F)

you can finish faster than with other tools
So overall – I really liked the curls it created:
pretty smooth

had the same pattern

there wasn't a lot of frizzy hair
As I said, by natural hair type surely influenced those curls.
So I can't really tell if this tool creates such beautiful curls for someone with thin, straight hair.
2. The Negative Side – there were some unpleasant things, in my opinion:
damages the hair after several weeks (in my case at least)

it can literally burn your hair if used at maximum heat (more on this below)

gets really hot – compared to others
So as I said, I consider this tool a bit dangerous.
Now – maybe I'm not too used with very hot tools, but this one was one of the hottest I tried.
There's no surprise its brand is called Hot Tools.
Conclusion: I wouldn't recommend it for thin hair. I think it's too dangerous – because of the high heat, it can damage your hair really fast.
If you have thick hair, it's a good product. But I still recommend using the lowest heat, it works well enough.
---
#5. Sizes

(10 out of 10)
---
That's probably my favorite aspect about Hot Tools' products.
Now – this review is focused on the 2 inch curler.
But as I said in the beginning – you can actually find it in several sizes, more or less similar:
from 1″ barrel

to 5/8″ barrel, which is probably the longest
Now – the major difference between those versions isn't the length. It's actually the shape of the barrel:
some are thinner – for deeper curls

others are thick and work best for beach waves

there are others with an average size – for loose waves
So I actually recommend you to check the whole range before you purchase any.
It really depends of what kind of curls you want and your hair type.
TIP: If your hair is very thin and straight, choose a version for deeper curls.
Your hair probably doesn't hold curls too well – so deeper curls will last longer (even though in a wavy shape). That's what I would do.
---
#6. Price

(9.50 out of 10)
---
Hot Tools' curling iron isn't the cheapest one I've ever seen – but it surely has a great price.
Here's what I mean:
it costs $40-$50

it depends a lot of the version you choose

the 2″ one is among the priciest – around $50

Ebay has the lowest prices (if you're fine with it)
In case you don't like Ebay – my recommendation would be Amazon, especially if you're from the US.
Their prices are also good for every Hot Tool product.
Conclusion: As I said, these curling irons aren't the cheapest ones ever. But they definitely have a good price.
---
#7. Other Opinions

(7.50 out of 10)
---
Just like with other tools – opinions are mixed about Hot Tools' products.
However – there was something that surprised me:
the high number of seriously negative reviews
In other words – there were many customers complaining about serious issues. And when I say "serious", I don't mean the classic problems of hair tools.
So here's a sum up of the other reviews I found.
Note: I only considered authentic reviews, not general ones.
Many people were satisfied about this tool – mostly because of the low price.

They also said the curls last pretty well.

However, many used the highest temperature.

For others, this tool broke off and stopped working within months.

There were some who simply got their hair burned by this iron.

Because of the heat, the hair broke off and melted on the barrel.

Now – I was really shocked to hear this. But the persons complaining had literally lost a big strand of hair on that tool.
Besides, it wasn't just one case – there were several people complaining about the same thing.
That's why this tool seems really dangerous to me.
---
#8. Final Conclusions
---
Here's how I would sum up Hot Tools' curling iron:
1. Great Curl Pattern – compared to other tools, this one styles really well:
curls last in good shape

in my case, they don't fall out
Now – as I said, my hair is naturally curly. So that's probably why I got so long-lasting curls.
But even so, the curls looked really smooth and bouncy – which doesn't always happen with every tool.
2. Versatile Sizes – that's something I really appreciate about it:
there are over 5 different versions

the major difference is barrel shape

the kind of curls you get depends on its thickness
So you can choose the version depending on what type of curls you want. That's pretty cool.
On the other hand – if you want a 3 in 1 curler, this isn't the right piece.
3. Dangerous – in some cases, it can be so:
one of the hottest tools I tried

heats up to 470 F

the lowest heat setting is 280 F (but most people don't use it)

it can break or melt your hair – literally
I'm saying that mostly because I found some unbelievable reviews.
Some people simply had their hair broken off and melted around the wand. So you really have to be careful with this tool.
---
My Verdict – Is Hot Tools' Curler Worth It?
---
Short answer: I can't really tell.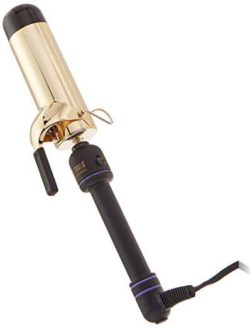 It's a good curling iron for the money – but overall, it's not a product I would strongly recommend:
gets really hot

damaged my hair ends after a while

it can really burn out your hair
Now – it surely has some strong points as well.
I personally like the curls it creates – but I'm not sure if they last so well for someone with thin or straight hair.
So I don't consider it such an amazing curling iron. It's surely not bad, but I wouldn't really recommend it.
It's up to you what you decide.