It's time for my Propidren review – because this supplement looks great at first sight:
excellent ingredients

many positive reviews
There are only 2 bad things about it – price and potential side effects.
So is Propidren really good? Does it work better than others? And are its side effects real?
I tried to dig deep into this product, so here's the actual truth behind.
Note: This review is based on my opinion + research on Propidren.
So Let's Get To The Review
---
Full Name: Propidren from HairGenics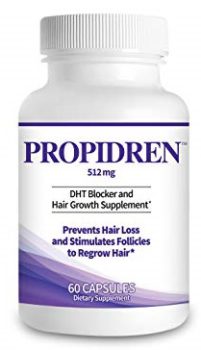 Versions: There are 4 products available:
shampoo + conditioner

supplement

topical liquid
I will focus on the supplement in this review – as it's much better overall.
Best Actual Price: Around $40 per bottle
Cheapest Place To Buy: Either Amazon or HairGenics' website
Designed For: Hair problems caused by DHT excess:
It's effective for both hair loss and growth (but only if it's caused by DHT excess).
My Rating: 7 out of 10
Worth Buying?: Not necessarily – it's a good product, but not the best you can get:
Quite overpriced (in my opinion)

Costs too much for its actual value

Only works for DHT hair loss
I personally prefer a supplement with a similar formula that costs $15 less.
What I Liked About It
---
Most ingredients are very effective and natural

Pretty good dosages (quantities)

Pills are easy to swallow

Many positive reviews online

Available in several retailers
What I Didn't Like About It
---
Too expensive for its actual value

Prices are higher on the official website

Only works for DHT hair loss
---
What Is Propidren? A Quick Overview
---
In just a few words – it's a set of products focused on treating hair issues caused by too much DHT.
There are 4 Propidren products available:
Shampoo

Conditioner

Topical Liquid (Serum)

Supplement

However – the supplement is the one that does most of the job, according to real customers.
For this reason, it's the one worth focusing on.
Despite containing some quality ingredients – Propidren is also a pricey product (compared to the alternatives from the market).
Besides, some people claim it causes major side effects. 
But in reality – that's not really the case.
So now that you know the main things about Propidren – it's time to analyze it more deeply.
---
#1 – Ingredients

(9 out of 10)
---
Propidren's formula looks really promising:
based on herbal extracts

most ingredients have serious studies behind
Now – it's not the only supplement with such a good formula.
But compared to many products on the market, its ingredients are really good.
I would divide them in 2 main groups:
Herbal Extracts

Vitamins + Minerals
So let's take a closer look at each.
1. Herbal Extracts
---
Propidren contains most of the essential herbs for hair loss & growth:
Saw Palmetto – best herbal DHT blocker and really effective against alopecia. [1]

Beta Sitosterol – also blocks DHT excess.

Horsetail – extremely useful for thinning hair and shedding.

Nettle – contains lots of nutrients that boost hair growth. [2]
Fo-Ti – a Chinese herb that increases growth speed. [3]

Pygeum Bark – another natural DHT blocker.

Green Tea Extract – using it topically will decrease shedding and promote growth. 
Basically – all herbs from Propidren's formula are famous for their hair benefits.
There are many supplements claiming to use "miraculous" herbs – but in most cases, few people ever heard of them.
That's why I always recommend products that contain ingredients known for their benefits.
2. Vitamins + Minerals
---
There are only 3 in this formula:
Iron – a deficiency can cause serious hair loss. [4]
Biotin – the best vitamin for hair health and growth. [5]

Zinc – a high quantity stimulates hair follicles considerably.
The only downside is that Propidren could contain more nutrients.
But even so – these 3 are probably the most important ones. So it could be worse than that.
---
Conclusion
---
Propidren has a really good formula:
ingredients with known hair benefits

mostly based on herbs
But even so – it's not the very best I know.
In fact, I personally recommend a supplement that contains most of these ingredients – but some additional ones besides (about 30 in total).
So I don't really recommend Propidren in terms of ingredients – not as a top choice, I mean.
---
#2 – Size & Texture

(9 out of 10)
---
You're curious how the pills look like? I will try to give you more details here.
1. Pills Size
---
To my surprise – they look better than I expected:
capsules with a gelatin cover

pretty easy to swallow

average dimensions
So if you're afraid of large horse pills – that's not the case here.
If you take Propidren with enough water, you shouldn't have any trouble swallowing the pills.
2. Shampoo & Conditioner Texture
---
If you're also interested in the shampoo, here's what you need to know:
whitish color

easy to apply and lathers pretty well

you don't need a very high quantity per wash
Also – it's not the kind of shampoo with strong ingredients, that might irritate your scalp.
So it's pretty normal, in terms of consistency.
---
#3 – How To Use It

(8.50 out of 10)
---
Fortunately, Propidren has some clear instructions in all products:
You need to take 2 pills per day.

There's no recommendation about the schedule.

You can either take them together or separately.

I personally recommend spacing them out throughout the day.

They need at least 3 months to start working.

Shampoo and conditioner need to be used with every wash.
Basically – don't worry too much about the directions, as you can find them on the label (unlike in other products).
They're pretty easy to follow, anyway.
---
#4 – Results

(8 out of 10)
---
Firstly – Propidren isn't one of the products I have personally tried.
So I won't be able to share too many experience details.
However – I checked out over 100 customer reviews about it.
In this way, you can see the whole picture from people who actually used the product.
Note: I only considered authentic reviews, not general ones.
1. What People Say
---
Somehow surprisingly – Propidren has a lot of positive reviews.
In fact, its complaints are pretty rare (compared to many other hair supplements).
So here are the most common opinions of previous users:
Some people say it decreased their hair loss really fast.

Others claim it's excellent for hair growth.

There are some saying it thickened their hair a lot.

Many customers also added pictures as a proof.

Some say it was completely ineffective for them.

Others even call it a scam (though I doubt that's true).
So even though opinions are mixed up – most customers are praising Propidren.
For me, that's enough to make a good opinion about these products.
But still, let's take a closer look at the negative side as well.
2. Biggest Complaints
---
As I said, there weren't thousands of unsatisfied customers.
But out of those complaints, most were about:
Price

Weak effect

Side Effects

Now – even though I haven't used Propidren myself, I tend to agree with some of these issues:
Price is indeed very high.

Not every products works great for everyone. So for some people, it probably just didn't work.

Side effects are possible and they're more common in some products than in others
Regarding those side effects – some people complained about itching, sexual issues, etc.
But considering there were quite a few complaints, I don't think they're very common.
---
Conclusion
---
Overall, Propidren has more than 60% positive reviews.
This means it's a really good product overall. And the risk of side effects is pretty low, in my view.
However – I still wouldn't recommend it as a #1 choice.
I personally prefer another supplement with a wider formula that's $15 cheaper. I just think it's a much better deal overall.
---
#5 – Price

(6 out of 10)
---
That's probably the biggest drawback of Propidren.
In my opinion – it's a bit overpriced for what it actually contains (compared to similar products).
1. The Exact Price
---
Here's how much each of the 4 products costs on Amazon:
Supplement – $39.99

Shampoo – $39.79 

Conditioner – $39.99

Topical Liquid – $39.99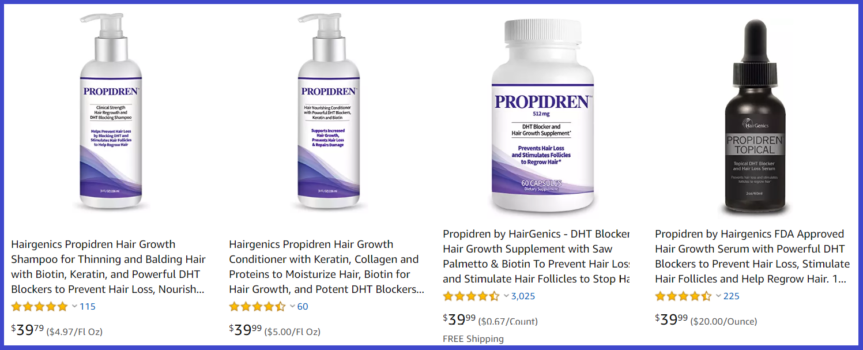 Shortly – each product costs $40 per bottle, which is a bit too much.
Firstly, the shampoo, conditioner and liquid shouldn't cost more than $20.
On the other hand – the supplement should be under $30, considering the ingredients it contains.
So in my opinion, Propidren costs way too much for its actual value.
2. Competitors' Price
---
I will only compare Propidren with my #1 recommended supplement (Folexin):

P contains 10 active ingredients in total.

F contains almost 30 overall (about the ones from P + others).

P costs $40 per bottle normally.

However, it doesn't offer any discount for buying larger quantities.

On the other hand, F costs $25 normally.

If you buy more bottles, you can get it for $18 per month.
So basically – I prefer Folexin because it has a much better value for the money.
It has a better formula and still – a $15 lower price.
Propidren also has some good ingredients – but Folexin contains about the same substances + around 13 others.
Considering it's significantly cheaper, I think it's a much better choice. At least in my case.
---
#6 – Where To Buy It

(7 out 0f 10)
---
You can find Propidren in several retailers.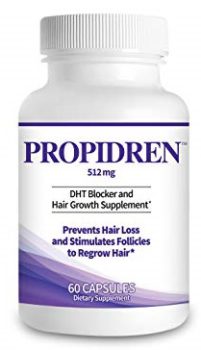 But out of these – there are 2 that stand out:
Amazon

HairGenics' official website
First of all – the second is the producer's website. So normally, it should have much better prices.
But that's not really the case. In fact – every product costs $50 there ($10 more than on Amazon).
On the other hand, Amazon offers all products for $40 – shipping included.
So surprisingly or not – it has a much better offer overall.
For this reason – if you're really willing to pay Propidren's high price, choose Amazon. It's a bit cheaper overall.
---
#7 – FAQs
---
Coming up – I will try to answer the most important questions about Propidren.
Note: I might repeat something I already mentioned, but it's easier to spot here.
1. How many pills per day?
---
You only need 2, which you can take whenever you want (together or spaced out).
2. How long lasts 1 bottle?
---
30 days – it's a month supply.
If you want to buy directly a larger quantity, you can order several bottles at once.
3. Can I take it with other drugs?
---
My advice is to ask your doctor first – especially if you're following a long term treatment.
Even though there's a very tiny risk of interactions, it's better to be safe.
4. Are there any side effects?
---
Some customers complain there are several – including:
itching

erectile dysfunctions

fatigue

headaches
However – the per cent of people dealing with side effects is quite low. So even if they're possible, they're actually quite rare.
5. How fast should I notice an effect?
---
According to the label – it takes about 90 days (3 months) for the pills to start working for real.
However, some people say they saw the results even faster.
So it's all a matter of luck.
Therefore – I advise you to follow the label and take Propidren for at least 3 months. In this period, you should see some changes.
---
#8 – Final Conclusions
---
Up next – I will try to sum up my opinion on Propidren (in 3 ideas).
1. Great Ingredients
---
In my opinion – the supplement has a really good formula.
Not the best, that's for sure – but it's a lot better than many hair pills:
high dosages

classic ingredients (herbs)
The only downside is that there are only 3 vitamins/minerals.
2. Mostly Positive Reviews
---
Another thing worth noting is that many customers were satisfied with Propidren:
some say it's very effective

others claim it works better than regular pills
There are some complaints as well – as in every product.
But overall, there are far more praises than negative reviews.
3. Overpriced
---
In my opinion – these pills shouldn't cost so much.
Especially if you compare them with other products on the market.
Plus – this formula may be worth $25, but it's surely not worth $40.
That's why I consider Propidren a bit overpriced – despite being a quality product.
---
My Verdict – Is Propidren Worth Buying?
---
Short answer: It depends.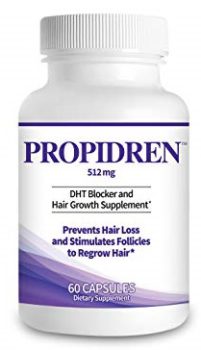 It's a really good product overall – but I personally wouldn't recommend it as a first choice:
Costs too much for its actual value.

Only works for hair loss caused by DHT excess.

Some weird side effects are possible (though rare).
As I said – I still consider Propidren a quality hair supplement.
So if you were wondering whether it's a scam or not – it's certainly not.
However – I personally prefer a supplement that costs $15 less and has a better formula:
Contains almost 30 different ingredients.

Works for hair loss & growth in general (not just DHT excess).

Effective for both men and women.

Also works really fast (Propidren is also fast).

Price is much better overall.

You also get discounts for buying bigger quantities.
So that's my personal pick, since I don't have a huge budget.
But if you don't care too much about paying some extra $15, Propidren is also a great choice.
As I said – both supplements work really well, it's mostly the price that is different. So it's all up to you.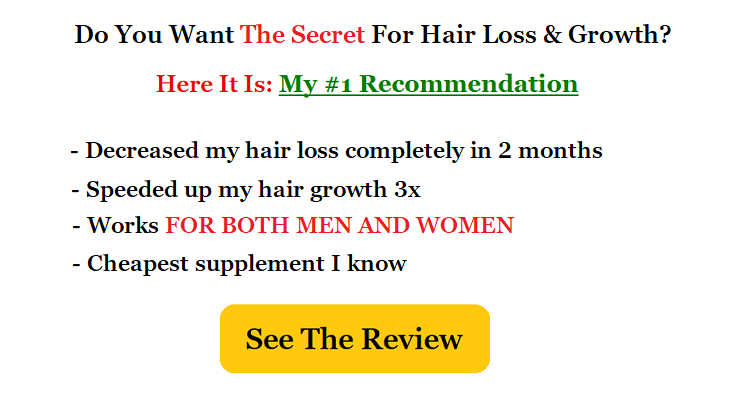 1 – https://www.ncbi.nlm.nih.gov/-pmc/articles/PMC2840915/
2 – https://www.ncbi.nlm.nih.gov/-pmc/articles/PMC3349212/
3 – https://www.ncbi.nlm.nih.gov/-pubmed/21419834
4 – https://www.ncbi.nlm.nih.gov/pmc/articles/PMC3678013/