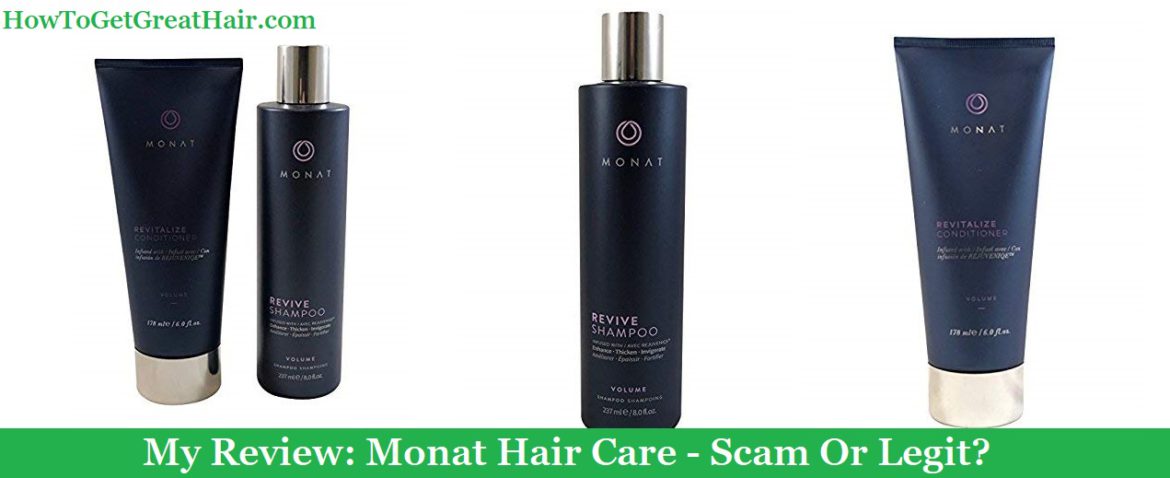 It's time to review Monat Hair Care products – a brand offering all sorts of hair products.
However, it's a brand I'm seriously questioning:
many complaints all over the Internet

expensive products

very few positive reviews from customers
So is Monat a scam? Most users claim it is.
Well – I tried to dig deep into this brand and find out the truth myself.
Note: This review is based on my own opinion + research on Monat products.
So Let's Get To The Review
---
Full Name: Hair Care Line from Monat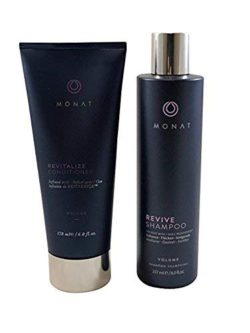 Versions: It has over 20 products – for different problems:
volume

and several other issues
So it has pretty much everything when it comes to hair care.
Best Actual Price: Starting from $35 to over $100 (depending on the product).
Cheapest Place To Buy: Amazon (though it doesn't sell all products)
Still – all of them are far more expensive on Monat's official website.
Designed For: Various hair problems, depending on the line you choose.
My Rating: 4 out of 10
Worth Buying?: I wouldn't recommend it:
too many complaints about the brand/products

super high prices

better options available
I personally prefer a $25 supplement that made real miracles for my hair.
Considering lots of users criticize Monat, I would try to avoid it and choose something else instead.
What I Liked About It
---
All products contain good ingredients

Many trademark substances inside every product

Nice smell and texture

Directions are really clear and detailed
What I Didn't Like About It
---
Many negative reviews about it

Some users claim to have experienced serious side effects

All products are very overpriced

Prices are lower on Amazon (than on Monat's website)
---
What Is Monat Hair Care? A Quick Overview
---
Shortly – it's a brand offering several hair care lines (all for a different problem):
Restructuring

Advanced Hydration

Volume

Color Enhancer

Intensive Repair

There are some other ones, but these 5 are the best-seller lines.
So what makes Monat different from other hair care brands?
It might be their buying system, which doesn't allow you to place an order normally:
you have to consult a "market partner" first

depending on where you live, you will be assigned one that is nearby

you can also buy their VIP package

this offers you 15% off for all orders and free shipping

however, it doesn't seem to be very worth it
So basically – Monat's system is a bit more complicated, compared to other brands.
But that's not the only issue.
As I said before, this company has lots of complaints on BBB and other websites:
people claim they never got their refunds

others say it's impossible to cancel a recurring order

many note that their products cause major side effects
For this reason, I'm personally far from a fan of it.
So now that you know the main things about Monat – it's time to analyze it closer.
---
#1 – Ingredients

(9 out of 10)
---
First of all – all of Monat's products are meant for topical use (no pills).
Still, most of its products have pretty good formulas:
based on natural ingredients

no harmful additives

each products contains several trademark substances
Compared to other topical products – Monat's ones seem superior (as ingredients).

Now – I won't be able to take each product separately, as there are over 20.
But here are the key ingredients (according to Monat's website):
Fiber Rescue™ – reconstructs every strand from the roots.

Rejuvenique S™ – it's an oil that hydrates hair correctly.

Fision KeraVeg 18 – it's a vegan alternative to keratin (strengthens hair).

Murumuru Seed Butter – hydrates and nourishes roots and ends.

Bamboo Seed Extract – it's really effective for lubricating roots.

Crodasorb – it's a strong antioxidant.

Capixyl – it's a complex designed to prevent and decrease hair loss.

PatcH20™ – moisturizes hair very intensely. 
Basically – Monat's products contain some pretty unique ingredients (which is a great advantage).
So at this chapter, they look great.
---
Conclusion
---
All products from Monat have great formulas:
several trademark compounds

ingredients that you can't find in any product

vegan based
So judging only after their ingredients – these products look excellent.
It's true they have other major downsides. But regarding ingredients – there's no much to criticize.
---
#2 – Smell & Texture

(8 out of 10)
---
Monat's products are all pretty similar at this chapter.
1. Smell
---
I haven't tested out any of them myself – but here's what people say:
pretty intense fragrance

smells like menthol/camphor

scent stays in the hair for at least 1 day
Basically – the smell is herbal and very refreshing.
However, some people say it's a bit too strong overall.
2. Texture
---
This varies depending on the product you're using:
most of them have a whitish color

shampoos generally lather very well

for this reason, you don't need a large amount per wash

conditioner has a similar texture

serums are usually lighter
But overall, I didn't find too many complaints about these products' consistency.
This makes me think they are pretty good at this chapter.
---
#3 – How To Use Them

(10 out of 10)
---
Monat is a brand that offers excellent directions about their products.
However – the exact instructions depend on the line:
Hydration products are applied normally (shampoo, conditioner, mask).

Anti-damage products have a different order.

It's recommended to start with the conditioner and then use the shampoo.
So it actually depends a lot on what kind of products you're using.

But don't worry:
each product has excellent directions

most don't have to be used daily
Also – the label recommends associating any products with additional ones (from the same line).
For instance, their shampoo for thinning hair claims to work best with the conditioner.
However – that's not always the case.
So if you only afford to buy the shampoo, just stick to it.
---
#4 – Results

(4 out of 10)
---
As I said – I haven't tried any of Monat's products personally.
So I won't be able to share any thoughts from experience.
However, I tried to look for other customers' opinions – in order to create a real review.
Note: I only considered authentic reviews, not promotional ones.
1. What People Say
---
First of all – here's what you should know:
Monat has over 70% complaints (out of all reviews)

most are related to their customer service

few people complain about the products themselves
In other words – Monat's products are great, but their service is terrible.
So here's what most people say about it:
Some say they really helped their hair grow out.

Others claim it softened and strengthened it.

A few others praise its general effect.

Some say it made their hair fall out even worse.

Others mention it started drying out more often than before.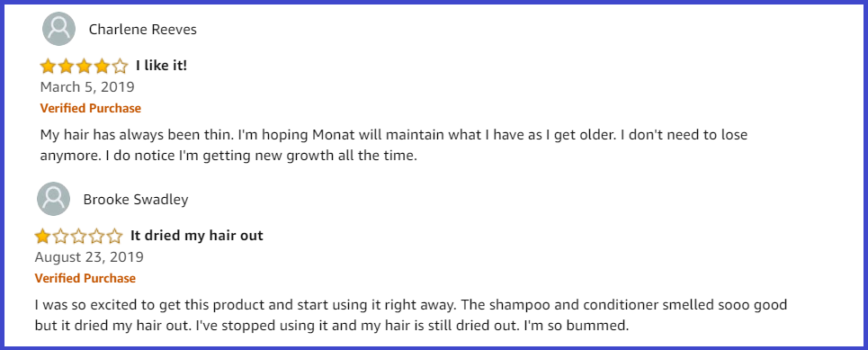 Now – Trust Pilot has over 700 negative reviews on this brand.
And as I said, most aren't about the products but about the company's practices.
2. Biggest Complaints
---
Here's what most reviewers from Trust Pilot criticize:
Very high price

Staff is extremely rude

Cancelling your order is impossible

You have to pay $25 to cancel auto-shipping

They send you the products even after cancelling

You can't receive the products yourself (only through a market partner)
Honestly, these are some really serious problems.
Some people even claim this company is a scam, due to using tricky practices to attract customers.
I personally tend to agree up to a point.
Now – there are some people who were unsatisfied about the products as well.
But overall, they are quite a few. 
In fact – here's a review that sums up Monat's offer really well: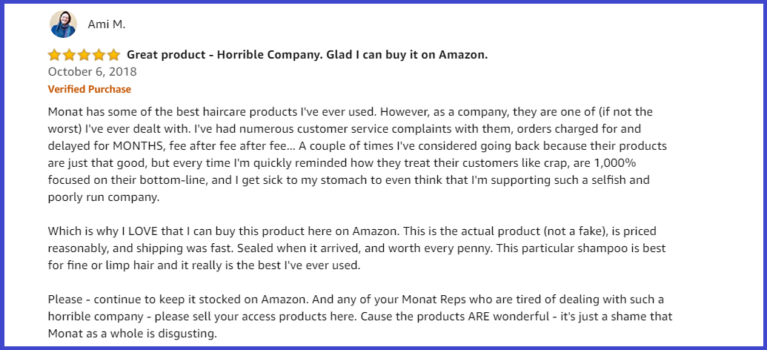 ---
Conclusion
---
Monat has way too many complaints to be a legit company:
products are pretty good overall

staff and company's policies are harshly criticized 
So I personally would never recommend this brand.
My advice is to use a supplement instead of a topical product – as the result is much better (and faster overall).
Not to mention that the price is more than 50% lower.
---
#5 – Price

(3 out of 10)
---
Honestly – Monat's products are extremely expensive.
It's true they contain many original ingredients,
But even so – I don't know too many topical products that would cost so much.
1. The Exact Price
---
First of all – Monat's official website has different prices:
As a regular customer, you're buying at a "retail price".

You can also buy the VIP package.

This offers you 15% discount for each order and free shipping.

You also get also features, but they're not that relevant.

Basically – many users go for VIP because the discount seems significant.
However, in order to cancel this membership – you have to pay around $25.
Monat has a lot of rules mentioned in less accessible parts of their website.
That's why it's important to study everything correctly.
Now – where can you find the lowest prices? On Amazon:
prices are usually around $5 less than the VIP discounted price on Monat

that's over $10 less from the retail price

shipping is also free in most cases
However – Amazon doesn't sell all of Monat's products.
That's the only downside.
2. Worth It Or Not?
---
The products themselves aren't bad – even though they don't work for everyone.
But if you're buying Monat from Amazon, it might be worth it.
Otherwise – I wouldn't recommend it.
However, I would suggest using supplements instead:
better and faster effect overall

lower price
Most of Monat's products are very pricey (serums/treatments are around $99).
Considering each bottle has less than 5 oz, they're really not worth the money.
At least that's my own opinion.
---
#6 – Where To Find It

(8 out of 10)
---
Monat's products are normally sold on its official website.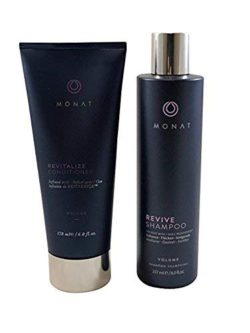 But I wouldn't recommend buying them from there:
prices are at least $10 higher

getting a refund is really hard

company isn't completely honest and customer-friendly
Considering all those negative reviews about Monat, I don't advise you to purchase from them.
Still – their products aren't bad at all.
And fortunately, you can find some of them on Amazon (for a few dollars less).
So I personally would suggest buying from this retailer instead.
It's true that you won't find all products, to be honest.
But you might be lucky and find the one you need.
---
#7 – FAQs
---
Coming up – I will try to answer the top questions about Monat.
Note: I might repeat something I already mentioned, but it's easier to spot here.
1. How long do the products last?
---
Normally – a bottle is designed to last one month.
But since all products are topical, it really depends on the quantity you use, frequency, etc.
2. How often you should use them?
---
Most of Monat's products are meant to be used 2/3 times a week.
In other words – whenever you wash your hair.
However, it pretty much depends. So make sure to check the label first.
3. Can you use them with other products?
---
Definitely – whether those other products are drugs, creams or topical products.
4. Are there any side effects?
---
Some people mentioned issues like:
worsened hair loss

irritations and scalp rashes

itching
They do seem more common than in other products (judging after the number of reviews).
But I'm not 100% sure they appear very often.
5. How fast should you notice a change?
---
That depends on several factors:
your hair's condition

the exact product line you're using

how often you are using the products
Unless you're using them for hair growth/loss – you should see some changes from the first weeks.
---
#8 – Final Conclusions
---
Here's how I would sum up my opinion on Monat's products (in 3 ideas).
1. Strong Ingredients
---
If you ask me – all of Monat's products have promising formulas:
each contains at least 1 trademark ingredient

many active compounds

quality substances overall
It's true that I'm not a fan of topical products.
In terms of effect – they're way weaker than supplements.
But compared to other topical products – Monat has some great ingredients, actually.
2. Extremely Expensive
---
Honestly – Monat has some huge prices:
shampoos cost around $40 per bottle

conditioners are about the same

serums/treatments are around $99 per bottle
However, the same products cost even $10 less on Amazon (including shipping).
Still – the prices are way too high, even for some high quality ingredients.
3. Dangerous Company
---
That's what many previous customers claim:
more than 50% negative reviews on Monat

company seems to not keep their promises

cancelling an order is really hard
Plus – some users claim the products are pretty harmful actually.
I can't tell, since I never used them myself.
But as for the company – there are way too many complaints to trust this brand.
---
My Verdict – Is Monat A Scam?
---
Short answer: Not really – it's a legit brand with real products.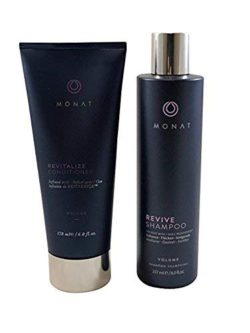 However, it has enough problems:
Many negative reviews and complaints (from previous users)

Extremely high prices

You can't buy the products directly (only through a "market partner")

Orders seem to be hard to cancel
Besides – some users claim their products are pretty dangerous (in terms of side effects).
I personally have not tried any, so I can't tell.
But in terms of ingredients, Monat's products look quite good.
However – I personally would not recommend them.
Since they're only meant for topical use, the effect is not as fast and strong as with other products.
That's why I would recommend supplements instead:
effect appears much faster (even after 1 month)

better results overall

price is much lower

work for both men and women
Since Monat has so many complaints online, I personally would try to avoid it.
But it's your own choice what products you decide to try.