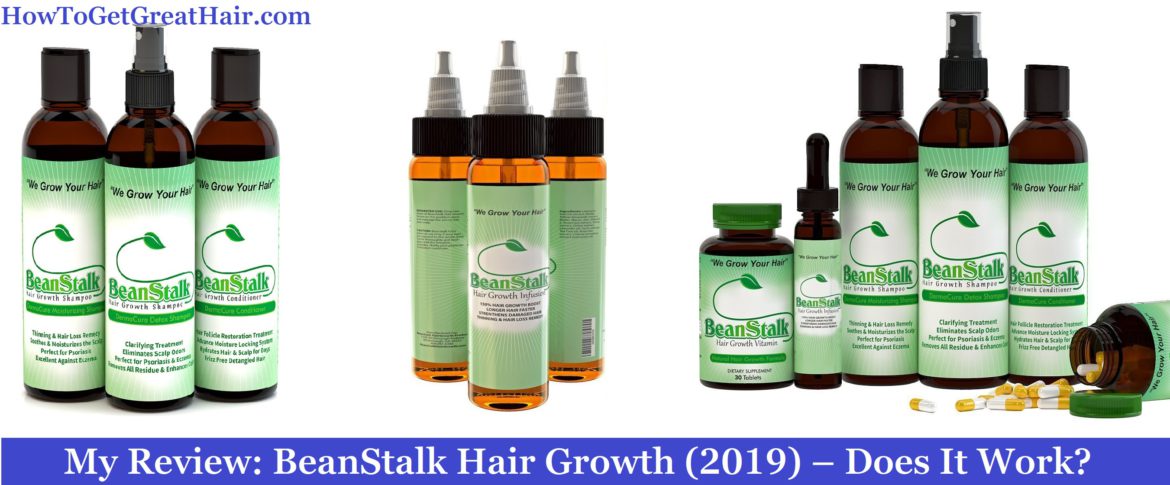 It's time to review BeanStalk Hair Growth – a set of hair products based on natural ingredients.
But considering how many similar products there are on the market, is BeanStalk any better?
Does it have anything more special?

Does it work any better?

Or it's just another weak product with natural claims?
I tried to dig deep into BeanStalk – so here are all the backstage details you need to know.
Note: This review is based on my opinion + research on BeanStalk.
So Let's Get To The Review
---
Full Name: BeanStalk Hair Growth Vitamins

Versions: It offers 5 major products:
Growth Infusion

Shampoo (Regular Or Detox)

Conditioner

Vitamins 
I will focus on the infusion (serum) in this review – as it's by far their #1 product.
Best Actual Price: Around $25 for the infusion (on paper, as there are sales often times)
Cheapest Place To Buy: The official website (unavailable on Amazon)
Designed For: Hair growth associated with scalp problems (allergies, dandruff, irritation):
promotes hair detoxification 

increases strength and density
Besides, the infusion claims to regrow edges in 2 weeks (pretty hard to believe).
My Rating: 6 out of 10
Worth Buying?: Not really – it just has a lot of negative reviews:
very weak effect

hard to use due to thick consistency

company refuses many refund requests
Even though it has a great price, I personally prefer to use a $25 supplement instead (much better effect overall).
What I Liked About It
---
Infusion is mostly based on herbal extract

Affordable prices in most products

Lots of authentic reviews available
What I Didn't Like About It
---
Hidden ingredient list and dosages

Infusion is really thick and hard to apply

Also, it leaves your hair extremely greasy

Many complaints from previous users

Company doesn't seem to accept refunds (despite claiming to)

Infusion claims to work in 2 weeks (no product works that fast)
---
What Is BeanStalk? A Quick Overview
---
In short – it's a hair brand focused on natural hair products.
Basically, these products are designed for hair growth on scalps with different issues:
psoriasis

dry flakes

rashes or itching
For this reason – it offers 5 different products:
Infusion Oil – designed to regrow edges (in 2 weeks).

Vitamins – for longer and fuller hair.

Regular Shampoo + Conditioner

Detox Shampoo

There are some other products that BeanStalk offers, but they're less significant.
Now – here comes the interesting part. BeanStalk's infusion claims to regrow edges in as fast as 2 weeks.
If you ask me, that's impossible:
no product I heard of can work so fast

hair can't medically grow in such a short period

if this product really worked so fast, everyone would be using it

instead, it's pretty unknown
For this reason – I'm almost 100% sure this "2 weeks effect" is fake.
Don't get me wrong, the infusion might work really well – but not that fast. Or at least you can't see a real change in 2 weeks.
So don't expect this kind of effect because you will be disappointed.
But now that you know the main things about BeanStalk – it's time to analyze it more closely.
---
#1 – Ingredients

(7 out of 10)
---
First of all – all BeanStalk's products are based on herbs.
That's definitely a positive thing, since herbs are the strongest ingredients when it comes to hair growth.
However – there are some issues:
No full ingredient list (in any of the products).

No dosages.

Active and inactive ingredients are mentioned together.
Basically – BeanStalk's formula is hidden in all products.
We only know the compounds, without their quantities (which is a big downside).
1. Growth Infusion (Serum)
---

Out of these ingredients, the most important ones are:
Biotin – fights hair loss and promotes growth (but mostly when taken as pills). [1]
Rosemary Extract – can prevent alopecia. [2]

Zinc – strengthens roots and increases density.

Castor Oil – speeds up hair growth. 

Lavender Oil – stimulates follicles and also promotes growth. [3]
2. Vitamins 
---
Even though it's a supplement, BeanStalk doesn't offer the ingredient list for this product (which is really weird).
It only mentions the main ingredients:

Out of these – the most essential ones are:
Saw Palmetto Extract – blocks DHT excess that causes hair loss. [4]

Green Tea Extract – also effective against DHT hair loss.

Vitamin A, C, E,  B1, B2, B6 – promote hair health. [5]

Zinc & Cooper – a deficiency can cause shedding.

Ginkgo Biloba – improves blood flow inside the scalp.
3. Shampoo + Conditioner
---
These product have even less details about their formula.
Basically – you can only find a list of about 30 ingredients (both active and inactive).
So it's hard to tell what exactly is inside these 2 products.
---
Conclusion
---
BeanStalk's products don't have a bad formula – since they're based on herbal extracts.
But there's no picture of the label, ingredient list or dosages.
For this reason – I can't really praise or trust BeanStalk's products too much. 
As far as you can't tell what's inside a product (and its quantity) – you shouldn't really use it, in my opinion.
---
#2 – Smell & Texture

(4 out of 10)
---
When it comes to the oil – its consistency is a big problem:
Extremely thick and sticky.

Very hard to apply on the actual hair (doesn't soak in too well).

Leaves hair extremely greasy.

Also, it's very hard to rinse (you should add shampoo 2-3 times).

Smell is also pretty unpleasant and intense.

It feels something like earthy fragrances.
Since it's recommended that you use the oil daily – it won't be too comfortable.
Regarding the other products from BeanStalk, there's nothing to complain about:
vitamins have an average size

you can swallow them easily (if you drink enough water)

shampoo and conditioner have a nice smell

also, the shampoo lathers well enough
But since the infusion is the main product (in terms of effect) – you need some patience when you start using it.
---
#3 – How To Use It

(7 out of 10)
---
Fortunately – BeanStalk offers clear instructions on how to use most of its products.
Infusion should be used once daily (or twice for better results).

You should add one drop on your scalp and massage.

Make sure you spread it through all of your scalp.

Vitamins require only 1 pill per day (that's an advantage).

Shampoo + Conditioner should be used with every wash.

Now – regarding the pills, shampoo and conditioner, there's nothing to complain about.
However, the infusion is pretty hard to use daily – considering its consistency.
According to the directions – you can mix it with a bit of conditioner, if it feels too thick for your hair.
I actually advise you to do that, BUT keep in mind that conditioner can also weight down your hair.
So washing your hair afterwards is still a must.
---
#4 – Results

(6 out of 10)
---
First of all – I haven't tried any of BeanStalk's products myself.
So I won't be able to share any experience with them.
However – I wanted to create an unbiased review, so I checked out all the real opinions I could find about these products.
Note: I only included authentic reviews, not general ones.
1. What People Say
---
Fortunately – I could find a lot of opinion from previous customers.
And even though some were positive, most were complaints.
So here are the most common reviews on BeanStalk's products (especially the infusion):
Some people say it really made their hair grow.

Others claim they could see big improvements in their hair.

A few mention their hair health improved a lot.

On the other hand, about 50% say there was no change.

Others criticize the texture of the infusion.

There are also a few complaining they couldn't get a refund.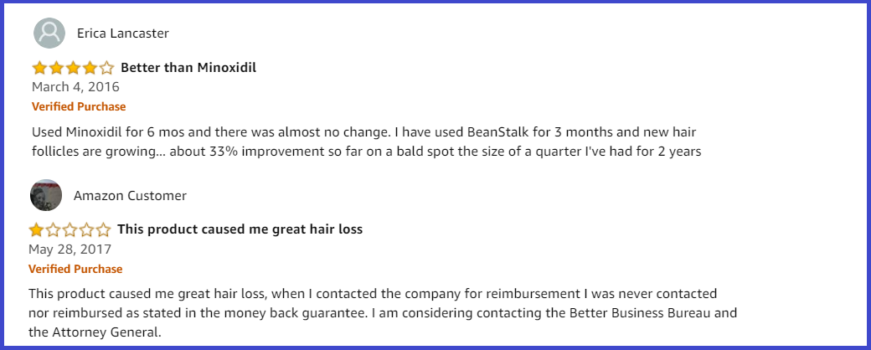 But basically – the most common opinion is that BeanStalk wasn't very effective.
If you ask me, that tells a lot about these products. But that's not all.
2. Biggest Complaints
---
As I said, a lot of people complained about BeanStalk's poor effect:
Many said they saw absolutely no change (after several months).

A few claimed their hair loss actually worsened.

Others say the thick consistency of this infusion made their hair look worse.

Other than that – there are complaints about bad packaging, itchy scalp or rashes.
Ironically – BeanStalk's products are designed to improve scalp conditions (especially those causing hair loss).
So apparently, this doesn't work for all people.
But overall – there are more complaints than praises, which should tell you a lot.
---
Conclusion
---
BeanStalk's products have a lot of unsatisfied customers (especially the infusion):
poor or no effect

secondary reactions on the scalp

worsened hair loss
There are some praises too, that's truth. But the number of negative reviews is far higher.
For this reason – I couldn't possibly recommend BeanStalk.
Instead of using all sorts of topical products, better try a supplement that costs really little and made a big difference for my hair.
---
#5 – Price

(8 out of 10)
---
Surprisingly for this kind of products, BeanStalk's prices are actually affordable.
And I'm talking about most of its products.
1. The Exact Price
---
BeanStalk's official website has the best prices. Normally:
Infusion costs about $25.

Vitamins costs $36 (per monthly supply).

Shampoo and conditioner can only be bought together (+ a detox shampoo).

All 3 products cost about $105.

You can also buy vitamins + infusion for $57.
However – BeanStalk's official website offers many discounts.
For example, at this point most products have a lower price:
Infusion: $17

Vitamins: $25

Shampoo + Conditioner Pack: $68

Vitamins + Infusion Pack: $41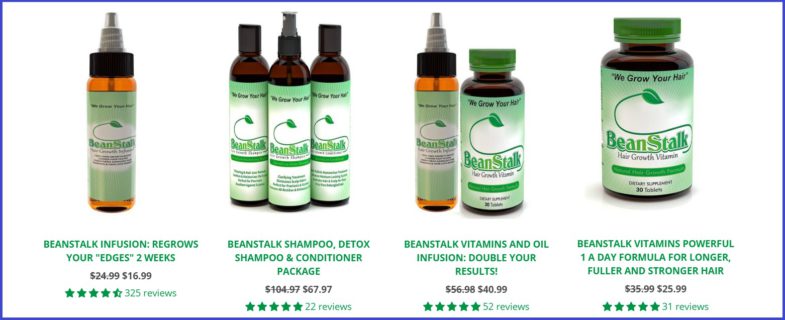 To be honest – these prices are really affordable. So you're not wasting a lot of money, even if they didn't work.
2. Worth Or Not?
---
I personally would think twice about buying BeanStalk (despite its low cost).
I'm saying that because of all those negative reviews I read.
According to them:
these products aren't worth the money

the company has a refund policy

however, it's hard to actually get a refund
So from what I read – you will most likely never get your money back.
Also, most customers said they couldn't see an improvement in their hair growth. That's why I personally wouldn't buy these products.
I can get the best supplement I know for about the same price – so I prefer to use those money wisely.
---
#6 – Where To Find It

(6 out of 10)
---
Unfortunately, at this point – you can only buy BeanStalk from its official website.
Here's the thing:
It used to be available on several retailers in the past.

That included Amazon and Ebay (and maybe some others).

However, it's unavailable from Amazon for a while.

Also, there's no company selling it on Ebay.
So in my opinion – things don't look too good for BeanStalk.
Since their products are discontinued from Amazon, it means they have very few customers. 
And that's another proof that their products aren't as good as they look.
But the point is – if you want to buy BeanStalk, its official website is the only option right now.
---
#7 – FAQs
---
Up next, I will try to answer the top questions about BeanStalk.
Note: I might repeat something I already mentioned, but it's easier to spot here.
1. How often you should use it?
---
When it comes to the infusion – at least once a day.
When it comes to the other products:
supplement: 1 pill per day

shampoo/conditioner: in every wash
2. How long lasts 1 bottle?
---
Normally – all products are meant to last 30 days.
However, it's only the vitamins that have a clear quantity for this period.
The others can last more or less (depending how often and how much you use them).
3. Can I take it with other drugs?
---
There's no risk of interactions for the infusions, shampoo or conditioner – they're all topical products.
However, it's recommended to ask your doctor first before using the vitamins.
4. Are there any side effects?
---
Yes, there are – I found enough complaints on this topic:
worsening hair loss

itchy scalp

rashes
These reactions are mostly available for the infusion (serum). The other products don't have too many complaints.
5. How fast should I see an effect?
---
According to the label – in only 2 weeks.
But in my opinion, that's exaggerated. If a product could work so fast – everyone would be using it, trust me.
Considering that BeanStalk isn't too very popular, I think it's pretty clear.
Besides – lots of reviews claimed this wasn't true, as they needed more than 2 weeks to see any traces of growth.
So in my opinion – give these products 1-2 months before you expect any results.
---
#8 – Final Conclusions
---
Here's how I would sum up my opinion on BeanStalk (in 3 ideas):
1. Infusion Is Hard To Use
---
Even though it's (probably) their best product – the infusion has a terrible consistency:
extremely thick and sticky

much thicker than any hair oil

rinses really hard

leaves hair extremely greasy and harsh
The label does allow you to mix it with conditioner (for an oilier texture).
But that will only weigh your hair down – which isn't fine either.
2. Poor Effect
---
Judging after the high number of complaints, BeanStalk's products aren't that effective:
many people say they didn't work

other say their hair loss worsened
Now – there are some satisfied users as well.
But putting the numbers side by side – there are way more negative reviews.
3. Good Price
---
That might be the best thing about BeanStalk.
Compared to other brands – its products are actually affordable.
Plus, they have discounts and sales often times.
However – keep in mind that these can be a proof of their low number of customers.
---
My Verdict – Is BeanStalk Worth Buying?
---
Short answer: Not really – even though it's quite affordable.

There are just too many negative reviews and complaints about it:
Poor or no effect at all.

Worsens hair loss in certain people.

Terrible texture and hard to apply.

No refunds (even though there's a money back guarantee).

Hidden formulas and dosages in most products.

Claim to work in 2 weeks (which is really hard).
Overall – I just don't think BeanStalk's products can help tremendously.
Even though I haven't tried them personally, all those negative reviews speak for themselves (that's what I think).
So I personally wouldn't recommend BeanStalk – and I also don't plan to try it any soon. 
Instead of using topical products that only treat the external symptoms, I prefer to use a supplement:
best effect on the long term

works for both men and women

a lot easier to use

treats the problem from the inside
BeanStalk also offers a supplement, but it's mostly based on vitamins (which aren't that strong).
What I personally prefer is using a supplement based on herbal extracts (which are just a few in BeanStalk's product).
In my case, that's what helps hair more than anything else.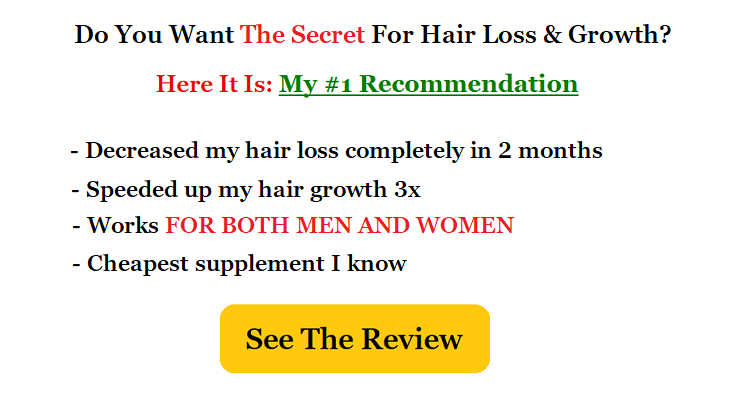 1 – https://www.ncbi.nlm.nih.gov/-pubmed/28879195
2 – https://www.ncbi.nlm.nih.gov/-pubmed/25842469
3 – https://www.ncbi.nlm.nih.gov/-pmc/articles/PMC4843973/
4 – https://www.ncbi.nlm.nih.gov/-pmc/articles/PMC2840915/