Damaged hair can be a constant source of frustration – I speak from experience.
And for most of us – the best solution remains cutting it off. But who would run the risk of getting a totally bad haircut? I surely wouldn't. 
For this reason – here are the top 9 best hairstyles for damaged hair ever:
They're not going to repair your damaged hair…

But they will surely make it look much healthier.
---
3 Things To Consider Before
---
#1. Hair Length – that's an essential aspect, if you want to be satisfied:
Are you willing to cut some of your hair?

If yes – how many inches?

Or do you prefer a hairstyle of the same length?
#2. Damage Level – here's the thing: 
the less damaged your hair is, the more options you have
However, if it's even your hair roots that are damaged – finding a good hairstyle will be harder.
#3. Hair Type – it's another essential aspect. Here's what I say this:
curly hair has more volume, so it doesn't look too damaged

straight hair tends to be thinner, so it looks pretty bad
Basically – if your hair has a lot of volume naturally, it's going to look thicker. Plus, the damaged ends will be harder to spot.
So if you're in this category, you can consider yourself lucky.
On the other hand, straight hair normally looks as thin as it is. So if your hair is straight and not very thick – it's not going to be that simple.
---
The Best 9 Hairstyles For Damaged Hair
---
#1 – Wet Look
---
In my opinion, it's the best way to hide a hair damage. Besides, it looks good on everyone – and it's really easy to create:
was your hair and condition it – without drying it

comb your wet hair back

add some hair gel from the roots to the ends

use some glossy spray
And that's it – you're done for the day.
A great thing about this wet look is that it looks great on any type of hair – long, short, curly or very straight. 
It only has one major downside:
hair gel can damage your hair if used often

especially if you apply it on wet hair
The only way to prevent this is by using a quality gel. Also, go for this look at most once a week – in order to prevent any extra damage.
#2 – Messy Waves
---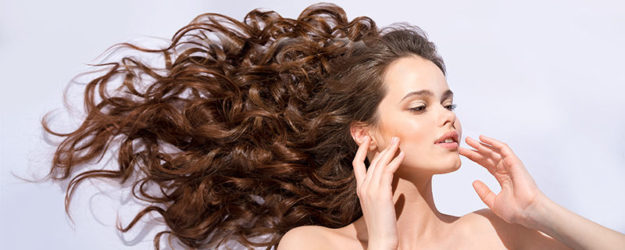 This is a hairstyle that makes wonders for straight hair:
it makes your hair look thicker

also hides the damaged ends pretty well
Obviously, it works great for any hair type. But if your hair is naturally curly – these waves won't make it look too different. 
However, it's still one of my favorite hairstyles in case of hair damage. 
Plus – there are so many ways to get these loose waves. Only make sure to avoid heating tools:
Use hair rollers

Wrap your wet hair around a headband

Braid your hair overnight

Use a sock to tie a bun
These are just a few ways I know – but here's another method to curl your hair using stick-like tools.
Either way, messy waves can hide split ends really well – so it's a must try hairstyle even if you have short hair.
#3 – Low Ponytail
---
That's another must try hairstyle – because it works perfect for split hair:
brings together your hair ends – so they don't look that thin

can create some root volume

it can make both an elegant and a casual hairstyle

really comfortable and easy to make
So in case you're not a fan of low ponytails – you should become one soon.
Now – let's say your hair ends are really split and they look bad in a ponytail. Can you use this hairstyle then?
Sure – but instead of making a ponytail, create a bun:
your hair ends won't be visible

so your hair can look thicker

in case it's too thin to look good – use a bun maker clip
So the low ponytail/bun is probably the easiest hairstyle from this list. That's why it's worth trying.
#4 – Half-Up Bun
---
In 2017, this was one of the trending hairstyles. It's no surprise – since it can hide split ends pretty well.
This is another really easy hairstyle to make:
Tie your top strands in a bun

You can make it more or less messy – depending on how much volume you want

Leave out the bottom part of your hair
Depending on how you like, you can use more or less hair for the bun. 
If your have a lot of damaged hair – you can leave out just a few strands of hair.
On the other hand – if it's just your ends that look bad, you can make a small bun and leave out most of your hair.
This hairstyle is very flexible and you need less than 5 minutes to do it.
#5 – Braided Ponytail
---
To be honest – this hairstyle looks really stylish, but it has one big drawback:
your hair needs to have at least 16″ to look good
So if your hair is pretty short – you should skip it. Or you can give it a try – but I doubt it's going to look amazing.
However, if your hair is long enough – this braid can hide your damaged hair really good:
you can braid your back ponytail

or you can create a one side braid

also, you can divide your hair in 2 sections and make 2 braids
However, if your hair is thin and damaged – the bottle part of your ponytail isn't going to look amazing.
For this reason, here's a tip that might help:
pull each section of your braid

it will make it look thicker and larger
Obviously – your ponytail won't look really thick. But compared to how it was before, it should look much thicker.
#6 – Messy Bun
---
In case you like being both stylish and comfortable – buns are the best choice:
you can go for a messy, volumizing bun

or you can choose a sleek one, if it looks better on you
Either way – this hairstyle hides your split ends, which are usually the most damaged part of the hair. 
Creating the bun is pretty easy:
just tie all of your hair together

and use bobby pins to hold the strands as you like

you can also add some hair gel, in case you want that sleek look
If you don't like classic buns – you can also try the half-up from #4. They're both easy to do and comfortable for the whole day.
#7 – Bob Waves
---
That's a different hairstyle form the #2 – because it involves something else:
Basically – if you want to go for this hairstyle, you will probably have to cut off some of your hair. That in case it's longer, obviously.
A Bob wave hairstyle has several benefits for damaged hair:
hides most of the damage – due to the waves

forces you to cut most of the split ends

gives your hair more volume

you don't need a lot of time to fix your hair
So I would recommend this hairstyle if you're willing to go for a different length – for the sake of your hair. As it grows back – it's definitely going to get healthier.
#8 – Highlighted Pixie
---
Here's another cool hairstyle that requires you to sacrifice your hair.
Unlike the previous bob – this pixie hairstyle requires you to cut off your hair really short.
So in case you're not willing to do that – just skip this hairstyle. But if you are – let me show you a great version of this pixie style:
visit a hairstylist and get a pixie haircut

up next, it's time for some highlights
But as your hair is already in a bad shape – I wouldn't recommend using hair dye.
Instead, I have some natural alternatives:
If you have a dark hair, use

lemon and cinnamon

to lighten some of your hair strands.
In case your color is lighter, coffee will help you

darken some of your hair.
As these are natural ingredients – they're not going to change your color completely from the start. But use the a few times and you should see a difference.
In the end, your original pixie hairstyle will be totally worth it.
#9 – Long Ponytail
---
This is one of my favorite tricks when it comes to hairstyles.
So here's the thing:
if your hair is damaged, it's probably not too long

also, your hair also are most likely thin

tying your hair in a high ponytails surely doesn't look great
I've been there, so I know the feeling. But here's what you can do – get a fake ponytail.
Whether it's made of human or synthetic hair – this kind of piece will hide your split ends better than any other hairstyle.
Obviously – you don't have to wear it everyday. But instead of styling your own hair – you can add the ponytail and get a perfect hairstyle instantly.
Besides: 
a synthetic ponytail is under $50

you need about 2 minutes to add it
So in my opinion, it's one of the easiest tricks when your hair isn't in a good shape.
---
My Verdict – What's The Best Hairstyle For Damaged Hair?
---
Here's the good news – it's totally up to you. Just try to consider 3 things:
the type of hair you have

its length

whether or not you need to cut some of it
Once you have a good idea about what you need – you can try out any of the 9 hairstyles from above:
ponytails and buns are always in fashion

short hairstyles can help your help get healthier

waves give you more volume and hide the damage best

a sleek look is perfect for any length

and if you want a perfect solution – get a fake ponytail and use it whenever you need
That being said – I think you won't have a hard time trying out any of those hairstyles. 
Each of them should give your hair a boost – and make it look healthier and thicker.
Now I would like to hear from you:
What kind of hairstyle do you like best?

How long is your actual hair?

Would you be brave enough to go for a short hairstyle?
I'm waiting for your questions, answers or suggestions in the lines from below.